By building a WordPress website, you make your content available to people all over the world, but can all of the world's internet users appreciate it🤔? Very likely not. This is why language is a huge obstacle!
English is considered to be the language used by the majority of websites, making it by far the most prevalent language on the web. However, English is not the only language that your target audience searches for and wishes to consume the content👎. Millions of non-English users visit your website from all across the world.
WordPress allows you to construct a website in whatever way you desire. But the problem is, it does not provide an in-built capability to develop multilingual websites☹. And if you are interested to make your WordPress website multilingual so that your users may view the material in their favorite language, the only possible way to make the procedure easier is by using a translation plugin😍.
These WordPress Translation Plugins help you reach a larger audience by developing a multilingual website👌. Fortunately, numerous effective WordPress translation plugins are available in the market. But choosing the right one from them is a task🙆‍♀️. To help you do that, we'll go through some of the best WordPress translation plugins for creating multilingual websites.
If you have consumers coming from around the world, offering customer assistance in their local language might be beneficial. WordPress Translation Plugins allow you to effortlessly add many languages to your website and provide customer assistance in different languages. This can assist to increase client happiness and engagement🥳.
Also, having just one language on your website can lead you to miss out on a lot of potential foreign visitors. WordPress Translation Plugins allow you to make your website more accessible to foreign audiences by adding numerous languages. This might result in more traffic and clients for your company🎉.
When ranking websites in search results, search engines such as Google consider their language. As a result, if you have a multilingual website with information in several languages, you may be able to rank better in search engine results pages (SERPs). This might result in more organic traffic and consumers for your company✨.
Visitors are more likely to spend more time on a website that is simple to use and offers material in their native language. WordPress Translation Plugins make it simple for website owners to translate their content and deliver a better user experience🙌.
List of Best WordPress Translation Plugins for Multilingual Websites in 2023
Given below are some of the best plugins that can make it simple to add multilingual content to your site👇.
TranslatePress
TranslatePress displays translations in real-time and supports both manual and automated translation techniques. It now has over 100,000 active installs and is updated regularly by its development community. The plugin allows you to translate your full page at once, and because it is a self-hosted service, your translations remain with you instead of being saved off-site and potentially transferred or removed. 
It works with Gutenberg blocks, WooCommerce, shortcodes, and the majority of themes. You may also use its SEO pack to create language switchers with a simple shortcode, translate information, as well as translate dynamic get text generated by WordPress and other plugins and themes.
Overall, TranslatePress includes SEO support, language-based navigation, automated user language recognition, translator accounts, and much more to offer your multilingual website greater speed and strength.
Starting from- $7.99 per month (use on 1 site)
WPML
WPML is one of the most loved multilingual plugins, with over one million installations globally. You may use the plugin to translate any website into 65 pre-registered languages with no programming necessary.
The plugin allows you to handle many languages on an identical domain with just a single WordPress installation. This enables you to reach a diverse customer base from a single website rather than installing WordPress on various domains. It is compatible with the vast majority of WordPress plugins as well as themes, offers great user support, and has an extensive knowledge base.
Overall, the WPML interface is straightforward to use. It is the most sophisticated and one of the top feature-rich WordPress Translation plugins on the market. Including a slew of strong tools that enable you to fully convert your WordPress site into other languages.
Starting from-$ 39, the Multilingual Blog plan
Polylang
Polylang plugin makes it simple to set up a multilingual WordPress website. With over 700,000 installs, it is one of the most effective multilingual WordPress Translation plugins. Polylang is an open-source software distributed under the GNU General Public License version 2.
With this plugin, you may add quite as many languages as you wish to your site, and Polylang will produce the relevant language files for you. It also lets you convert your material into many languages.
One of the most appealing aspects of Polylang is that it is entirely free! You may download the plugin from the WordPress repository and begin employing it on your WordPress site without spending a penny. If you need assistance, there is a plethora of free material and support accessible online.
Weglot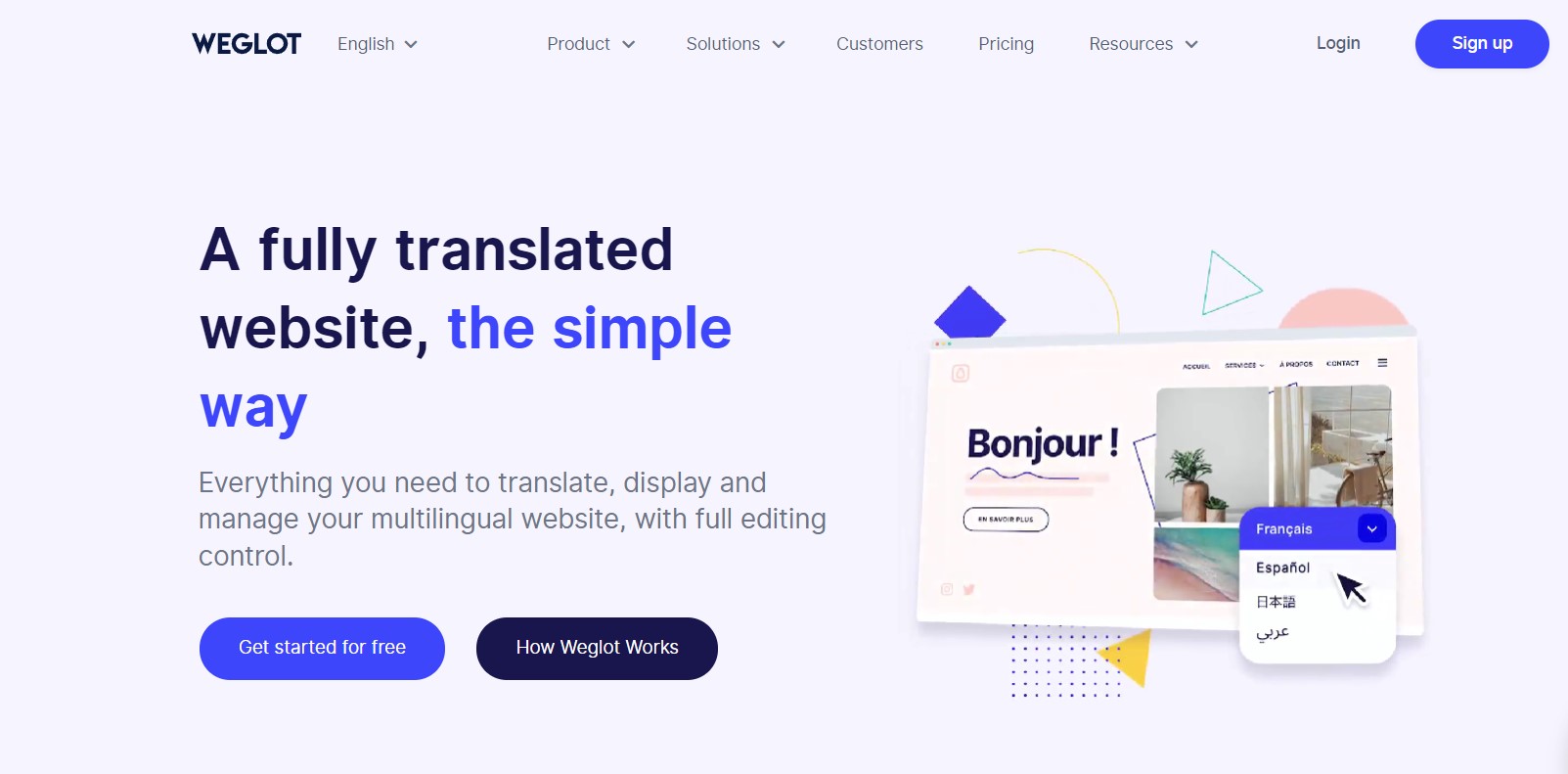 Weglot is a SaaS application that allows you to translate internet content into several languages. The program is driven by an API that enables you to automatically translate the content of your website.
You can manage translated data through a single dashboard, and you can change it as well. Weglot can also let you manage your WooCommerce product pages and checkout process. The free trial includes one language and 2,000 words so you can experience how the plugin works for yourself. It is compatible with nearly any website platform and is used by over 50,000 businesses. There is no need for coding expertise or experience to utilize it.
Overall, Weglot Translate is a lightweight WordPress plugin that enables automatic translations as well as access to experienced translators in over 100 languages.
Starting from- Free, monthly starter plan at $ 15
Lingotek translation
Lingotek's Translation is one of the very first cloud-based SaaS systems that connect all of an organization's global content in one location, empowering them to manage their brand globally.
You have three options for translating your material with Lingotek Translation: Machine Translation – Generates information in your selected language using the Microsoft Translation tool (free for the first 100,000 characters). Community Translation – Users are required to produce translations using the text editor that is included in the plugin's workbench. Professional Translation involves investing some money and hiring Lingotek's qualified staff to handle the project.
This adaptability makes it an excellent choice for people who wish to start basic and progress to more complicated language implementations.
Starting from- Not mentioned (Contact company for pricing)
GTranslate
You may translate your website with the WordPress plugin GTranslate, which uses Google Translation. It connects to the Google Translate API automatically and can retrieve translations for just any supported language. It enables you to effortlessly add a language switcher to your web pages or to automatically translate information dependent on the user's browser language.
The free and commercial versions of the GTranslate WordPress translation plugin differ significantly, unlike many other translation plugins. A translation interface is absent from GTranslate's free edition. Like with TranslatePress or the Visual Weglot editor, the Pro edition allows you to update translations on a live preview of your site. A premium version of the plugin also allows you to select SEO-friendly URLs and enables search engines to index your translated material.
Starting from- Free, Custom plan- $ 9.99 per month
Lokalise
It is the fastest-growing translation management system, for managing your translation process. With it, you can- set tasks and communicate with your group, obtain machine translations to cut expenses, and access language suppliers if necessary. Lokalise integrates seamlessly into your existing operations, enabling complete automation. It is the perfect platform, trusted by thousands of businesses globally, with a clean and simple UI/UX and a reasonable price.
Overall, Lokalise, as real multi-platform software, enables agile teams to translate all of their digital assets into one location, including games, web and mobile apps, other software, marketing, and many documents.
MultilingualPress
Multilingual Press is the greatest WordPress multisite plugin. A group of skilled developers has backed this plugin. The plugin assumes you're utilizing WordPress Multisite to provide multiple languages to your clients. It then lets you link to your website's autonomously translated versions. That makes this plugin an ideal approach to handling multilingual copies of the same material.
Not only does it support interlinking, but the Pro version also allows you to clone sites or modify all translations for a post without leaving the original post editor.
One notable characteristic of this plugin is its high fault tolerance, which helps to prevent data loss. If a prior version is deleted, connected postings will not be erased. If the translated pages are managed one at a time, they will likewise be safe. This eliminates the need to retranslate if inadvertent deletions occur.
The most recent version of MultilingualPress is WooCommerce-ready and supports the Advanced Custom Fields plugin. Furthermore, this translation plugin is fully compatible with major page builders such as Elementor and Beaver Builder.
FAQs
Why Build a Multilingual WordPress Website🤷‍♂️?
All the visitors to your website are not familiar with the same language, they all understand a different language. And it is practically difficult to make your website available in ALL of the world's languages, but you can certainly make it available in the languages most often used by your users. To do that, WordPress translation plugins are used for adding extra language translations to your website making it more user-friendly and assuring more visitor-to-client conversions🎊.
Why should you use WordPress Translation Plugins on your website👁‍🗨?
There are several advantages to begin utilizing WordPress Translation Plugins for your website. Stated below are some of the more important ones👇.
It improves your website's accessibility to international visitors.
It can assist you in ranking better in search engines.
It can assist you in improving your customer service.
Is it necessary to know how to code to utilize WordPress Translation Plugins💻?
Certain WordPress translation plugins, such as WPML, provide a user-friendly interface that does not require coding skills. These plugins make it simple to translate the content of your WordPress site by giving translation choices and tools for managing translations👍.
In general, if you know how to use WordPress and its interface, you should be able to utilize most translation plugins without having to write any code. If you have any questions concerning a specific plugin, you should always consult the documentation or contact the plugin's support team.
What types of WordPress Translation Plugins are there🤔?
While there are several translation plugins for WordPress, they may be divided into two types-
Multilingual WordPress Plugins- You may manually add multilingual material to your website using the multilingual plugins. The key advantage of using these plugins is that the accuracy of your translations will be far superior to that of any machine-generated web translation software.
Automated WordPress translation plugins- This sort of WordPress translation plugin translates your content using online translation providers. Although these plugins don't need you to write material in a variety of languages, the translation accuracy isn't quite as amazing as it could be.
Who are the common users of WordPress Translation Plugins💁‍♂️?
WordPress translation plugins are used by a variety of users, including Multilingual websites, Bloggers, Small businesses, E-commerce websites, and Non-profit organizations, and anyone who wants to make their website content available in multiple languages can benefit from using WordPress translation plugins😎.
Over to you with trending Translation Plugins
Several sites can be created using WordPress using translation plugins ranking on different search engines each with its own administration area, plugins, theme, and so on. And each webpage is dedicated to a certain language. Due to language options, your site will be ranking not only in the US but also in France, Germany, Ukraine, Taiwan, the Philippines, and all parts of the world. All you will need to do is to enable translations for the relevant language.
Several WordPress plugins, such as TranslatePress, WPML, Multilingual Press, Weglot, Polylang, and others, make it possible to make your WordPress site multilingual.  They work together to help your WordPress site interact with more users. Once deployed, you'll be well on your way to getting your message across – regardless of language✌.
Overall, all these WordPress Translation Plugins are user-friendly, and simple to install and configure🙌. If you have a WordPress blog site, you should certainly look into these WordPress Translation Plugins that can make it readable across countries. Even if you're not a programmer, you will be able to easily add different languages to your WordPress website with them😯. Many of these plugins are also completely free! Hence, there is no reason not to try it.