SEO stands for Search Engine Optimization which is responsible for increasing a website's presence in organic (non-paid) search engine results. This is accomplished through optimizing the website's content, HTML, and other aspects that assist search engines in determining the site's relevancy to certain keywords.
And a good SEO plugin for WordPress may assist you in optimizing your website for search engines like Google, Bing, and Yahoo. It may assist you in creating better page titles, descriptions, and keywords, generating an XML sitemap for easy submission to search engines, and providing insights into which keywords are driving traffic to your site. It can also help you track backlinks and study the SEO techniques of your rivals. With the help of these plugins, you can implement various optimization tricks using various features and tools, thus increasing the ranking of your website on the Search Engine Results Pages (SERP).
But the problem is- there is a growing list of WordPress SEO plugins and it becomes confusing to choose the best one out of them. To help you save your time and effort we have listed some of the top-rated SEO plugins for WordPress to help you choose from. Here, we have mentioned some of the preferred SEO plugins for your WordPress website along with their features and pricing to help you quickly understand which one can be the right SEO plugin for you that can strengthen your optimization strategies.
Points to Consider while choosing an SEO Plugin
Usability: Make sure the plugin you're thinking of is simple to use and comprehend. This allows you to maximize your SEO efforts without spending too much time learning how to utilize the plugin.
SEO Optimization: Be certain that the plugin you select has SEO optimization functions. This should include the option to produce XML sitemaps and customize SEO names and meta descriptions.
Analytics: Search for plugins with analytics tools to assist you to understand how well your SEO efforts are working. This should contain capabilities such as tracking keyword ranks, SERP placements, and click-through rates (CTRs).
Link Building: Determine whether the plugin you're considering includes link-building options. This should include the capacity to develop backlinks, reach out to guest bloggers, and implement a content marketing plan.
Automatic Tasks: Search for plugins that allow you to automate jobs to save time. Features such as automatic keyword research, content optimization, and link building should be included.
Aspects to Consider while selecting the Best WordPress SEO plugin for your Website
Some aspects to look for when selecting the best WordPress SEO plugin for your needs are:
User Interface: Seek a plugin with a simple user interface that is both intuitive and simple to use.
Frequency of Updates: Ensure that the plugin is maintained up to date with the newest version of WordPress and receives regular updates.
Compatibility: Ensure that the plugin is compatible with other plugins that you are using or want to use.
Support: Be certain that the plugin you select has active support from the developer and other users. Look for an active forum or help tickets, as well as a constantly updated knowledge base.
Features: Each plugin has its own set of features. Check that the plugin you chose offers the functionality you want, such as keyword optimization, sitemap development, and interaction with other services.
Price: Evaluate the price of the plugin. Some plugins are free, while others need a fee.
List of Best SEO Plugins for WordPress in 2023
SEO WordPress plugins extend the functionality and features available on your website. WordPress provides several SEO plugins that may help you enhance your site's performance and attract more visitors. Here is the list of some of the best SEO Plugins for WordPress-
Rank Math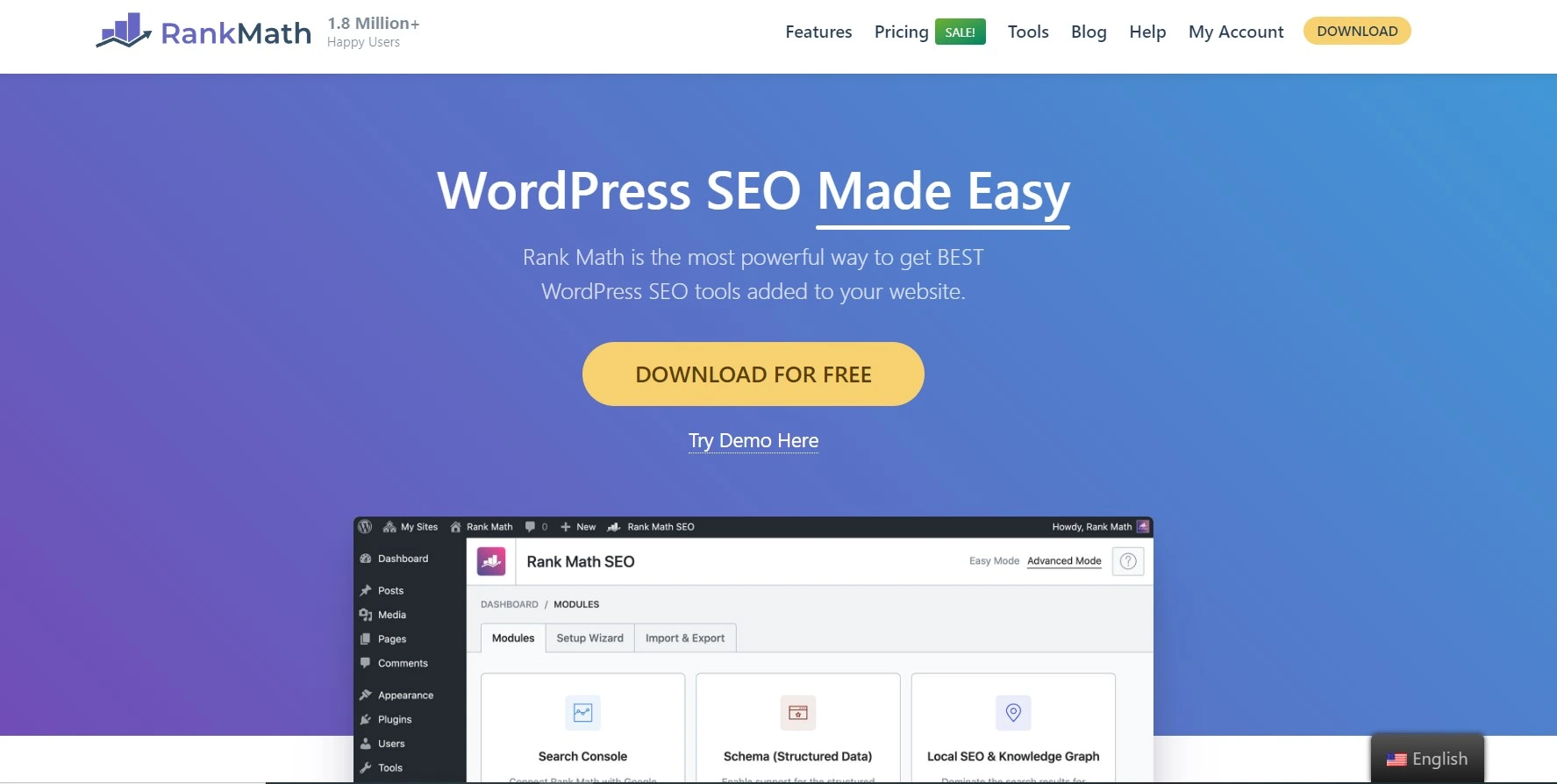 Rank Math is an all-in-one SEO plugin for WordPress that is developed by MyThemeShop. It is rich in features that ensure to do WordPress optimization perfectly. The tool has millions of downloads all across the world which shows its popularity around the blogosphere.
There are many benefits of using Rank Math some of them are- it does on-site SEO analysis, tracks the position of your keywords in the search results, offers social media integration, and many other things that help you to optimize your content for better ranking.
Overall, Rank Math is phenomenal. It provides responsive support and continuously adds many great features. The regular improvements and many amazing tools make this robust SEO plugin a must.
Features
Bulk edit titles and descriptions
Let you optimize up to 5 keywords
Rich snippets are offered
The pillar pages and posts feature help to rank better
Provides redirections of all types
Pricing
Agency- $ 499 per year (ex VAT)
Business- $ 199 per year (ex VAT)
Pro- $ 59 per year (ex VAT)
Yoast SEO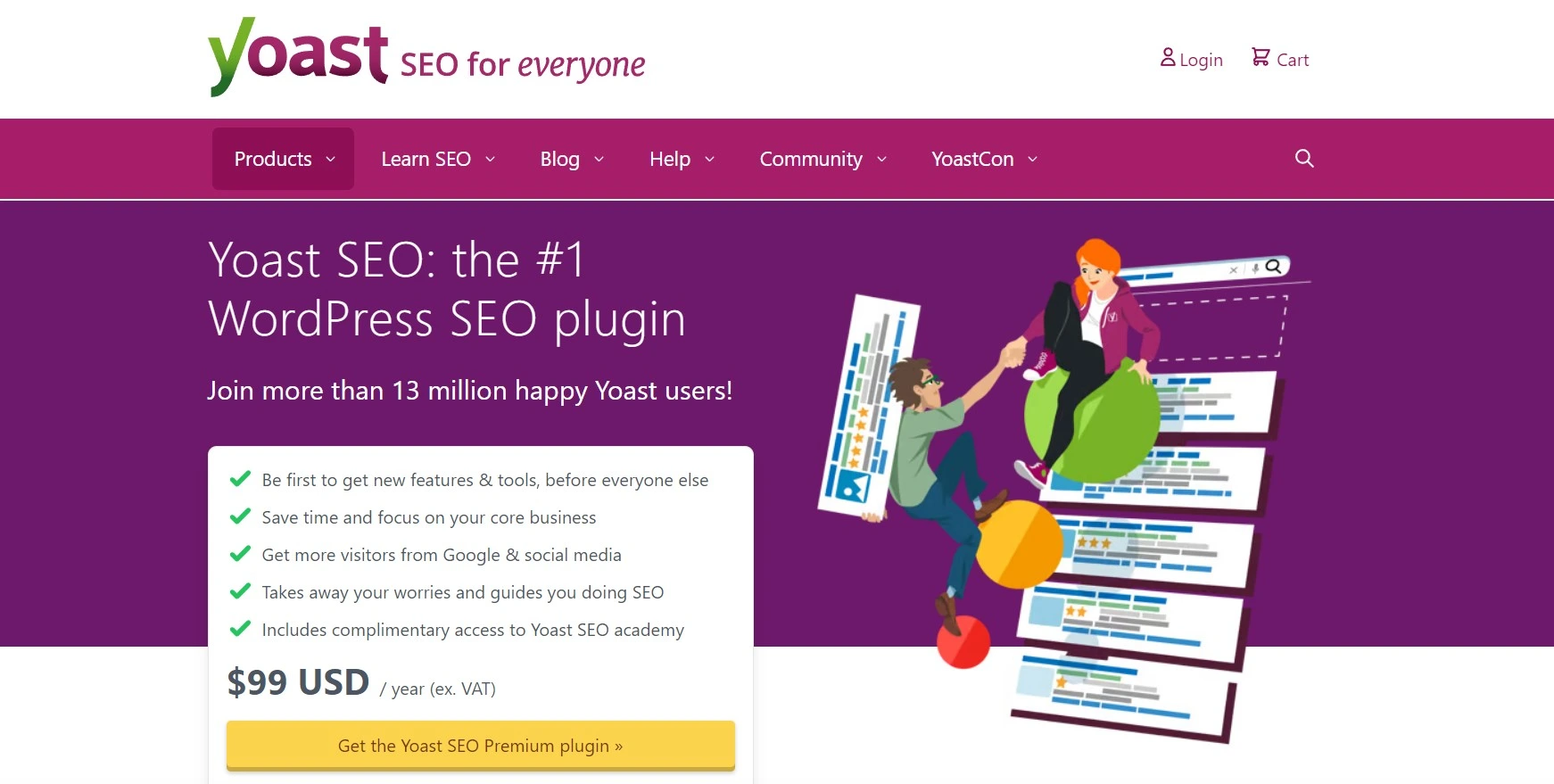 Yoast SEO is without a doubt one of the widely used SEO plugins for WordPress. You can easily create Meta descriptions, Meta titles for your blog posts, and any other Post type using the Yoast SEO meta box that is added by the plugin. You can select a focus term for your blog article using this tool. After you've chosen your primary keyword, it immediately evaluates your written content about it and gives it an SEO score.
The plugin also makes recommendations for any changes you should make to your content to improve it and raise your SEO ranking. In addition, Yoast SEO includes a wide range of tools that are all crucial for optimizing websites.
Overall, Yoast SEO is beginner friendly SEO plugin for WordPress that is one of the best contenders among the all-other WordPress SEO plugins available in the market. It rightly deserves its place as one of the most needed WordPress plugins that you must have on your WordPress sites.
If you are a blogger, you will accept the importance of SEO plugins on your site. Yoast is among the plugins that we install instantly after setting up a new WordPress site or blog if not Rankmath. The new UI of Yoast SEO has left many surprised and it has again drawn the attention of users who ditched it for Rankmath.
Features
Makes sitemaps for you
Internal links counter to keep an eye on all the internal links in each post
Meta tag editing
Gives content insights
Facebook, Google, and Twitter previews
Pricing
Yoast Free- Free
Yoast SEO Premium plugin- USD 99 per year (ex VAT)
Plugin subscription- $ 229 per year (ex VAT)
All-in-one SEO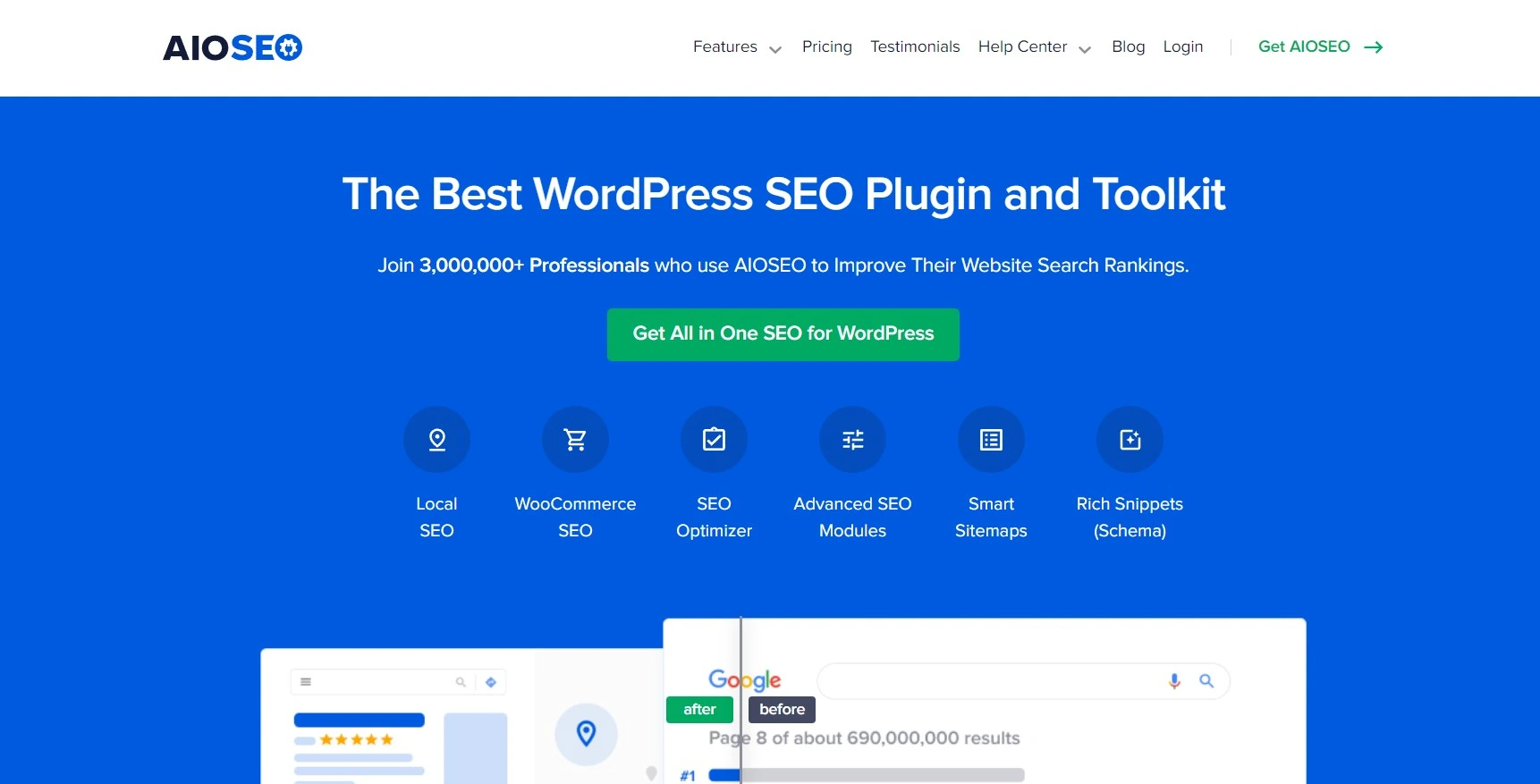 All in One SEO (AIOSEO) is a popular SEO plugin that may assist you to raise the position of your website in search engine results for your preferred keywords. There is a free version of the plugin as well that can function perfectly, but there are also commercial versions that offer more sophisticated features and aid in optimization.
The plugin performs a lot more than just basic optimization; it makes it simple to set up sitemaps, on-page optimization, post meta data, eCommerce SEO, robots.txt, and other aspects of WordPress SEO. An All-in-one SEO plugin is one of the greatest SEO plugins for your WordPress because of all these fantastic features.
Features
Site Audit- lets you check the SEO health across your website
Search appearance- enables you to see your site details exactly as they will appear in the search engine page result
Social Networks- This lets you decide how your content will appear on various social networking sites
Link Assistant- to let you know the number of internal and external links
Pricing
Elite- $ 299.60 per year
Pro- $ 199.60 per year
Plus- $ 99.60 per year
Basic- $ 49.60 per year
Squirrly SEO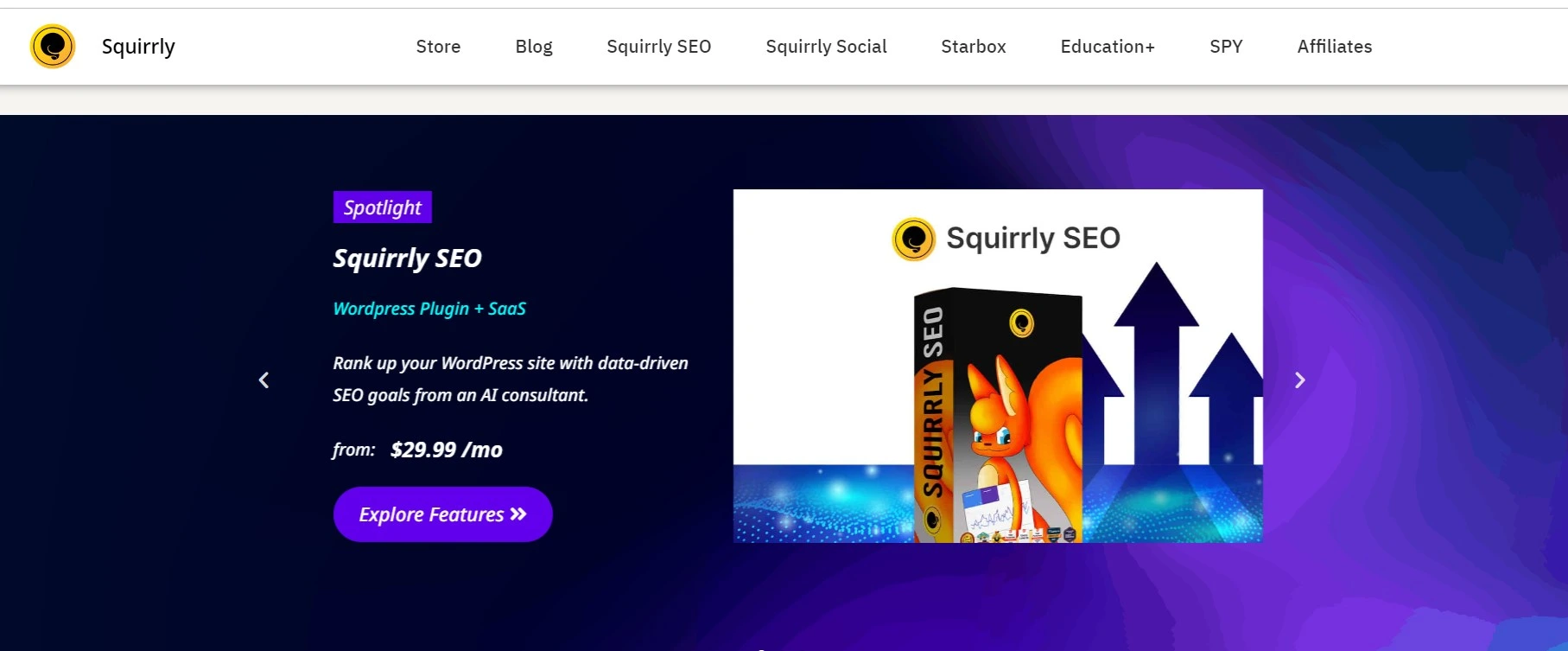 The plugin has tried to make a different approach to the market of SEO plugins. Squirrly is a WordPress SEO plugin that combined with the power of artificial intelligence that makes it the best possible setup to succeed with your SEO tactics. Its keyword research tool is extensive and the live assistant makes it go a step further in excellence.
Squirrly SEO's AI algorithms can sort through the billions of data points that have already helped lakhs of websites to rank higher on Google. Overall, it is extremely efficient and simple to use. That can aid greatly in keyword research as well as content enhancement.
Features
Run SEO audit for a single page
SEO automation
Rich snippets
Create labels for keywords and see suggested keyword
Pricing
Pro- $ 20.99 per month
Business- $ 71.99 per month
Agency- $ 75.99 per month
SEO Framework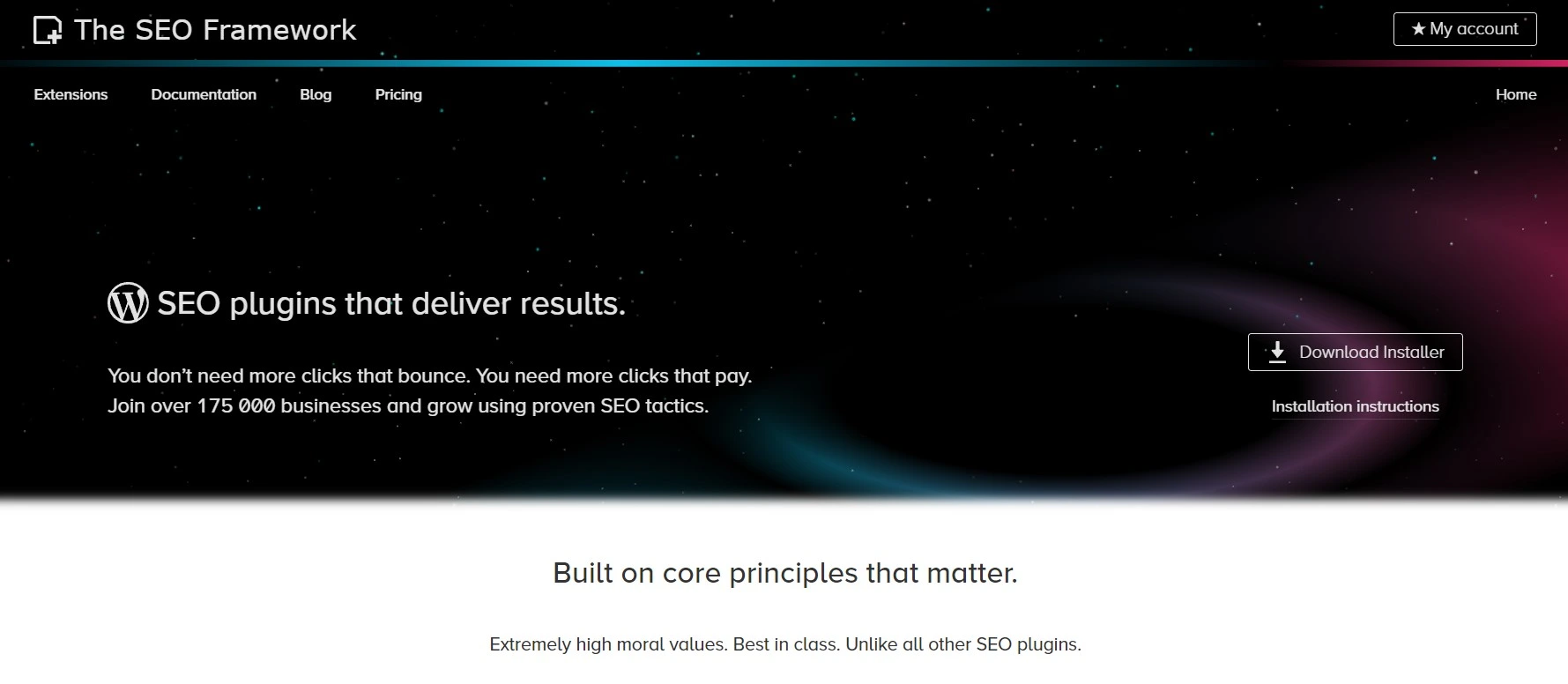 The SEO framework provides a single menu called "SEO" from which you can evaluate all of the options. It is further subdivided into several meta boxes, and the user interface explains what they all imply. These sections contain title settings, homepage settings, meta description settings, social meta settings, robots meta settings, feed settings, webmaster meta settings, and more.
Overall, SEO Framework is a superb WordPress SEO plugin. It provides you with a wide range of features that can help you maximize the visibility of your website in search results and social media. It even automates the production of meta descriptions and titles and offers out-of-the-box options.
Features
Automatic meta descriptions
Customize the search title
Control social visibility
SEO indications when any issues are detected
Control indexing and crawling of your site with robots' meta settings
Pricing
Free- $ 0 paid never
Pro- $ 7 per month (paid yearly)
Business- $ 17 per month (paid yearly)
Agency- $ 27 per month (paid yearly)
SEOPress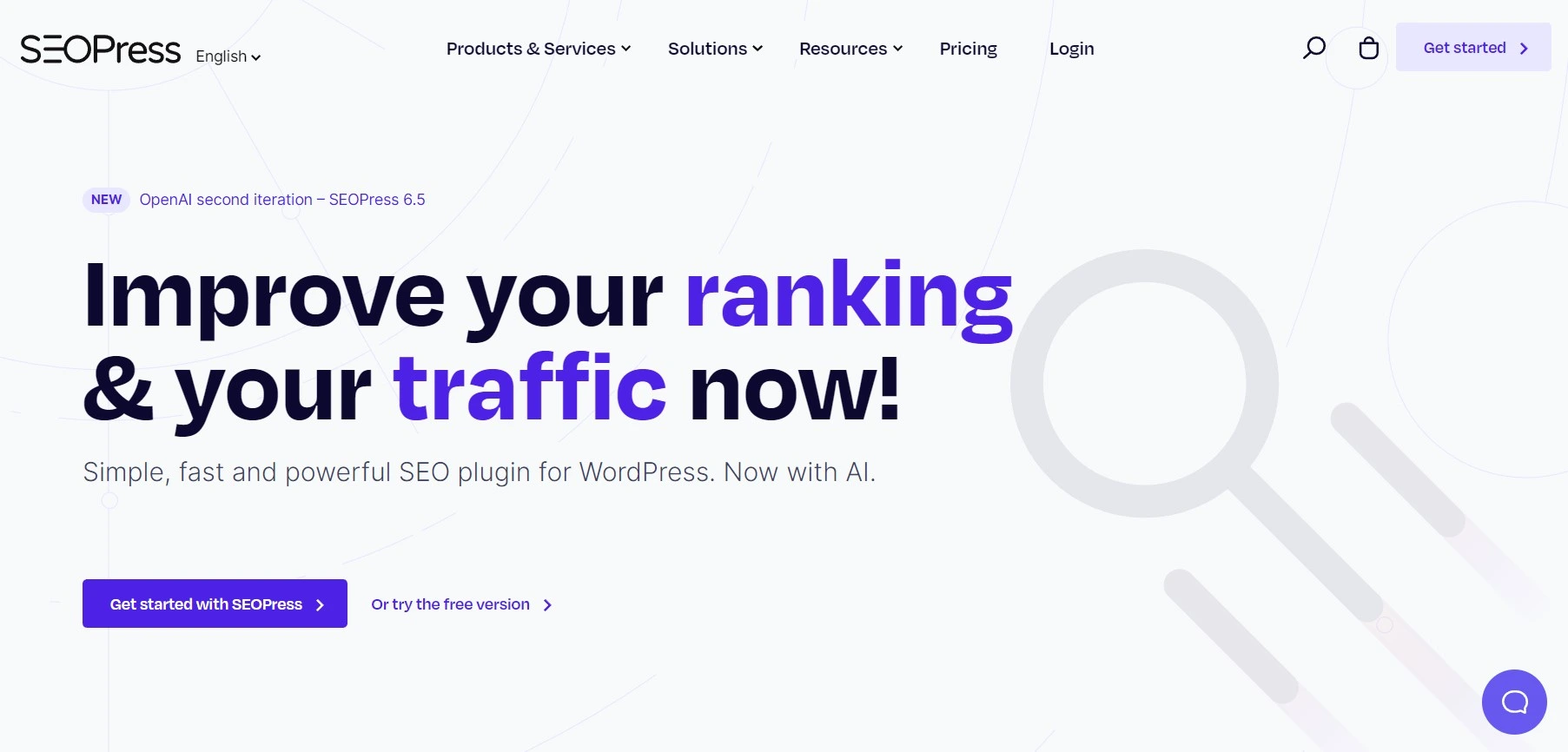 SEOPress is a lightweight plugin that improves the SEO of WordPress. It is one of the most effective SEO plugins for WordPress, and it guarantees to help you attract organic traffic, increase site growth, construct XML and HTML sitemaps, add schemas, optimize breadcrumbs, handle 301 redirects, and do a variety of other things.
You may manage meta descriptions, titles, and meta robots for each post, custom post, page, and archive page with the plugin. There's also an incredible function called "Content Analysis" which focuses on content headlines, structure, images, titles, and other factors to ensure that your material is SEO-friendly. Overall, SEOPress is well worth the money for all it provides.
Features
404 error monitoring
Broken line checker
Google Analytics
Writing assistant for SEO
Image sitemap
Pricing
SEOPress Pro- $ 49 per year (ex. VAT)
SEOPress Insights- $ 99 per year per site (ex. VAT)
SEOPress Bundle- $ 128 per year (ex. VAT)
Ahrefs SEO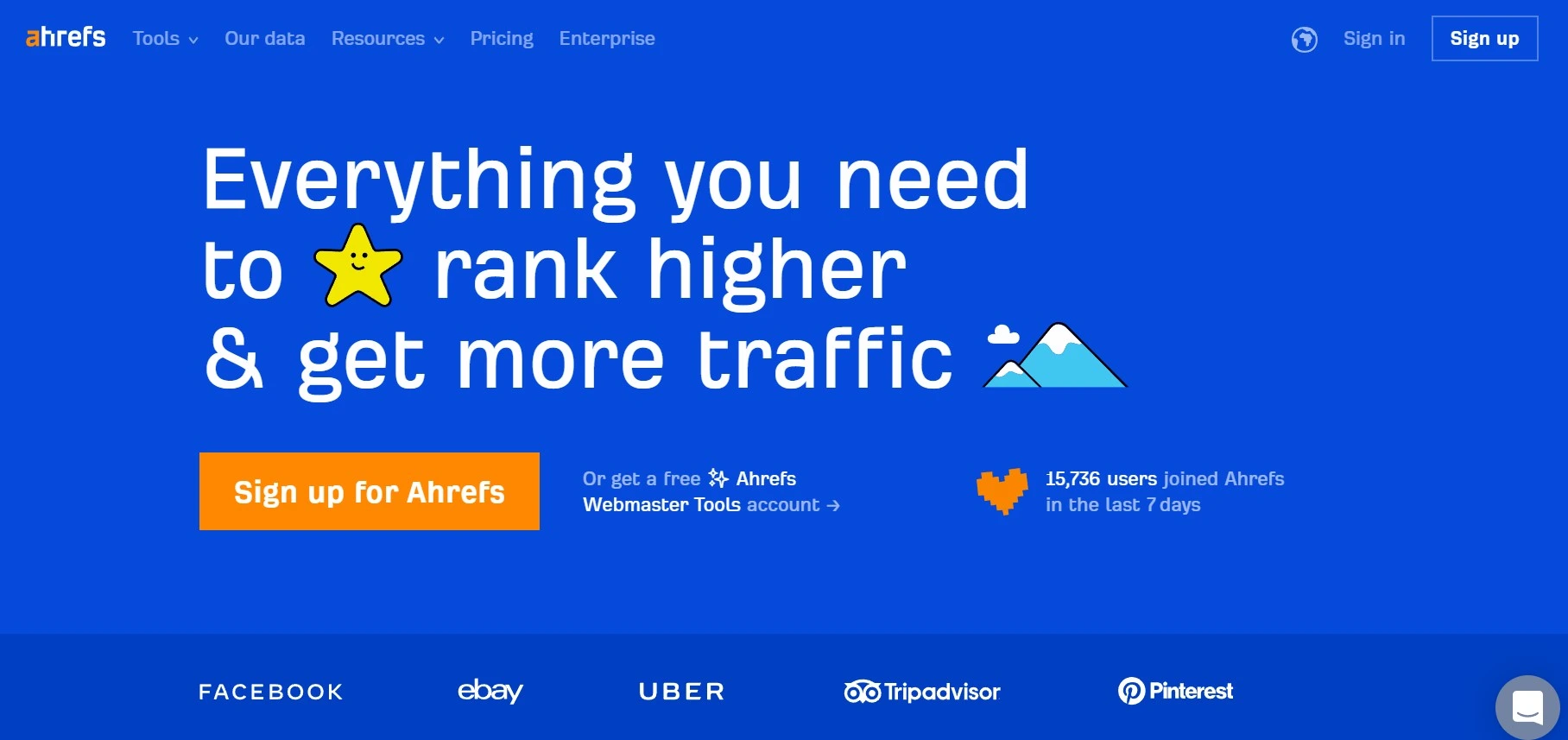 Ahrefs is a all-in-one SEO tool. Its SEO plugin helps you optimize your WordPress website in a way that boosts your organic traffic and makes the post and pages SEO-ready so that they can rank on the search engines. The plugin works by crawling websites and search engines for data and providing you with the tools that you can utilize.
It is simple to use, and millions of companies have put their trust in this tool that was launched back in 2010. Ahrefs provides you with all the tools that you need to have for an SEO project like- backlink analysis, keyword research, and site auditing. Also, carrying out broken link analysis- internal as well as external is very simple with Ahrefs.
Overall, Ahrefs is an excellent tool to use when optimizing your WordPress website for search engine results. But, it costs money, so if you are willing to put your confidence in Ahrefs, you must choose one of its expensive plans.
Features
SEO competitor research to find the best SEO keywords
Keyword explorer
Site audit to find any SEO-related issue
Rank tracker to track important keywords
Content explorer to get content on a topic you want
Pricing
Lite- starts at $ 99
Standard- starts at $ 199
Advanced- starts at $ 399
Enterprise- starts at $ 999
Over to you with the Best SEO Plugins for WordPress in 2023
SEO is a must-do for everybody who owns a website. Thankfully, owing to a large number of WordPress SEO plugins, it is extremely simple for WordPress users to obtain and apply anything.
We conducted extensive research to build this list of the top SEO plugins for WordPress. It explains how each of them is distinctive in its way and how they may assist you with their characteristics. They all, however, have the potential to increase visitors and enhance the performance of your website.
Furthermore, the most capable SEO plugin can also help you with XML sitemap creation, keyword research, broken link checker, and many other optimization efforts. The right SEO plugin will help you to get on the top of your meta descriptions and optimize content to rank for the keyword you have chosen.