LearnDash is simple to use since it is code-free and has comprehensive functionality that allows you to create completely personalized courses for your students using a simple drag-and-drop editor. Because it has so many features, there may be a slight learning curve to find out how everything works. Therefore, no particular technical expertise is required to utilize LearnDash. It may be used even by large educational institutions since it scales well and does not bow under strain.
LearnDash is easy to use and set up.
It provides a full range of capabilities that make it simple to design, deliver, and manage online courses.
With its drag-and-drop course designer, all of its features are simply accessible.
The plugin facilitates a seamless and easy user experience by integrating nicely with third-party plugins and utilities.
The plugin has granular access restrictions to guarantee that only users with permission may access the courses.
It offers a large variety of editable templates and themes, making it simple to design a distinctive and eye-catching learning experience.
LearnDash has built-in security features including data encryption and automatic backups, making it very safe.
It provides several alternatives for monetization, making it simple to make money from courses.
It offers a variety of analytics and reporting tools to monitor student involvement and development.
For first-time users, the UI might be a little complicated.
Limited Built-In Payment Options
Depending on the functionality and plugins you need, using it could be expensive.
Limited Built-In Membership Options
It doesn't have as many features as some other learning management systems.
Searching for a LearnDash review before making a purchase? You've arrived at the correct place.
Creating a website in WordPress is quick and easy. WordPress simplifies website creation. If you're seeking to design your next LMS website, some plugins can make the process much easier. LearnDash is an example of such a plugin.
LearnDash is a WordPress plugin for creating online courses, quizzes, and other learning resources for your website. You may set up quizzes, surveys, and evaluations, as well as develop courses using text, audio, photos, video, and other types of material😎.
Moreover, the plugin offers functions like user profiles, automatic newsletters, and certificates for course completion. Anybody wishing to design and administer their online courses should consider LearnDash.
In this post, we will do an in-depth LearnDash review to see how excellent the plugin is. You'll be able to tell if it's a good fit for your online course platform based on this post.👇
LearnDash Overview
LearnDash is a WordPress plugin created to assist companies and organizations in developing and distributing top-notch online courses. Thousands, of course, designers worldwide utilize it, making it one of the most well-liked course development and administration systems on the market.
The plugin differs from previous solutions for creating courses in several ways. Users may simply develop courses that look and feel professional because of its robust drag-and-drop course builder. Also, it provides a wealth of effective tools for monitoring students, marking exams and quizzes, and awarding certificates.
In addition, the plugin contains tools for generating quizzes, polls, and assignments, as well as possibilities for embedding multimedia content into courses. It also supports several payment methods, allowing users to take course fees.
LearnDash's extensive reporting and analytics capabilities are one of its most notable features. It generates thorough information on student progress, course completion, and engagement, in addition to measuring course success and income.
Overall, LearnDash deserves to be considered one of the top WordPress LMS plugins👍.
LearnDash Features 2023
LearnDash: Course Builder
LearnDash lets you create informative courses in which you can include unlimited chapters, quizzes, topics, assignments, etc. To start creating a course all you have to do is go to your WordPress dashboard and then tab courses under LearnDash. You will then see a window from where you can press "Add new" to start creating your course from scratch.
Once you create a course, there will be a native WordPress block editor and tabs on the top to configure the additional options.
LearnDash: Drag-and-Drop builder
The ability to drag and drop content into your page is LearnDash's finest feature. This useful capability lets you set up the structure of your topics, lessons, and more.
Lessons are the main block for knowledge, then come the topics. You can divide the lessons into topics to make your work look attractive and easy to understand.
Using it is very simple you just have to drag and drop things to arrange them in whatever way you like.
LearnDash: Add content to lessons and decide on the topic
Once you have decided on the structure of your course using the drag-and-drop builder, you can then open the editors for adding content to those lessons and topics.
You can do that using the WordPress block editor other than that you get an associated content box at the bottom of the sidebar that allows you to see how this part matches up with other topics.
LearnDash: Lesson Settings
Under the settings tab, you get options to add details to your lesson. It can include features like a detailed video, a PDF, assignments, and other things.
LearnDash: Adding Quizzes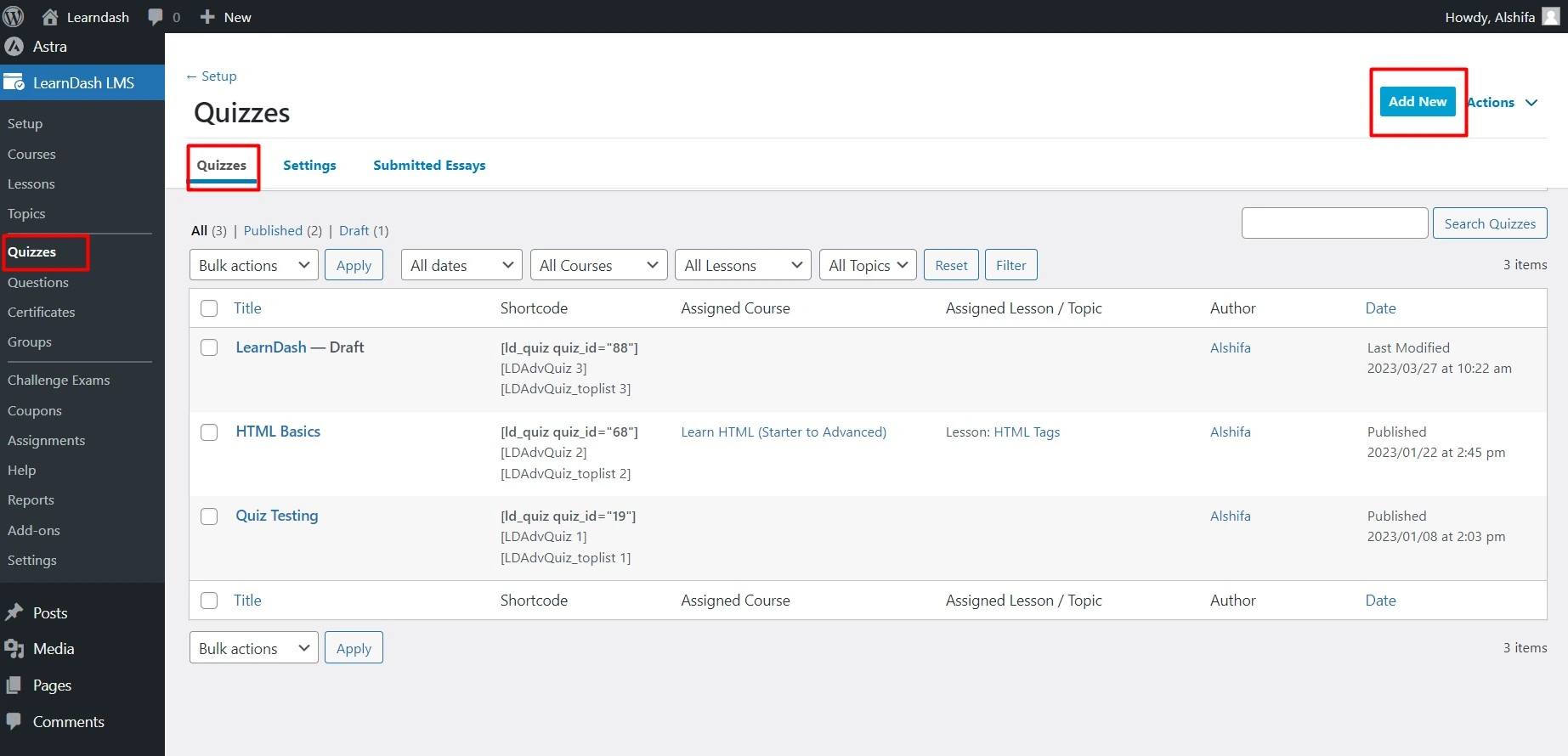 There is a dedicated quiz builder included in LearnDash that behaves like a course builder. Using it you can add many questions and even arrange them in an order you like by using the drag-and-drop feature.
LearnDash: Quiz Settings
In the setting tab, there are more advanced features that you can use to make your quizzes interesting. These advanced options include question order randomization, a quiz timer, a quiz certificate, retakes, passing scores, and more.
LearnDash: Adding Assignments
You can add assignments to your course in the Topic or Lessons interface.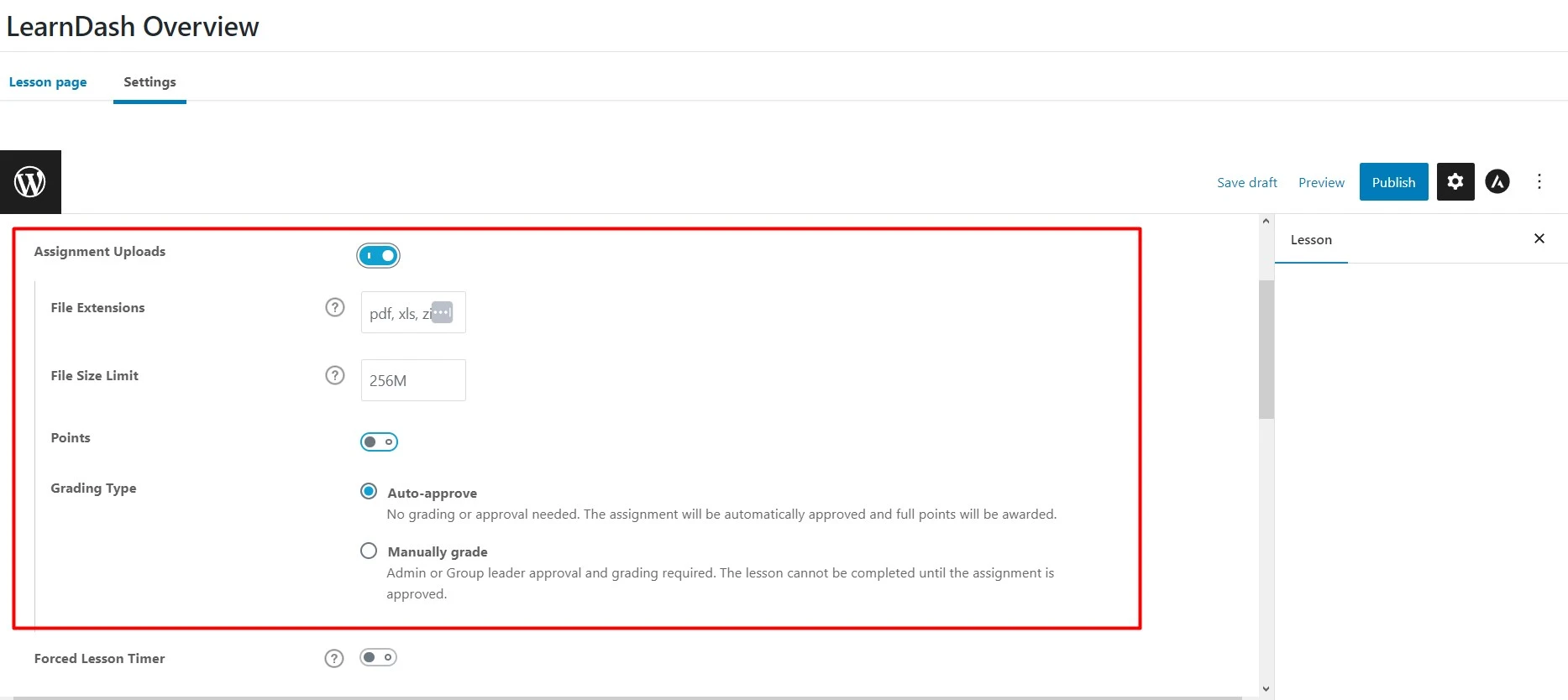 And after that manage them in the assignment area.
LearnDash: Blocks
LearnDash provides you with many blocks to set up your frontend content if you are using a WordPress block editor. The block approach of LearnDash provides a very native emotion.
LearnDash Profile Block
Learndash registration block
LearnDash: Controlling Access to course
You can decide who can access your course once you are finished creating it. There are five options-
Open- Your course is public, anybody can see it
Free- People have to enroll and register but they don't have to pay for getting your course
Buy Now- To access your course the person has to pay a one-time fee
Recurring- A recurring fee is the condition for getting access to your course
Closed- You will manually add people or use different a membership or payment plugin
Other than that, you can also set up course prerequisites, access expirations, certificates, and other things.
LearnDash Alternatives
LifterLMS also provides a drag-and-drop course builder. It has a ton of features that make creating and selling online courses simple. You may turn your WordPress website into an expert eLearning platform with all the features your LMS might need by using LifterLMS.
Although it is free, many of its strong features may only be accessed by purchasing extra additions. You can also add new functions to the plugin and simplify the process of creating courses by using these add-ons or extensions.
Kajabi
If you're seeking the highest quality online course platform, Kajabi is the way to go. No other course builder offers the same level of quality in terms of tools, features, themes, templates, and community all under one roof. It is great for novice business owners.
With Kajabi, you can access any aspect of your business with a single click. Second, because everything is pre-formatted, you don't need to know anything about marketing. Finally, the network of fellow course developers and coaches ensures that a solution to your problem is never far away.
Podia
Using the all-in-one Podia platform you may sell online courses, digital downloads, webinars, coaching, packages, etc. The fact that it supports countless courses and goods is its biggest feature. It may also be used for affiliate management, drip campaigns, email marketing, website design, and other things.
Podia enables you to increase customer engagement if you're interested in developing course content in the Masterclass style by including quizzes, drip content, and comments from students (you may disable comments if you don't want that).
LearnPress
With LearnPress, a straightforward WordPress LMS (Learning Management System) plugin, you can create the ideal website for learning. With its help, you can easily and elegantly produce and sell courses online. It has a great user interface that enables you to design an interactive course curriculum with assignments and tests.
The plugin isn't burdened with pointless features. Everything you need to create a straightforward online course is included in the free edition. The one-page course creator and setup wizard make LearnPress astonishingly simple to use.
LearnDash Pricing
LearnDash LMS
1 site- $ 199 per year
10 sites- $ 399 per year
Unlimited- $ 799 per year
LearnDash Cloud
Pay monthly- $ 29 per month
Pay annually- $ 24 per month
LearnDash Add-On
ProPanel
1 site- $ 49 per year
10 sites- $ 99 per year
Unlimited- $ 199 per year
Groups Plus
1 site- $ 49 per year
10 sites- $ 99 per year
Unlimited- $199 per year
FAQs
What exactly is an LMS, and why is it used🙋‍♂️?
An LMS (Learning Management System) is a software program that assists educators in managing educational courses and student learning.
It is often used to assist administrators, teachers, and students in the management of course materials, assignments, assessments, communication, and cooperation. It is used to generate and distribute material, measure student progress and performance, and evaluate the learning experience's efficacy. LMSs are used to aid in the construction of e-learning courses and to facilitate interaction between instructors and students.
What is LearnDash and how does it work?
LearnDash is an online learning management system using it teachers may administer their courses, monitor student progress, and award certificates or other incentives. Businesses, academic institutions, and other organizations utilize it to design and provide efficient online learning experiences. It is well-liked by organizations wishing to develop a course or training program for their staff or students since it makes it easy for users to generate compelling material and administer their courses effectively. 
Is LearnDash simple to use🤔?
LearnDash is straightforward and quite simple to use. The drag-and-drop course organizer allows you to create your whole course without writing a single line of code.
Is LearnDash completely free?
Unfortunately, LearnDash is only available in a subscription form, and there are no free trials. They do, however, provide a 30-day return policy and you may also check it out with a demo before you buy.
Do you need to know how to code to utilize LearnDash?
No, coding knowledge is not required to utilize LearnDash. It is an easy-to-use platform with a simple UI that allows users to rapidly and simply construct learning experiences without any coding knowledge.
Who are the most frequent LearnDash users?
LearnDash is frequently used by the following people:  course developers, authors, individuals, educators, corporations, and organizations searching for an easy-to-use platform to enable online learning are common LearnDash users. Organizations also utilize the platform to track and assess user progress, provide learning resources, and produce reports.
Is LearnDash worth the money?
Depending on your demands and financial situation. LearnDash is a thorough learning management system that may help people, corporations, and organizations in a variety of ways. For individuals who require its capabilities, its robust features and customizable settings may make the purchase price worthwhile. It might not be worth the price, though, if you don't want the sophisticated features or customization possibilities. You will have to decide whether LearnDash is cost-effective in the end.
What makes LearnDash stand out?
Ease of use
LearnDash is simple to use since it requires no coding and allows you to create courses with a simple drag-and-drop editor. Because it has so many features, there may be a slight learning curve to find out how everything works. Therefore, no particular technical expertise is required to utilize LearnDash.
Scalability
LearnDash is extremely scalable. It's one of the things that sets it apart from other LMS plugins. LearnDash can readily grow to a large number of students and courses due to its more robust features (such as ProPanel).
A superior front-end learning experience
LearnDash has developed one of the top front-end user interfaces available. Together with helpful elements like tables of contents, progress indicators, and other features, learners receive a truly pleasant, distraction-free experience.
Third-party Marketplace
LearnDash offers a thriving third-party marketplace in addition to the many official extensions and integration plugins, making it incredibly simple to add new features to your course. For instance, among the several third-party extensions available are: many teachers (like Udemy), reviews and ratings of courses, individual messaging, and many more.
Flexibility
LearnDash gives you the option to modify your courses to suit your requirements. To keep your pupils interested, it lets you include quizzes, surveys, and other activities.
Automation
LearnDash can automate a number of the time-consuming procedures involved in managing an online course, including sending out certificates, emails, and reminders.
Engaging Content
Videos, articles, and audio files are just a few of the many content types that LearnDash provides. This enables you to develop courses that engage students and keep them interested.
Great Support
All of Learndash's clients receive excellent customer service. LearnDash has a fantastic support staff that can assist you with any problems you might have. They may be reached by email, phone, and live chat. You may also receive the assistance you want from their vibrant Facebook group community.
Worth the money
If you compare Learndash's current pricing to what you get and the other available alternatives, I believe it is not much pricy. For the features it delivers, the pricing is reasonable.
Over to you with my LearnDash Review 2023
LearnDash is a robust learning management system that enables users to develop and deliver interactive, highly customizable courses. A great option for anyone who wants to design and administer online courses. Its extensive feature set and robust reporting features make it an excellent choice for course developers of all sizes. It is typically cheaper if you want thorough quiz capabilities and other complex features.
As a result, I have no hesitation in suggesting LearnDash to anybody trying to produce online course content using WordPress. Whether you're a single creator, a business looking for an employee training solution, or a major academic institution LearnDash is a perfect choice for you.
I hope our LearnDash in-depth review helped you determine if it's the perfect plugin for you.