Are you also confused about how you can build an excellent highly interactive user interface for online courses website?
Interestingly you can find all the options you need on your WordPress websites in the form of LMS plugins. With the help of LMS plugins, you can build perfect online course-selling platforms. These plugins give you the capability to interactively design and publish course content to be further consumed by your learners.
But before we dive into the topic lets simplified, what LMS means.
In very simple words, LMS stands for "Learning Management System," and an LMS plugin adds features to your WordPress site that enable you to offer online courses, quizzes, assignments, and other learning materials to your students or audience by using the WordPress content management system (CMS). LMS plugins are software components that can be used to add new features and extend or enhance their functionality without writing code.
Moving a website having one LMS plugin to a website having another wouldn't be easier or even possible in many cases. As such, If you have a scalable plan in mind, it becomes vital to think about the efficacy of the LMS plugin you are utilizing on the website.
You should focus on the below points to determine whether the plugin meets your expectations –
Compatibility: Make sure that the plugin is compatible with your version of WordPress and any other plugins you are using. Check the plugin's documentation or contact the developer for more information.
Features: Consider the features you need for your online course or training program. Some common features include course creation, quiz, and assessment tools, student management, and integration with third-party tools like payment gateways or video hosting services.
User Experience: The LMS plugin should have a user-friendly interface for both instructors and learners. Look for plugins that provide easy navigation and customization options to create an engaging and interactive learning environment.
Support: Consider the support provided by the plugin developer. Look for plugins with active support forums, documentation, and contact options in case you need assistance.
Price: The cost of the plugin should also be a consideration. Compare the pricing of different LMS plugins and choose the one that offers the best value for your money.
Reviews: Read user reviews and ratings of the plugin to get an idea of how other users have experienced it. This can help you identify any potential issues or limitations of the plugin.
Updates: Ensure that the plugin is regularly updated by the developer to fix any bugs and add new features.
List of LMS Plugins for WordPress in 2023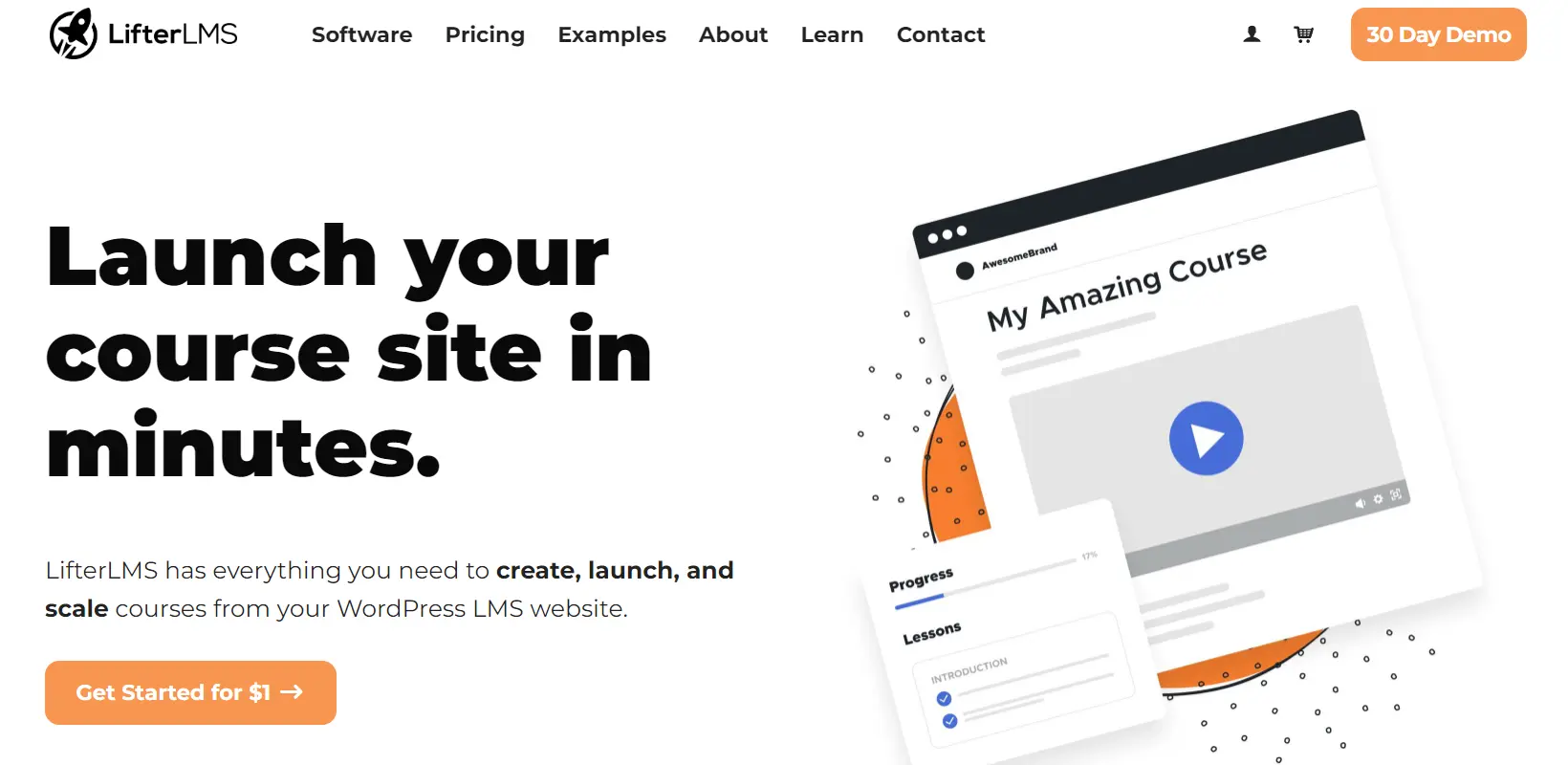 LifterLMS is a premium WordPress LMS plugin that is by far the best-designed, fast, and reliable, It helps you in building multi-tier courses with training modules, lessons, tutorials, categories, and many more, its feature-rich plugin offers you everything in one place so you can effectively build as per your desires. LifterLMS setup wizard creates all the pages accordingly to run a successful online training website.
Lifter LMS plugin is also known for its services, where you pay for a complete bundle with items like sample courses, sample quizzes, certificates, and a fully configured website as per your need.
In addition, LifterLMS provides you the flexibility to create compact courses or large degree programs even though its highly interactive features give a summary of students and track their performance and ongoing tasks of your courses in a particular sequence. In this way, you can encourage students to take multiple courses on your LMS website.
LifterLMS has a 4.7-star rating and 10,000+ active installations, it is a user-friendly tool even beginners can operate easily. However, it is a bit more expensive compared to some other options.
Key features of LifterLMS –
Lifter LMS

Delivers fully automated enrollments, courses, memberships, quizzes, and any kind of eLearning.

works with any well-coded WordPress theme/FSE, the Block Editor (Gutenberg).
performance tracker, In-Depth Reporting, Create Timed or Open Quizzes, Drip Content, Add Prerequisites and Analyze Progress.
Integrate a Community Forum
Integrated Payment gateways, Email marketing, Mobile friendly, Use any theme or page builder, CRMs, E-learning authoring tools, Tin Can API (xAPI)
woocommerce
tons of bundles
Direct integrations for popular WordPress form plugins – Gravity Forms, WPForms, Ninja Forms, and Formidable Forms.
It has a free and premium version whose Starting price for upgradation is $149 per year for one site, LifterLMS offers several extensions which complete package is $360 per year for 5 sites.
LearnDash is one of the best newbie-friendly LMS plugins, offers a wide variety of features it has a simple drag-and-drop course builder so you can create lessons, topics, quizzes, and categories. LearnDash supports SCORM and Tin Can API for heavy-duty implementations its ProPanel feature is preferred to academic institutions, as it offers quick assignment management, emailing features, and more detailed learner information and analytics. It also offers built-in features to charge one-time or recurring access fees, as well as advanced features like content dripping, course prerequisites, and many more.
The best perk of using this is its drag-and-drop features for designing. it has 4.6 ratings and thousands of userbases including large educational institutes.
Key features of LearnDash –
LearnDash works with any WordPress-verified theme.
ProPanel's analytic tools help you easily assess your courses. (add-on)
Drag & drop course builder.
Course cloning.
dashboard where Learners can view courses, quiz scores, and points earned at a glance.
Stripe integration.
WooCommerce for a full shopping cart experience.
Supports images, videos, audio, SWF files, HTML5, SCORM, xAPI, and more.
Starting price for the LearnDash LMS plugin is $149 and with the Pro panel addon $49 additional for one site.
LearnPress
LearnPress is one of the simplest and cleanest choices available WordPress LMS plugins Market. The primary benefit of using this plugin is it's completely free to use, but you most likely have to pay for themes, most of the basic LearnPress add-ons are free to use, and the email support is also decent in the free version. You can also opt to pay for premium add-ons for items like certificates, co-instructor support, and WooCommerce support.
This is one of the best comprehensive WordPress LMS Plugins which can be used to easily create & sell courses online. You can create a course curriculum with lessons & quizzes with a user-friendly interface for users and Its drag-and-drop builder allows you to create courses, lessons, and quizzes quickly and effortlessly. for more functionality, LearnPress provides premium add-ons (like a drip-feed feature) and its free add-ons include wishlists, course reviews, and prerequisite courses, and a few others.
It has 250,000 + active installations and 4.3 ratings.
Key features of LearnPress –
WPML, WPML add-on
Create courses and live video meetings using Zoom or Google Meet (addon)
WooCommerce as payment gateway.
14 languages.
inbuilt BuddyPress makes it easier for you to communicate with your students or instructors via the WordPress forum.
content drip
Stripe.
You can use it for free or You can buy the premium add-ons separately Starting price for plugin is $249.99.
Tutor LMS
Tutor LMS plugin is a feature-packed, and strongly built WordPress LMS plugin to effortlessly create & sell courses online. All the features of this LMS hit all the parameters for a full-fledged online course marketplace. Tutor LMS comes with a revolutionary drag & drop system to create resourceful courses also Creates compelling quizzes, assignments, lessons, and more to create resourceful eLearning courses. In addition, it offers an Organized and personalized dashboard for teachers & students. Access everything you need to manage your LMS website from one spot.
Tutor LMS has more than 60,00+ active installations and a 4.6 rating as well.
Key features of Tutor LMS –
Personalized Dashboard for Teachers & Students.
track the performance of individual student progress, and more with data-driven insights features.
Get a competitive edge with our exclusive in-house designed email templates
Page Builder Support gives you full advantage over page builders like Elementor, Divi, and Oxygen Builder.
Easy Migration From Other LMS.
Multiple Payment Gateways.
Easy integration with Elementor, Divi, BuddyPress, and many others.
Starting price for the plugin is $199 per year for one site, it also offers a free version as well.
Masteriyo
Masteriyo is a power-packed incredible LMS that allows its user to create courses in a few minutes. Masteriyo is clutter free & easy to learn which makes it beginner friendly with its use you can Create structured courses with segments like sections, lessons, quizzes & assignments. Masteriyo offers many addons ( like Google reCAPTCHA, White Label, Wishlist & many more ) to meet the small and big needs of every site owner. we can say that without any doubt Masteriyon is a fast and simple course builder that requires no coding skills, and it's packed with all the necessary features you need to improve productivity.
Currently, it has 2000+ active installations and 4.9 ratings as well.
Key features of Masteriyo –
Set up Wizard which helps in integrating Masteriyo with your WordPress site.
Single Page Application saves time.
Inbuilt Order System.
Masteriyo provides integration with the popular e-commerce plugin WooCommerce.
Addons that are Customizable & Extendible.
It works with any theme that is made following WordPress Theme Standards.
Starting price for the plugin is $49 per year, they have a free version as well but it doesn't have all the necessary features.
What is the abbreviation LMS stand for?
LMS stands for Learning Management System.
What is an LMS plugin?
An LMS plugin is a type of software that can be installed into an existing Learning Management System (LMS) to facilitate the delivery, management, and tracking of online learning materials. It typically provides features such as user authentication, enrollment management, course management, content delivery, assessment creation and scoring, reporting and analytics, communication tools, and virtual classrooms.
Should I buy a WordPress LMS plugin or online course-selling platforms?
You can use the WordPress LMS plugin if you are acquainted with it. WordPress gives you more customization capabilities compared to other course platforms such as Podia. However, if you are a beginner and your purpose is to only create and publish courses effectively then you can also for online course-selling platforms.
Is it effective to market the courses on WordPress?
Yes, WordPress gives you a whole bunch of tools and plugins to market your course content. You can even track your efforts and make changes to your marketing plans.
Are WordPress LMS plugins good for SEO?
WordPress is best for SEO whether it is a blog, listing site, course selling site, or anything. All you have to do is use the right plugins and resources. In LMS plugin settings, you can customize the SEO configurations.
Is WordPress a good option to send emails to course students?
I know you are afraid of the non-delivery of various transactional emails that are sent to your students. However, using a capable SMTP plugin such as SendGrid or Sendinblue can ensure a high delivery rate.
How much time does it take to set up an LMS website on WordPress?
Considering your course content is ready, it may take up to 3-7 days to completely set up an LMS website on WordPress.
Which LMS Plugin is best suitable for WordPress?
Based on my personal experience and some public opinions, LifterLMS is making the creators crazy with its awesome features. However, considering the compatibility and integrations LearnDash might be the better choice for larger businesses. Overall, both solutions are great and can be used to build amazing online learning platforms. Ultimately, the decision depends on your unique needs.
LifterLMS or LearnDash; which one should I go for?
Both Lifter LMS and LearnDash offer great features and capabilities. However, it is the user experience that makes all the difference. If you look into the backend course creation of these plugins and compare them, you will find that LifterLMS is smooth and easy to work with. On the hand, LearnDash is not so tricky either. Likewise, you should prioritize your requirements before you make a decision on them.
Over to You
These are some of the best LMS plugins that you can use on your WordPress website to create and sell online courses. LifterLMS is a very advanced plugin today. Its course builder allows you to create lessons and their content in a single layout saving you a lot of time and energy.
Buying an LMS plugin shouldn't be your first priority but creating course content. Without properly set up courses, your website will not be able to sell effectively. It is thus pertinent to focus on the course content. An LMS plugin can further assist you in getting your course to your learners.
I hope this article helped you choose the right LMS platform for your online course business.