The choice of a hosting provider is one that you should carefully consider. WordPress hosting is a popular approach to creating a low-cost but powerful website😎. In the long run, the success of your WordPress site will be significantly influenced by your web host.
There is plenty of Hosting Solution for WordPress in the market. But which of these are truly excellent choices for low-cost WordPress hosting? It's a good idea to conduct some research in advance, which is why we wrote this post to assist you.
Prices are frequently at an all-time low since the market for inexpensive hosting is so cutthroat. Most users won't want anything more than the most basic shared hosting; thus, web hosts charge appropriately for those sorts of services.
The word "cheap" is often associated with derogatory ideas. However, if you select a web host with a solid reputation and the appropriate package for your requirements, you may receive excellent performance for a little website🙌. You may also get a lot of value for your money with some great beginner plans 👌costing less than $5 per month.
A lot more power or features are often accessible with more costly hosting plans. But for many websites, less-priced WordPress hosting packages are equally as effective as more expensive ones🤩.
Everything you need to know about the best "cheap WordPress hosting" will be covered in this post.
Let's start now✨!
List of the Best Cheapest Hosting Solution for WordPress in 2023
Cheap WordPress hosting often refers to a shared plan with adequate bandwidth and storage. The finest affordable WordPress hosting providers are listed below for your convenience👇
Hostinger
If you're ready to pay for several years upfront, Hostinger is among the least expensive web host solutions for most WordPress users.
The image becomes a little bit more difficult though once you start looking at the data. You must prepay for four years of hosting to receive the $1.99 pricing. A two-year contract is the next choice, which essentially doubles the cost. The cost will be roughly ten times higher if you pay in installments.
Overall, the shared WordPress plans from Hostinger have a good selection of features. You will have whatever you need if you're like most new website owners. Additionally, all of this is provided for a reasonable cost.
Pricing
DreamHost
Where DreamHost truly excels is in its WordPress-specific solutions. It is one of WordPress' official recommendations due to the extent of its platform optimization.
DreamHost doesn't believe in overwhelming you with a variety of hosting tiers, in contrast to certain other web providers. There are two alternatives with significant differences for each sort of hosting package they provide.
The lowest DreamHost plans are shared hosting alternatives, as you might expect. The Shared Starter tier has a three-year commitment and costs $2.59 a month. But DreamHost also provides reasonably cost annual and monthly plans. The cost only increases to $4.95 if you want to pay every month.
Pricing
Starting from- $ 2.59 per month (yearly)
Bluehost
One of the most well-known web providers and our top pick for the most affordable hosting service is Bluehost. You must prepay for hosting for at least three years to receive Bluehost's best rates. There are no month-to-month choices available, but they do offer one and two-year contracts.
Given that Bluehost requires a sizable upfront payment to use it, we advise choosing its Plus plan instead. For Rs. 279 a month, you may host an unlimited number of websites and have unrestricted bandwidth with the plus tier.
Pricing
Starting from- Rs. 169 per month
HostGator
HostGator makes it to the list of inexpensive WordPress hosting because of the value it provides for the price. With rates starting at $2.75/mo, you can expect simple maintenance and a plethora of essential features.
Its WordPress plans to provide free site migration and one-click WordPress installation. You will also receive access to hundreds of WordPress themes.
HostGator provides a handy combination of a customizable UI with cPanel. You may manage email accounts, SSLs, and databases using the client portal, as well as install WordPress directly from the dashboard. In addition, HostGator's plans include email, a domain name for a year, a free SSL, and unlimited bandwidth.
Pricing
Starting from- $ 2.75 per month
A2 Hosting
Any web host you're thinking about should be pushed to a much higher standard because you use WordPress. Given WordPress' enormous popularity, providers ought to provide certain functionality targeted toward its users. A2 Hosting does not disappoint in this area.
A2 Hosting has the most varied selection of plans and levels of all the web providers we've so far reviewed. The Startup shared hosting plan, priced at $2.99 per month with a three-year commitment, is the least expensive of all of them.
The hosting provider doesn't offer a significant price differential based on the length of the contract, in contrast to the majority of the other alternatives on our list. For instance, the Startup plan's two-year contract costs just $2 less than the price of an additional year. Of course, the objective is to keep you inside for as long as possible.
Pricing
Starting from- $2.99 per month
NameCheap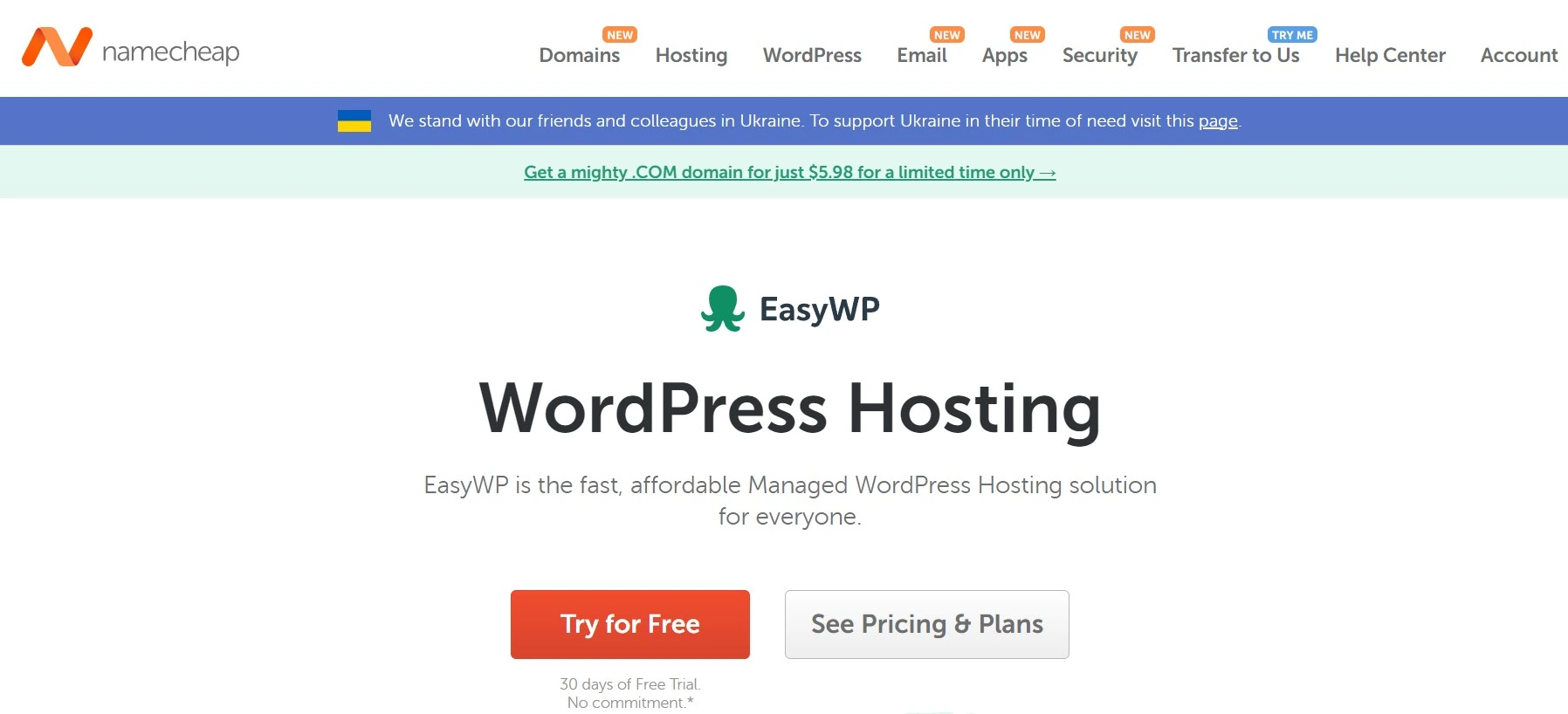 As a domain registrar, Namecheap may already be recognizable to you. But they also happen to have some of the most affordable hosting packages available, especially if you want to pay monthly.
There are three choices from Namecheap if you're looking for a shared plan. All its shared hosting plans include a free website builder, privacy protection, domain name, SSL installation, SSL certificate, email service, cPanel, and 24/7 support in addition to what was said above.
It is among the list's most reasonably priced hosts. NameCheap offers a wonderful price by letting you host up to three websites on its basic shared plan.
Pricing
HostPapa
HostPapa offers low-cost shared hosting services that are ideal for WordPress. If you want more functionality, there are also optimized and managed WordPress options available. The server provides a basic native account administration interface as well as a conventional cPanel. The latter is simple and appropriate for novices.
It allows you to handle anything from installing WordPress and backups to setting up a domain name or email account. HostPapa plans include quick 1-click WordPress installation, staging, and free WP site migration.
To summarize, HostPapa is an excellent choice for newbies looking to launch a low-cost WordPress website. It can provide all of these and more, including ease of usage, free SSL, and low cost.
Pricing
Starting from- $ 2.36 per month
InterServer
The majority of InterServer products appear to be designed for sophisticated users. However, shared hosting is by far the most popular choice because it can serve both newly created websites and medium-sized organizations.
InterServer had only one shared hosting package for a long time that was limitless in every way – several websites, storage, email accounts, and bandwidth. It currently offers three shared hosting packages to accommodate a larger population. They all have the same features, such as unlimited storage space, bandwidth, free domain registration, and email accounts, as well as the ability to connect an infinite number of domains.
Pricing
Starting from- $ 6.00 per month
FAQs
What exactly is WordPress hosting🤔?
WordPress hosting is a service that is particularly promoted for WordPress website hosting. Most of the time, it is the same as all shared hosting options. In certain circumstances, providers handle WordPress (and other PHP software) performance improvements as well as other administrative options.
Is low-cost WordPress hosting dependable🙋‍♀️?
Yes, low-cost WordPress hosting may be dependable. By selecting low-cost options, you are only paying for what you require. Although there isn't much room for expansion or many more features, its efficiency and ease of use make it a dependable solution to get your site live.
What is the most affordable WordPress hosting💸?
Hostinger is the cheapest WordPress hosting company. This supplier provides the greatest overall service and places a high value on performance.
Is it possible to host my WordPress site for free🙋‍♂️?
Yes, your WordPress site may be hosted for free. However, it is not advised. Free hosting is notorious for bad speed, insufficient server resources, and even disappearing with your hard work. It is always preferable to go cheap than free.
Is a domain name included with the cheap WordPress hosting🤷‍♂️?
Yes, the majority of these low-cost WordPress hosting include a domain name with their monthly membership. This is an extra savings opportunity for those seeking low-cost hosts.
Should I go with shared hosting🤔?
It is determined by the size of your website. Because you are sharing the server with numerous websites, your resources are constrained. This is why we propose a feature-rich host, such as Bluehost, to provide your site with the greatest resources.
How we chose the best low-cost WordPress hosting providers?
We conducted significant research to uncover affordable WordPress hosting companies that do not skimp on quality or functionality. Here are the criteria we utilized to compile this list👇:
WordPress-optimized services should include one-click WordPress installation, free site migration, staging, caching, and other helpful features. In the meanwhile, free SSL certificates, limitless bandwidth, and professional email addresses are all excellent extras.
We examined the user interfaces of each hosting provider on our list of recommendations. We made certain that everything is simple and easy to understand, even for total beginners.
We looked at each hosting provider's monthly fee and only included those that were inexpensive while still providing high-quality services.
Even if the host provides the most desirable feature bundle at a reasonable cost, it is worthless unless it performs well. We evaluated several services to ensure that each host we sell has at least 99.99% uptime and excellent average response times.
When it comes to maintaining a website, time is important. If something goes wrong, you should be able to seek assistance right away. As a result, all of your chosen hosts provide 24/7 customer assistance via live chat, phone calls, email, or other means.
Over to you with Cheapest Hosting Solution for WordPress
Finding the appropriate WordPress host is challenging enough on its own, particularly finding one that is both good and inexpensive. With this in mind, we did our tests to determine the top affordable WordPress hosting companies on the market right now✌.
It's critical to realize that products in this price category often don't include many extras. Budget plans typically don't feature automated backups and frequently only support one website. Another drawback of inexpensive hosting is that to obtain the greatest discounts, you sometimes have to prepay for several years of service at once. The price that is mentioned frequently increases dramatically if you choose to pay monthly.
However, the best WordPress hosting services do not have to be prohibitively expensive. Several providers provide low-cost yet high-quality WordPress hosting😵. They offer a plethora of WordPress-centric features, assure high performance, and are simple to maintain👏.
So, if you don't want to sacrifice quality while staying on a budget, go on and pick any hosting solution mentioned in this article👍. They all include ease of use, a 99.99% uptime guarantee, exceptional support, and several WordPress-enhancing features✨.