LifterLMS is an excellent learning management system that enables you to create and sell courses directly from your WordPress website. It is compatible with a variety of builders, themes, and plugins. Its interactive course builder enables you to construct course modules more quickly. Course and lesson management are far superior to any other LMS plugin on the market. It provides you with happiness and value for the money you paid for the plugin.
Simple to use and set up
100% code free
Includes features such as course development, student management, quizzes, and more.
Compatible with a wide range of third-party applications.
Comes with an eCommerce solution to assist you in selling courses.
Allows you to design and host several courses.
Great support for video content
Accepts a variety of payment methods
Provides several customization options to help you personalize it to your specific requirements.
Versatile choices for selling one-time or recurring paid access to your courses.
For small enterprises, this is not the most cost-effective approach.
In comparison to other learning management systems, there are fewer customization choices.
Certain features are not available in the free version.
If you're looking for the finest WordPress LMS plugin then you've on the right platform. LifterLMS is a Learning Management Systems (LMS) plugin that is among the most-liked choices if you want to use WordPress to build an online course site. As of now, Lifter has thousands of active users and a 4.7-star rating.
This WordPress LMS plugin is fully compatible with any well-coded WordPress theme, WordPress block, or major page builder. Apart from that, it allows you to link your website to over 1500 additional apps via Zapier. You may use it to transform your website into an online learning platform. It allows you to develop everything from simple courses to full-fledged degree programs.
Since LifterLMS accepts credit card payments, one-time payments, and regular payments, selling courses becomes very simple. It also perfectly integrates with eCommerce add-ons like PayPal and WooCommerce, which further helps you to sell your courses more effectively.
In addition, membership price schemes are also offered in LifterLMS. Using the subscription/membership option, you may control not only your courses but also other users.😎
Generally, LifterLMS is considered one of the best WordPress LMS plugins but to make sure it is right for you we have brought up this article where we will go through LifterLMS features & pros & cons in detail, covering all of its essential characteristics.👇
LifterLMS Overview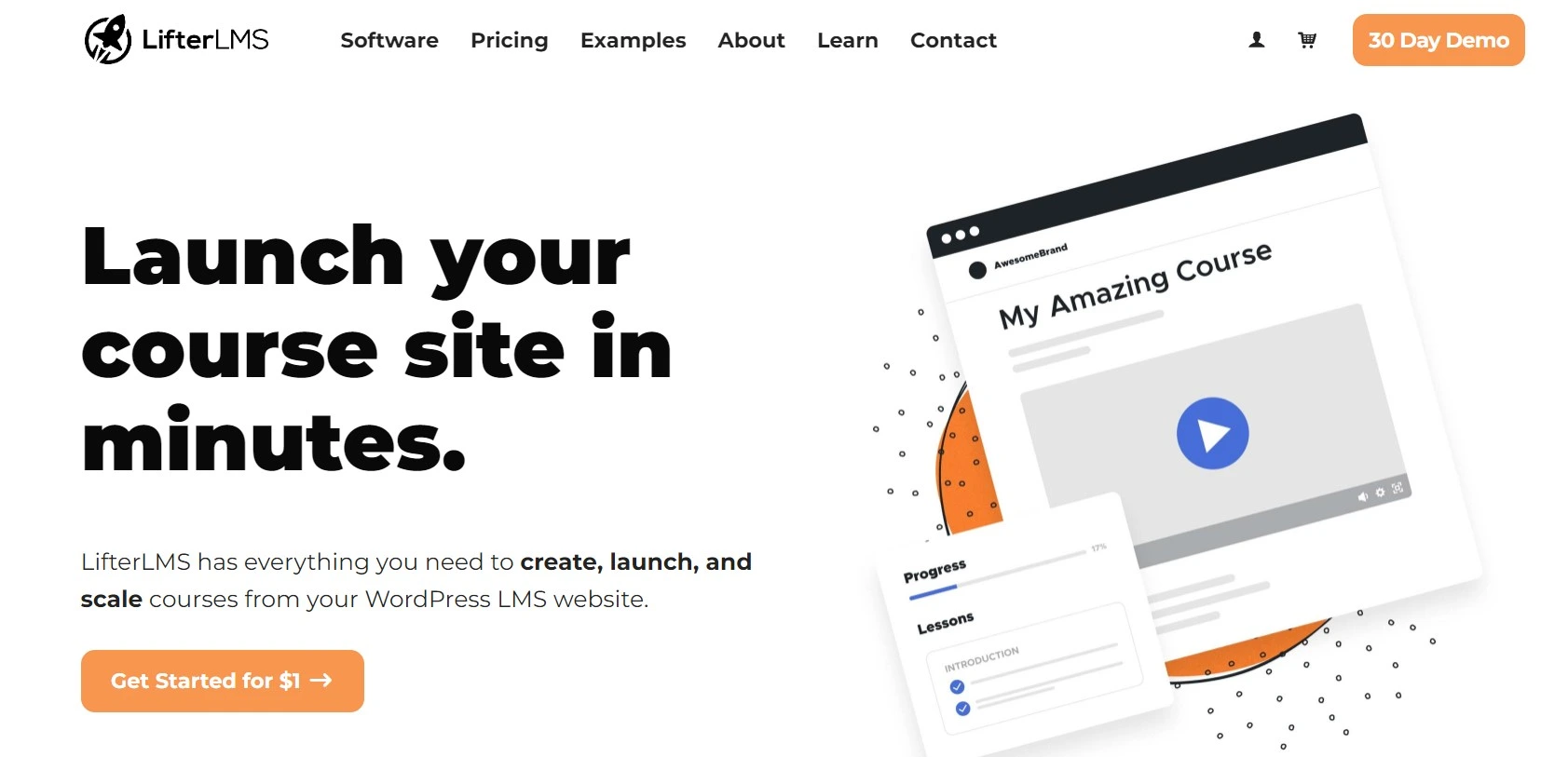 WordPress users can develop, market, and administer online courses with the robust, feature-rich, and user-friendly LifterLMS plugin. It was developed to be a versatile and user-friendly solution for developing online programs, membership websites, and digital goods.
You can easily develop, arrange, and administer your online courses with the aid of LifterLMS's wealth of capabilities. It offers a robust drag-and-drop course builder, strong course analytics, tools for members, and a wide range of connectors and add-ons.
With the help of the amazing drag-and-drop course builder, you can quickly construct and arrange your courses and lessons. Images, audio and video files, tests, and surveys, among other things, may all be included. Also, you may alter how your course appears and functions by selecting from a variety of unique themes and page designs. In addition to that, you may monitor student progress with the help of the course analytics function, examine student performance summaries, and send automated emails to students when they complete a course.
Generally, LifterLMS is one of the best WordPress LMS plugins simply because it is an easy-to-use drag-and-drop course creator that provides flexible options for selling paid access to your courses on a one-time or recurring basis.
LifterLMS Features
LifterLMS Course Builder
It takes time to create an online course since you must set up many separate bits of content and organize everything into a logical structure. But LifterLMS makes your work easier, it offers a drag-and-drop course builder that allows you to create a general foundation for your course. All you have to do to start building your course from scratch is simply go to Courses>Add Course.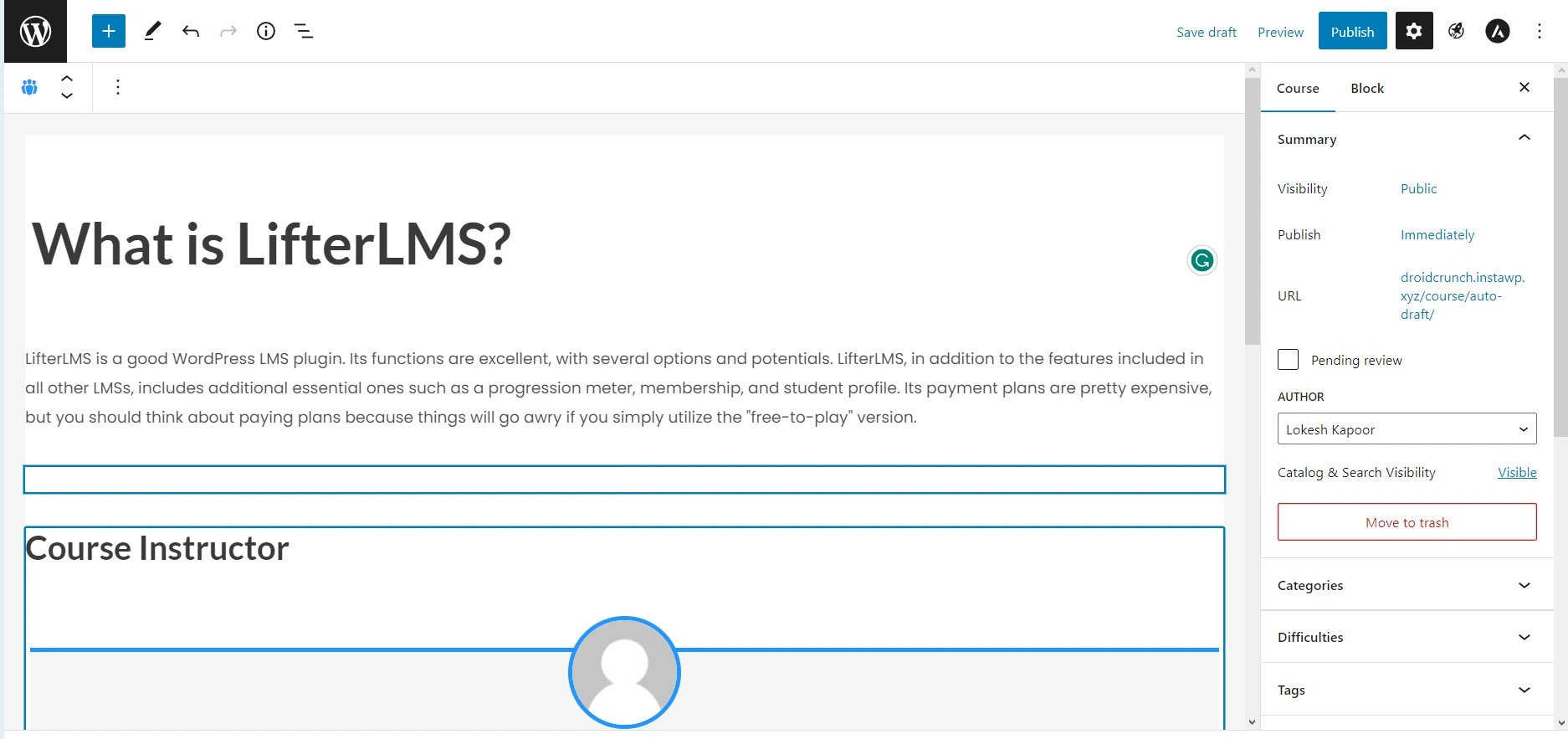 LifterLMS: Course Management
You also get a meta box below the WordPress editor that displays "Course Options" from where you can manage or add additional information to your course. These options include-
Sales page- To customize the content of your page that will appear to those who are not included in your course
General- Where you can decide your course length, course difficulty category, featured introduction video, and feature audio
Restrictions- To decide when students can enroll and when not, whether there is a maximum capacity for the course, what are the start and end dates of the course
Reviews- Whether to enable or display the customer reviews on the page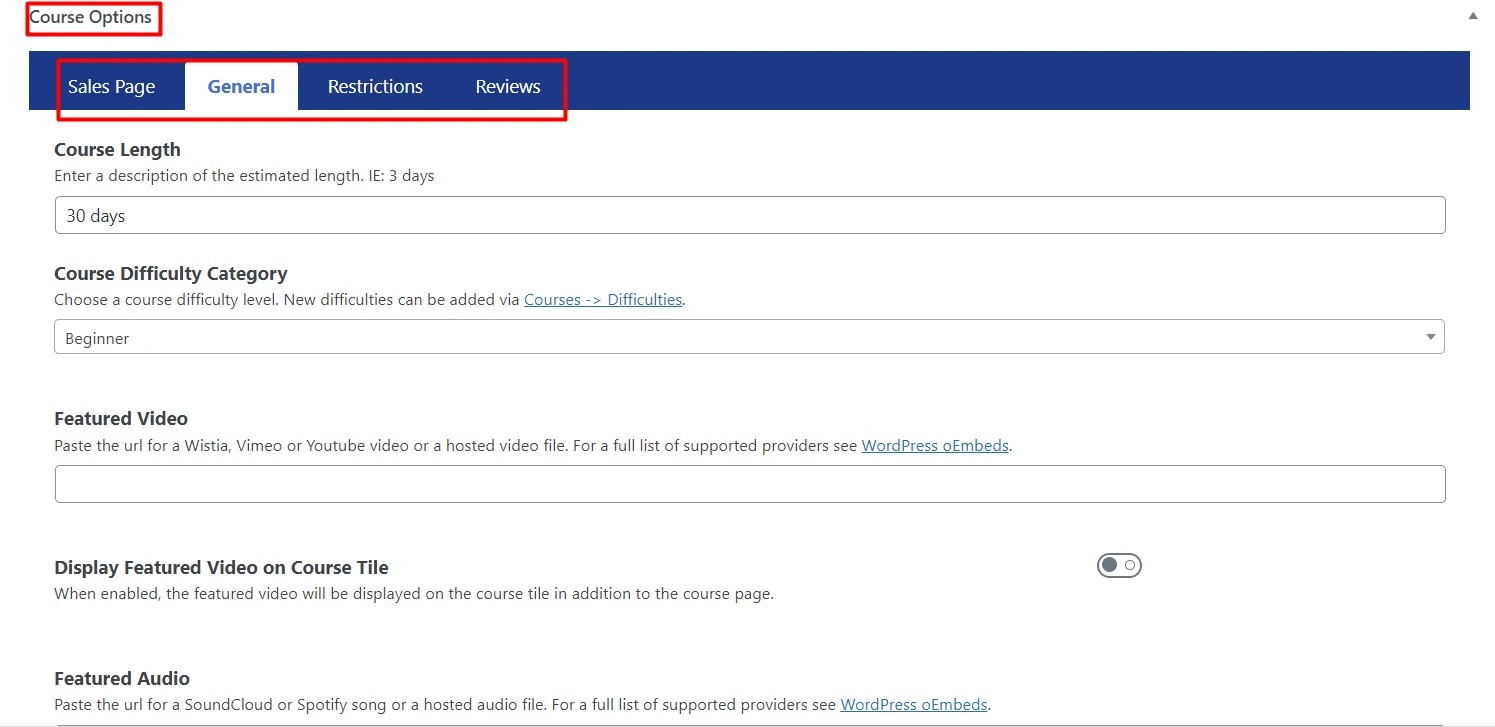 LifterLMS: Access Plans
Just below the course options on the same page there are- Access plans. These plans control the number of people who will get access to your course, including participating people to pay for getting those courses. While setting up the access plans you can- set a price or make it free, decide if the payment is recurring or one-time, whether the people paying for the course get it for a lifetime or access to the course will expire after a certain time. You can also decide who can purchase your course.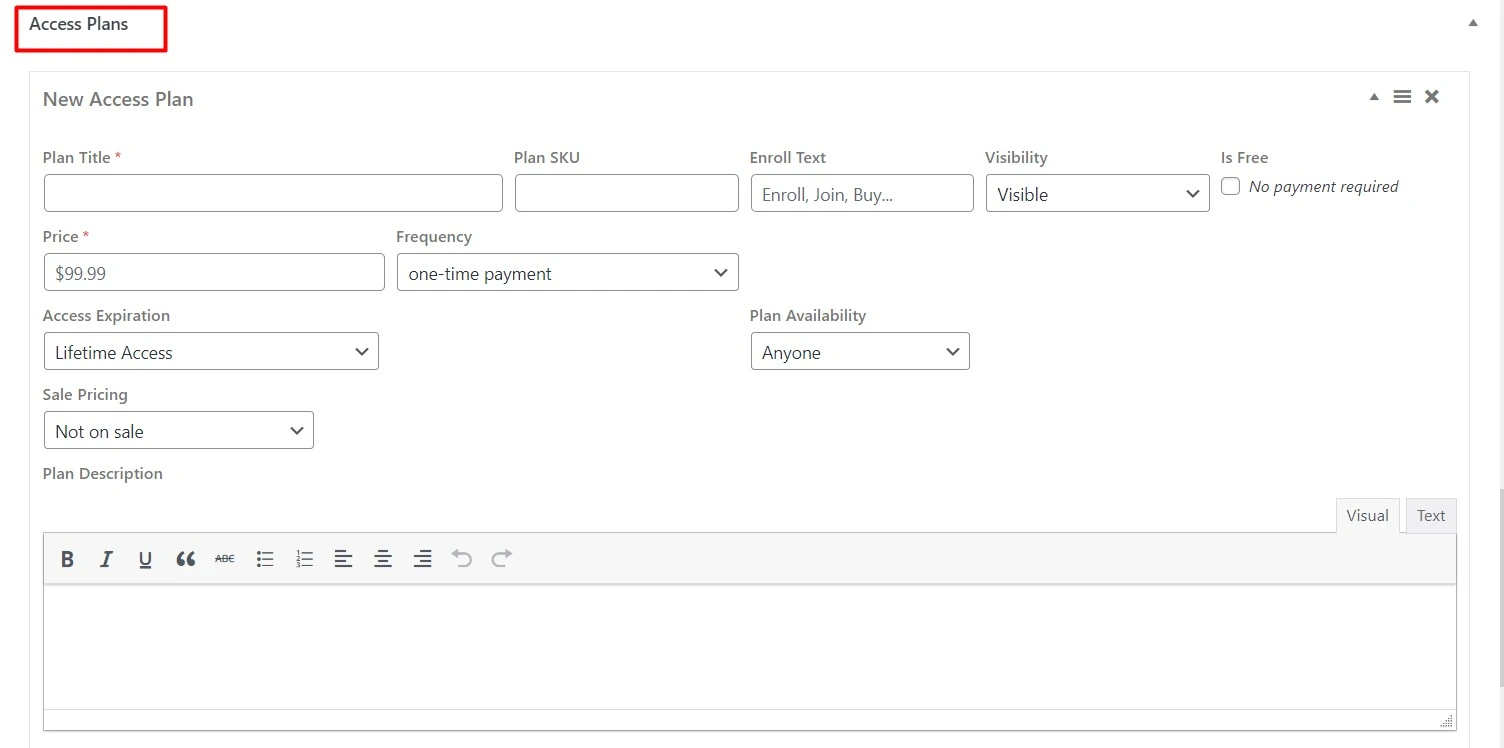 The Drag-and-drop builder
After getting done with your basic course details, start adding content to your course in the form of sections and lessons. Where section will include the categories of lessons and lessons will contain the actual content of your course that you wish to convey to the students.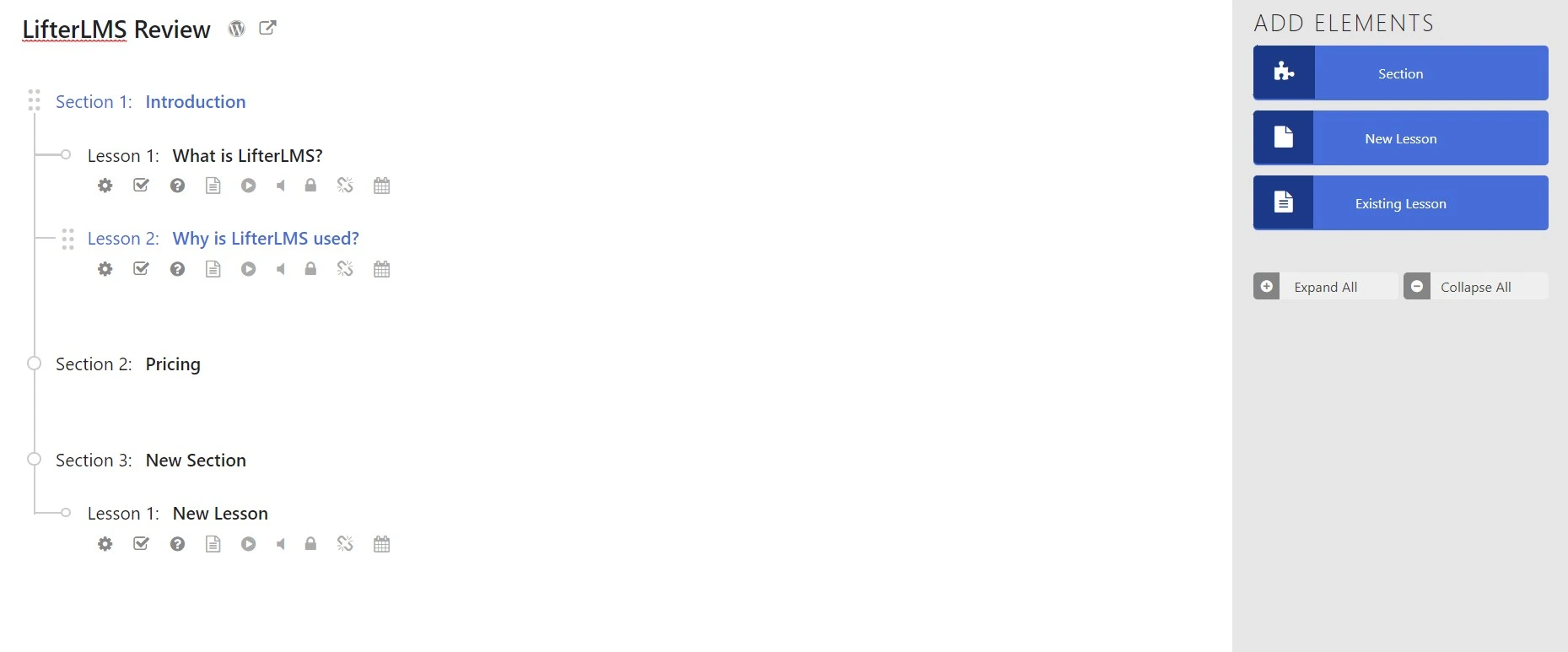 And to help you do that, LifterLMS provides you with a drag-and-drop builder interface. Using this you can easily add sections or lessons to your page and then click and type to edit the content.
If you don't like the order in which you have placed your sections and lessons all you have to do is use the drag-and-drop capability of LifterLMS and drag things around until you are satisfied with how they look.
LifterLMS: Add content to the lesson
Click the arrow beside the lesson box to open the WordPress editor where you can add content to your lesson in a separate tab.

LifterLMS Lesson Settings
There is a meta box called Lesson Settings from where you can- embed audio or video lessons, make the lesson available for free, set up the conditions that should be met before anyone wishes to take your lesson, set up content dripping to avoid the availability of lesson right away, and set passing scores for quizzes before a person can jump to the next lesson.

LifterLMS Quizzes and Assignments
For adding quizzes or assignments to your course you just have to hit the icons in the drag-and-drop builder and a panel will open where you can edit the details. However, with the free version, you only get three basic question types. To get additional quiz types you will have to take a premium add-on.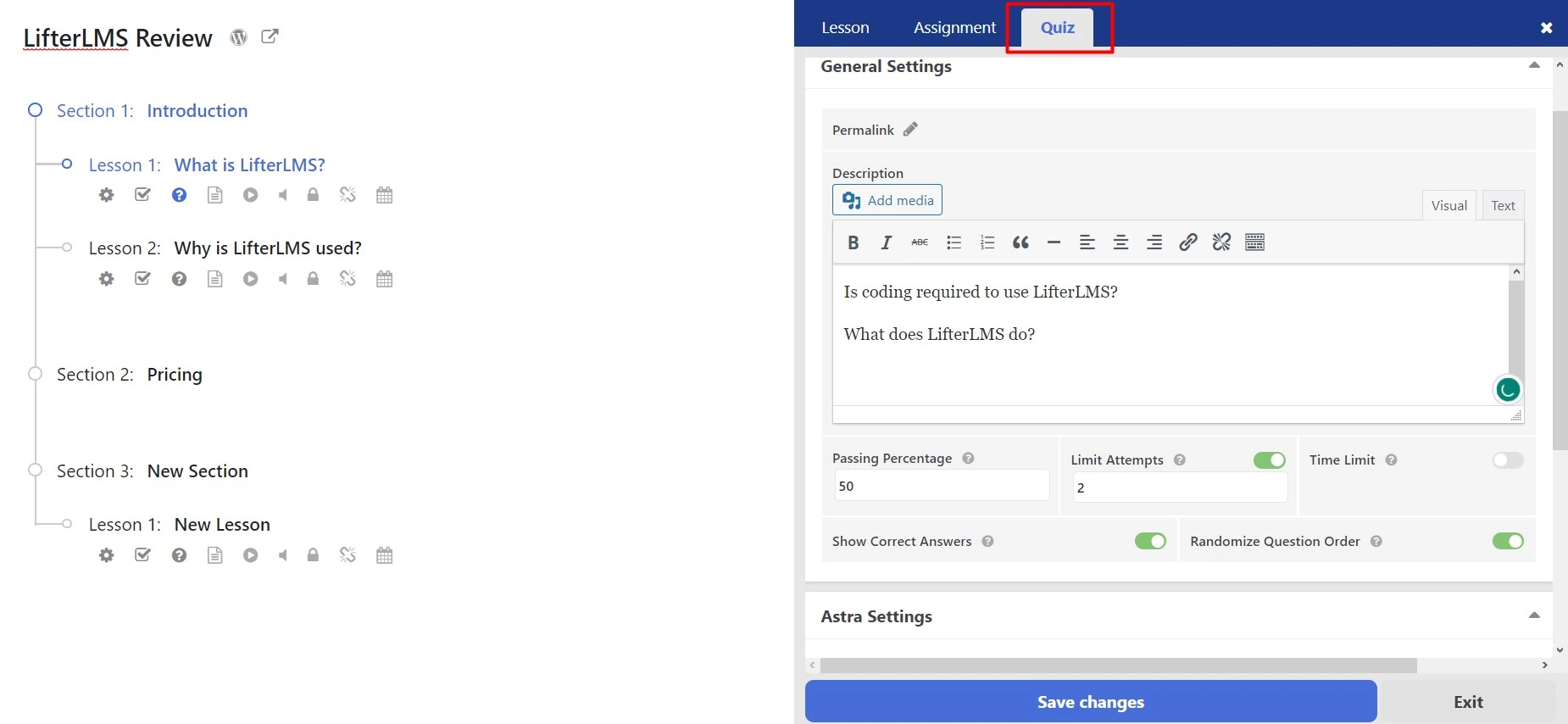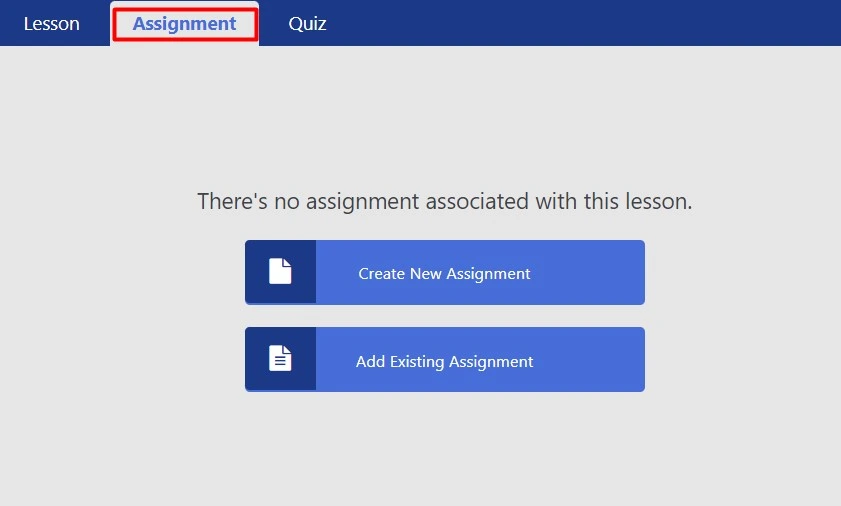 LifterLMS Engagement
You can trigger actions according to the activity of a user using the engagement feature. Based on actions like- a student passing or failing a quiz, enrolling in a course, or completing a course or a lesson the engagement feature will trigger automatic emails.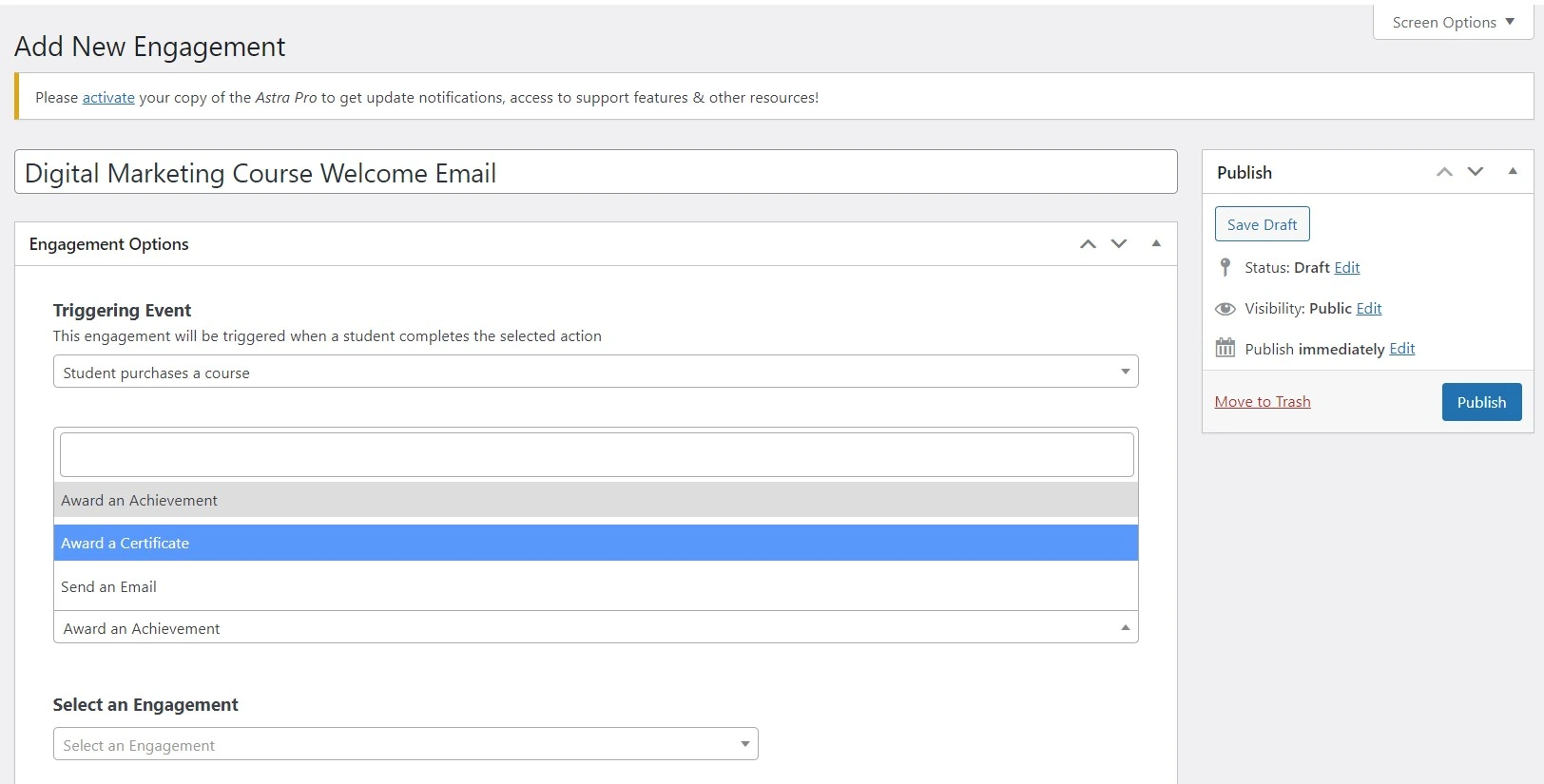 Other than sending emails, you can also give your students rewards such as achievements for achieving little things and certificates for completing many courses or a single one.
LifterLMS Memberships
From the Membership area in your WordPress dashboard, you can create memberships. It's on you to sell memberships that include all your courses or give people access just to a single course. In addition to that, you can also decide which particular courses can automatically add new people if they purchase a membership.

LifterLMS Various Integrations
Email marketing support for ConvertKit, WP Fusion, or Mailchimp is available
Zapier integration is there that lets you connect to thousands of applications on Zapier
Direct integration with many amazing WordPress plugins is available, some of them are- WPForms, Ninja Forms, Gravity Forms, and Formidable Forms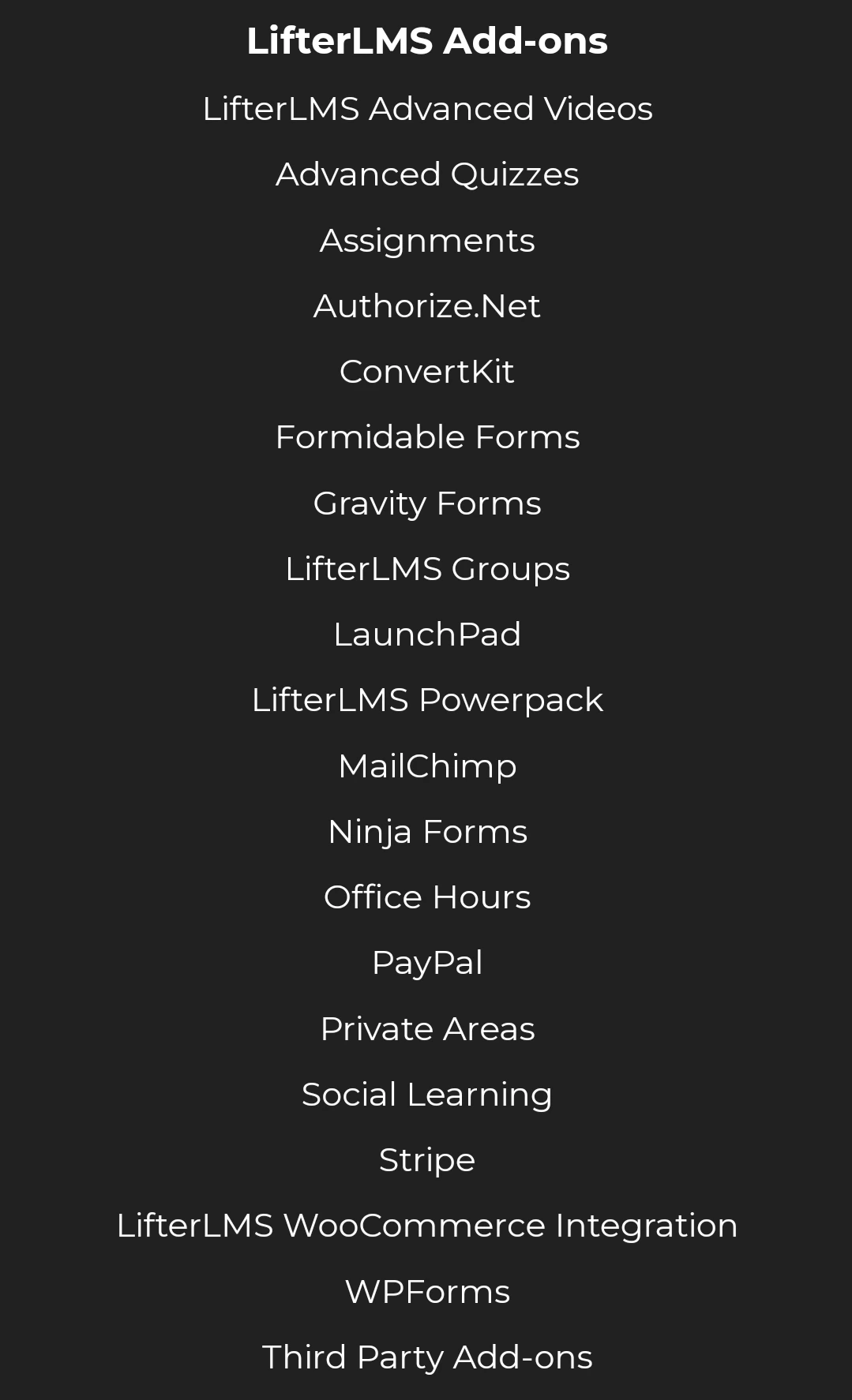 LifterLMS Alternatives
LearnDash
LearnDash is a popular WordPress LMS plugin that is suitable for both major academic institutions and solo course designers. It is simple to use since it requires no coding and allows you to create courses using a simple drag-and-drop editor.
It appears to be its sole direct competitor of LitferLMS in terms of pure functionality. LifterLMS is less expensive if you only require basic courses. LearnDash, on the other hand, is typically much cheaper if you want thorough quiz capabilities and other complex features.
LearnPress
When it comes to building online courses, LearnPress is one of the most often used options. With the help of plugins like LearnPress, teachers have become successful online business owners by marketing their online courses, informational goods, and training courses to audiences across the world. The LearnPress WordPress plugin's freemium model is another aspect that makes it a favorite of many online instructors.
Masteriyo
Masteriyo is one of the quickest and easiest learning management system plugins to develop and sell online courses due to its simple drag-and-drop course builder powered by React JS. Some notable features of Masteriyo LMS include Advanced Quiz Maker, Dynamic Learning Page, Course Progress Bar, and so on.
TutorLMS
Tutor LMS's most recent features ensure rapid advancement. Its clever course designer is really simple to use. Its theme is basic and appealing, causing people to fall in love with your site at first sight. Tutor LMS is compatible with a wide range of media formats and documents. Another thing that makes it excellent is the addition of tasks, tests, and certifications to the site.
LifterLMS Pricing
Infinity Bundle- $ 1,200 per year
Universe Bundle- $ 360 per year
Earth Bundle- $ 149 per year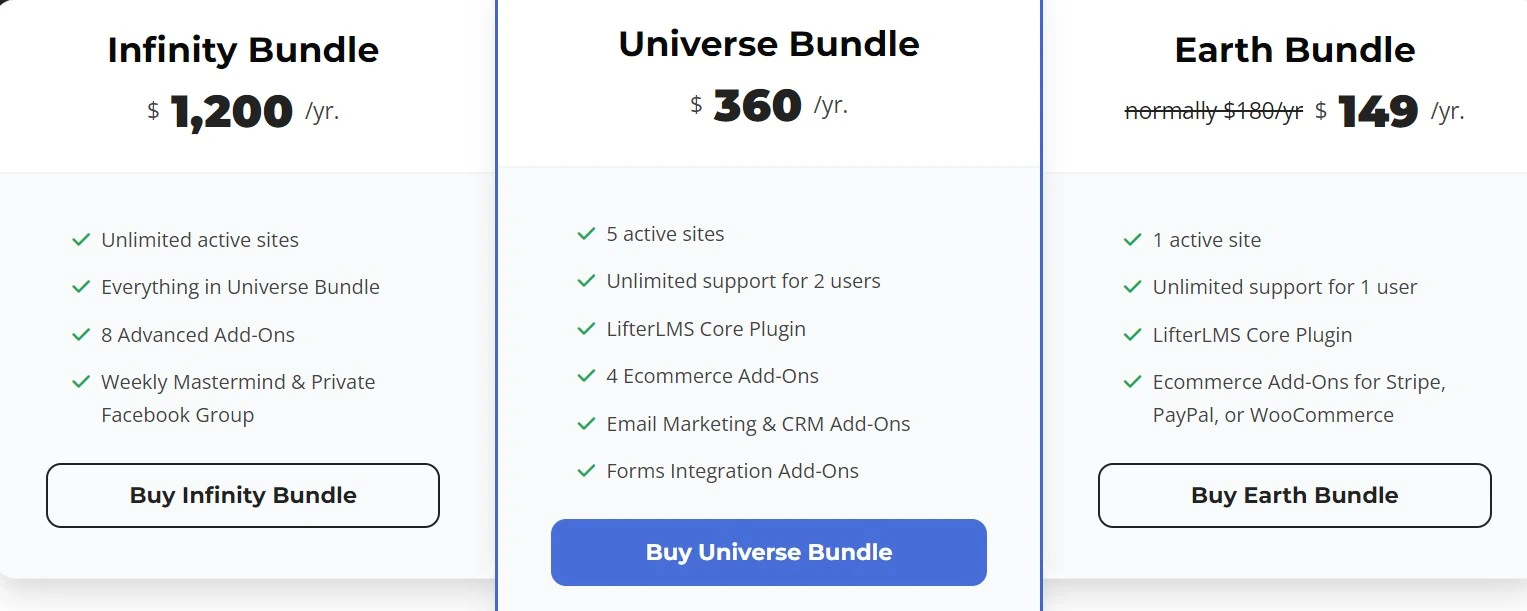 FAQs
What is an LMS?
LMS is a software program that enables you to develop, organize, carry out, evaluate, manage, and distribute e-learning courses. So, it is legitimate to say that an LMS is the "source" that manages electronic learning. To conduct educational courses, monitor student progress, and handle administrative duties, educational institutions, and training organizations frequently utilize it.
What is the purpose of LifterLMS?
LifterLMS is a robust learning management system that allows you to design, market, and secure compelling online courses. It makes it simple for course developers, coaches, and educators to build and administer engaging online courses, provide digital material, and track student progress and performance. You may use LifterLMS to automate content distribution, hold webinars, gamify courses, and award certificates. It also allows you to safeguard your course content from illegal access and receive money from a variety of sources.
What are the prerequisites for using LifterLMS?
LifterLMS is compatible with any WordPress-powered website. WordPress is responsible for about 30% of all websites on the internet. LifterLMS need only a domain name and a web hosting account with WordPress installed on it to get started.
Who are the common users of LifterLMS?
Common users of LifterLMS include Online course creators, business owners, educational organizations, corporate training companies, coaches, authors, entrepreneurs, non-profit organizations, schools and universities, membership organizations, and others.
On how many sites can LifterLMS be used?
LifterLMS a la carte add-ons are limited to just one active website. However, Customers with the Infinity Bundle can use the add-ons on an infinite number of websites. Customers who have purchased the Universe Bundle can use the add-ons on up to five active websites.
Is LifterLMS compatible with any other theme?
Yes! LifterLMS works with any properly designed WordPress theme. It is a plugin; therefore, it adds functionality while your theme adds design.
Is it possible to use LifterLMS and all of its add-ons before purchasing any plans?
Yes. LifterLMS provides a 30-day trial site where you may test out all of the add-ons for just $1.
Is LifterLMS available for free?
LifterLMS's core edition is free, and it includes everything you need to develop simple courses. Nevertheless, if you wish to charge for your courses or have access to additional advanced capabilities, you must purchase premium add-ons or a premium bundle.
Does LifterLMS have any setup charge? Is there a refund policy if I don't wish to continue using it?
Without a doubt. Every purchase you do with LifterLMS is an annual subscription; there are no contracts, setup costs, or any secret traps.
Yes, if you are not happy with LifterLMS performance or it is not helpful for you for any reason within the first 30 days, you are entitled to get a full refund.
What distinguishes LifterLMS from other LMS platforms?
LifterLMS distinguishes itself from other learning management systems by being both user-friendly and extremely adaptable. It is extremely scalable, making it suitable for usage by enterprises of any size. It also includes tools for creating courses and memberships, automated email marketing, and analytics. LifterLMS also includes a large library of add-on plugins and themes to let you further personalize the platform. Furthermore, it provides exceptional customer service, allowing consumers to obtain the assistance they want promptly.
What makes LifterLMS stand out?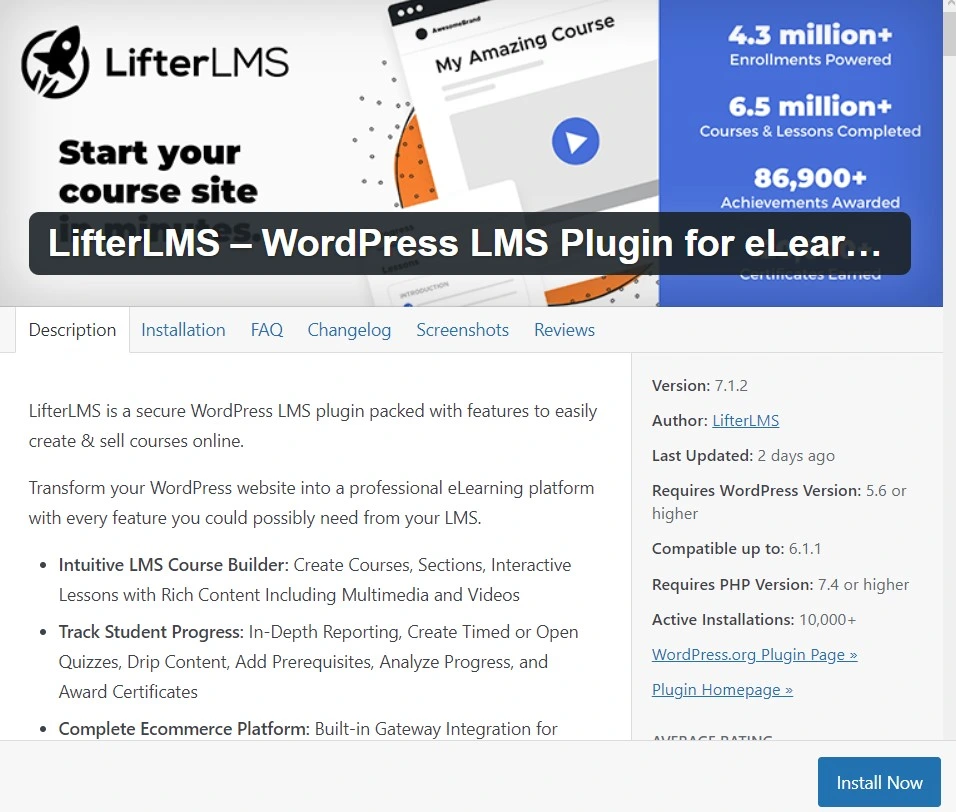 Easy to use👍
LifterLMS is a simple drag-and-drop course creator that is easy to operate even for a novice user. Also, you don't need to have any technical or coding skills to use the platform.
Multiple payment options💰
One-time and recurring plans, free trials, bundles, private upsells, discounts, and more are available to you as payment alternatives.
User-friendly front-end😍
LifterLMS has a lovely user interface that depends greatly on your theme, but LifterLMS does an amazing job as long as you pick a good theme.
Feature-rich course creator ✌
Many essential features such as course builder, quiz timer, drip content, lesson downloads, course reviews, multi-instructor, graphics pack, and many more.
Many memberships😃
LifterLMS offers multiple membership solutions such as course bundles, private group discussions, bulk course enrolment, content restrictions, automatic enrolment, and others.
Collaboration with third-party tools🥳
LifterLMS allows you to work with third-party applications that include- payment gateways, well-coded WordPress themes, email marketing, CRM, Forums, mobile-friendly designs, etc.
Amazing Support🙌
LifterLMS is ready and waiting to be your dependable long-term technological partner for your project by providing you the best support via- live office hours, user community, free training courses, experts to help you with designing and coding, podcasts, blogs, webinars, many other sources.
Security of your content🔐
LifterLMS ensures to keep your data and courses are safe at all levels. It protects your content by allowing you to restrict access to your material to those who are meant to see it at the appropriate time. The course protection it provides ensures that only the enrolled students get access to your content. It also lets you lock down your content so that only the active members on your website can see it.
100% Course Engagement💯
LifterLMS places a strong emphasis on engagement and assisting you in developing lessons that students like and finish. It helps you to keep your students always engaged via text messaging, automated emails, private coaching, printable certificates, and other methods.
Over to you: LifterLMS Review
LifterLMS is among the most well-liked choices if you want to use WordPress to build an online course 👌. The free version of LifterLMS is functional enough for the majority of online courses. So, if you want to provide free courses then LifterLMS should be seriously considered as it provides all you will need.
Nevertheless, if you want to make money from it, you must spend at least $120 on a payment gateway add-on. Also, if you want a variety of premium add-ons (such as the add-ons for Advanced Quizzing and Assignments), LifterLMS may be prohibitively expensive.
Overall, LifterLMS is a good WordPress LMS plugin. Its functions are excellent, with several options and potentials. LifterLMS, in addition to the features included in all other LMSs, includes additional essential ones such as a progression meter, membership, and student profile. Its payment plans are pretty expensive, but you should think about paying plans because things will go awry if you simply utilize the "free-to-play" version.
In our in-depth LifterLMS review, we helped you decide if LifterLMS is the best course builder plugin out of all the current WordPress LMS plugins. I wish it assisted you in determining that.