Adding forms to your website brings you a great number of leads and helps you in growing your email list but building one is a time-consuming process and requires some serious knowledge of frontend as well as Backend coding such as PHP. That is where forms plugins for WordPress come into play.
It is evident how important forms are when it comes to adding crucial elements to your website. With the availability of multiple form plugins, it is quite confusing which form plugin can best suit your needs. If you are also confused about selecting a WordPress form plugin then you have arrived at the right place. We have found and listed below some of the best WordPress Forms Plugins that can boast your website growth.
But before we jump in to see the best form plugins, let's look at the key considerations when we are choosing the best form plugin.
Scalable: It should be scalable because whenever you want some advanced needs, you should be able to do that.
Few Plugins the Better: Always consider this approach for better performance and optimum results.
Useful Features: It should have features that are useful in email list building, conversions, and sales
Better UI: adjustable or easy-to-customize form UI will help you modify the form per your website brand guidelines.
Cost: It should not be a burden in terms of cost, considering the features you use. Always consider a free plugin for minimal needs.
Responsive: The form should be responsive throughout different devices.
Spam Protection: The form should be free from spam threats. There must be a Captcha option.
Integrations: Connect with the industry's platforms so they will always do the job correctly.
Payment: Offers flexible payment options.
Compatibility: The compatibility of the form plugin with other plugins or services is always a huge plus.
List of Best WordPress Form Plugins 2023
WPForms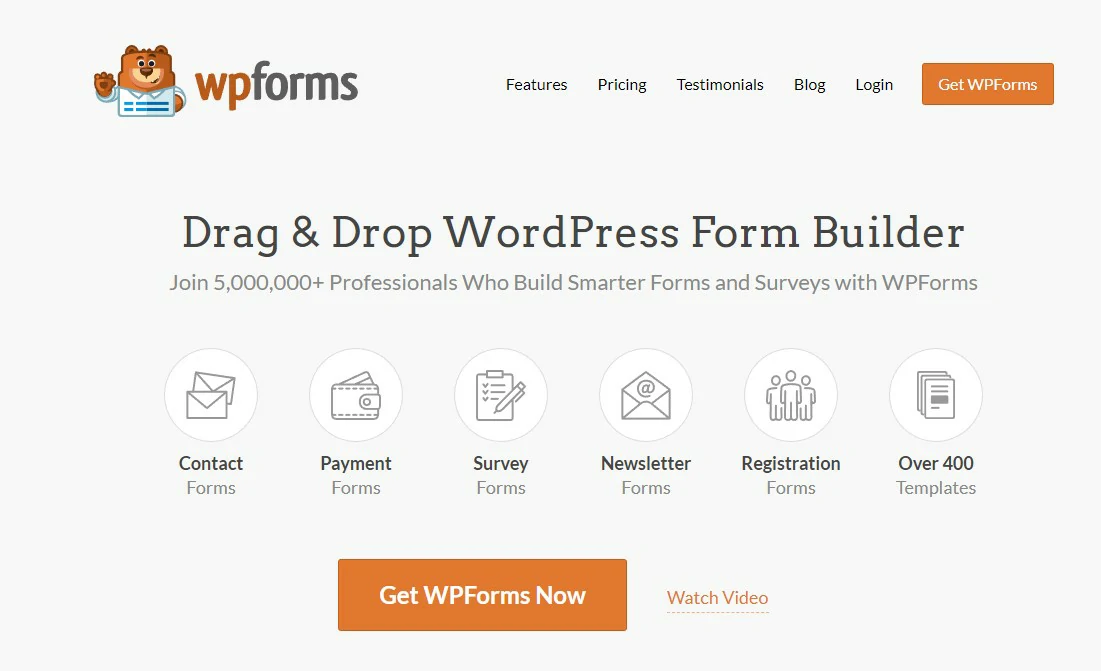 One of the top form builder plugins for WordPress websites is WPForms. WPForms produces amazingly efficient and SEO-friendly forms. It makes the process of creating forms so simple and entertaining that it requires little effort to have your form ready quickly.
The plugin also interfaces with a wide range of incredible products, including payment processors, email marketing programs, online applications, and several other helpful add-ons. Photographers, Business owners, designers, bloggers, developers, and pretty much everyone else will love it.
Ultimately, WPForms is both simple and powerful, so even someone with no experience creating forms can use it to create stunning forms without paying a developer. You must also give WPForms a try if you wish to build a custom WordPress form.
Features
Drag and drop form builder
Instant form notifications to enable you to respond quickly
Provides strong protection against spam
Many interesting pre-built form templates
Pricing
Elite- $ 299.05 per year
Pro- $199.05 per year
Plus- $ 99.05 per year
Basic- $ 49.05 per year
Formidable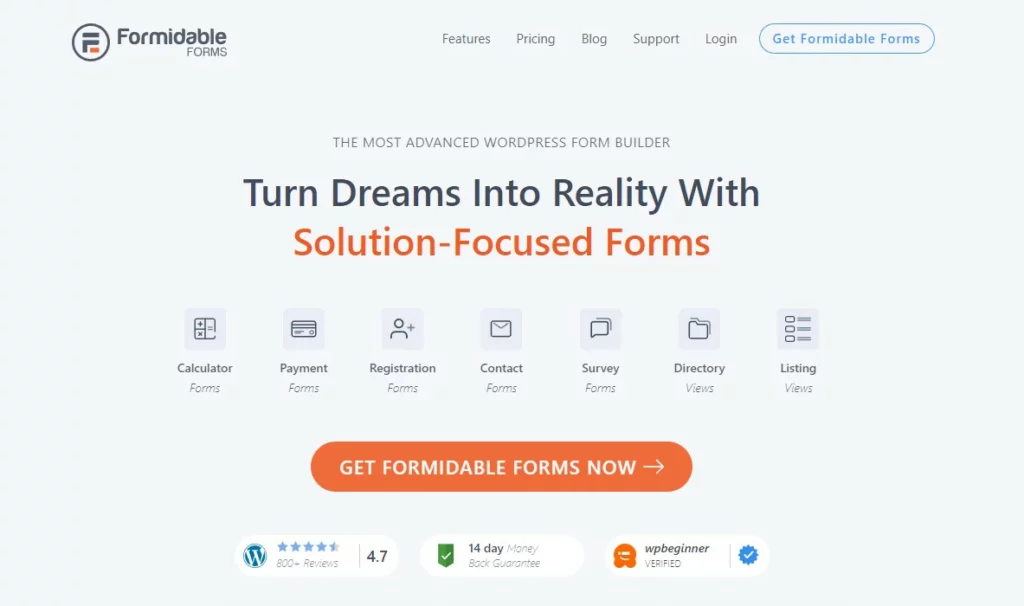 Formidable Forms is one of the most advanced form builder plugins for WordPress. It aims at turning your dreams into reality with its solution-focused forms. The form builder saves a lot of your important time by letting you design your form in just a matter of a few minutes. And in no time, you will be taking on greater projects and finishing them faster than ever.
I utilized Formidable Forms, and it met all of my requirements. It is quite simple to use, the capabilities it offers are extremely useful, and the documentation is fantastic. I was able to develop basic and complicated forms with this form builder, including file uploads, signature fields, and even user registration.
You can also use Formidable and create simple contact forms as well as complex multipage forms with conditional logic, calculations, and file uploads. Then show the collected data with the help of graphs and views.
Features
Convert your forms into automated quizzes that do all of the grading for you.
Easily transfer views, entries, styles, and forms to other sites or import them from anywhere
Right-to-left direction support is there for form creation
Without any coding skills, simply change the form styling like padding, colors, borders, and so on.
Pricing
Elite- $ 299.50 per year
Business- $199.50 per year
Plus- $ 99.50 per year
Basic- $ 39.50 per year
Gravity Forms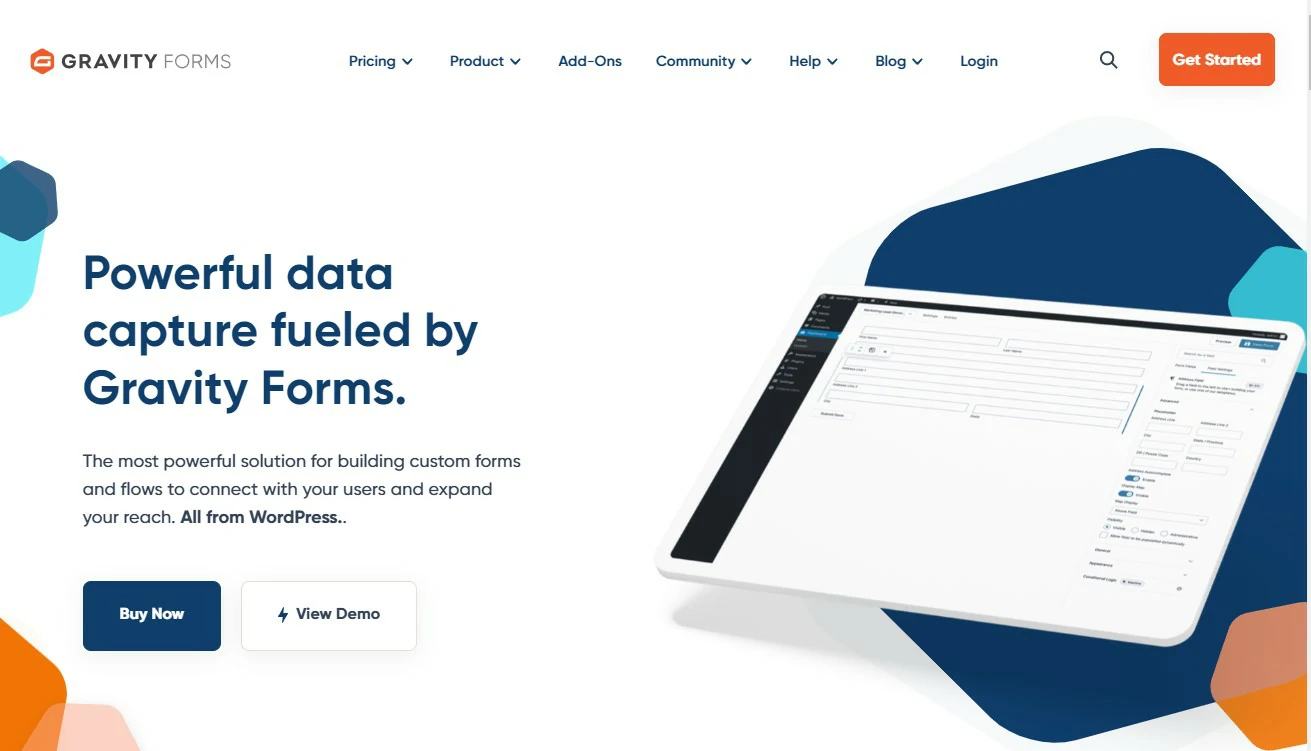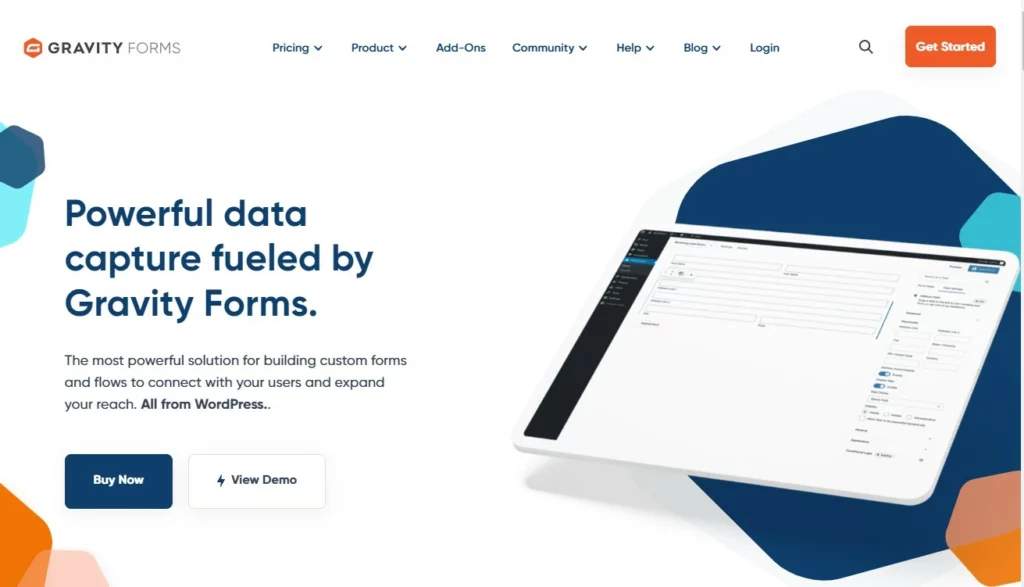 One of the most feature-rich form builder plugins for WordPress websites is Gravity Forms. It includes everything you might need to develop an online form, including spam filters, responsive forms, payment gateways, and complex computations among others.
GravityForms worked excellently for me in several of my projects that needed connection with webhooks and CRMs. Inside WordPress, the form builder provided a comprehensive solution, and the payment options are very adaptable. You can also utilize GravityForms and instantly construct data-collecting forms, surveys, and polls for your WordPress website.
Ultimately, Gravity Form will not let you down if you can afford to spend the money to get a premium WordPress form plugin. Although it is somewhat pricey, Gravity Forms is the best option if you want a comprehensive form plugin.
Features
There are several form fields available to let you design any sort of WordPress form.
It allows you to save a form while you are editing it, allowing you to restart work and finish the form later.
You may schedule your forms and even limit the number of submissions they get.
You may utilize front-end forms on your website to allow people to contribute a blog post if they like.
Pricing
Basic License – $ 59 (1 site)
Elite License – $ 259 (Unlimited sites)
Pro License- $ 159 (3 sites)
Ninja Forms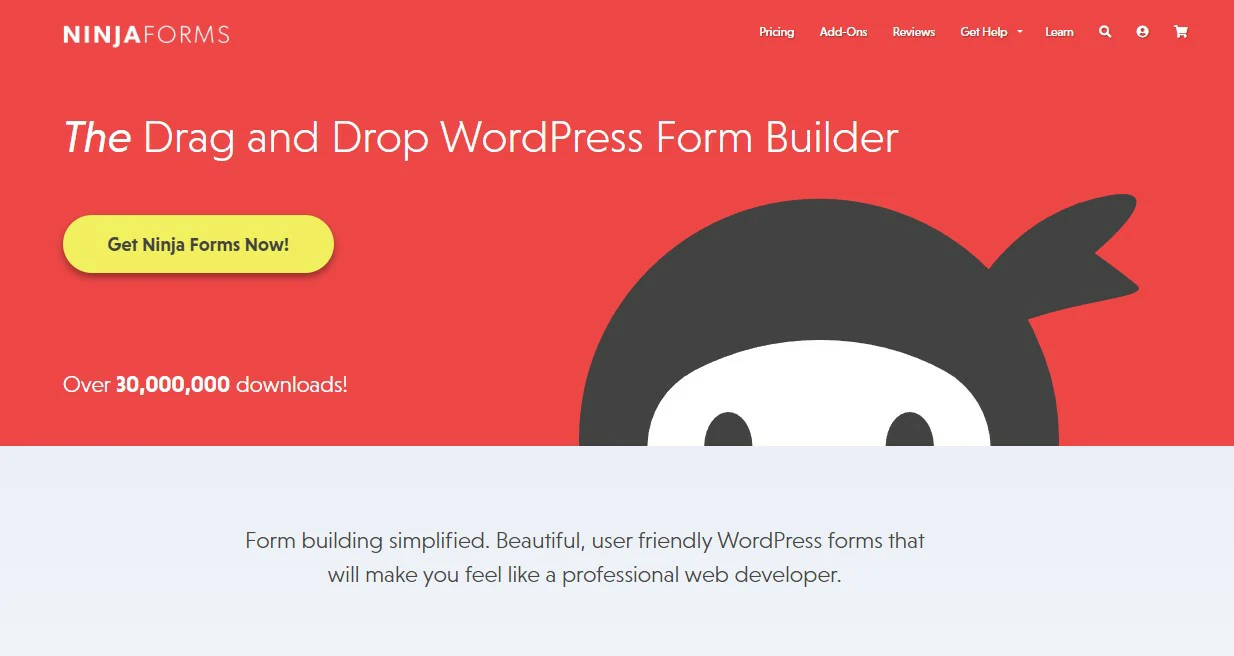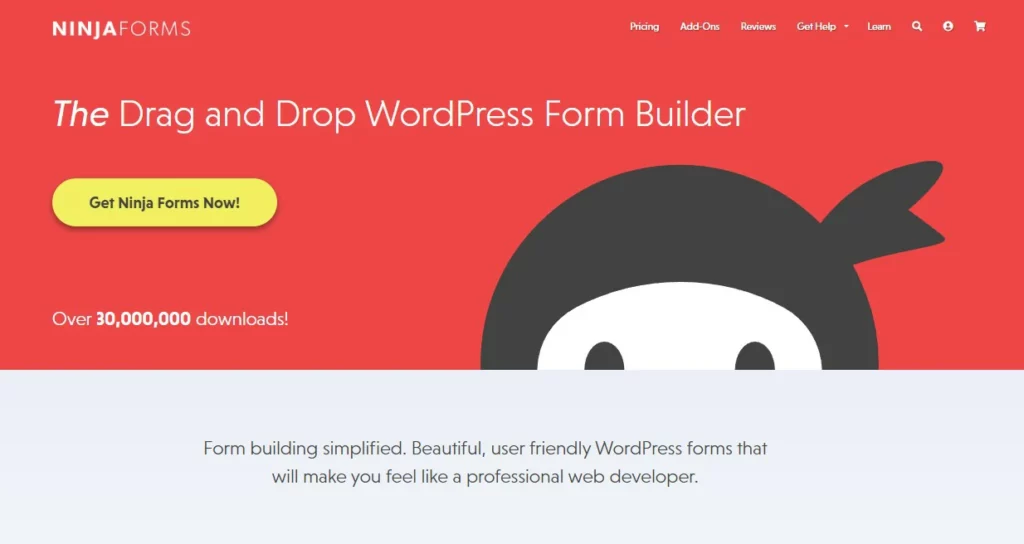 Ninja Forms has made the process of creating forms easier for you. After installing Ninja forms on your WordPress website, you can easily and quickly design a stunning, attractive, and user-friendly contact form and publish it on your articles, pages, or even in a sidebar widget that will make you look like a professional web developer.
Among its numerous advantages, Ninja Forms prevents spam from entering your inbox, organizes your emails, gathers all the essential data you want, and expands the size of your email list.
Ninja Forms may be enhanced with fantastic CRM, email marketing, and money-processing add-ons. It includes an easy-to-use UI that is ideal for beginners. It is completely free to install and download, and even the premium plan offers flexible pricing with the chance to get your money back within 14 days.
Features
Ninja Forms offers a plethora of fields and forms, as well as a plethora of fantastic development tools.
There are over 40 add-ons available to expand its features and customize the form.
It has over 28 form fields and allows you to construct an endless number of forms.
By activating its developer mode, you may access additional options.
Pricing
Elite- $ 299 per year (agency)
Pro- $199 per year (web design and dev)
Plus- $ 99 per year (small business)
Basic- $ 49 per year (personal)
Contact Form 7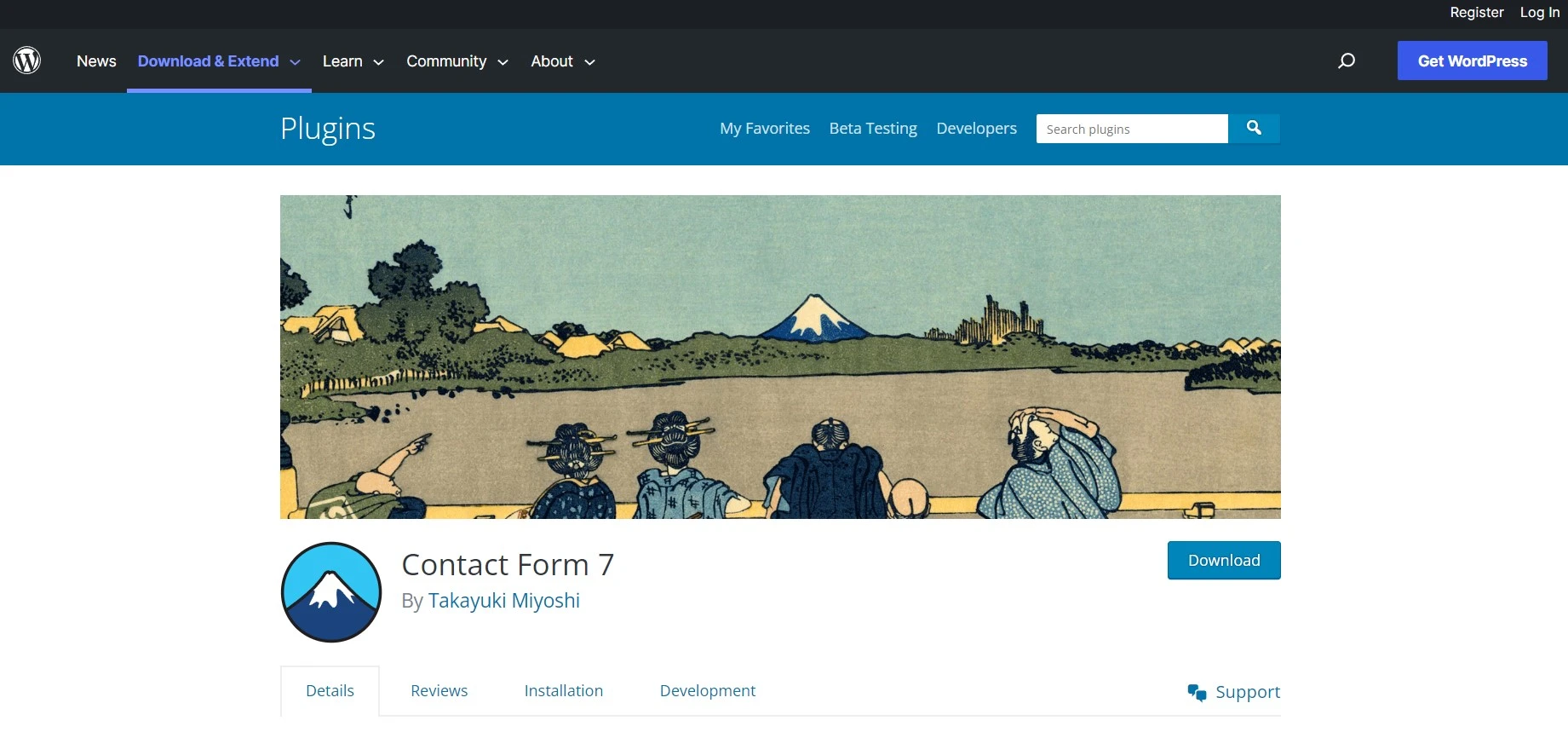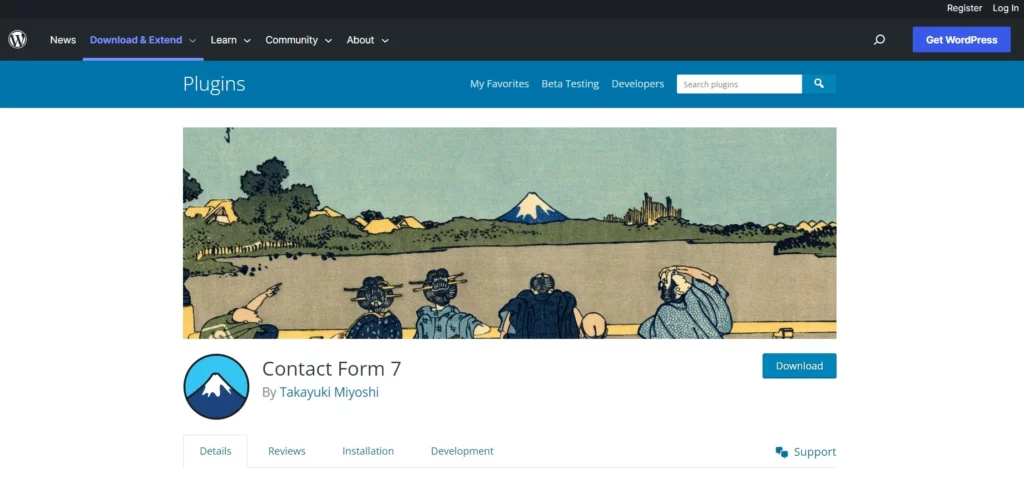 Contact form 7 is a popular, free, and open-source WordPress plugin. When it comes to adding forms to a WordPress-powered website, many WordPress users prioritize it.
Several contact forms may be managed using Contact Form 7, and you can dynamically adjust the form and the email's contents with easy markup. It also allows you to customize the formats using HTML and CSS.
Apart from the fact that it is free to use, Contact Form 7 has an overall favorable user rating. Another major reason to use Contact Form 7 is how quickly it allows you to have a new contact form up and running on your WordPress-generated websites.
Features
The form supports Ajax-powered submission, Akismet spam screening, and other features.
Contact form 7 includes a preset contact form that you can use for your sites and articles.
CAPTCHA support is provided to defend against spam form inputs.
There are options for customization to meet your specific requirements
Pricing
FAQs
Do I need to know how to code to utilize WordPress Form builder plugins?
Certainly not. All of the Form Creating Plugins described above have been designed to be highly developer-friendly; no coding skills are necessary to utilize these plugins or any add-ons.
What WordPress form builder is the simplest?
For many reasons, WPForms is the finest form builder plugin for WordPress. It is an easy-to-use contact form plugin that is also quite powerful. With more than 5 million active installs and more than 12,000 5-star evaluations, WPForms is also the most well-liked form builder for WordPress.
Does WPForms operate on sites other than WordPress?
No. As WPForms is a WordPress forms plugin, websites that do not utilize WordPress can never use it. WPForms can only be used with WordPress.com if the account level is eCommerce or Business. WPForms can only be used with a self-hosted installation of WordPress.
Who ought to employ Formidable Forms?
Formidable Forms is ideal for bloggers, contractors, agencies, businesses, developers, designers, and pretty much everyone else. Formidable Forms is required if you want to design a unique WordPress form. Its goal is to provide agencies and independent contractors the confidence they need to design sophisticated and problem-focused forms.
What are the prerequisites for using Gravity Forms?
Please keep in mind that if your site is hosted by WordPress.com, you must be on their business plan, with a Hello Dolly plugin installed and a custom domain configured before you can install Gravity Forms.
What distinguishes gravity forms from ninja forms?
Gravity Forms and Ninja Forms both allow you to develop complex forms and have many features in common. However, Ninja Forms has an advantage because it is easy to configure and has a nice free version. Gravity Forms does not have a free version and is less intuitive.
Over to you with the Best Form Plugins for WordPress in 2023
In this piece of writing, we have done our best job in searching and bringing to you the best form plugins for WordPress. We have also spoken about the features and costs.
There is no snappy response to this. Yet, if I had to say one thing about each of the form builders I evaluated, I would say the following.
The best free WordPress form builder with plenty of features is WPForms.
The most helpful form features are found in Formidable Forms, but only if you purchase the pro edition.
Ideal for more sophisticated use cases is Gravity Forms. so that you can easily decide which one perfectly fits your needs.
Easy-to-use interface for non-developers is Ninja Forms.
And, Contact Form 7 is completely free.
However, your demands will determine the best WordPress form plugin.