Website or marketing content that changes based on user behavior, preferences, and other data-driven criteria is referred to as dynamic content.
WordPress is one of the most widely used platforms for website development, the functionality of your WordPress website may be improved with the help of dynamic visibility and condition plugins. These plugins provide you the ability to regulate the display of material based on criteria or guidelines that you define. With the help of these plugins, you can give your consumers engaging, tailored experiences that may enhance conversions🤩.
In this article, we'll introduce you to some plugins for WordPress that help you modify the visibility of information. But let's first understand why you need them💬.
Benefits of Dynamic Visibility Plugins🤷‍♀️
Website owners may regulate the visibility of the content on their websites depending on some conditions with the help of dynamic visibility plugins for WordPress. These plugins are required for the following reasons👇
Distribution of Tailored Content💁‍♂️ – You may send tailored content to your audience with Dynamic Visibility & Condition Plugins. Depending on the user's location, device, login status, membership level, and other factors, you may display various materials to them. By doing this, you may modify your content to fit the unique requirements of your visitors, which may boost interaction and conversion rates.
Effective Usage of Resources😦 – You may make sure that your website's resources are used effectively by regulating the visibility of information. For instance, hiding material that is only pertinent to a particular user demographic might lessen server load and speed up page load times.
Improved Security🔐 – By enabling you to restrict access to certain material depending on user roles or other criteria, Dynamic Visibility & Condition Plugins may also aid in enhancing the security of your website. In this manner, you may stop illegal access to private data or resources.
Overall, Dynamic Visibility & Condition Plugins for WordPress are crucial tools that may assist strengthen the security and effectiveness of your website, as well as the user experience and engagement✨.
List of Best Dynamic Visibility Plugins for WordPress 2023
Now that you understand the significance of dynamic visibility, you should look at some of the best WordPress dynamic visibility and condition plugins on the market.
JetEngine
JetEngine is a WordPress plugin for creating custom content kinds. It also has a plethora of dynamic visibility options that any user may configure.
Here are some of JetEngine's dynamic visibility parameters: Custom field selection, Custom post, Form data and management, Taxonomy conditions, Dynamic calendar option, Dynamic galleries, and Data lists. JetEngine's features are rather limited to custom posts, fields, and taxonomies. Yet, these choices are generally sufficient to unleash the maximum visibility potential of any WordPress-designed website or post.
One of the finest features of JetEngine is its compatibility with a plethora of different Crocoblock plugins. JetEngine is available as one component of the Crocoblock plan, along with other essential plugins like as JetElements, JetBlog, JetSearch, JetAppointment, JetWooBuilder, and JetSmartFilters.
Dynamic. ooo
Dynamic.ooo's Dynamic Visibility plugin is an excellent choice for novices. It is a free plugin that may be installed individually from the WordPress plugin repository. The number of conditions accessible in the free edition is the most significant advantage of Dynamic.ooo plugin. Time limit, archive metadata, geotargeting, specific events, dynamic tags, logged-in/logged-out, user meta roles, and browser settings are some of the free conditions.
The free edition of Dynamic Visibility, however, does not allow you to utilize Custom Condition or My FastAPP trigger. Custom settings are available in the premium version. You may also utilize the My FastApp app builder plugin with Dynamic.ooo a premium edition.
Dynamic Visibility allows you to show or hide any section, column, or element depending on logically connected triggers and conditions. Some triggers that are available to enable visibility are- Post, Term & Archive, User & Role, Device & Browser, Dynamic Tags, Context, Date & Time, My FastAPP, WooCommerce, Random, Custom Condition, and Events triggers.
Plus Addons
The Plus Addons is a page builder plugin for Elementor that will push your WordPress website to the next level. It includes features to increase your creativity and freedom, enabling you to do anything it takes to develop an interesting site with no constraints or limitations!
You may modify your site with The Plus Addons to appear precisely as you perceive it. Personalize the colors and backgrounds of any website element, or utilize the built-in possibilities with 50+ distinct widgets (tables, info box, animated text, charts, headings, flip box, countdown, parallax, timeline, tabs builders, Google maps,).
The plugin lets you control the display of all your widgets easily based on date/time, login status, location, URL, and more. With its display conditions, you may simply specify criteria for when widgets can appear and hence, create a genuinely dynamic experience.
Overall, the Plus Addons for Elementor plugin has a good rating and is dependable. Along with that, it provides fantastic support.
Elementskit
Manage the visibility of your online content by using ElementsKit. The plugin enables you to offer what the user wants throughout the whole page, by giving you complete control over creating an appropriate atmosphere for them, according to their specific search queries.
With Elementskit you can display or hide your website's content based on a variety of circumstances, such as conditions on sections, columns, and widgets. You may also apply multiple conditions to a single element and make them accessible to the relevant user. Apart from that, you may display or hide website content based on user role, login status, date, browsers, operating systems, day, and time.
Overall, Elementskit is useful when you have a website with a lot of information. The plugin makes it much easier to handle everything in one location without any difficulty.
Essential Addons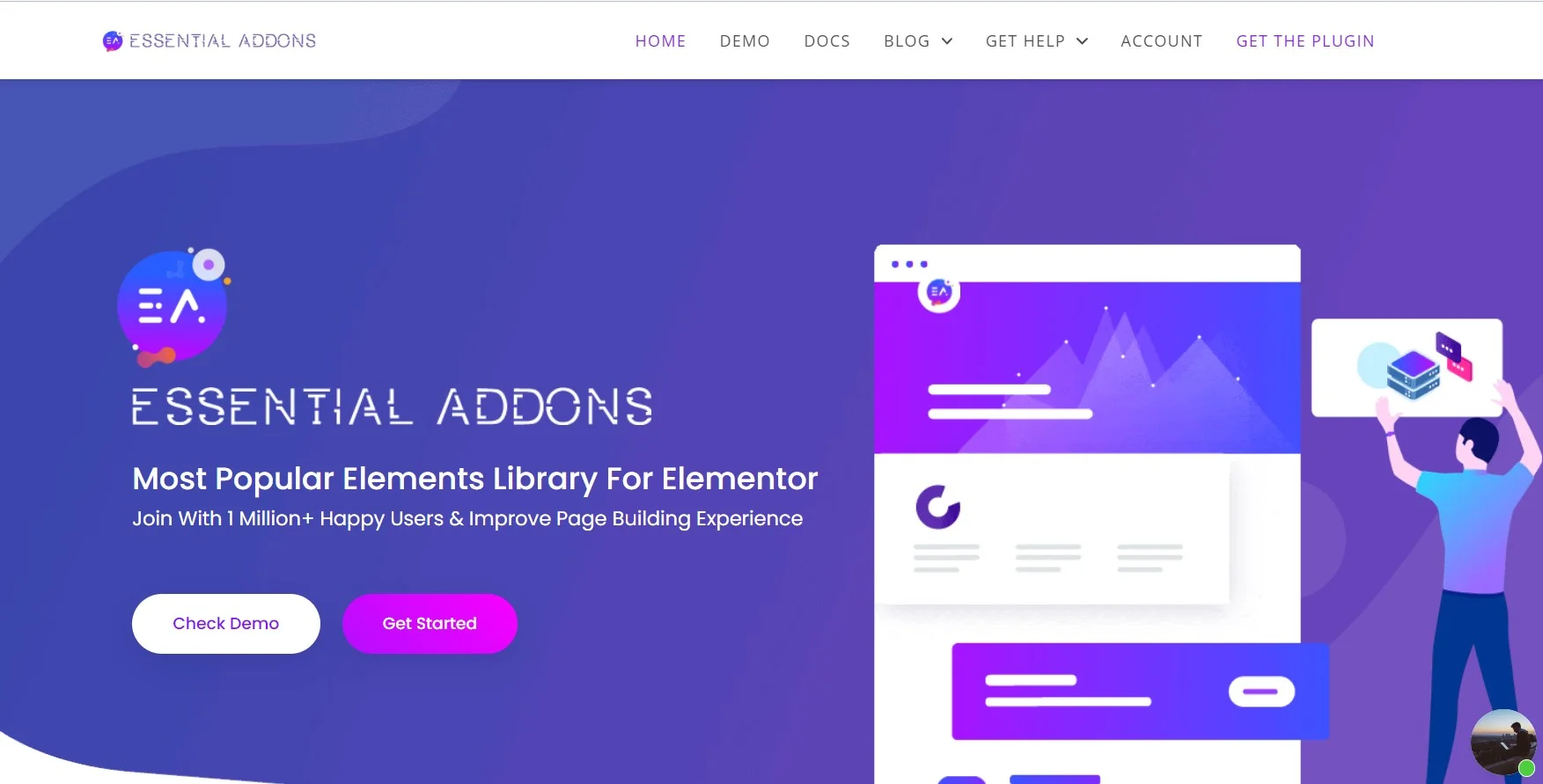 As a web designer, you may frequently find yourself wishing to generate unique, customized, or dynamic content for your website and only display it under certain conditions. If you use Elementor, implementing a conditional display is now a breeze thanks to Essential Addons. The EA Conditional Display plugin provides a simple method for dynamically displaying material based on particular criteria without requiring any coding.
Essential Addons adds 65+ creative components and extensions to the basic Elementor page builder. The element control option it offers, allows you to activate and disable specific components to make your website page load quicker and smoother. It also allows you to eliminate or deactivate superfluous widgets to make the site load quicker and deliver a better user experience.
Overall, the Essential Addon plugins are adaptable and lightweight, so they will not slow down your website. They allow you to create great websites without creating a single line of programming, whether you're a novice or a master. With the Essential Addon plugin, you can push your site design to the next level.
Gloo. ooo
You may adjust the visibility of different components on your WordPress website, such as widgets, menus, pages, and posts, based on certain conditions or rules using Gloo. It gives you complete control over who may see what and what conditions must be completed for particular items to appear on each page of your website.
Using Gloo's tools for Dynamic visibility, you can add Dynamic Visibility to LearnDash and BuddyBoss, configure it following User Agent Data, and much more. The user-friendly interface that Gloo often provides, enables you to create rules without writing any code.
If So
If-So is one of the most effective WordPress customization plugins on the market. You may show Elementor page elements depending on If-So conditions with the integration of- If-So & Dynamic Content for Elementor.
They have incorporated several conditions inside the plugin to assist website owners in achieving optimum conversion rates. You can use these conditions as needed. The customizing possibilities are straightforward. Some of the most common conditions are User location (Geolocation), User's device type, User IP, User's browser language, Timezone, Schedule – specific days and hours, Start & end date, Google Ads, and Facebook Ads. Logged-in users, First-time visitors, Pages visited by the user, Returning visitors / Number of visits, Referral source, and Custom URL/Query-string.
The If-So plugin customizes your visitors' experiences by enabling you to add or update dynamic information on your website based on the profile or activity of the user. Hence, making them interact, convert, and purchase.
Overall, you may use this plugin to show different materials to various users with little setup. Furthermore, creating dynamic content with it does not require the employment of a single line of code.
Master Addons
The Elementor Conditional Display plugin is a plugin extension accessible to Master Addons users. Display Conditions will assist you in arranging various sorts of website elements from various angles. Using a different sort of condition, you may reveal or conceal any content. You may also look at Entrance Animation as a bonus.
It includes- Display Condition for Logged versus VS Non-Logged in User, Display Condition for User role, Display Condition for Days and Times, Display Conditions for Browsers and OS (Operating System). Moreover, each element may include multiple conditions. That will help you to get more control over your content. Other display options available are- Page, Archive Page, and Post.
Dynamic Conditions
An Elementor add-on called Dynamic Conditions provides conditional logic to expose or hide certain components on your website page. To show/hide a widget or section, the plugin modifies dynamic tags by adding conditions. And as it sets the comparison criteria using Dynamic Tags, Elementor Pro is a prerequisite.
It's simple to use and configure display settings. Just insert the condition value and it will be compared to any dynamic tag. If the criteria are fulfilled, you may choose whether to show or hide the component.
Overall, by using the Dynamic Condition, you may decide whether to show or conceal information on your WordPress website depending on specific conditions. This may be quite helpful for giving your consumers a more customized experience and for improving the functionality of your website.
FAQs
Why are Dynamic Visibility & Condition Plugins for WordPress used🤔? 
One of the most important reasons to use a dynamic visibility plugin is to control how the material is displayed to visitors. You may use your imagination to design membership sites, marketing campaigns, scheduled content, and much more. Several conditions or parameters may be set in dynamic visibility plugins at any moment. URL strings, Devices, metadata, and customized settings are examples of some common circumstances. 
What can you do with Dynamic Visibility & Condition Plugins🙋‍♀️? 
You may set up the visibility logic for WordPress websites using the Dynamic Visibility and Condition plugins. Widgets, sections, and side columns all have dynamic visibility options. You may do this to conceal key blocks depending on whether the user is registered or not. Moreover, you may include a content column that will only be seen on mobile devices and be hidden on the desktop version. Depending on the user's login status or other relevant criteria, you may also decide which parts of the website to display. You can prevent the general public from seeing a certain area while you are working on it. Overall, you have total control over every component on the page🙌.
Do you need coding knowledge to use WordPress Dynamic Visibility & Condition Plugins🙆‍♀️?
No🙅‍♂️, you don't need coding abilities to utilize Dynamic Visibility & Condition Plugins for WordPress. The majority of Dynamic Visibility & Condition Plugins include user-friendly interfaces that allow you to set up criteria and rules for showing or concealing information on your WordPress website without the need for coding😵. You can usually use dropdown menus, checkboxes, and other visual elements to create your conditions and rules.
Who are the most common users of WordPress Dynamic Visibility & Condition Plugins👁‍🗨?
Website owners, designers, developers, and administrators that wish to regulate the appearance of their material depending on particular conditions frequently utilize WordPress Dynamic Visibility & Condition Plugins. These plugins can be particularly useful for websites that have a lot of content and want to personalize the user experience based on individual user preferences and behavior. They can also be useful for e-commerce companies that wish to show certain consumers or groups of users particular material or promotions.
Ultimately, employing Dynamic Visibility & Condition Plugins for WordPress may help anyone who wants more control over the visibility of their content👍.
How Dynamic Visibility & Condition Plugins Can Benefit Your Business🙋‍♂️?
Dynamic visibility of content empowers you with the ability to alter how specific content appears to website users. It may benefit your company in a variety of ways, including:
Personalization😯 – With dynamic content, you may tailor your website or marketing communications to the user's interests, preferences, and behavior. This increases user engagement and value, which may lead to greater brand loyalty and revenue.
Better user experience😎 – By personalizing information to each user, you may provide a more relevant and interesting experience, encouraging them to stay longer and interact more with your website or marketing materials.
Increased engagement and conversion rates😱 – When consumers are provided with material that resonates with them, they are more inclined to take action.
Improved targeting👌 – With dynamic content, you can segment your audience and target certain groups with an appropriate message, increasing the success of your marketing initiatives.
Insights from data👀- By evaluating user behavior and preferences, you may get useful insights that can be used to shape future marketing and content initiatives, resulting in higher ROI and more successful marketing campaigns.
Over to you
Implementing dynamic visibility plugins for WordPress into your marketing approach may help your company communicate with customers more effectively, enhance conversions, and achieve long-term success👌.
For WordPress, there are several dynamic visibility and condition plugins, each with its special features and capabilities. JetEngine, If So, and Addons are a few well-liked choices. It's crucial to pick a plugin that meets your unique demands and specifications.
Overall, adding dynamic visibility and condition plugins to your WordPress toolbox might be a wise move💯. They provide a versatile and effective approach to managing the information on your website and enhancing user experiences. These plugins can assist you in building a more interesting and useful website, whether you're a blogger, business owner, or developer✌.