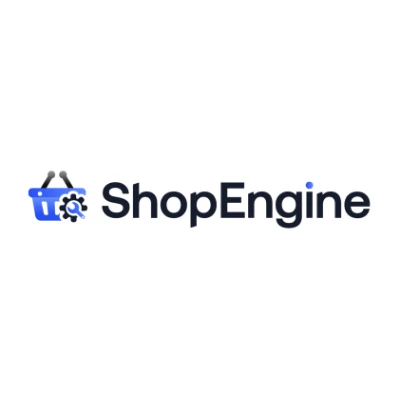 Wpmet's ShopEngine is a WooCommerce builder for Elementor. ShopEngine allows you to utilize Elementor Page Builder to customize any WooCommerce page. This plugin lets you build attractive WooCommerce pages using drag-and-drop technology without even any coding expertise.
ShopEngine is as simple to use as WordPress.
ShopEngine helps you get the most out of the WooCommerce plugin.
You will no longer need to purchase costly plugins or addons if you utilize ShopEngine.
ShopEngine has a plethora of widgets and modules and operates on a 'drag-and-drop' basis.
ShopEngine works with WooCommerce and other popular themes.
Setting up and modifying an e-commerce store with ShopEngine may be tricky
Similarly, the Cart and Order / Thank You pages only have one predefined design.
WooCommerce is a fantastic and simple-to-use plugin for WordPress-based e-commerce websites. It has grown in popularity over time, and there is currently no better option to match its basic capabilities. But you might need to alter the essential components of your product, cart, order, and checkout pages if you manage a WooCommerce website. And for that, you must purchase several extensions to personalize those items, but doing so will be expensive, require a lot of learning time, and could slow down your website.
Hence, it is evident that you need a better solution—something that is more effective, simple, and straightforward. And the most comprehensive WooCommerce solution is none other than ShopEngine😍.
ShopEngine is the right WooCommerce builder that functions in both Elementor and Gutenberg. It is an eCommerce plugin that is rapidly expanding (20k+ active installs). The plugin is the greatest WooCommerce builder because of its trendy look, improved functionality, and competitive cost✨.
ShopEngine users get 13 plus advanced modules to build their WooCommerce website, they can Create variations of their products with easy-to-use variation swatches to display captivating, vibrant, and appealing colors, buttons, images even labels of products. In addition, Users can Increase their conversion rate by adding an installment facility offered by ShopEngine and help your buyers to get their preferred product right away by making partial payments.
You can Create bargains and discounts on specific products which are available only for a limited period of time with Product flash sales and Redesign your WooCommerce pages according to your requirements. Customize and create an archive page to show all of your popular products in one go.
You're on the right page if you're looking for a ShopEngine review. I'm assuming now you might get a clear idea about Shopengine and its usefulness to improve your Woocommerce sites, In this article, we going to Cover everything related to ShopEngine, So Stick with us till the very end.
So, let's get started.
ShopEngine Overview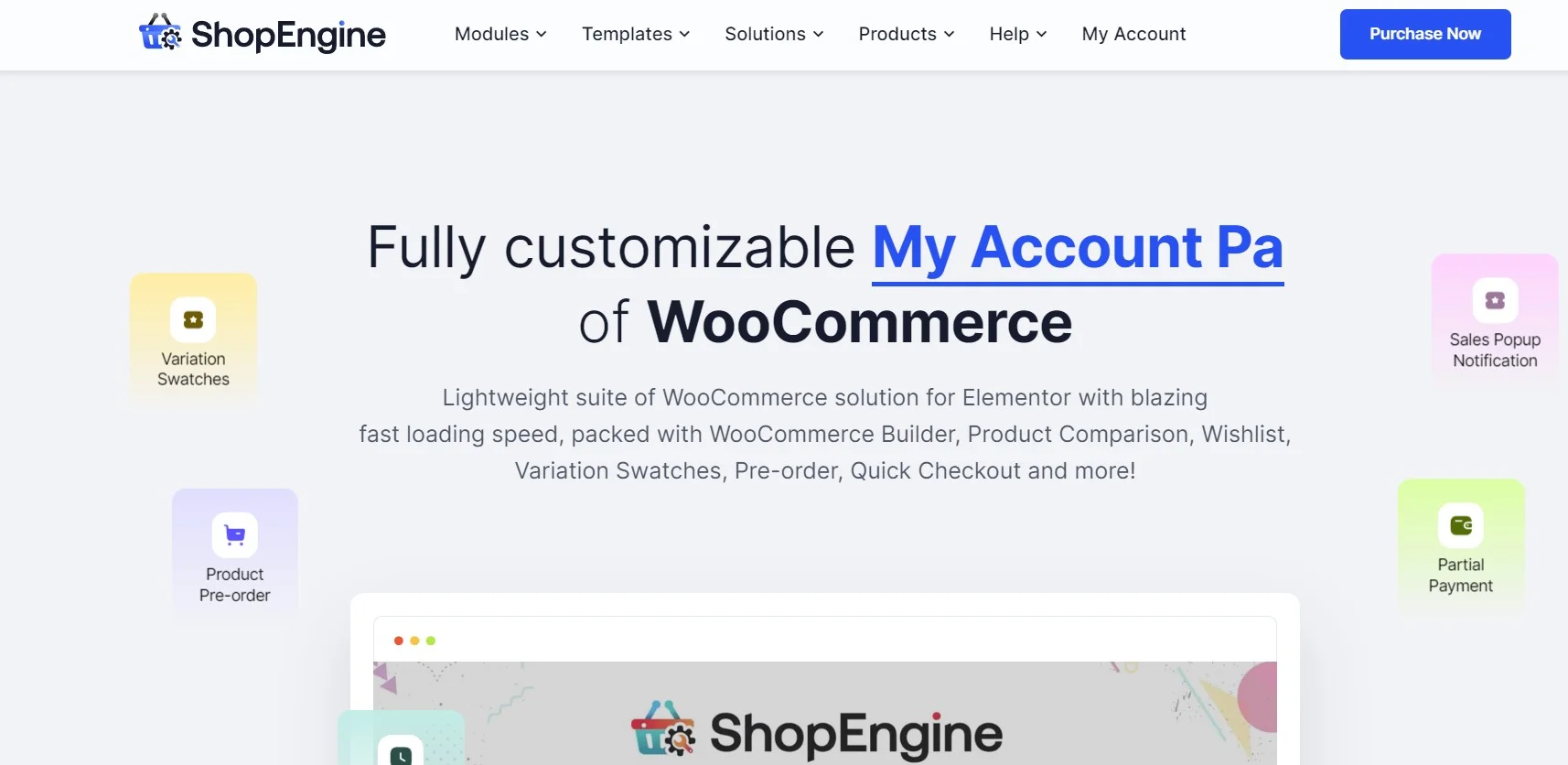 You can design attractive pages that precisely match your brand with an easy-to-use drag-and-drop builder- ShopEngine. It enables you to quickly create custom pages for your items, categories, and blog entries with – no coding necessary!
This sophisticated WooCommerce page builder plugin allows you to create unique pages, add dynamic content, and much more. With this plugin, you will be able to personalize every part of your Woocommerce store, from a single product page through the checkout process. It also has a slew of built-in features and connections to help you take your business to the next level. You can create whatever you can think with the 50+ Elementor widgets at your disposal.
With its lightning-fast loading speed, eCommerce Builder, Wishlist, Variation swatches, Product comparison, Pre-order, Fast checkout, and 65+ widgets, ShopEngine delivers a weightless suite of WooCommerce solutions for Elementor✌.
If you want to save money, time, and effort, I suggest ShopEngine. The sooner you get ShopEngine, the better.
Installing and Activating ShopEngine
You can install ShopEngine directly from the WordPress Plugins library. All you have to do is log in to your WordPress Admin page and navigate to Plugins > Add New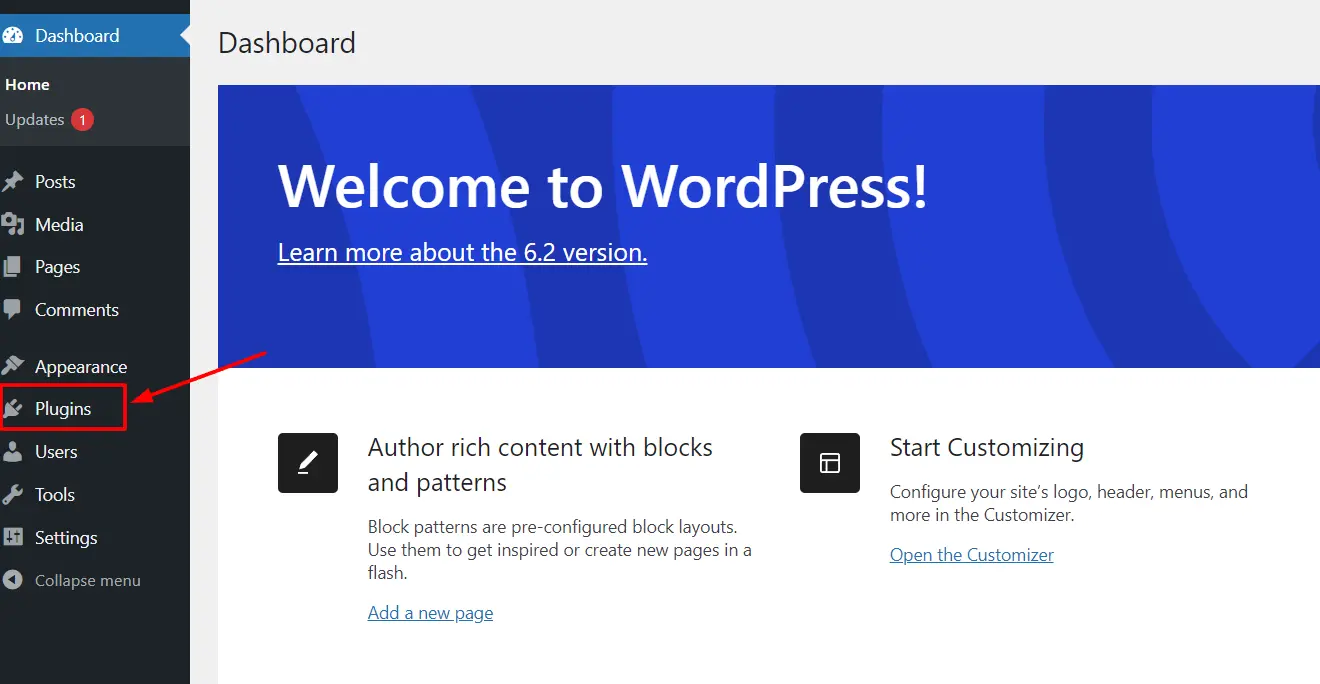 Here you can search for "ShopEngine" in the search bar given on the right side and hit enter > Now click on the "Install Now" button for the ShopEngine plugin that appears in the results.
As soon as you install it, you can activate it or you can go to the plugins Tab there you'll find your downloaded file and you can activate it from there.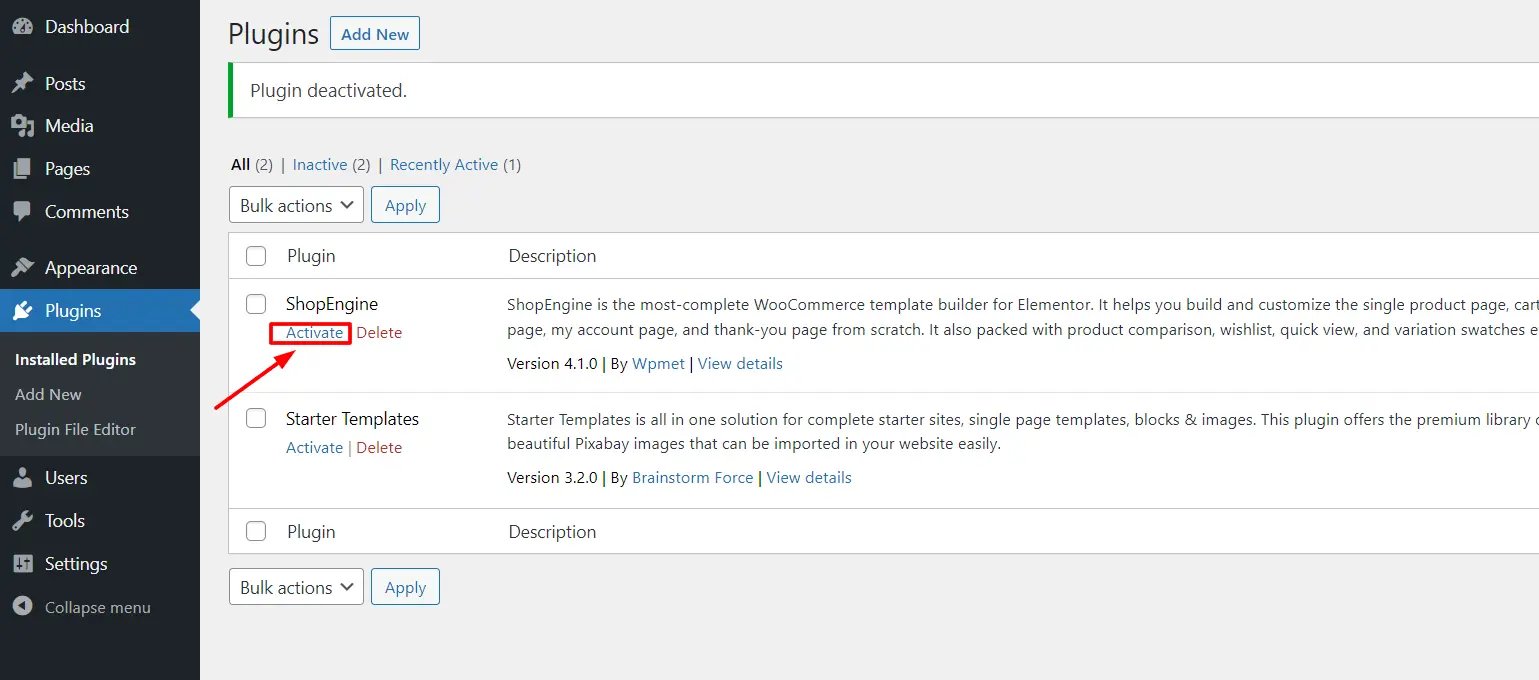 After activating the plugin, ShopEngine Menu will appear in the WordPress Dashboard.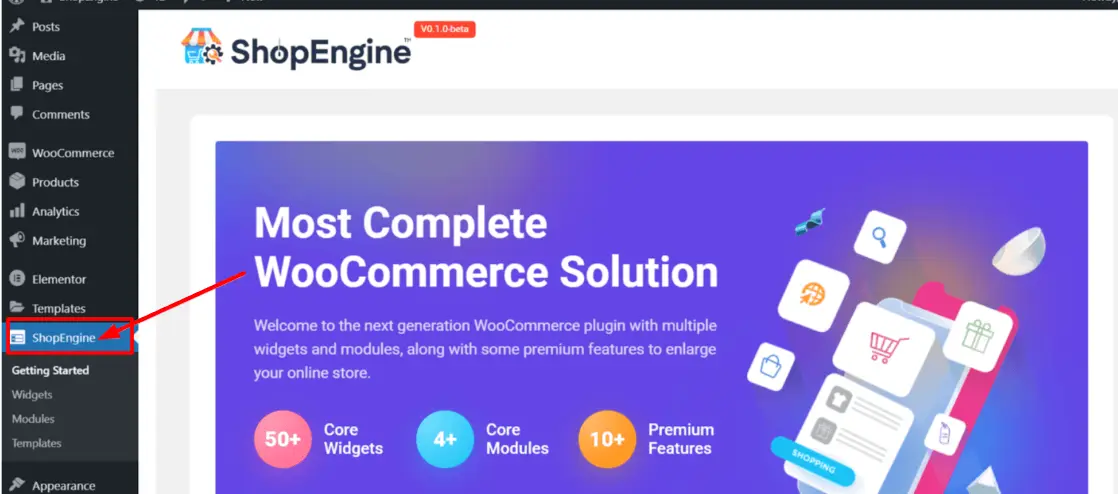 In order to use all the features of Shopengine, you are required to install ShopEngine Pro which can be downloaded from your WPmet account.
So simply navigate to your Wpmet account dashboard > Navigate to the Downloads Section.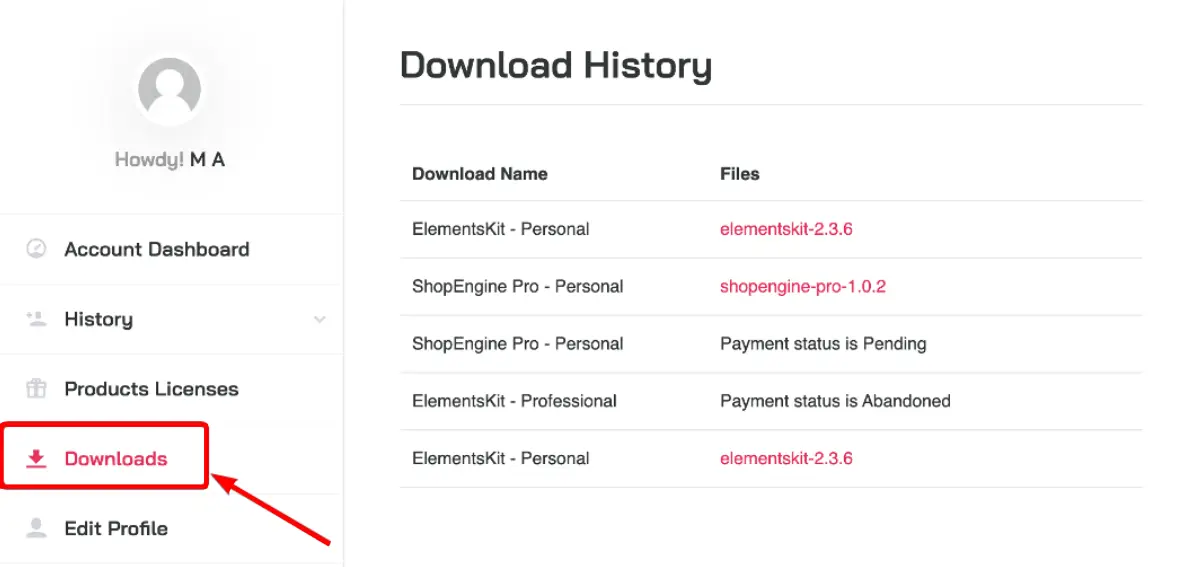 Now you have to click on the ShopEngine Pro on the plugin list to download it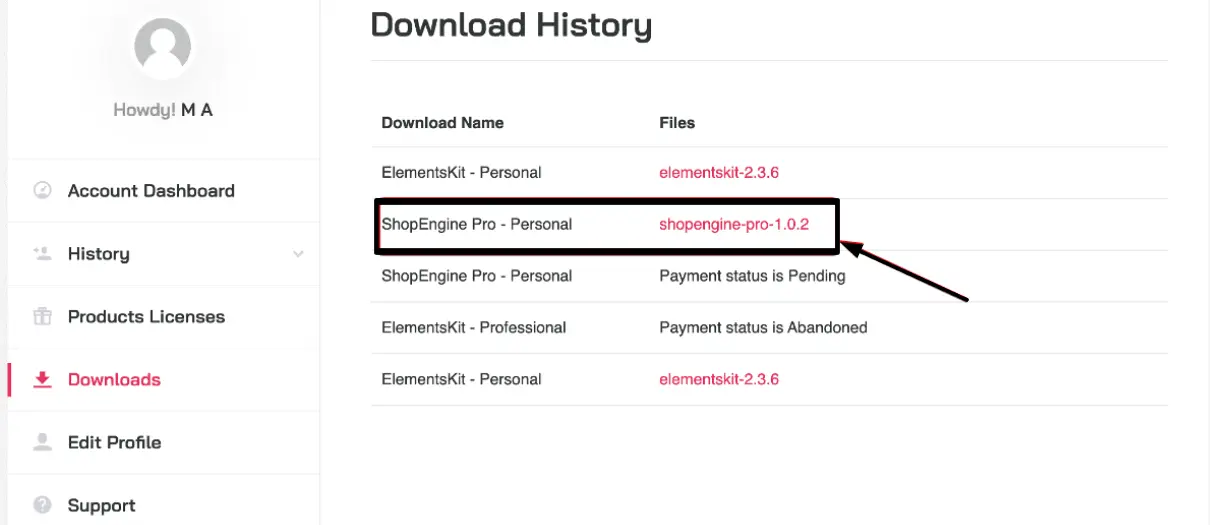 Now again we have to go to Dashboard > Plugins > Add new. Then click on the upload plugin and choose the ShopEngine Pro plugin file that you downloaded. At last Click on Install the plugin and activate it.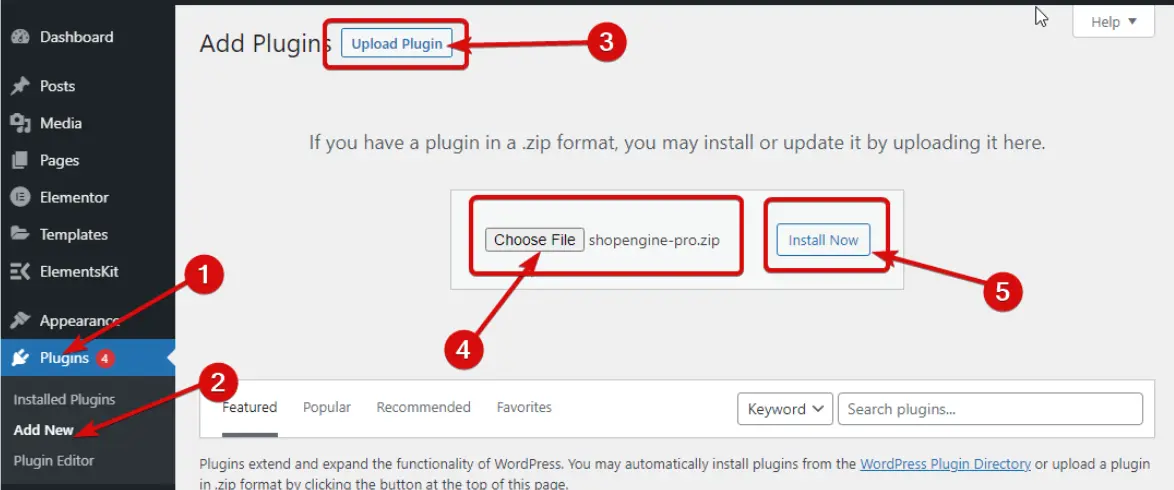 ShopEngine Features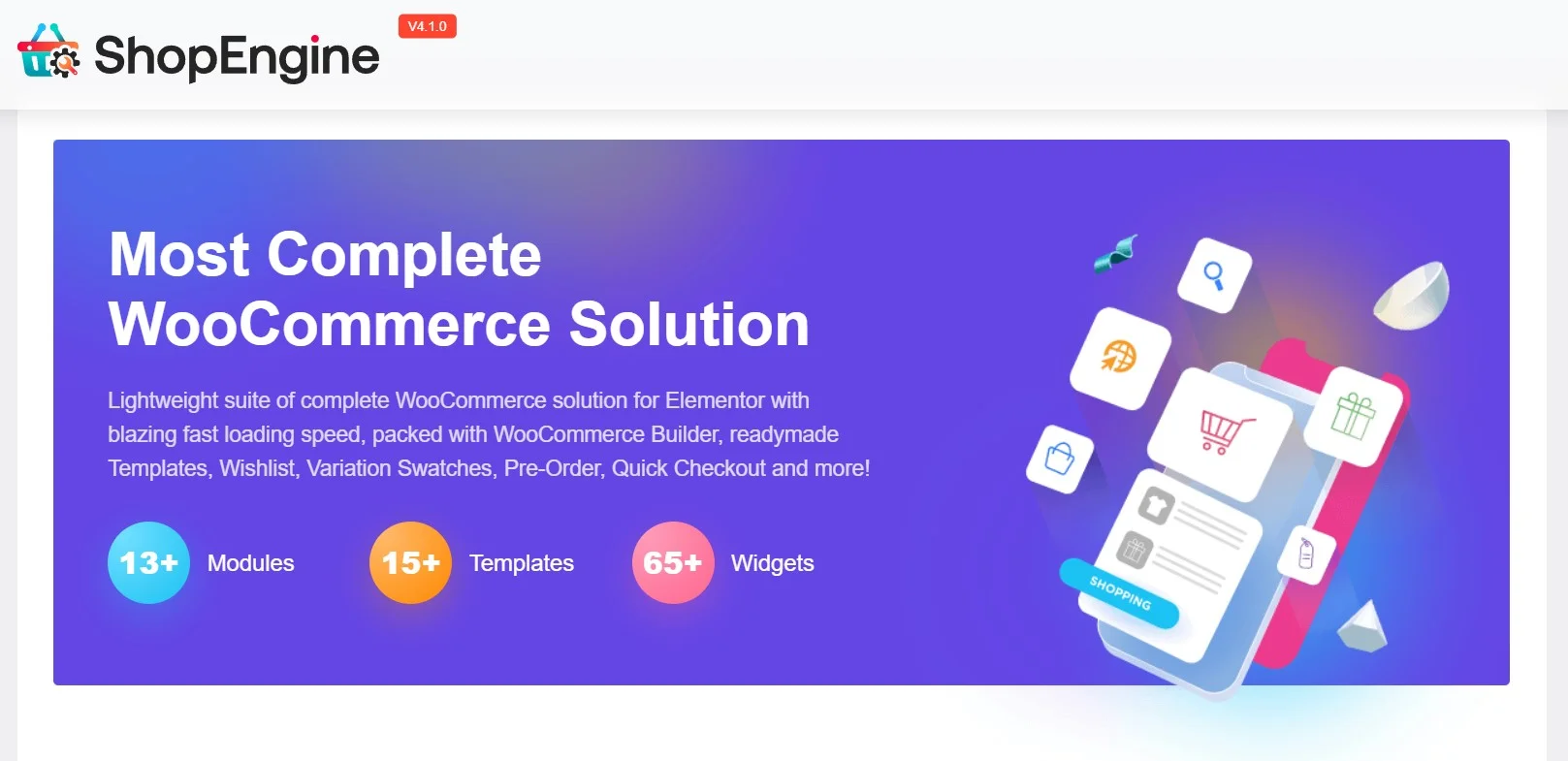 It's never been easier to add features to your WooCommerce store! You can quickly and simply add strong features to your eCommerce site with this Elementor Woocommerce page builder. You can simply drag-and-drop shop pieces onto your page using shop engine Elementor extensions without having to write or create anything.
WooCommerce Builder
This powerful plugin includes everything you need to build a stunning, highly qualified WooCommerce store. You can quickly change the style and layout of your shop, add items, handle orders and customers, and more with ShopEngine.
Product WishList
You can quickly build product desire lists for your clients with this plugin. This enables consumers to bookmark their favorite things and return them to them later, making it easier for them to purchase what they desire. The Plugin is an excellent way of enhancing your customer's buying experience.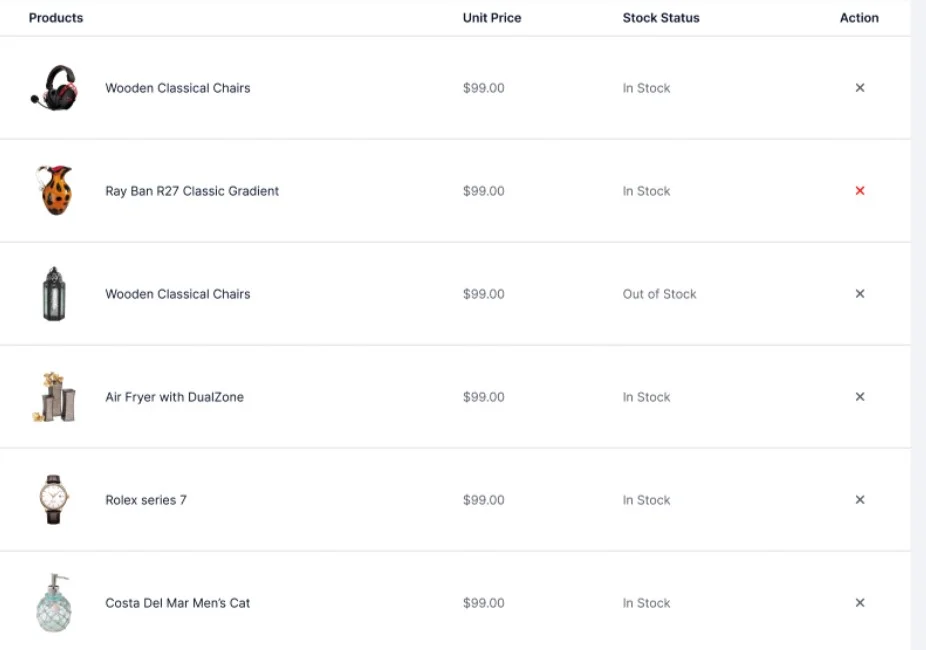 Table of Product Comparison
Who wouldn't want to purchase the greatest available item? Customers like comparing items to locate the one that best meets their requirements and financial constraints. The greatest approach to assist prospective consumers in finding the product they need is to use a product comparison table. You have access to all the features necessary to build a comparison table and evaluate products side by side with ShopEngine.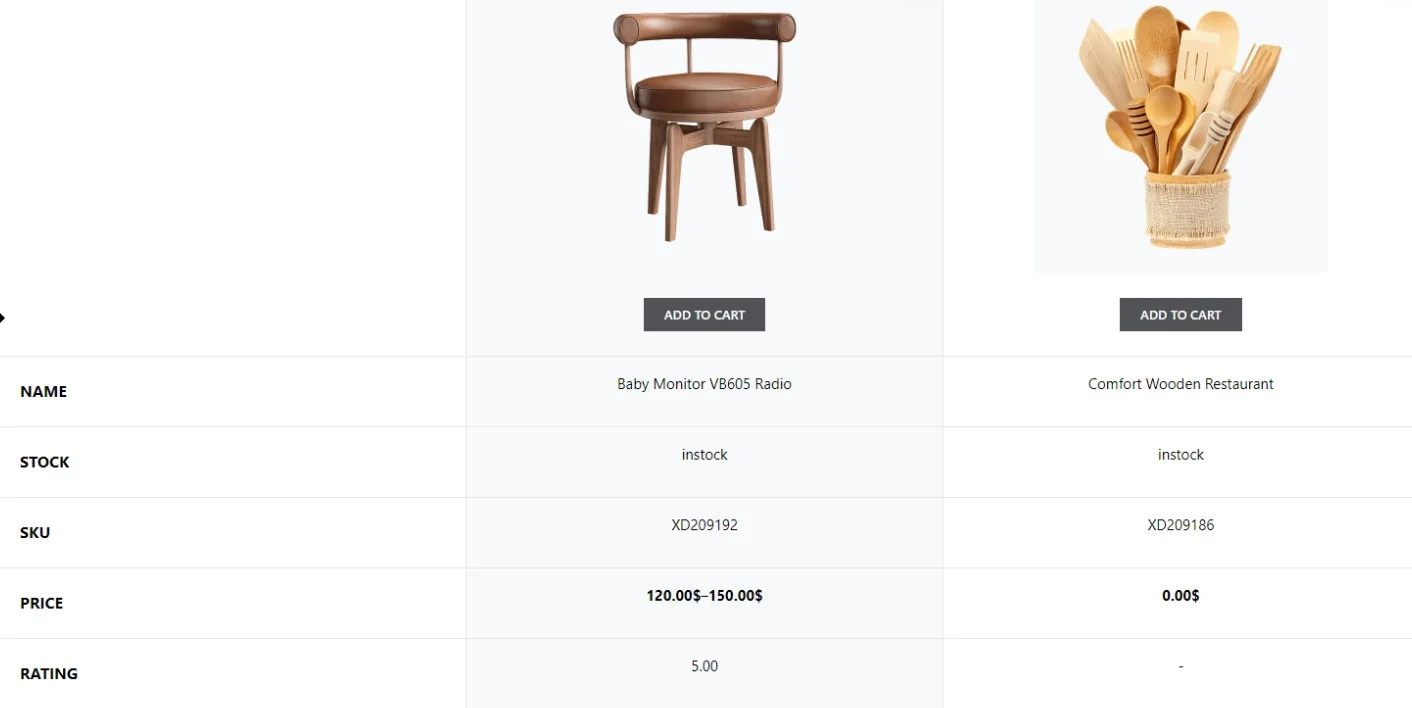 Currency Switcher
ShopEngine offers a multi-currency switcher module to help you take your eCommerce shop international. You can simply service consumers from all around the world since many currencies are available.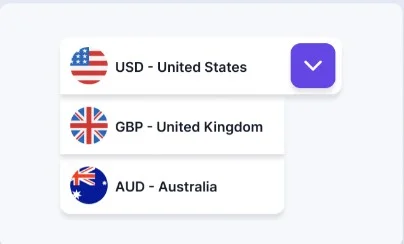 Sales Notification
With this module, you can add live sales alerts for your recent product sales in the form of a popup. When a visitor joins your website, they will get sales alerts on your most recent sales, which will encourage them to purchase your items.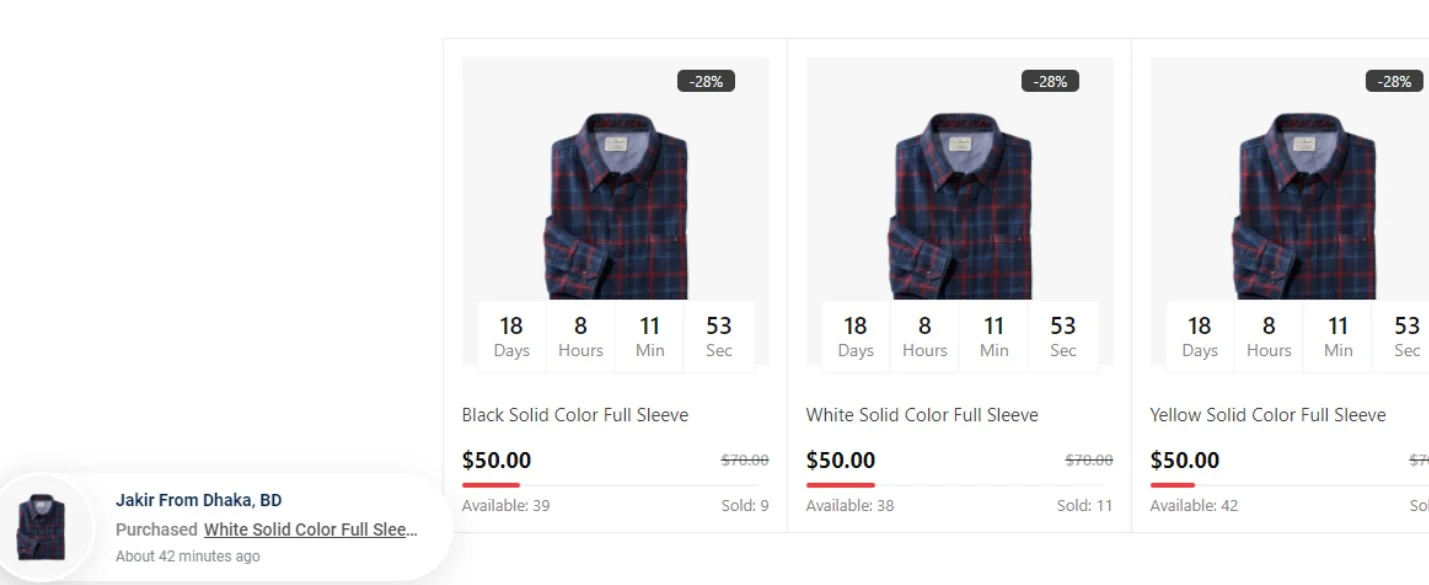 Product Sharing
Let your customers tell the world about your items. If you properly utilize the product share widget, your products will soon be in direct competition with those that are popular.
With ShopEngine, your customers can share any product on the social network, send it to a friend, or copy the product link.
Product Quick View
The ShopEngine Plugin allows you to quickly and easily add a product quick view to the online store. This plugin's QuickView module allows you to preview products without going away from the current page, making it easier to locate what you're searching for.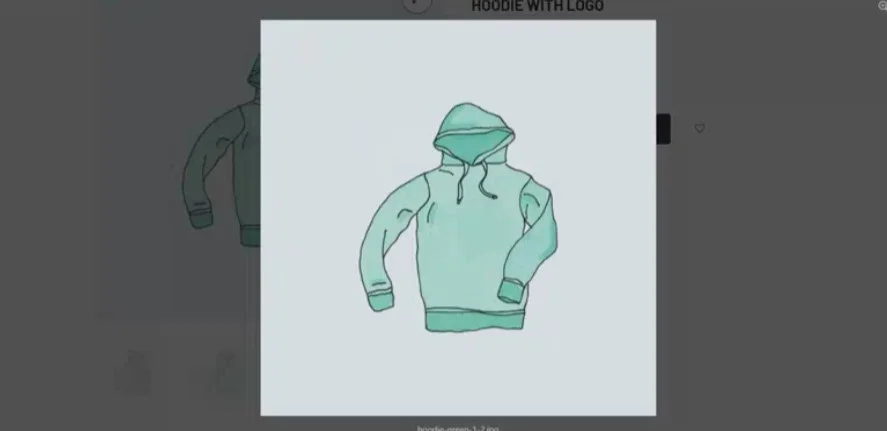 Variation Swatches
You may use this module to generate and maintain variation swatches. With this extension, you can quickly deliver a terrific shopping experience to your consumers by presenting color, size, and other variant options directly on the product page.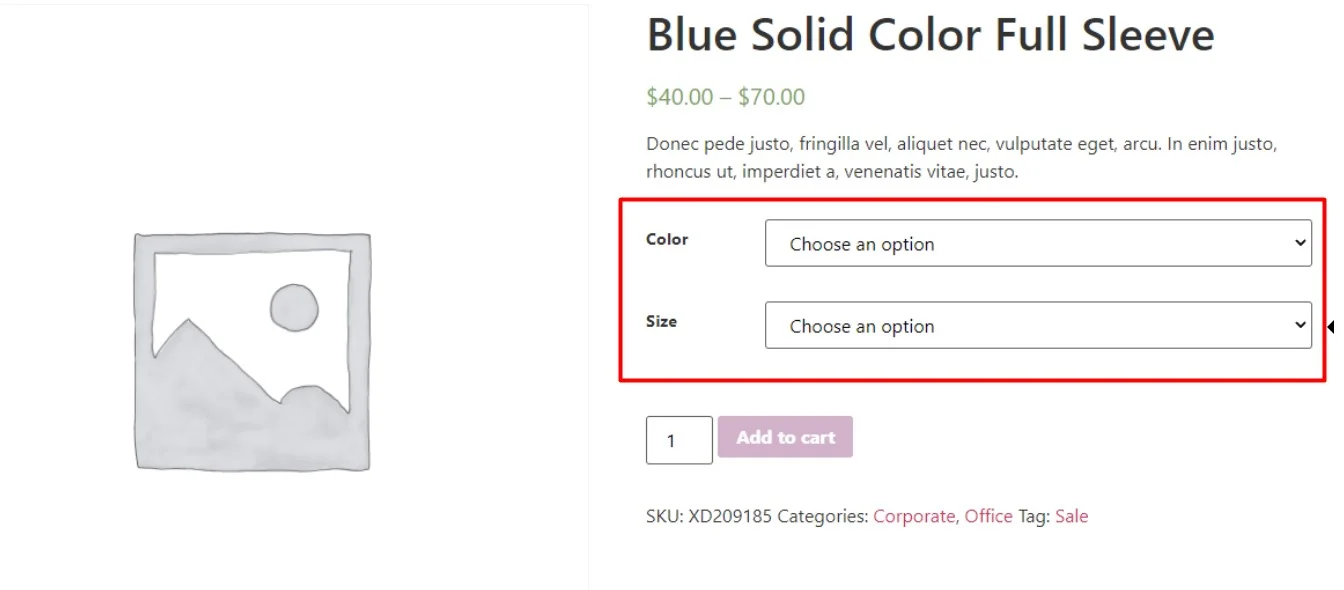 Badges
With this module, you can display to your clients how very much they may save on every product, making it simple for them to locate amazing discounts. Customized badges are also possible with the Badges module, making your offerings even more appealing.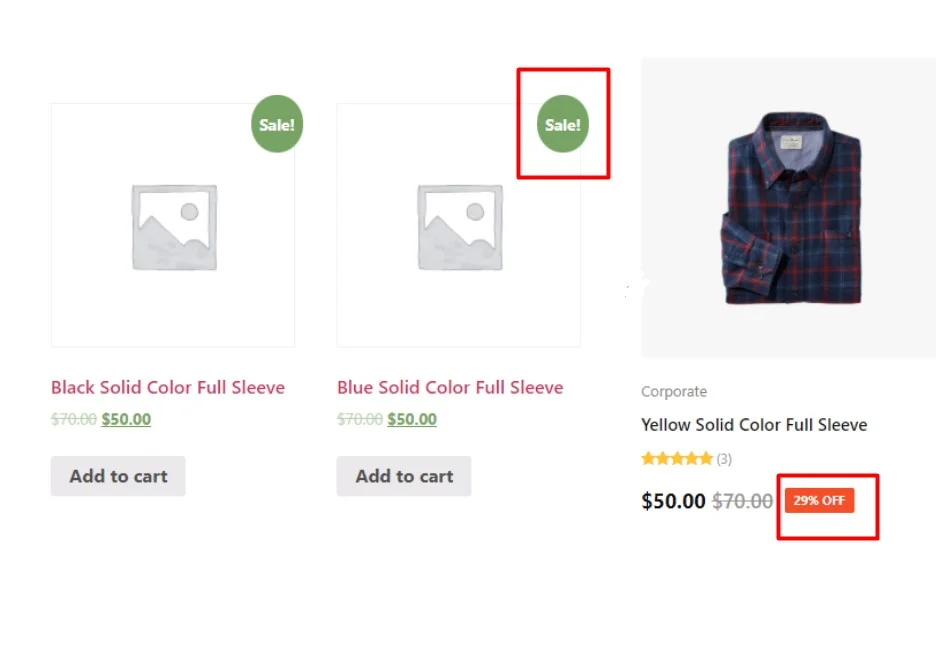 Backorder
By enabling the backorder feature, you can make your site unique by offering customers the ability to place an order for out-of-stock items that are currently in high demand. This shows that you care about your customers' needs and are dedicated to restocking these popular items. You have the option to enable or disable this feature at any time.
Product Comparison
ShopEngine's WooCommerce product comparison feature, you can add a comparison section to your online store with just one click. This allows your users to compare multiple products side by side before making a purchase, helping them to make an informed decision.
Flash Sale Countdown
With this feature, you can easily create flash sales for special occasions like Black Friday, Christmas, New Year's Eve, Thanksgiving, or any other community-specific event. The feature comes with a widget that allows you to offer flash sales not only on specific products and categories but also on any other page of your website. This helps to attract more customers and boost sales during these special events.
Currency Switcher
This currency switcher module is a powerful tool for WordPress websites that need to display pricing information in multiple currencies. It allows you to make your business recommendations clearer for customers from around the world.
Filter and pagination using AJAX
Time has changed, as has its worth. Visitors no longer desire to move between sites while searching or waiting for a page to load. Your WooCommerce website's filtration and pagination have been made possible by ShopEngine using AJAX. Your customers may rapidly filter products using AJAX without refreshing the page. Moreover, AJAX enables users to effortlessly switch between pages without having to wait.
ShopEngine Templates
ShopEngine comes with several WooCommerce templates and the Elementor page builder, allowing you to use any of them and customize them to your needs. The WooCommerce plugin simplifies the process to construct highly professional pages without any prior knowledge. There are several layouts to pick from, such as store page template, archive template, cart page template, single-page layout and checkout page template, and so on. These will save you time in establishing your store's layout because it has already been done by specialists with an emphasis on design attractiveness and performance.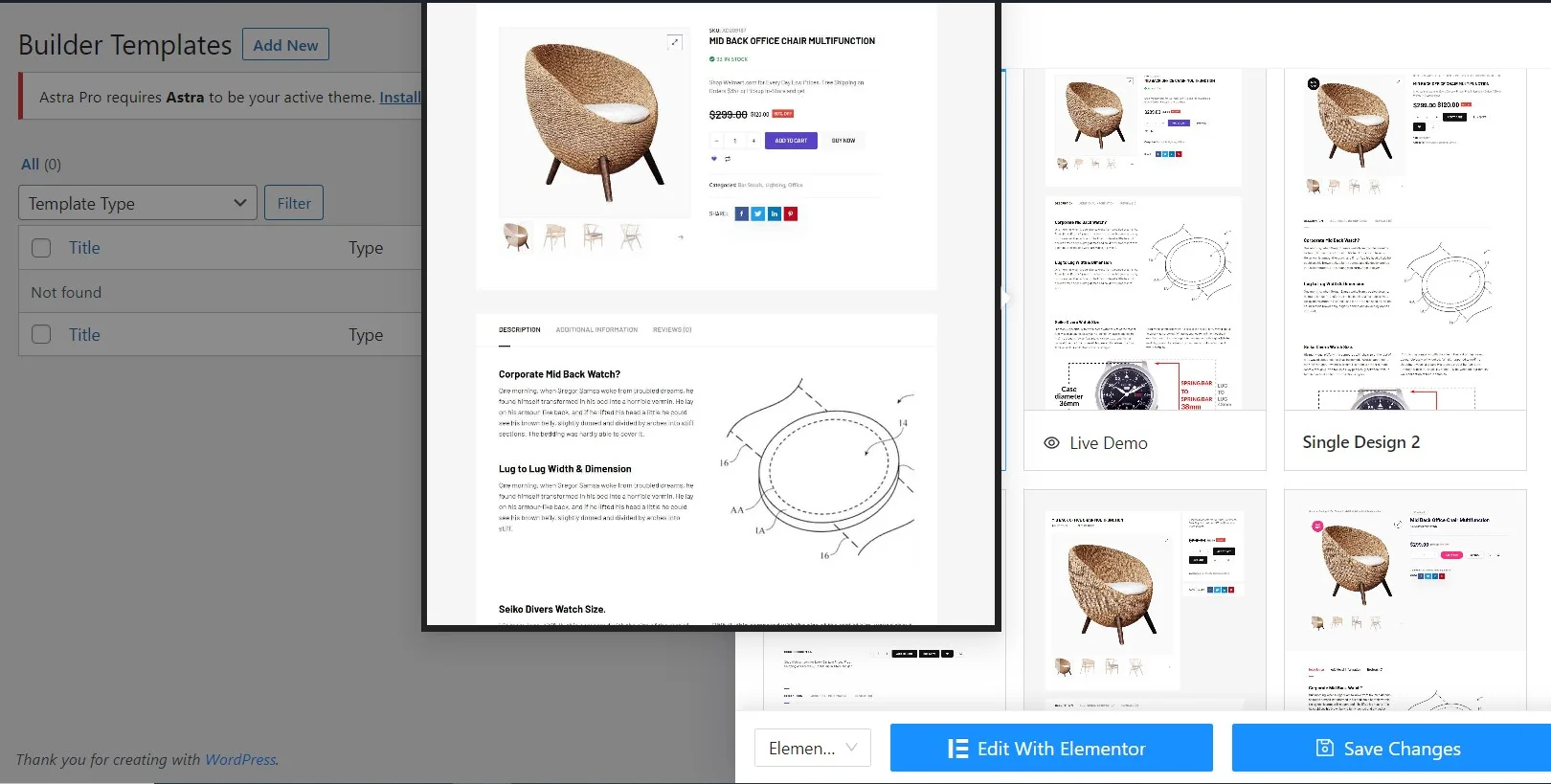 ShopEngine Widgets
Single Product Page widgets
The ShopEngine plugin includes over 20+ widgets to help you create a single product page that sells. It has it all, from attention-grabbing headlines and videos to dynamic user reviews and pricing. Without any prior knowledge, the Shop engine makes it simple to create highly professional pages.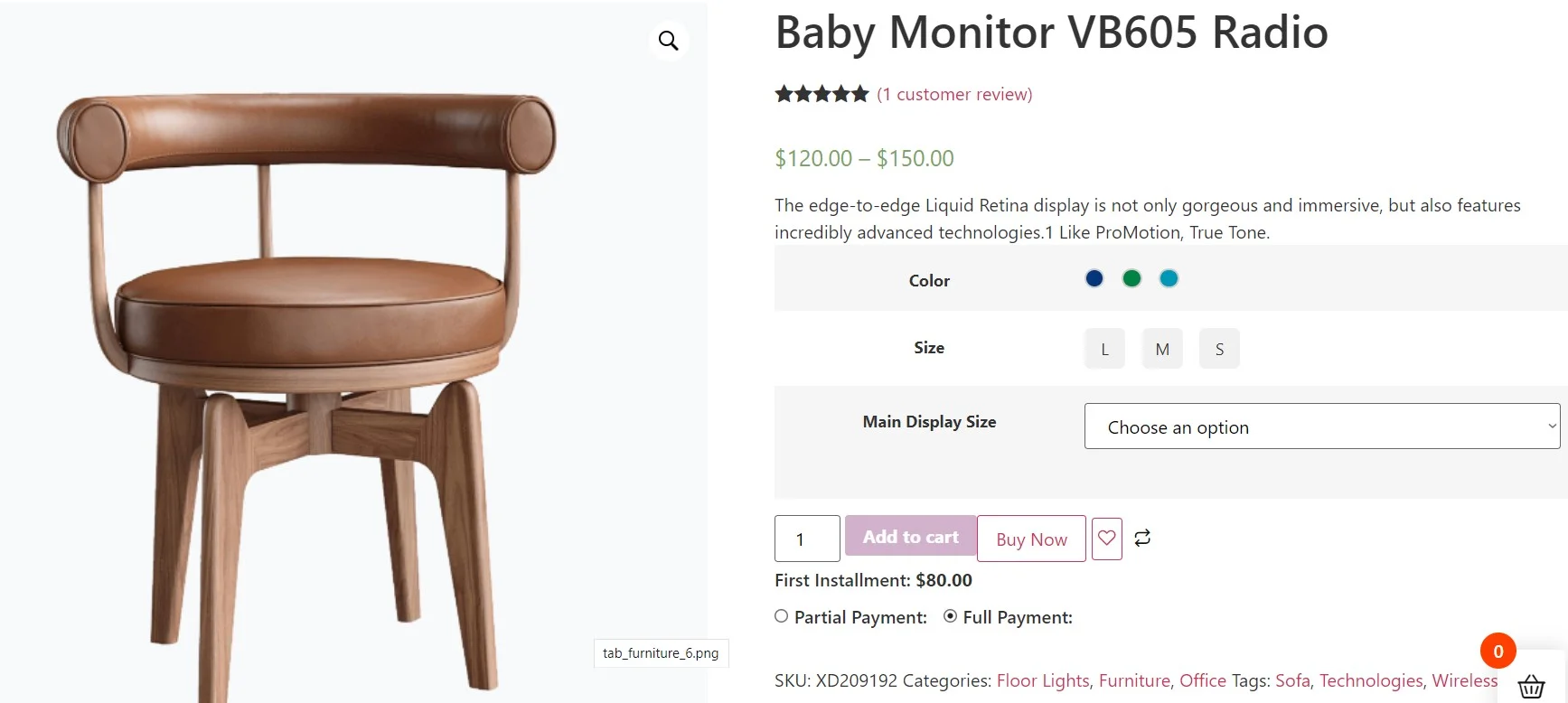 It includes- Product Price, Product Rating, Product Title, Product Additional Information, Product Description, Product Upsells, Product Excerpt, Add to Cart, Product Images, Product Meta, Product Tags, Product SKU, Product Stock, Product Tabs, Product Review, Breadcrumbs, Product Categories, Product Share, Product Categories, Price Filter, and Related Products
Cart Page Widgets
ShopEngine is a robust e-commerce plugin that lets you personalize your cart page for the greatest user experience.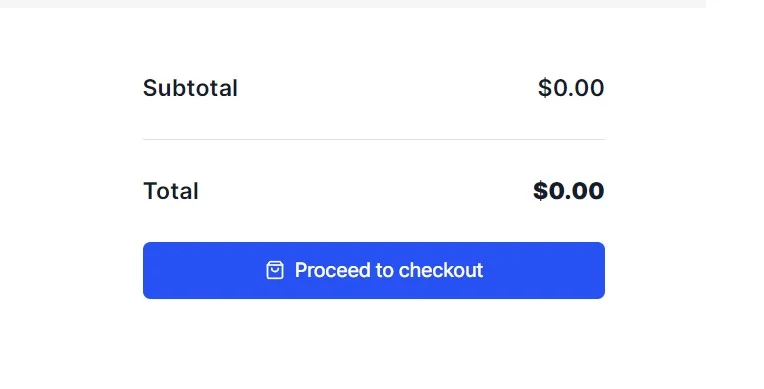 It includes- Cart Total, Cart Table, Empty Cart Message, Return to Shop, and Cross-Sell.
Checkout Page Widgets
This effective solution will help your consumers reduce cart abandonment and streamline the checkout process. Also, you may collect extra data during the checkout process to assist you to improve conversions. Furthermore, this Shop Engine WooCommerce Elementor checkout extension interfaces with the WooCommerce plugin, allowing you to take benefit of all of WooCommerce's strong features. These Widgets are ideal for designing stunning, responsive checkout pages, whether you're a new or veteran WooCommerce user.

It includes- Checkout Review Order, Checkout Payment, Checkout Form Billing, Checkout Form Additional, Checkout Form Shipping, Checkout Shipping Methods, Checkout Form Login, and Coupon Form.
Order page Widgets
You may use this Plugin to add a thank you message to your customers' order pages. This will assist in providing them with everything they require to make their transaction, as well as demonstrating your gratitude for their business.
It includes- Address Details (Pro), Order Details (Pro), Order Thank You (Pro), and Order Confirm (Pro)
Account page Widgets
ShopEngine Plugin is also useful for consumers who wish to keep track of their account activities. They may use this plugin to keep track of their order history and downloads, as well as conveniently register and log out of their account. ShopEngine also makes it simple for clients to manage their account details.

It includes- Account Address (Pro), Account Navigation (Pro), Account Order Details (Pro, Account Dashboard (Pro), Account Orders (Pro), Account Logout (Pro), Account Downloads (Pro), My Account Form Login (Pro), Account Register Form (Pro), and Account Details (Pro)
General Widgets
This useful plugin includes several simple widgets that will offer your store a new appearance and feel. ShopEngine has you covered with customizable search options, deal listings, and recently seen products.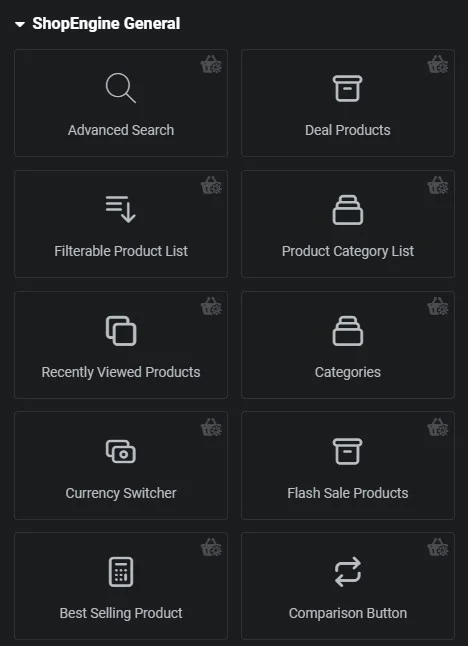 It includes- Deal Products, Recently Viewed Products, Product Category List, Filterable Product List, Currency Switcher (Pro), Categories (Pro), and Flash Sale Products (Pro)
Enable/Disable Modules and Widgets
It may happen that you won't need to utilize every module and widget at once. ShopEngine allows you to disable any widget or module you don't want to utilize for your convenience.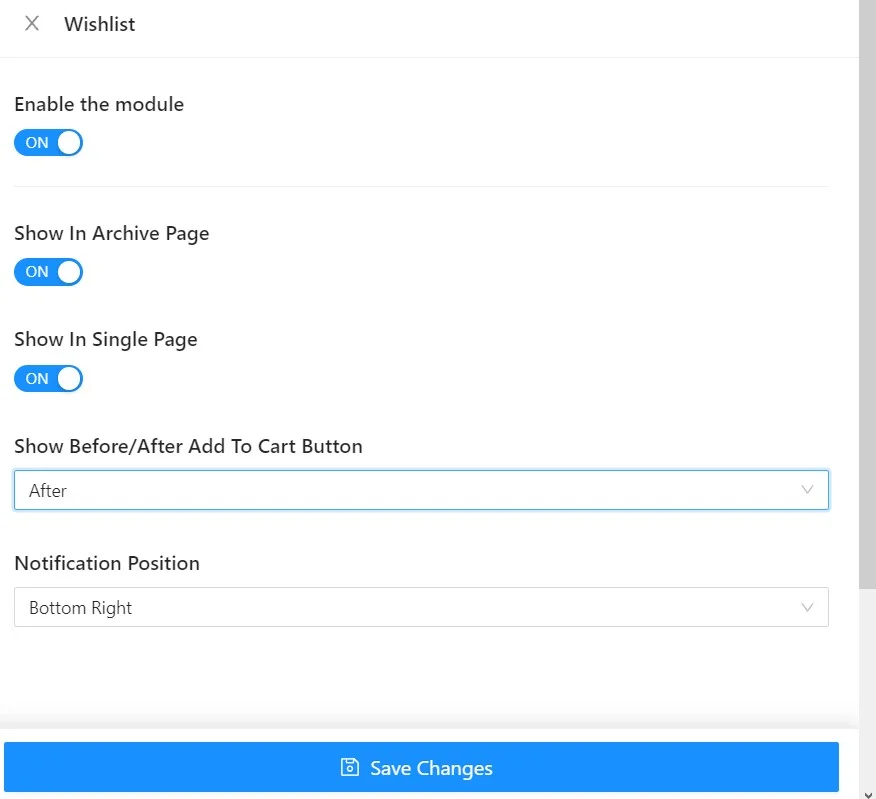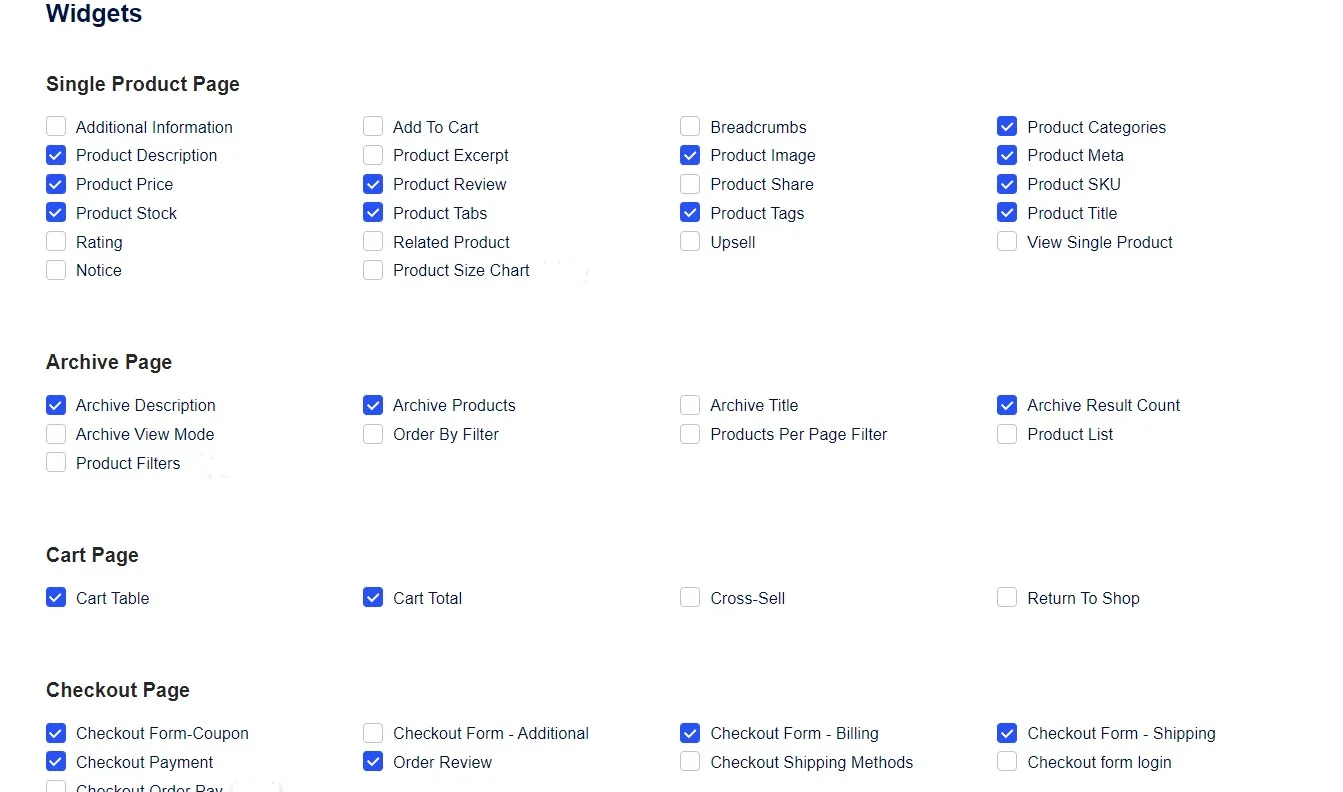 Relax; you can always turn on the deactivated function. All it takes is one click of the toggle button.
ShopEngine Alternatives
WooLentor
WooLentor is a drag-and-drop WooCommerce page builder plugin based on Elementor. It is a unique plugin with thousands of delighted users. The plugin allows you to create and change WooCommerce pages without handling any code.
It comes with over 76 widgets, a vast template library, and a plethora of features such as Custom Cart, Custom Shop Page Builder, Checkout Page Builder, Horizontal/Vertical Product Filter, Single Product Page Builder, Multi-Step Checkout Page Builder, and so on. In addition, the WooLentor Pro edition includes several premium WooCommerce themes for free. It does, however, have a free version.
Element Pack Pro
Element Pack Pro is an amazing alternative to the ShopEngine plugin. The add-on is a collection of widgets designed to work with Elementor. The goal is to fill Elementor with a wide range of useful widgets and improve its performance. This one includes various Elementor widgets as well as WooCommerce-specific elements that fulfill both critical and inventive purposes.
CoDesigner
Another popular ShopEngine alternative plugin in the WordPress environment is CoDesigner. Codexpert created this popular Elementor WooCommerce Addons. The plugin has over 20,000 active users and over 104 five-star ratings. It has useful features and capabilities that might assist you in developing your next eCommerce WordPress website. You may use the plugin to personalize all of the pages on your eCommerce website as well as provide your consumers with a better user experience.
JetWooBuilder
JetWooBuilder is a Crocoblock plugin that adds 66 widgets to your Elementor back end to increase the capabilities of your WooCommerce website developed with Elementor. This category includes individual widgets such as single tabs, star ratings, categories, and more, as well as whole shop pages.
ShopEngine Pricing
You can choose a yearly, lifetime, or bundle package based on your needs. This plugin is also available in a free version. ShopEngine's free version is ideal for small enterprises and entrepreneurs who do not require all of the capabilities.
Yearly Plans
Single- $ 53.1
Unlimited- $ 239.2
5-Sites- $ 134. 1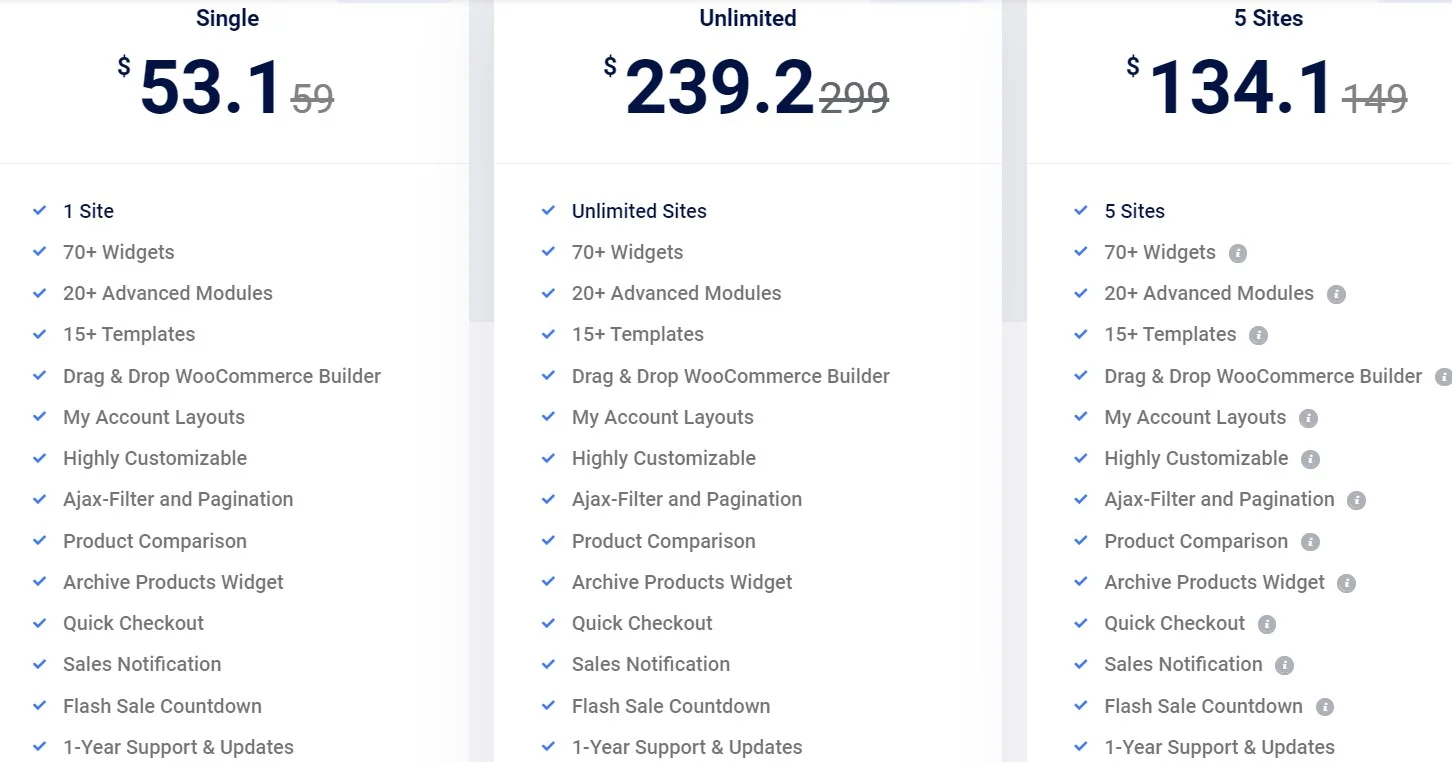 Lifetime Plans
Single Lifetime- $126.65
Unlimited Lifetime- $ 419.3
5-Sites Lifetime- $ 186.75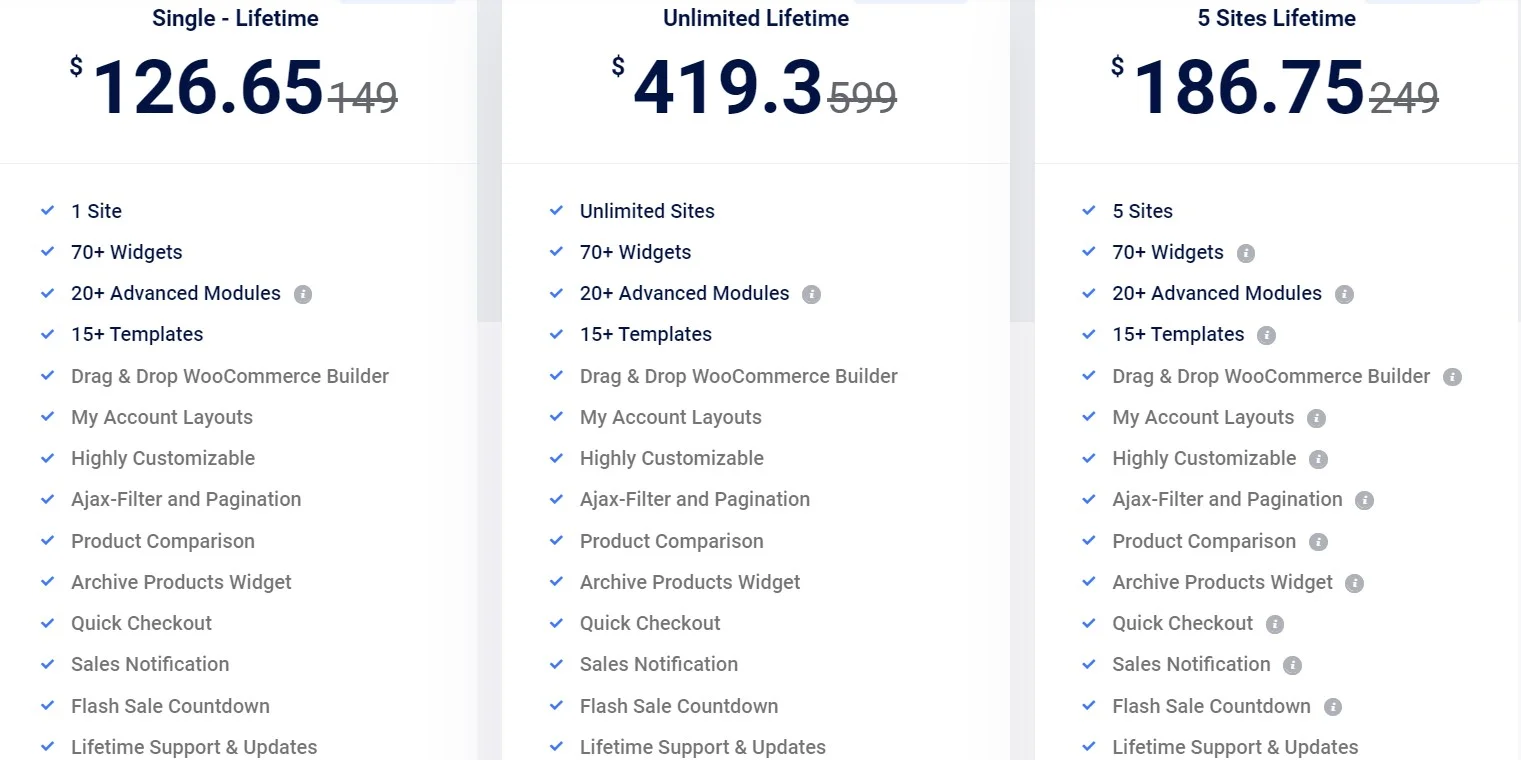 Bundle Plans
5-in-1 Yearly Pack- $ 399
5-in-1 LTD Pack- $ 699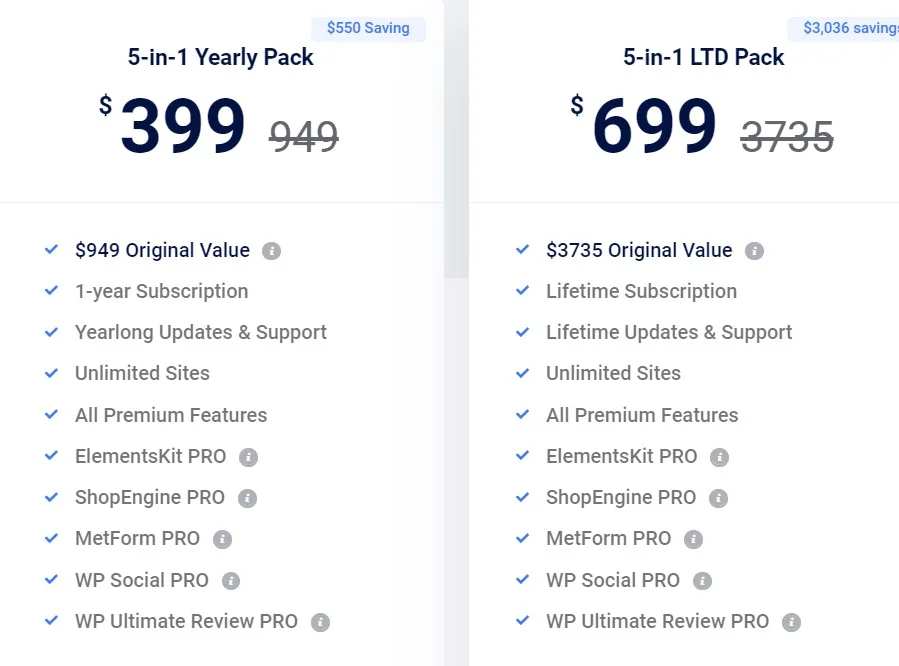 FAQs
What exactly is ShopEngine🤷‍♀️?
ShopEngine is a WooCommerce builder based on Elementor that allows users to develop and manage an entire eCommerce website from scratch. The WPMet team also recently published the Gutenberg version of ShopEngine.
Do you need any coding skills for using ShopEngine💻?
No. Without having much coding experience, anyone with ShopEngine can create any WooCommerce webpage from start. ShopEngine is simple to use since it is a drag-and-drop template builder for WooCommerce. So, whether you are a novice or a pro, ShopEngine will be simple for you.
Can you trust the ShopEngine plugin's quality🤔?
Yes, definitely. ShopEngine was created by the WPMet team. They have been in operation for more than 10 years, are an Envato Studio super elite author, and they also run Elementskit. MetFirm, Getgenie, and WP Social all come from the same developer. As a result, you can trust their reliability.
Is ShopEngine compatible with Gutenberg🤷‍♂️?
Yes! Fortunately, ShopEngine supports both the Elementor and the Gutenberg builders. You may build your eCommerce website on both levels. To utilize Gutenberg, you must first install and activate the ShopEngine review Gutenberg version.
Is ShopEngine functional without Elementor😦?
ShopEngine is a WooCommerce page builder based on Elementor. As a result, Elementor was necessary to handle the plugin's features and capabilities. Without Elementor, you will be unable to utilize ShopEngine.
Can we utilize ShopEngine in conjunction with Free Elementor🤝?
Yes! ShpEngine is compatible with the free edition of Elementor. The free edition of ShopEngine eCommerce website builder is sufficient to get started since it enhances the capabilities and functionality of the drag-and-drop page-building experience.
What does ShopEngine Pro offer🤷‍♂️?
ShopEngine Pro has one of the most competitive prices. You get a better design, more features, functionality, and integration at a lower price when compared to other Elementor WooCommerce builders. You may get started with $53.1. In rare circumstances, you may receive less. The best aspect is that you can pay for a ShopEnigine lifetime deal. You just need to pay once to utilize the plugin for the entire duration of your life.
What Are the Advantages of Having a ShopEngine LTD License👁‍🗨?
You may pay once and use this e-commerce web builder for the rest of your life. You will also not have to bother about renewal. The assistance will relieve your headaches. Last but not least, ShopEngine LTD frequently provides significant discounts over other packages.
Is ShopEngine's return policy available💸?
Yes. You get 14 days to test the premium version of the plugin. If you are not happy, you may request a refund within 14 days of purchase. But if you wish to utilize ShopEngine Pro as a developer, you may gain some exposure and help from the team.
Who Can Make Use of ShopEngine👀?
Each customer has a unique set of requirements, which can be tough for freelancers to meet. But a freelancer using an eCommerce website builder such as ShopEngine can simply relax.
ShopEngine may be quite beneficial to developers also. They may use the plugin to create a fast-loading, multipurpose, and tidy website in a single day.
A designer with this eCommerce website builder may increase their revenue
An Agency owner may use ShopEngine eCommerce builder to provide the site at the highest quality, at the best price, and on time.
Is it possible to use ShopEngine with different themes🙋‍♂️?
Yes, all of the popular themes are compatible with ShopEngine. Thus, any WordPress theme will work with ShopEngine. Based on ShopEngine, popular themes such as Bajaar, Bascart, and others have been released. The best aspect is that ShopEngine comes with 15+ pre-made templates, so you won't even have to bother about themes.
Is ShopEngine able to work with other plugins🤷‍♂️?
Yes, you may rest easy if you use the appropriate additional plugins for payment gateways, SEO, and inventory management. ShopEngine is completely compatible with the plugins Yoast, RankMath, and SEOPress. To finish the transaction, you may also utilize WooCommerce payment getaways and PayPal getaways. Currency Freaks, Fixer works well with ShopEngine.
Where can I find out more about ShopEngine💬?
If you want to understand more about ShopEngine, you can join for the free edition and explore the platform and its features. On the ShopEngine website, you may also discover useful resources such as tutorials, FAQs, and customer support.
What makes ShopEngine stand out?
Complete customization🙌
ShopEngine offers complete customization possibilities, in contrast to others eCommerce builders' restricted customization choices. As a result, you can alter anything, anyplace. Moreover, a few additional plugins provide add-ons for customizing numerous pages. Yet, ShopEngine just requires a single payment to cover all functionalities.
Elegant styles👌
Both administrative users and end users value design. A smart design is simple to operate, encourages the administrator to add a growing number of products, and lowers the bounce rate on the front end. The ShopEngine team brings top-notch design to ShopEngine as well because they have expertise in creating several themes.
Hassle-free shopping🛒
Customers may have a better experience on your eCommerce website with the clean, modern style and improved user comprehension.
Regular Updates😵
The ShopEngine team has added more than 30 improvements to the free version in less than two years. Regular updates are to be expected, and problems should be resolved within a month of being reported.
Lightweight and quick😯
ShopEngine is a lightweight plugin that keeps your website loading quickly.
Save time⏳
Many plugins require more effort to use and customize. The ShopEngine plugin will spare you time-wasting plugins thanks to its easy-to-use interface.
Saves Money💰
To administer your WooCommerce website, you no longer need to purchase dozens of pricey plugins if you utilize ShopEngine. You can personalize your eCommerce pages with just this plugin because ShopEngine provides numerous amazing features.
Helpful Customer Service🤝
You can obtain ticket-based help, live help, documentation, social media and community assistance, and video.
Supports Multiple languages💬
It is crucial to translate the content of your WooCommerce site into the visitors' native tongue if you are selling a product internationally. Several languages are supported by ShopEngine, which is advantageous for increased ROI.
Over to you
If you want to design unique WooCommerce pages without knowing any coding skills, ShopEngine is the Elementor wooCommerce builder for you. The ShopEngine WooCommerce WordPress plugin will help you create any type of eCommerce website, from a straightforward shop page to a sophisticated eCommerce portal.
ShopEngine has both free and premium versions and the main difference between the two versions is the features that are included. The free version comes with basic and limited features and a few modules and templates. However, they have a complete 70+ widgets library for free users as well. If we talk about the premium version includes advanced features such as the ability to create custom product templates, custom product tabs, and product comparison tables. It also includes features such as abandoned cart recovery, currency conversion, and the ability to add upsells and cross-sells to the cart page.
You may use ShopEngine to create single product pages, show empty cart messages, design cart tables, redefine the checkout page, and, most significantly, personalize any WooCommerce page to your heart's desire. Other than that, ShopEngine is a crucial plugin to increase conversion rates and ROI, and most importantly, provide your customers with the greatest shopping experience🎊.
With Elementor and ShopEngine, you can quickly and easily create distinctive pages that look fantastic and perform better than your typical shop pages🙌.
If you agree with the ShopEngine review and want to test it out. Take the plunge. While it features a free version, its pro version also has a money-back guarantee, so don't be hesitant to try it. It will undoubtedly improve and increase your WooCommerce operations.