If you are surprised by the speed of your competitor sites and want to achieve the equivalent performance or even more then cache plugins are the key. But it is an accepted fact that using the cache plugins most often affects the other backend plugins and the functioning of various tools. As such, it is very important that you go with the most suitable cache plugin that is scalable and gives complete comfort in using it and achieving performance results.
In this article, we're going to share a list of some Best WordPress cache plugins that improve website load speeds and access your website content faster. After evaluating and analyzing each of the plugins on several parameters like the ability to enhance speed and performance, the ability to reduce the load on the website host, and improve search engine ranking and overall features, we've come to this list.
However, before we dive into our topic let us first get an overview of what is Caching and why it's necessary to have Cache plugins on your website.
Caching is considered a technical and complicated topic that has a tedious explanation. However, In very simple words, Caching is the process of developing static content versions for your visitors with the help of cache plugins. Static pages are quickly rendered to browsers, which improves website load speeds because Fetching a page or post in WordPress requires several back-and-forth database queries to the server So Caching helps in order to instruct servers to store recently requested files to RAM or disk. With this, the server can easily remember and duplicate the content served previously, making your web pages load much faster. this is caching in nutshell.
Caching plugins provide several benefits for example Cached static files and pages load faster compared to dynamic queries, cache plugins significantly reduce the load on your website host server, and save server memory and input-output operations.
These plugins help you to enable caching, minimize CSS, eliminate render-blocking resources, optimize CSS delivery, Minify JavaScript files, Load Javascript deferred, Delay the Javascript Execution, Lazyload the Images, Preload Fonts & Links, Disable RSS Feeds, Combine all Google Font requests into fewer requests, Site-wide removal for Emojis & Dashicons, Optimize the database, Compress Images & serve them in NextGen format, and much more.
All of it contributes to the improvement in various performance parameters including TTFB(time to first byte), LCP(largest contentful plain), Total Blocking Time, CLS(Cumulative Layout Shift), DOM size, and much more.
Caching your WordPress website with the help of plugins can also help with optimization and performance Altogether, these contribute to an overly responsive website and this makes it necessary to have a plugin. Now we understand let's take a look at the best WordPress caching plugins.
List of Best WordPress Cache Plugins in 2023.
WP Rocket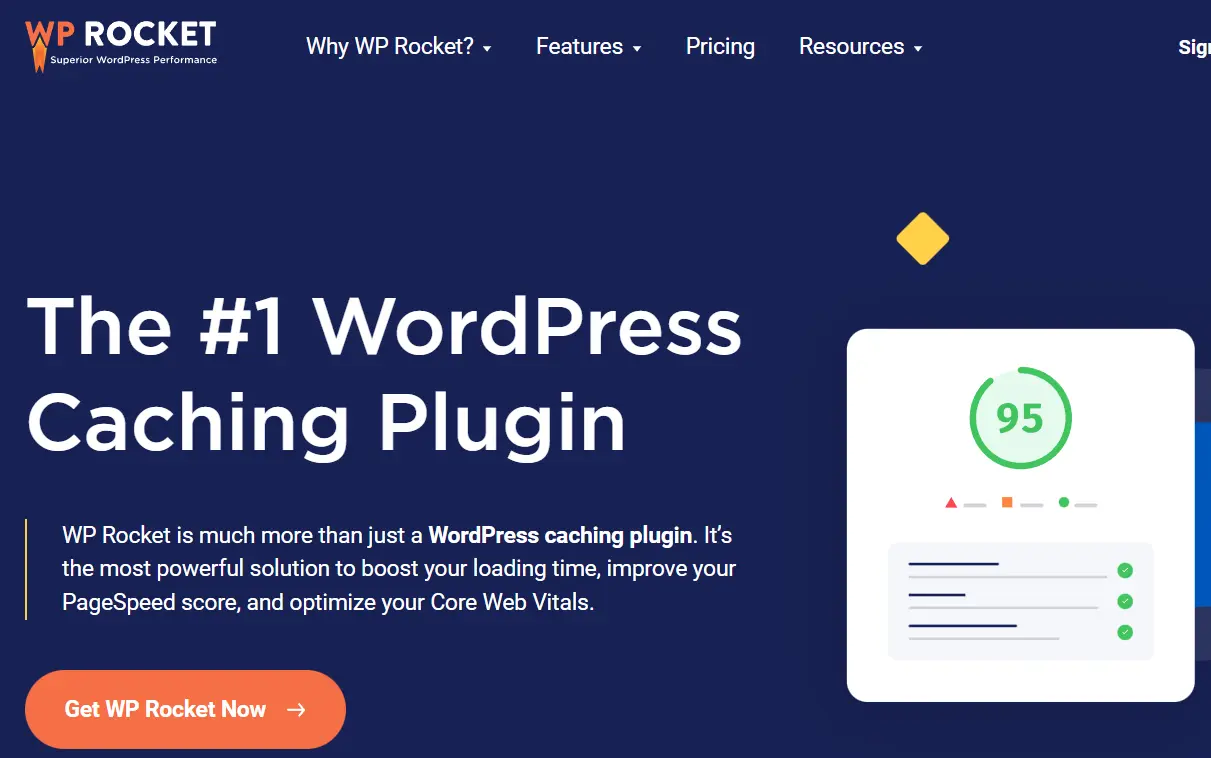 WP Rocket is not just a WordPress caching plugin, It's the most powerful solution to boost your site loading time, improve its PageSpeed score, and optimize the Core Web Vitals. Its user-friendly interface allows any user to control caching functionality without having prior technical knowledge.
WordPress experts recommend WP Rocket as the best WordPress caching plugin to get visible results just after installation. WP Rocket not only speeds up your loading time, but it also dramatically enhances your overall website performance to help you address the most important PageSpeed Insights recommendations.
WP Rocket has on average 4.5 + ratings among several platforms on the internet.
Key Features
WP Rocket provides a dedicated set of options to optimize your database.
WP Rocket's custom CDN.
WP Rocket Add-ons ( Varnish Cache, Cloudflare integration, Sucuri integration )
Browser Caching.
CSS and JS File Minification and Optimization
Helps Eliminate Render Blocking Resources
Improve DOM Size and Overall Speed
WP Rocket automatically preloads the cache every time you make some changes to your web pages.
GZIP Compression.
Cons – requires a little knowledge about some terminology.
Starting price for the WP Rocket plugin is $59 annually per site.


PerfMatters


Lightweight WordPress performance cache plugin which Increases the speed of your website by reducing HTTP requests, disabling plugins, and optimizing your database. moreover, Perfmatters is considered powerful when using SiteGround Optimizer since it can't delay JavaScript, preload links, lazy load iframes, and lacks many features where Perfmatters pretty much becomes mandatory. Although it's recommended to have prior knowledge about these platforms for ease of use, Perfmatters have inbuilt documentation, changelog, feature requests, and almost everything you need.
Key Features
Perfmatters plugin has a built-in robust Script Manager.
Database optimization.
WebP support.
DOM monitoring.
CDN rewrite options available.
Multisite Support.
Adding custom code option to your WordPress site's header (head), body, or footer.
Host Google Analytics Locally.
Quick-Toggle Options.
Cons – No lifetime license available.
Starting price for PerfMatters is $24.95 per year for one site.


WP Fastest Cache
WP Fastest Cache is a suitcase filled with a wide variety of features not only cache optimization but also you can say it speed optimization WordPress cache plugin it is the fastest and most user-friendly plugin that improves the PageSpeed Insights score and speeds up the WordPress sites. in addition, it has options to enable or disable the caching option for logged-in users and mobile devices and enable GZIP tools. Everything users can access through one dashboard its site speed is used in Google's search ranking algorithm so this plugin can improve your page load time and will also improve your SEO ranking.
it has 4.9 ratings plus a whopping 1 million + active installations. the free version is also available.
Key Features
CDN support.
PERFORMANCE OPTIMIZATION features such as ( Minify Html, Minify CSS, Enable Gzip Compression, Leverage Browser Caching, Add Expires Headers, and Combine CSS)
It has a Database Cleanup feature that clears out all of the garbage data such as post revisions and trashed posts & pages.
Google Fonts Async.
20+ language support.
Minification and GZIP tools.
Preload caching.
Cons – There is no as such disadvantages apart from their UI is so basic doesn't give you a premium feel.
Starting price for WP Fastest Cache premium version is $49 for lifetime access for one site.


W3 Total Cache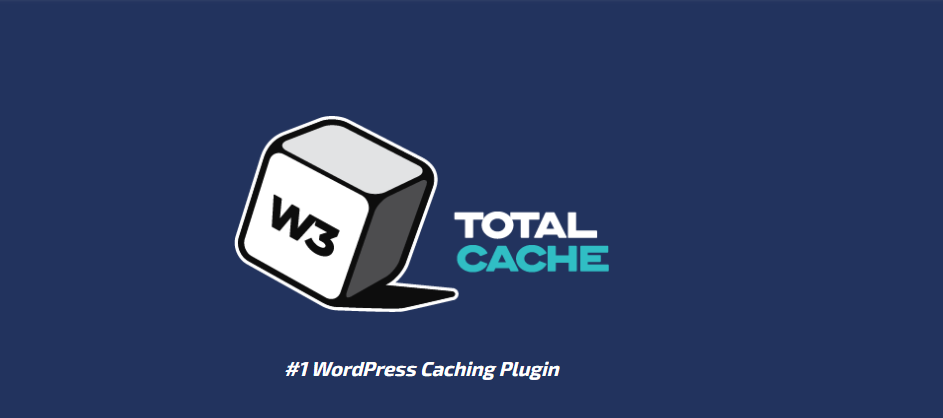 W3 Total Cache is one of the most famous plugins available in the market by the developers of Bold Grid with full-fledged vital features and an easy-to-use user-friendly setup It is a comprehensive WordPress caching plugin. W3 Total Cache is compatible with any CDN, including Amazon CloudFront, Highwinds, LimeLight, MaxCDN, RackSpace CDN, Stackpath, BunnyCDN, KeyCDN, and many more even with all page builders. they have a 30-day money-back guarantee in case you are not satisfied and didn't get desired results.
It has a 4.4 rating and a massive 1 million plus active installations.
Key Features
CDN compatibility.
Minification of inline, embedded, or 3rd party CSS, JavaScript.
Accelerated Mobile Pages (AMP) support.
Image Service API extension. (WebP image conversion)
Secure Socket Layer (SSL) support.
Reverse proxy integration via Nginx or Varnish.
Cons – Subscriptions to CDN service and W3 Total Cache Pro are separate.
Starting price for W3 Total cache pro version is $99 per year.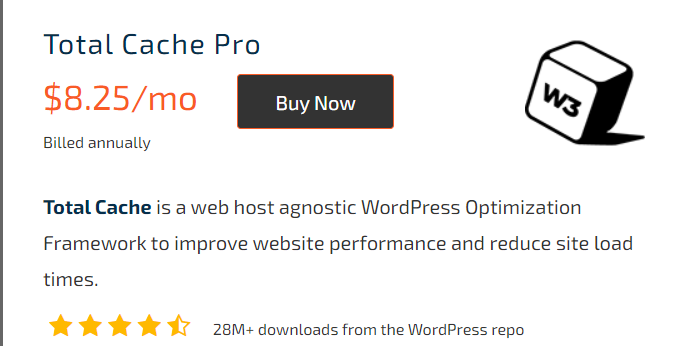 Wp Super Cache

This is one of the oldest cache plugins available in the market which has millions of users, WP Super Cache creates static pages of your site, which reduces the page serving time and also performs a fewer number of PHP scripts This provides a better experience for visitors to your site and can help to improve your search engine optimization (SEO).WP Super Cache is very simple, relatively lightweight compared to other plugins available, and easy to configure, it's a good fit for those who are relatively beginner to WordPress.
It has 2+ million active installations and a 4.3 rating.
Key Features
CDN support.
Extensive mod_rewrite capabilities.
Site health status.
Automatic page compression.
Numerous Exporting features.
Cons – Based on user reviews it shows several optimization problems like (woo commerce cart not updating etc).
WP Super Cache is free to use you don't have to pay a penny for all the services.
LiteSpeed Cache


LiteSpeed Cache (also called LSCache) is LiteSpeed's more efficient and highly customizable answer to Apache mod_cache and Varnish. It can minify and combine your CSS and JavaScript files, auto-optimize images, and many more you can say it all-in-one site acceleration plugin, LiteSpeed Cache for WordPress is compatible with ClassicPress as well.
It has a mind-boggling 4 million plus active installations and 4.8-star ratings.
Key Features
Automatic page caching.
WordPress CLI commands.
Edge Side Includes support.
bbPress and WooCommerce support.
Minify CSS, JavaScript, and HTML
Minify inline and external CSS/JS
Browser Cache Support.
Multisite support.
Cons- No such big issues noticed yet although There was very little documentation available on how to configure many people find it confusing.
LiteSpeed Cache is a free plugin, but caching benefits are only available to LiteSpeed server users.
Hummingbird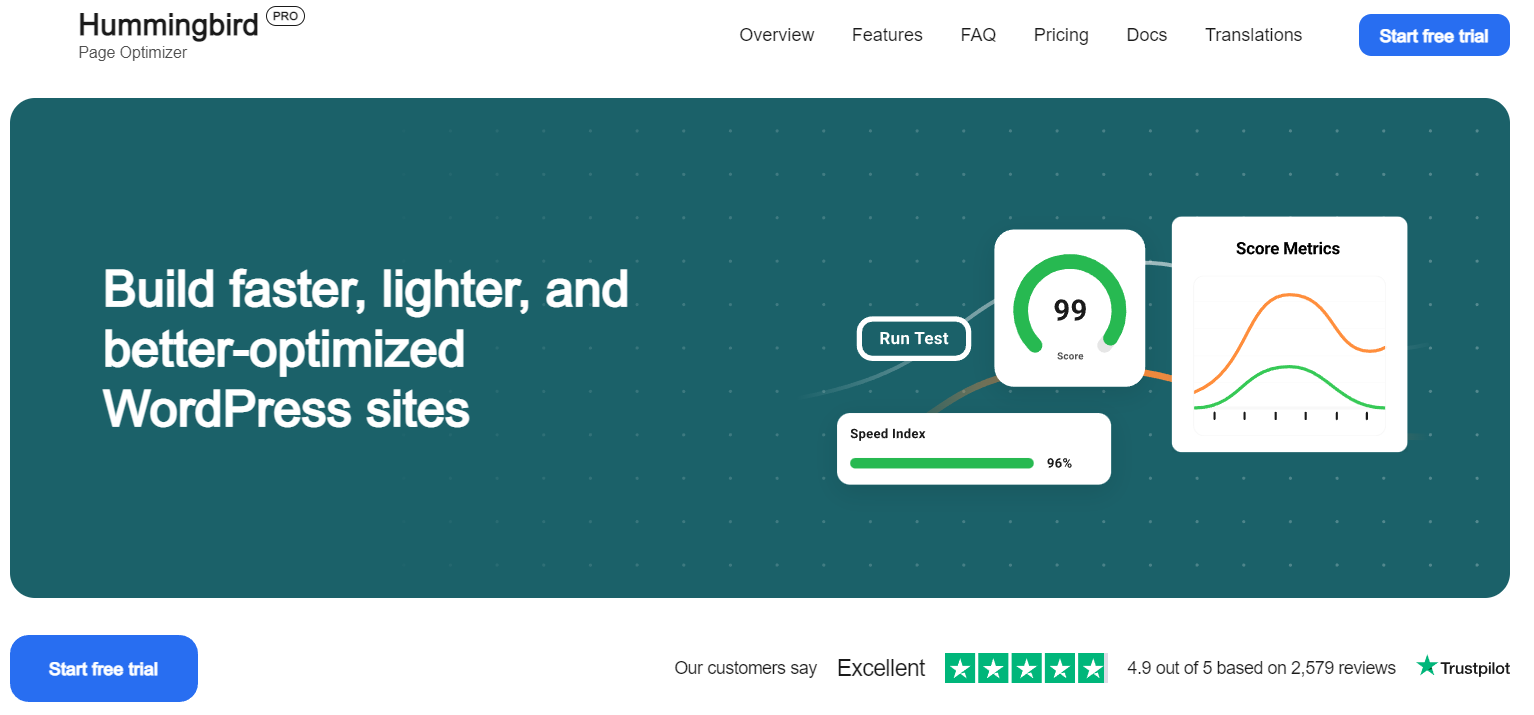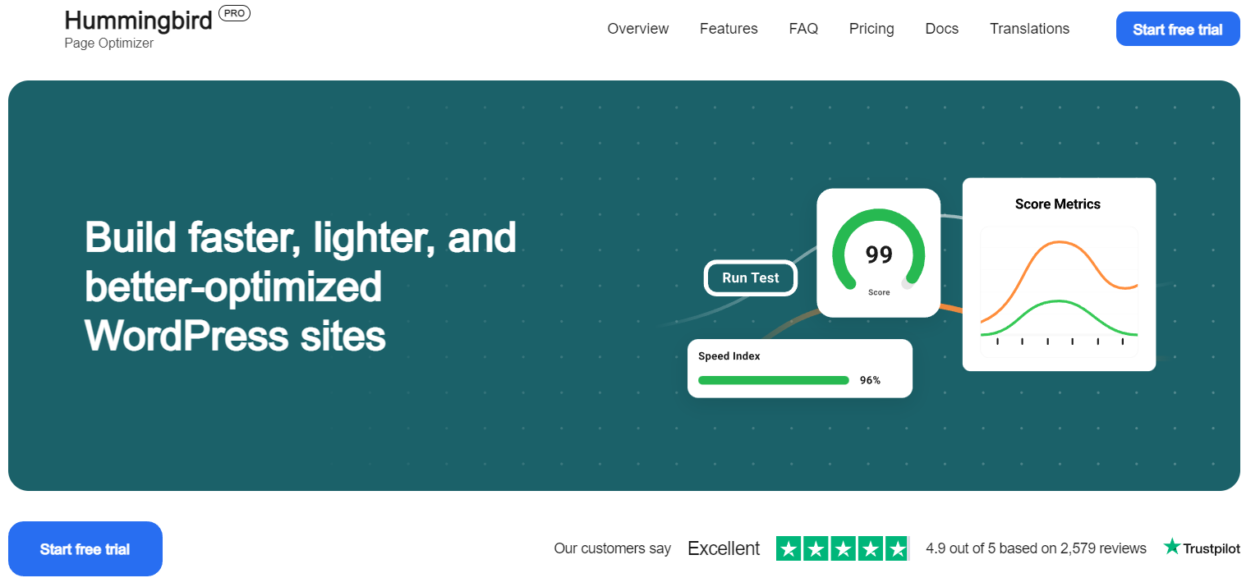 This plugin is the ultimate performance suite that offers browser caching, GZIP compression, CSS and JavaScript minification and deferral, elimination of render-blocking resources also Google PageSpeed Insights with fine-tuned controls over file compression. In addition, the Hummingbird Cache suite offers an effective browser cache for caching any site. Its Scan and Fix option allows your site to find out what's slowing it down, and use one-click performance improvements to make critical speed improvements. Its user-friendly UI helps beginners as well.
It has more than 100,000+ active installations.
Key Features
Chrome user experience report.
Speed Test features.
CloudFlare CDN.
Complete Asset Optimization.
GZIP Compression.
Pro Plugins addons.
Optimize WooCommerce Cart Fragments.
Multisite asset optimization.
Cons – As per we noticed Overall there aren't a lot of downsides to using Hummingbird.
It's completely free to use, although their Hummingbird Pro plugin costs US$7.5/month.
FAQs
What is caching in WordPress?
Caching is the process of storing frequently accessed data in a temporary location so that it can be accessed quickly and easily, without having to be fetched from the original source every time.
Why do I need a caching plugin for WordPress?
A caching plugin can improve the performance and speed of your WordPress site by reducing page load times, improving server response times, and enhancing user experience.
How does WordPress caching plugin work?
Caching plugins work by storing frequently accessed data, such as HTML files, images, and scripts, in a temporary cache. This makes it faster and easier for your site to load, as the cached data can be accessed quickly and easily.
What are some of the best WordPress caching plugins?
Some popular WordPress caching plugins include WP Rocket, Perfmatters, W3 Total Cache, and WP Super Cache.
Do caching plugins work with all types of websites?
Caching plugins work with most WordPress sites, but there may be some compatibility issues with certain themes or plugins. It's always a good idea to test your caching plugin on a staging site before implementing it on your live site.
Are caching plugins easy to install and configure?
Most caching plugins are fairly easy to install and configure, and many come with built-in wizards or setup guides. However, if you're not comfortable with configuring advanced caching settings, it may be best to hire a professional to set up your caching plugin for you.
Over to you
WordPress Cache Plugins can significantly enhance the performance of your website by reducing the load time of your web pages, improving the overall user experience, and boosting your search engine rankings. All the above-mentioned cache plugins can help optimize your website's speed, reduce server load, and improve SEO by reducing page load times, thereby ensuring a better user experience. However, it's essential to choose the right caching plugin that suits your website's specific needs and requirements, as well as regularly monitor its performance.
All the plugins which are part of the list are capable of doing everything we've discussed. but if you ask for a recommendation for one plugin we will choose WP Rocket it has all the essential features and comes with pocket-friendly pricing compared to its competition with almost negligible downsides. One can consider the PerfMatters plugin also a good option at that price point. Overall, a well-designed caching plugin can help improve your website's speed, performance, and user experience, which is necessary for any website's success.