Are you looking for ways to incorporate a countdown timer on your WordPress site or uncertain about which Countdown Plugin is the most suitable? If so, you have come to the right spot. In this article, we not only tell you some best Countdown Plugins for WordPress but also throw light over what's the purpose of the countdown, and its usage on the website.
Firstly, Countdown timers are a great way to create anticipation and urgency on your website about your products and services. By adding a countdown timer to your WordPress site, you can inform visitors when an event or product launch will occur. This feature can be especially useful for letting visitors know when a product will be available or go on sale.
Countdown timers are also an effective marketing tool to encourage customers to take action and make purchases. Whether you are launching a new product or hosting an event, incorporating a countdown timer can grab the attention of your visitors and boost your sales revenue. The countdown can be about a future event as well as the expiry of the current event. For example, a countdown for the upcoming Black Friday discount and a countdown for the current sale ending in a few days.
In addition, if we talk about Countdown Plugins, there are numerous WordPress plugins and widgets available that enable you to easily add a countdown timer to your website. These plugins offer a range of customization options, allowing you to tailor the design and functionality of your timer to meet the specific needs of your business.
Incorporating a countdown timer plugin on your WordPress site is a powerful strategy for creating a sense of anticipation and urgency. This technique has been utilized by marketers to leverage the Fear Of Missing Out (FOMO) phenomenon and increase conversions.
Having said that, let's move to the list we've created based on several parameters to save you time and money.
List of Best WordPress Countdown Plugins in 2023
OptinMonster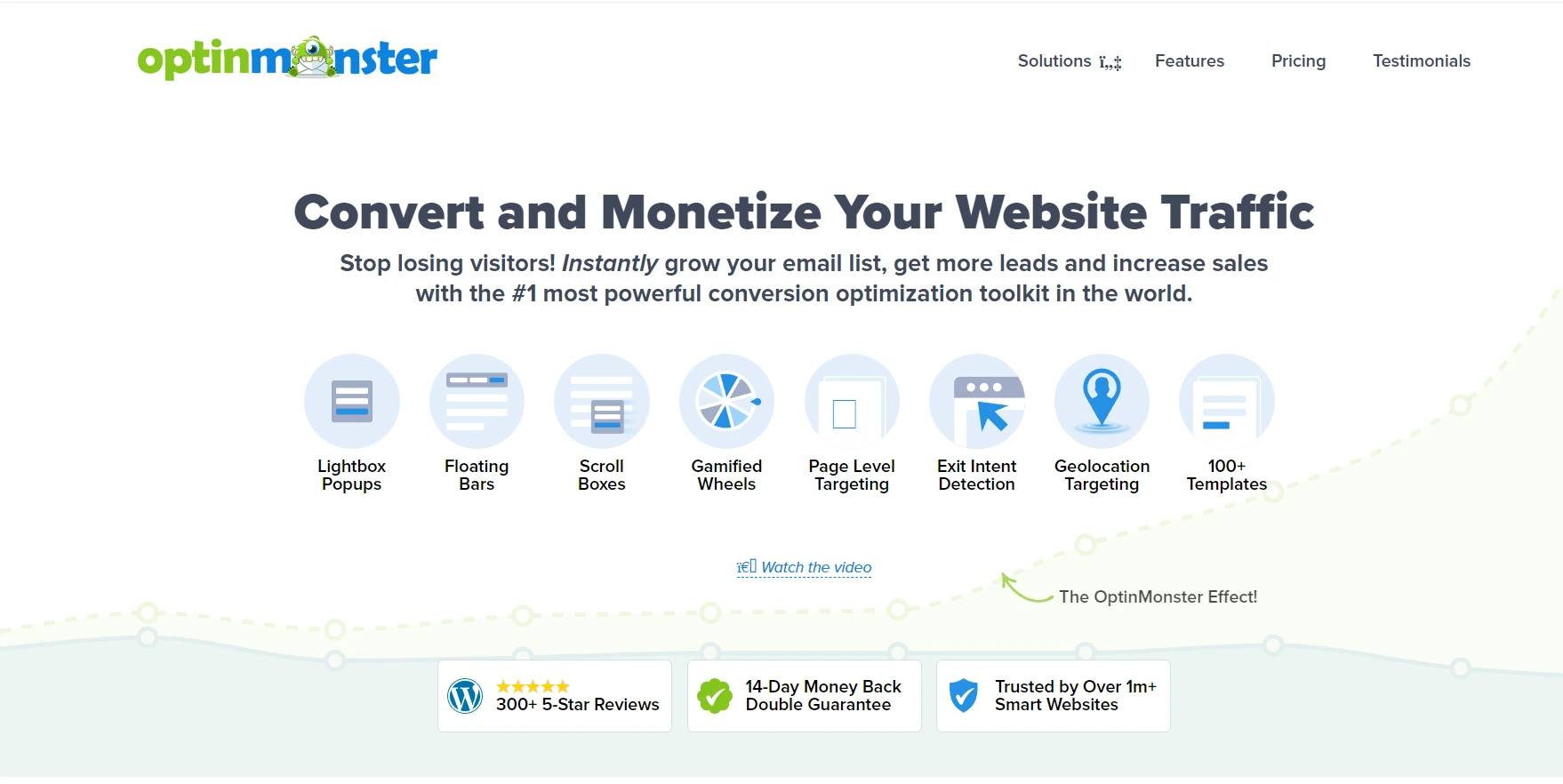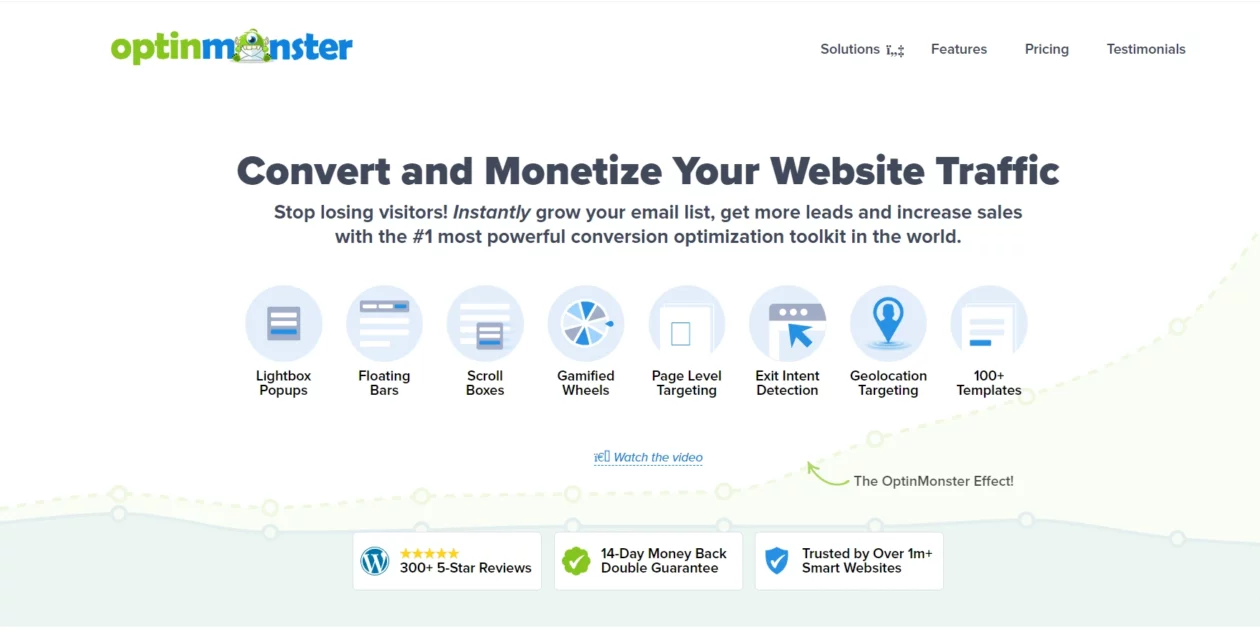 OptinMonster is a WordPress plugin that helps turn website visitors into customers and subscribers. It lets you create different types of countdown timers that you can place on different parts of your website. This plugin has popup and floating bar features that can target visitors based on their location, device, and cookies. OptinMonster allows you to create multiple timers and use different timers on different pages, providing maximum exposure to your campaigns. This can help improve your marketing strategy.
In addition, OptinMonster's countdown timer feature includes two types of timers. The first type is a static countdown timer, which counts down to a specific end date and indicates when an offer expires for everyone. The second type is a dynamic or evergreen countdown timer that tailors the countdown to each visitor by allowing you to specify the timer's length in days, hours, minutes, and seconds instead of an end date. OptinMonster is ideal for personal, business, multimedia, and eCommerce websites, and has been downloaded over 1,200,000 times with a rating of 4.9 out of 5 which demonstrates its popularity.
Key Features and Cons
You can Make campaigns without coding using templates and animations with a drag-and-drop builder.
Choose from different display options like pop-ups, slide-ins, and floating bars.
Use advanced targeting rules to show the countdown timer to specific visitors.
You can use exit-intent technology to target leaving visitors and reduce cart abandonment.
Set campaigns to pop up at the right time with timed display control to increase conversions.
Cons –
You cant access the Countdown feature without a premium plan.
Starting price for OptinMonster is $9 per month, However, you get the Countdown feature only if you purchase their pro plan which cost you around $29 per month.
Countdown Timer Ultimate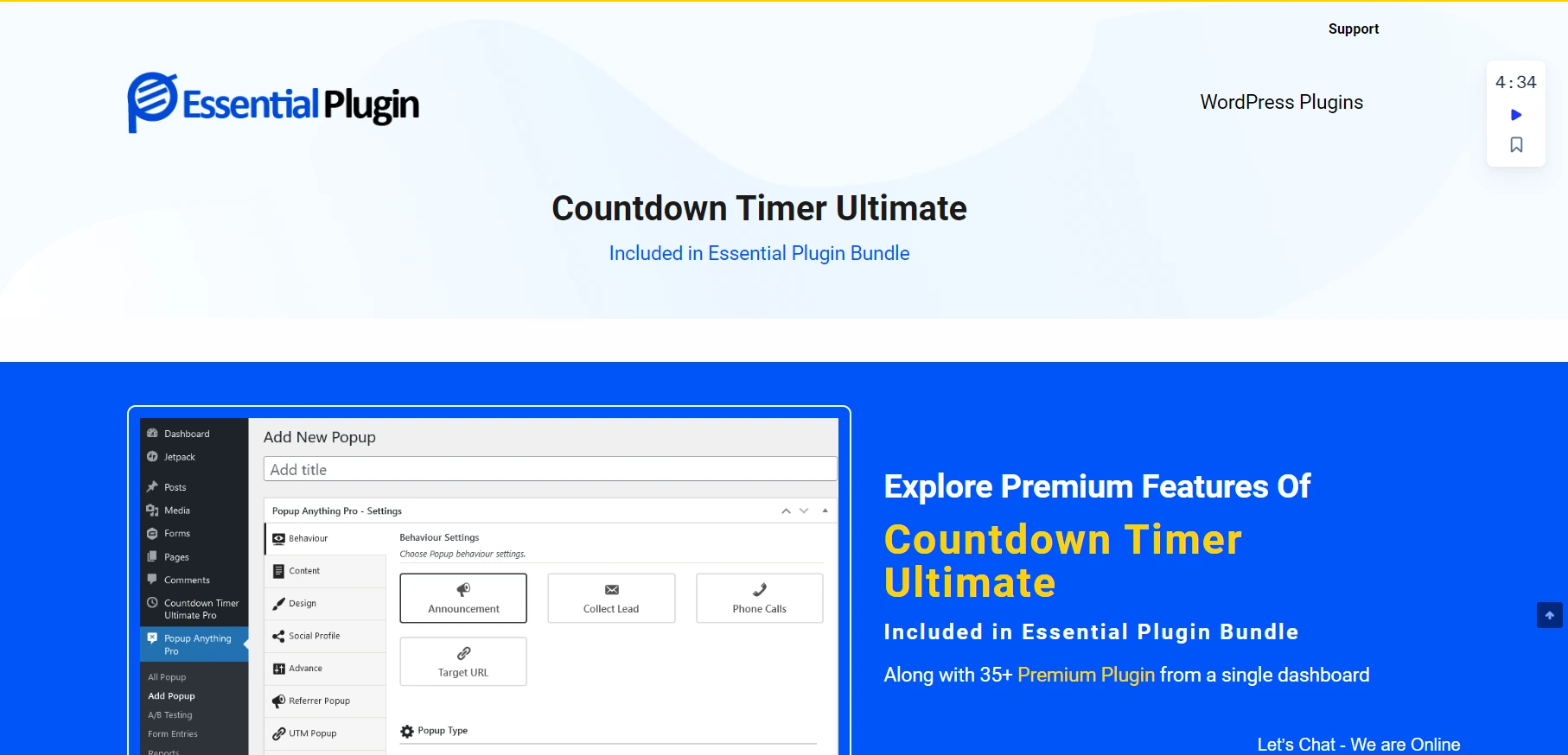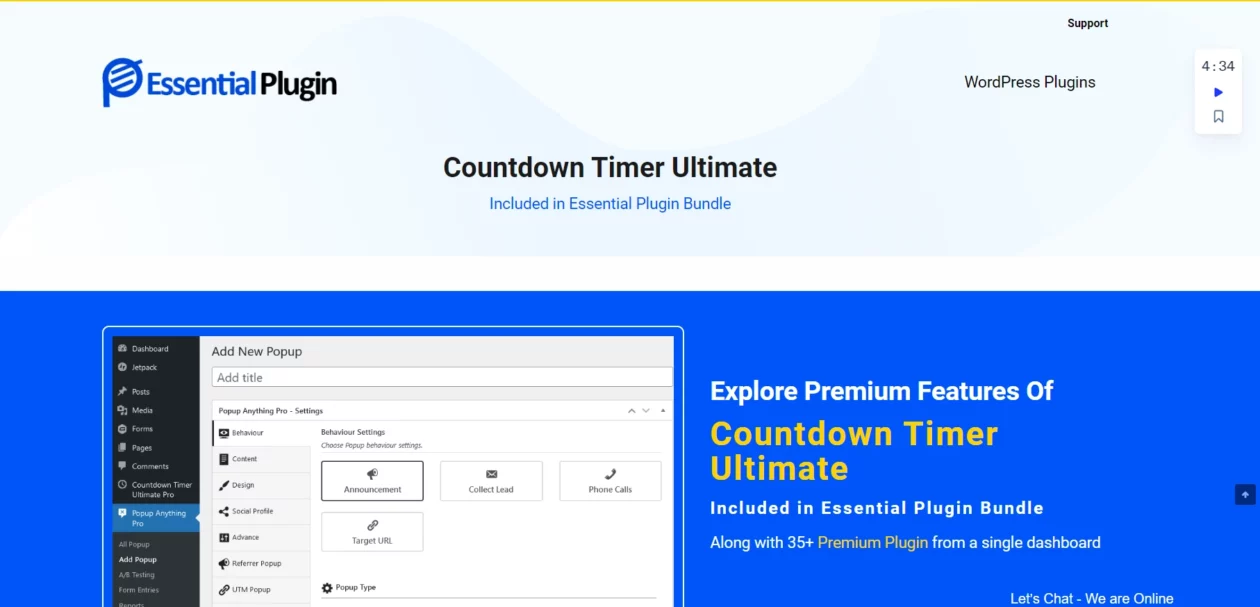 Countdown Timer Ultimate is a simple yet powerful plugin that allows you to create countdown timers for your WordPress website. It has over 20,000 downloads and a rating of 4.7 out of 5, it offers 13 different countdown styles with lightweight and responsive designs.
In addition, Countdown Timer Ultimate is compatible with popular eCommerce and page builder software, including support for digital coupons for seasonal promotions and flash sales. It is easy to create circle countdown timers and add them anywhere within your content using shortcodes. You can customize virtually everything, including colors, backgrounds, animations, and more with the 3 layouts and 10+ designs that come with the plugin.
Additionally, Countdown Timer Ultimate integrates seamlessly with popular page builders like Gutenberg, Elementor, and Beaver Builder, making it a great option for websites built with Astra.
Key Features and Cons
Unlimited countdown timers are possible with shortcodes or widgets
Scheduled timer feature for countdowns between two fixed dates
Clock expiry functionality
12 clock styles
eCommerce coupon integration to embed countdowns and encourage sales with urgency
Cons-
Basic features are free, but advanced features such as custom CSS support, and eCommerce coupon integration require the Pro version.
Countdown Timer Ultimate is free to use, however, it has premium plans as well with starting price of $169 per year.
Countdown Builder

Countdown Builder is a versatile plugin that offers a range of countdown styles, including circle and flip clock designs, as well as a customizable coming soon page. With a simple interface, this freemium plugin allows you to create WooCommerce and sticky countdown timers. The free version offers 7 countdown types and a Coming Soon feature. Even you can Customize your timers with CSS and JavaScript, and enhance functionality with available add-ons. It has 10,000+ downloads with a rating of 4.5/5.
Key Features and Cons
Mobile-responsive design
Popup countdown timer
Subscription form integration
Shortcodes support
Multiple countdown types
Live preview
Coming soon feature
Advanced features such as Multiple scheduling options, Newsletter integration, Countdown button, and Progress bar.
Cons-
No such drawbacks, You might feel its advanced features are limited in the paid version.
Countdown Builder is free to use, it has a premium version also that starting price is $23.98.
HurryTimer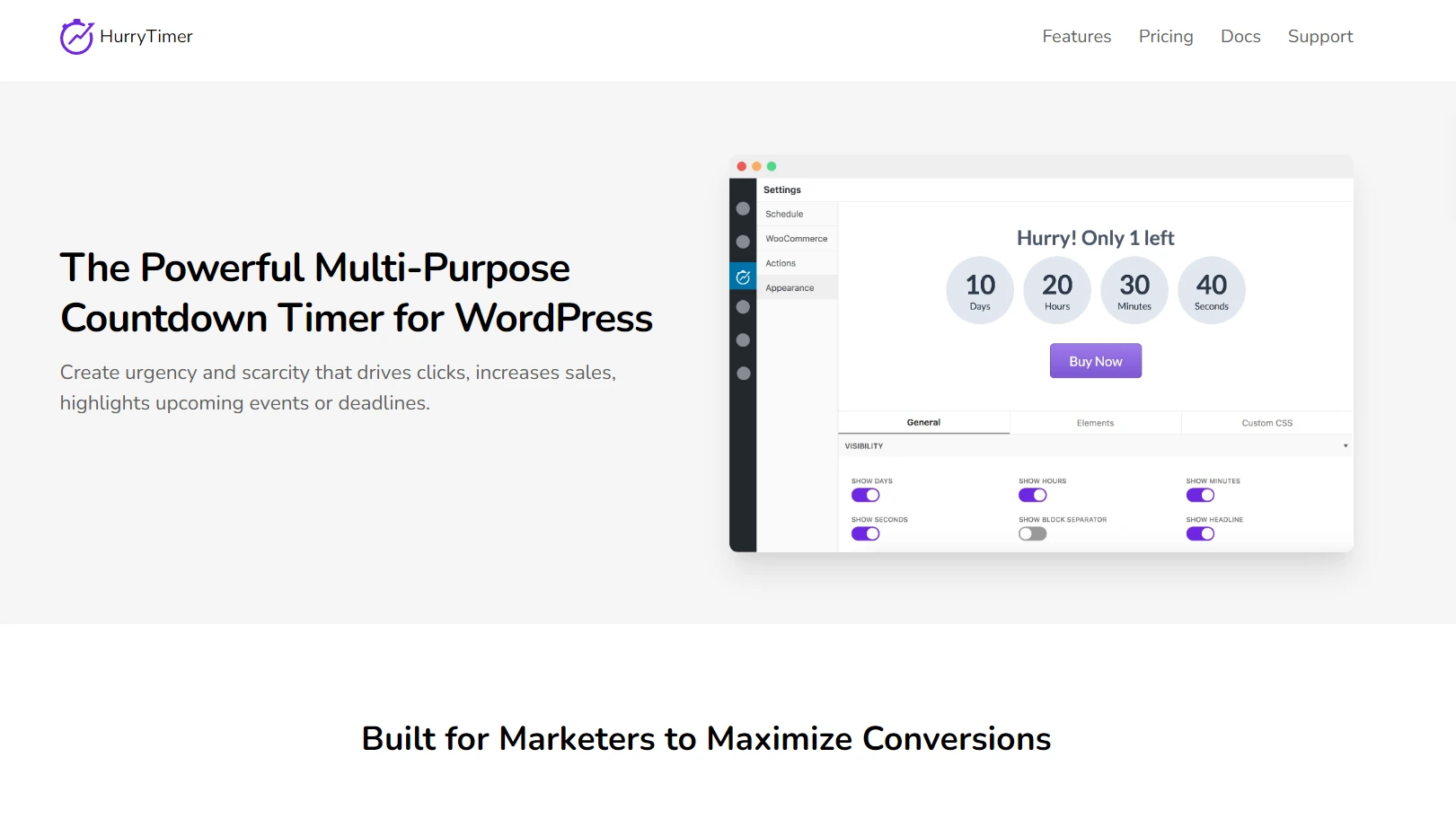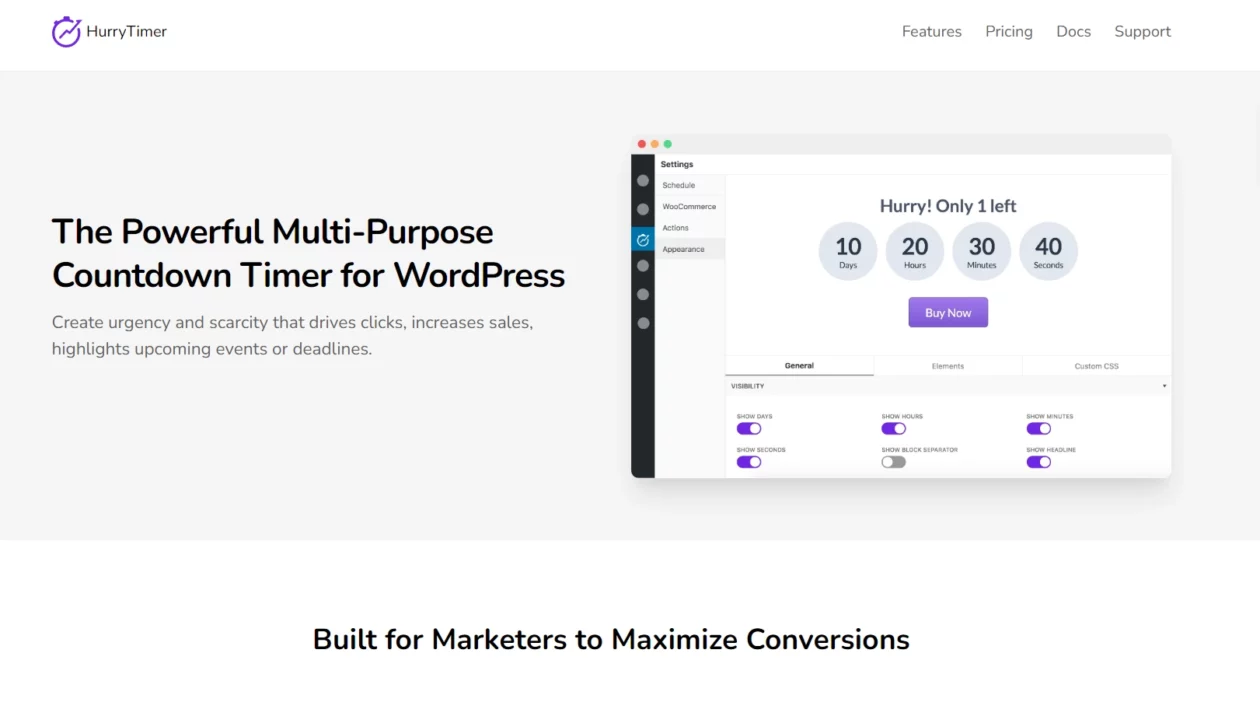 In our List, we have HurryTimer which is an exceptional freemium plugin for creating both evergreen and regular countdown timers. The free version offers advanced features like manual and auto-restart for evergreen campaigns, recurring timers, and different expiry actions to boost traffic. This plugin is designed for marketers, offering the ability to show a unique timer to each visitor and customizable CTA buttons for sales pages.
In addition, It seamlessly integrates with WooCommerce and provides several settings to create schedulable, recurring, or evergreen countdowns. With over 20,000 downloads and a 4.8/5 rating, HurryTimer is one of the most flexible timer plugins available.
Key Features and Cons
Auto-restart evergreen countdown timer
WooCommerce integration
Multiple expiry actions
Recurring and scheduled campaigns
Cookie support
Live design customizer
CTA button
Adds recurring countdowns, actions, timer blocks, sticky bars, and custom CSS.
Cons-
No free Support is available.
HurryTimer is Free to use, It also offers a paid version with advanced features at starting price of $39 per year.
Evergreen Countdown Timer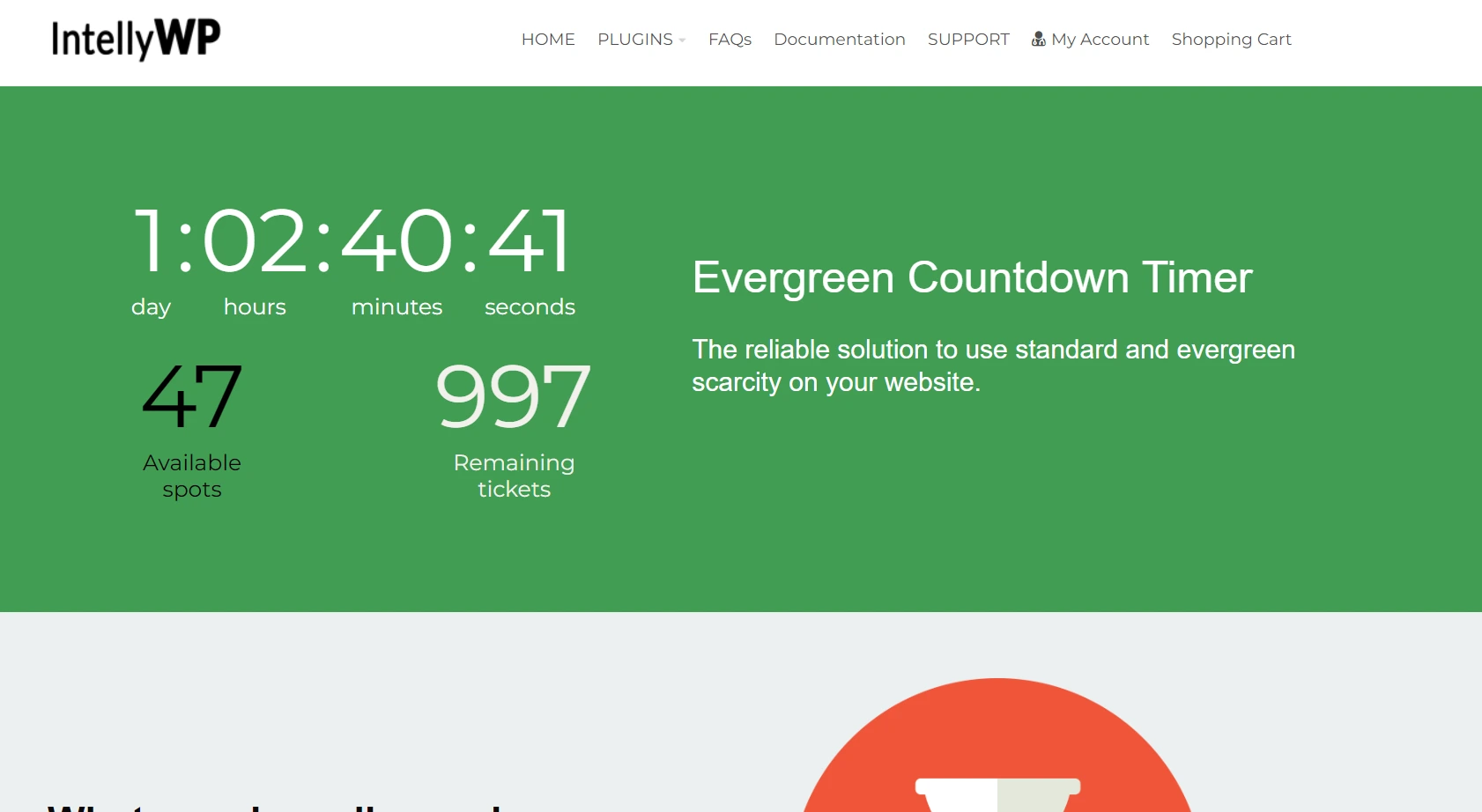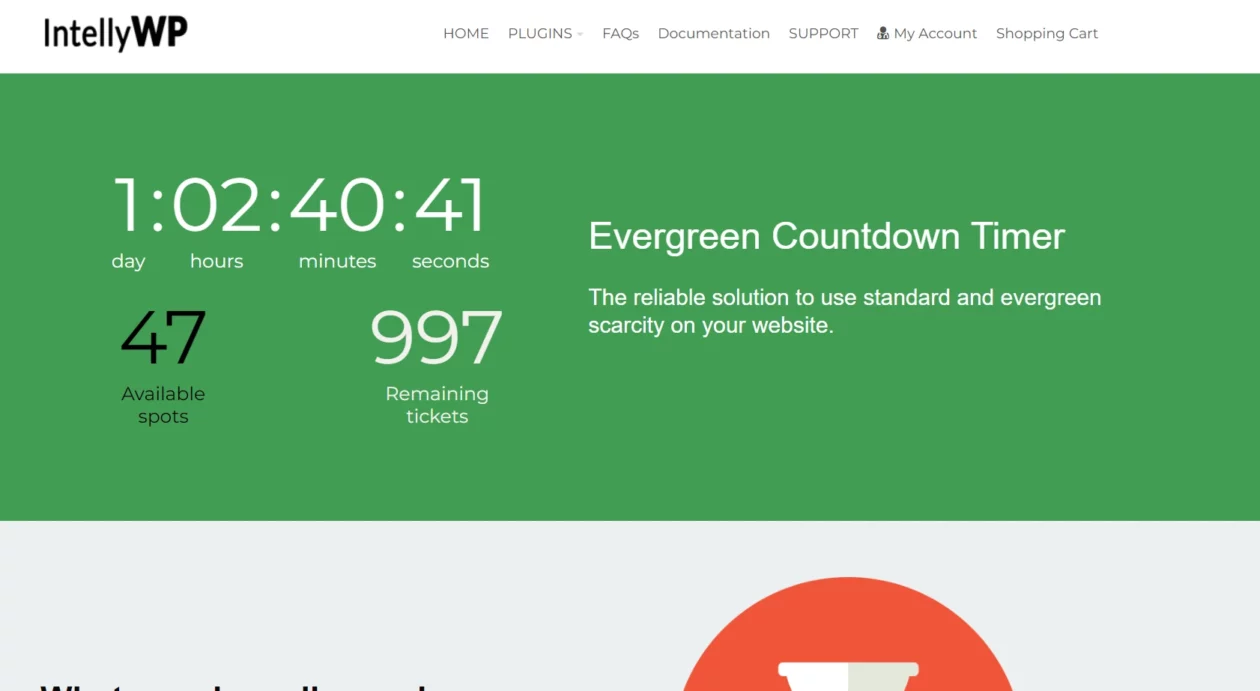 Evergreen Countdown Timer is a powerful plugin that allows you to create both evergreen and normal countdown timers. You can choose between cookie or IP detection to track visitors. The plugin provides shortcodes to add unlimited timers with customized labels and colors for each visitor.
Even You can create unlimited evergreen timers or set a specific date for normal countdowns. The simple editor allows you to customize colors, labels, and sizes, and set redirect URLs. Additionally, the plugin offers a reliable tool with advanced features that other timer plugins lack. Downloads: 5,000+ Rating: 4.5/5
Key Features and Cons
Create evergreen and regular countdown timers
spot countdown, unlimited colors, custom CSS
Simple editor for setting up timers and customization
Redirect the URL option when the timer expires
Cons-
Evergreen countdown timers may be challenging to match with a website's branding and design since they usually offer limited customization options.
It is free to use but also has a pro version with starting price of $47 per year.
Countdown Timer – Widget Countdown

Widget Countdown is a user-friendly tool that allows users to easily create custom countdown timers in WordPress. With this, users can set up an unlimited number of timers and customize the seconds, minutes, hours, and days fields to suit their specific needs. The Countdown Timer feature also allows users to build a timer within the content itself and provides control over placement and device display options.
With over 10,000 downloads and an impressive rating of 4.6/5, Widget Countdown is a highly sought-after option for those looking for a powerful and reliable countdown timer solution for their WordPress site.
Key Features and Cons
39 countdown animation effects in the Pro version
Create unlimited countdown timers on posts, pages, and sidebars
Choose an action to execute, display a message, or hide the countdown after the timer expires
Build the countdown timer with a Gutenberg block or in the classic editor
Build the countdown timer within a sidebar widget
Set the after-expiration action
It's free to use the plugin, but it also offers a paid version with a starting price of $19 per year.
SeedProd

SeedProd is a highly recommended plugin for creating landing pages with customizable pre-built themes and templates. Its drag-and-drop editor and 100+ premade templates make it easy to customize your design without any coding. It also allows you to add a countdown timer animation to your landing pages, making it a great option for creating a sense of urgency.
Also, This WordPress website builder and landing page plugin also provides a powerful drag-and-drop website builder and lets you easily set up a special landing page and put your site into coming soon or maintenance mode. It offers both normal and evergreen timers with pre-built templates for countdown timers. SeedProd has been downloaded over 1,000,000 times and has a rating of 4.7/5.
Key Features and Cons
Block and template library for quick page creation
Revision history for easy tracking and the undoing of changes
Maintenance mode for limiting website access until ready for launch
drag-and-drop
additional features, like access control, email marketing integration, and domain mapping.
Cons-
SeedProd doesn't offer an evergreen timer, so it can't detect visitors to personalize the timer.
It's free to use, however, they have a premium plan with advanced features with a starting price of $39.50 per year.
FAQs
How do Standard and Evergreen Countdown Timers differ from each other?
A standard countdown timer has a set end time for every visitor, while an evergreen countdown timer starts when someone accesses the page, so each visitor sees a different end time. Fixed timers build anticipation, while evergreen timers create FOMO (fear of missing out) by showing visitors a unique timer.
What is the process to add a countdown timer on a WordPress website?
To add a countdown timer to your WordPress website, you can use a plugin that allows you to create and customize timers and then add them to your pages and posts using shortcodes or widgets.
Can you recommend a countdown plugin for WordPress that is considered the best?
we have explored the top 7 countdown timer plugins for WordPress, featuring a range of timer options with varying price points and capabilities. OptinMonster is highly recommended for businesses seeking to elevate their marketing game, and their countdown timer is just one of the many tools they offer. For those in search of an excellent plugin with a focus on timers, Countdown Timer Ultimate is a top contender.
What are the benefits of using countdown widgets?
Countdown widgets can be a useful tool for a variety of purposes, such as building anticipation for an event, encouraging urgency for a sale or promotion, or simply adding visual interest to a website or social media profile.
Final Verdict
Overall, incorporating a countdown timer in your website can greatly enhance your marketing efforts. It can be used to drive traffic to your website, boost your SEO, increase conversions, and reduce cart abandonment. We have provided a list of the best countdown timer plugins for WordPress, including both free and premium options.
For those looking for a free plugin, we recommend WordPress Countdown Widget and Countdown Builder. However, for those seeking premium features, we suggest OptinMonster as the best option. Regardless of your choice, adding a countdown timer to your website can help you achieve your business goals and engage your audience effectively.
We are assuming that this article has provided you with valuable insights into the top countdown plugins available for WordPress. Thanks for reading.