What would you do if you had more leads and email addresses? Convert them into paid clients! However, you will need a WordPress calculator form plugin to do this.
Making your calculator entails modifying code and spending hours playing with it. A plugin does all of this for you with a few mouse clicks.
It's crucial to remember that calculators aren't just for mathematical calculations. They are essentially form builders. They are effective online tools for lead generation, which is an important component of any email marketing plan. Having the correct online calculator WordPress plugin is a significant investment. It may make the difference between getting a lead and getting nothing.
If you want to calculate prices, dates, dimensions, form fields, and other things on your WordPress website. Calculator plugins give a unique and useful tool to your website by allowing customers to quickly estimate the costs of things, calculate payback terms, and even assess their overall health.
The following article will go through some of the best WordPress calculator plugins for your website.
Let's get started.
List of Best WordPress Calculator Plugins in 2023
We'll provide you with the 8 best WordPress calculator plugins.
Formidable Forms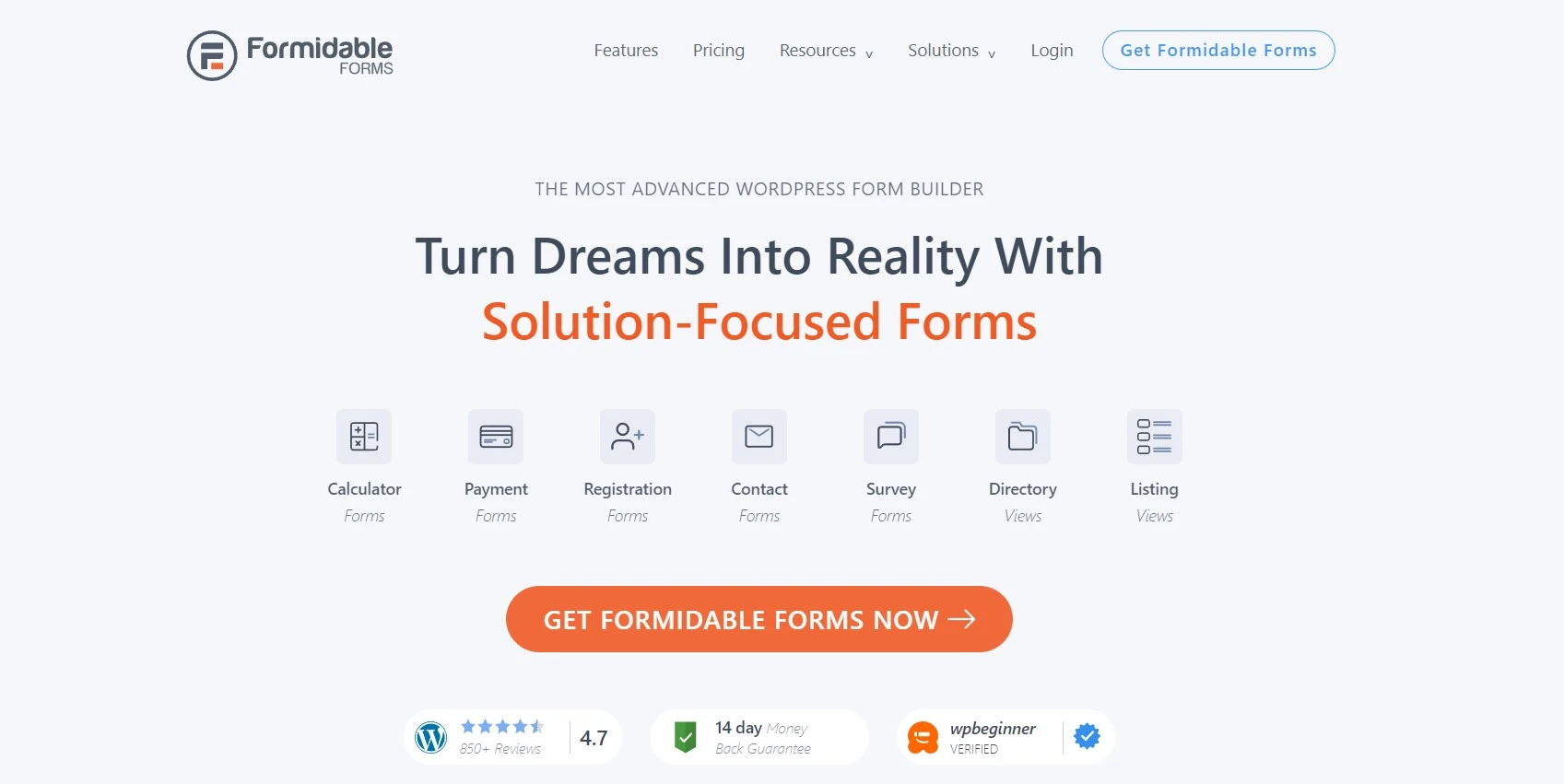 If you're looking for a WordPress custom calculator plugin that does calculators and more, Formidable Forms is your best bet. It is more than simply a calculator builder for WordPress. It's a drag-and-drop form builder with a lot of features.
Formidable can create any type of calculator you can imagine. It also comes with dozens of pre-built calculator templates to help you get started. This means you can do a lot more than just make calculators and a basic contact form!
Overall, Formidable Forms is really simple to use, the documentation is superb, and new features are constantly being added.
Important Features
Repeater fields (allowing those who visit to add fresh sets of fields as they fill out your forms)
Forms with many pages and a progress bar (excellent for lengthy forms)
For logged-in users, save and proceed
Scheduling of forms
Calculated fields forms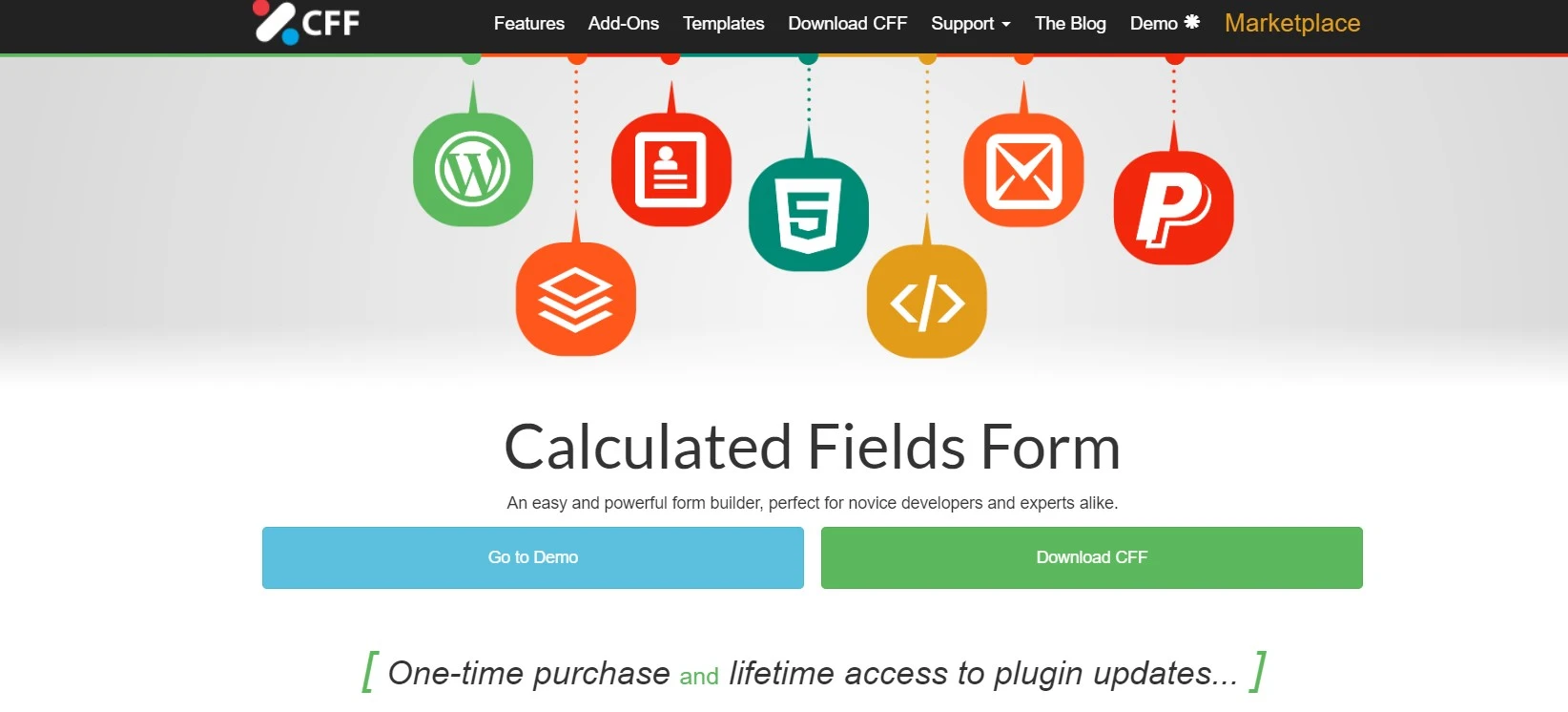 It is a WordPress plugin that allows you to add dynamically calculated fields to forms. The plugin contains a visual form builder that allows you to design complex forms with a variety of field types and one or more auto-computed fields based on the data input by the user.
It includes a variety of form fields to choose from, including Text boxes, slider controls, Fields with numbers, Checkboxes, and radio buttons. As a result, you have several possibilities for your WordPress website calculator.
Overall, the Calculated Fields Form may assist you in creating a variety of calculator forms.
Important Features
Form presentation template selection
Forms may be easily duplicated by cloning them
Multiple sorts of fields are supported
Make multi-page forms
Cost Calculator
If all you need is a basic cost calculator, the Cost Calculator Builder plugin may be ideal. It is one of the best WordPress calculator plugins available.
This plugin may generate pricing estimation forms, for example. This allows service providers to design forms that offer clients an estimate of the cost of their services. Quotes may be made for almost anything. Alternatively, you may use this as a loan calculator.
If you're on a budget and have certain requirements, this plugin is for you.
Important Features
Stripe, PayPal, and WooCommerce integrations
Toggle buttons and radio buttons
reCAPTCHA
Hundreds of pre-made form templates
ez Form Calculator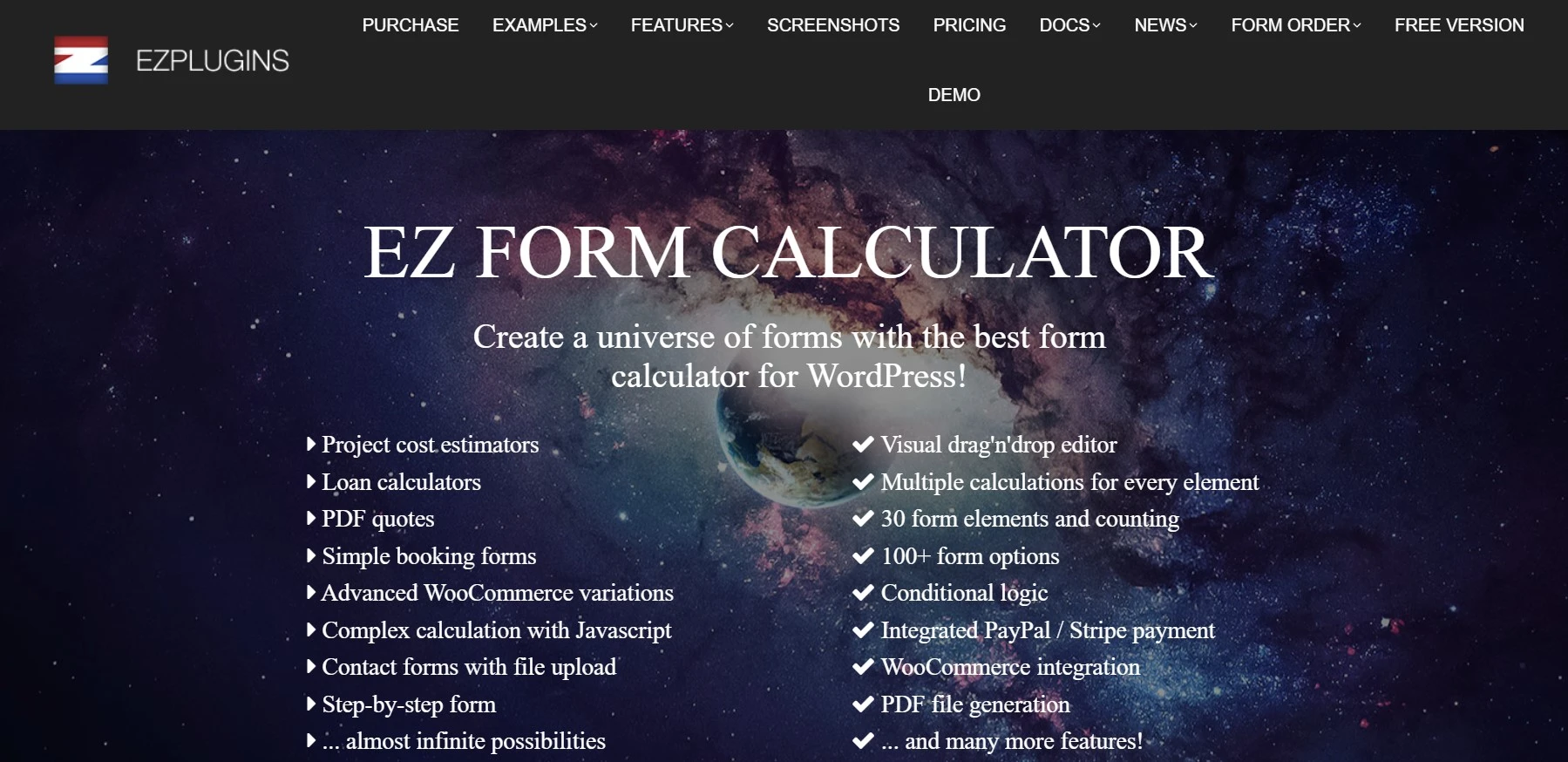 You may use this WordPress form builder to construct a variety of forms such as form calculators, extended contact forms, complex cost estimators, file upload forms, discount forms, and many more.
This plugin contains all of the necessary form elements, such as checkboxes, radio buttons, dropdown menus, and so on, so that your website does not encounter any issues while filling out the forms. The best part is that the form you create with the WordPress form plugin is automatic, which means the form can perform calculations automatically before submitting the form.
Important Features
Drag-and-drop form builder
Multiple forms options
Upload single or multiple files simultaneously
Translation ready
Everest Forms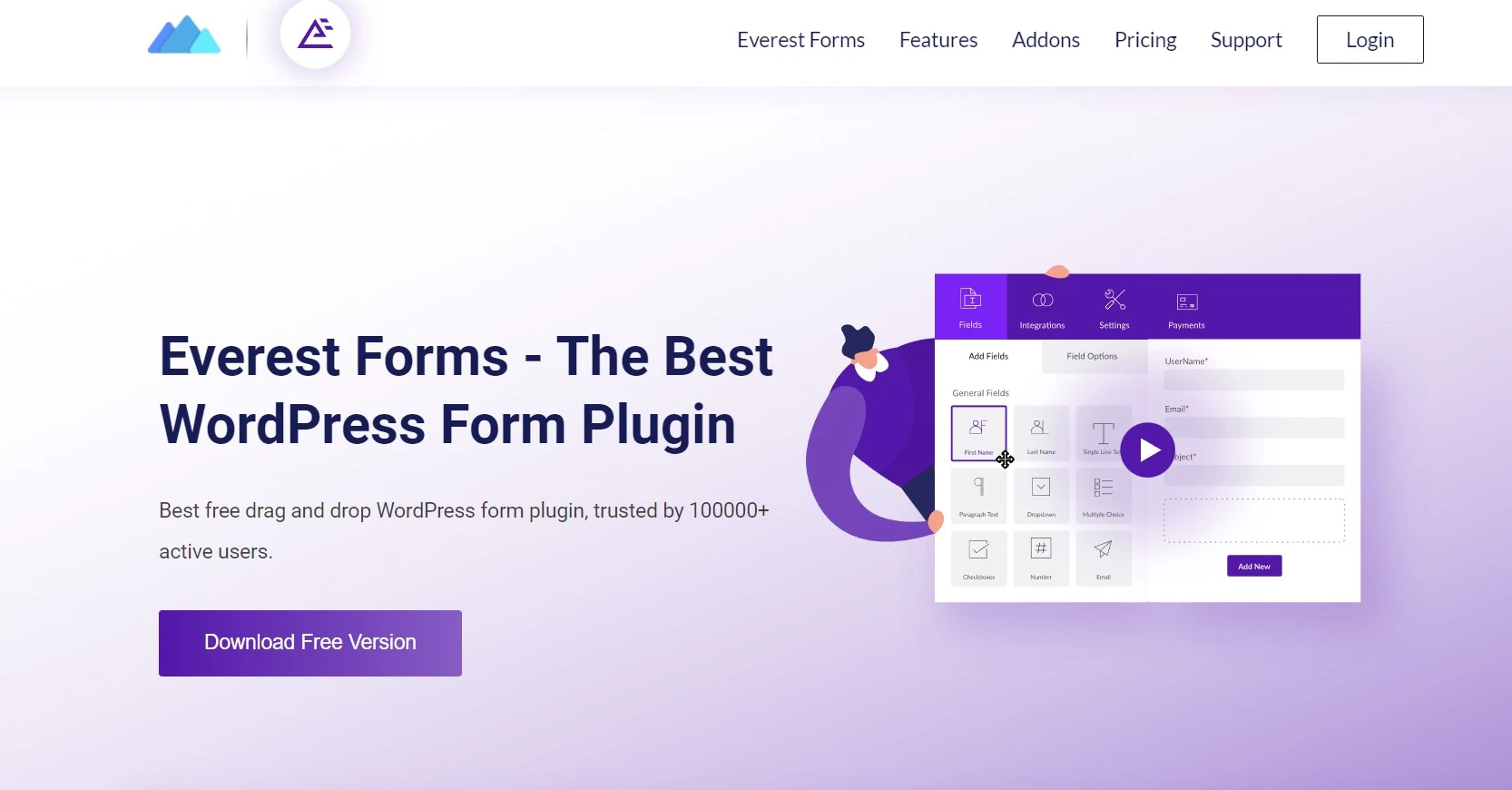 You can construct practically any sort of form with Everest Forms, including user surveys, help requests, polls, file upload forms, online purchases, and quizzes. Using this plugin, you can effortlessly engage your visitors and convert them into paying customers. You may also make calculators for insurance, internet commerce, mortgages, and other purposes.
The conditional logic feature of Everest Forms contributes significantly to its status as one of the most sophisticated forms solutions in WordPress. Based on the values supplied in the preceding fields, conditional logic may be used to determine which form fields are presented to a user.
Furthermore, Everest Forms includes an innovative calculation field that allows you to include text and calculations. And present the results to clients based on the dimensions of the products.
Important Features
Developing multi-step forms
Support for shortcodes
Spam prevention
WooCommerce Measurement Price Calculator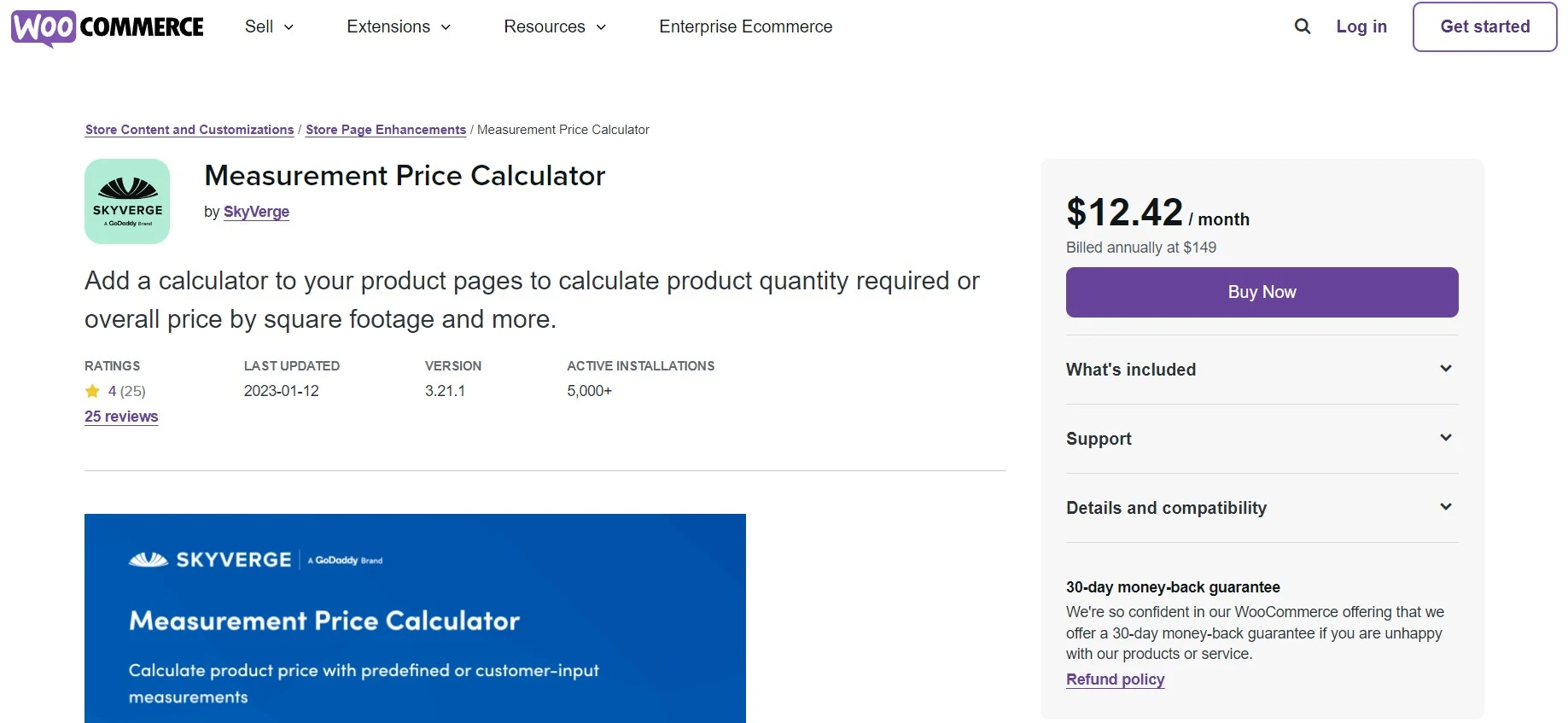 To be clear, this plugin is the right tool for you if you run an online store. It is the ideal answer for an online business since it allows buyers to compute pricing based on volume, length, weight, and area. They just enter their dimensions, and the plugin does the rest.
You may also include a pricing calculator on your product pages. You will be able to adjust labels, units, values, and so on in this manner. Overall, WooCommerce Measurement Price Calculator Plugin is unquestionably the greatest alternative for mathematical equations.
Important Features
Page builder with drag and drop
Product prices per unit are displayed.
Use whatever unit combination you choose
Automatically calculating the price based on measurement
Loan Repayment Calculator and Application Form

Loan Repayment Calculator and Application Form is a two-in-one WordPress form that is ideal for individuals who operate a financial or company website. In reality, it will calculate fixed fee payments, payday loans, or savings amounts, as well as provide prospective consumers with the option to apply for a loan.
As a GDPR-compliant WordPress calculator plugin, you never have to be concerned about the information you acquire from potential clients. With the ability to calculate several sorts of interest rates, such as fixed, compound, simple, or amortized, this solution is likely to fulfill the demands of any potential client.
Important Features
Multiple interest rates: simple, fixed, compound, and amortization
Set the min, max, initial and step values on the sliders
Set the term to weeks, days, months, or years
Responsive Mortgage Calculator

An intuitive mortgage calculator for real estate websites is called Responsive Mortgage Calculator. You may utilize the shortcode and sidebar widget that is included in it below your listings and inside WordPress posts and pages.
There are both bright and dark color schemes available. The calculator may be styled using your theme's colors or custom CSS if you disable the plugin styling.
Important Features
Create your own CSS classes
Payment schedule: monthly, biweekly, or weekly
Plugin has the following fields: Home price, Interest rate, Down payment, Mortgage term & Payment period
FAQs
What is a WordPress Calculator Plugin?
A WordPress calculator plugin is a piece of software that can be placed on a WordPress website to provide a calculator feature. This plugin enables website owners to construct interactive calculators that users may use to do calculations and receive immediate results.
What is the purpose of WordPress calculator plugins?
WordPress calculator plugins may be used to calculate loan payments, tax amounts, shipping expenses, product prices, and other things. These plugins often provide a user-friendly interface via which users can enter data and pick options for doing calculations.
Why use a WordPress calculator plugin?
Calculators are an excellent tool for attracting visitors to your website if you provide services online. Calculators, when used effectively, may help you acquire leads and email addresses.
To summarize, a WordPress calculator plugin will increase the credibility of your website by increasing interaction and attracting visitors who may then be turned into actual customers.
What exactly do WordPress calculator plugins provide?
WordPress calculator plugins are available for free or for a fee, and they may include a variety of functions and customization possibilities. Some plugins provide pre-built templates for common calculations, while others allow users to build their bespoke calculators from the ground up. Furthermore, some plugins allow users to develop calculators that produce quotations or bills by integrating with payment gateways or eCommerce systems.
Why Install the WordPress Calculator Plugin?
Using WordPress calculator plugins to add a calculator to your website benefits you in a variety of ways. For starters, it enables your visitors to estimate the cost of items and services they are willing to acquire. These calculator plugins also aid in order processing, quote estimate, and so on. Furthermore, for an online business, this makes your product page more interesting and credible.
For example, if you're selling customized items, it can help you display the pricing according to the product's height, weight, area, and number.
Aside from that, calculator plugins are essential in finance-related areas. It may calculate loan payments, interest rates, installments, insurance premiums, and so on.
What things to consider while selecting a WordPress Calculator Plugin?
There are a few things to keep in mind while looking for a custom calculator plugin in WordPress.
To begin, the finest calculator plugins have a large collection of calculator templates. Building anything excellent from scratch can be challenging without effective templates. Second, you should be aware of any limitations that a plugin may have. Some plugins are only concerned with one sort of calculator. Others can handle a wide range of calculator functions.
Is it necessary to know how to code to utilize WordPress Calculator Plugins?
Many WordPress calculator plugins are more user-friendly and allow you to set up and operate the calculator without any technical knowledge.
These plugins often include a user-friendly interface where you can configure the calculator by adding fields, creating calculations, and customizing the calculator's design. In most circumstances, the plugin may be used without any coding experience.
Who are the most common WordPress Calculator Plugins users?
The most popular users of WordPress calculator plugins differ based on the type of calculator plugin. E-commerce website owners, real estate agents, fitness trainers, online booking platforms, financial advisers, event planners, and web developers are all potential customers of WordPress calculator plugins.
Overall, WordPress calculator plugins may be beneficial to everyone who wants to make calculations on their website, regardless of business or specialization.
What kinds of features do WordPress Calculator Plugins offer?
WordPress Calculator Plugins offer a wide range of functions and capabilities, depending on the plugin. Many calculator plugins include the following features: customizable calculators, formulas and equations, custom fields, integration with e-commerce, and data collection and analysis.
Overall, WordPress Calculator Plugins may offer a variety of useful capabilities for websites that need calculations and data processing.
Over to you with Best WordPress Calculator Plugins in 2023
That concludes our list of the top eight WordPress calculator plugins. All of the plugins we've listed offer comprehensive capability, so you can build a calculator to do any mathematical calculations. These best WordPress calculator plugins on the market can be used to easily calculate product pricing, loan payments, and even health-related information for your site users.
Your individual needs will decide the type of calculator plugin you use on your website. However, if you're searching for a full calculator solution, Formidable Forms is your best bet. It has the most calculator kinds and is also one of the best form plugins on the market.
If you're still having trouble deciding, we recommend Everest Forms. It has a sophisticated calculating tool that allows you to develop calculators for a variety of uses. Aside from that, you may use this plugin to build forms with repeated fields, prevent spam in contact forms, and do other things.
We hope this collection was beneficial to your WordPress online calculator. It's never easy to make a decision. Nonetheless, we hope you've discovered your favorite!