Custom post types are a way to add new content types to WordPress beyond the default posts and pages. With custom post types, you can create your own unique content types such as products, events, recipes, portfolios, testimonials, projects, listings, etc.
There are some default post types in WordPress as well including posts, pages, attachments, revisions, and menus.
So the advantage of using custom post types is that you can separate each type into an individual hierarchy, making it manageable and displaying them and keeping your WordPress dashboard more organized.
You can create CPTs with the help of code as well. However, Custom Post Type plugins let you create and manage custom post types and taxonomies without having to write a single line of code. This saves you a lot of time managing your website. Even if you are a developer, you may find it difficult to manage that using code. As such, CPT plugins simply this process.
There are many plugins that allow you to create CPTs. Some of them are toolkits that allow you to create custom fields as well, and some are standalone plugins developed just for this purpose. The decision to opt for any specific plugin will lie on the use case and effectiveness of the plugin itself. After the end of this list, we shall share our recommendation on these CPT plugins, so keep reading.
List of the Best Custom Post-Type Plugins
JetEngine
It is one of the Jetplugins by Crocoblock, This plugin is powerful and versatile that can help you create not only custom post types, taxonomies, and custom fields but also charts, tables, profiles and much more. It efficiently allows you to categorize your content in any way you like.
JetEngine has another cool Glossary feature to store options for meta fields, forms and doesn't require coding skills, and offers a user-friendly interface and Organized interactive structure. it also has a Relationship builder feature that allows you to Configure a relationship in one UI, Add and edit related items easily and Output the relations dynamically.
Key features of JetEngine
Custom post types – Allows you to create custom post types for any type of content, such as products, events, portfolios, testimonials, and more.
Dynamic content – Used to display information from your custom post types anywhere on your website, including your pages, posts, and widgets.
Custom fields
Custom post templates
Custom query filters
Front-end submission forms option
Cons – JetEngine has a complex user interface that involves a learning curve also no free version is available even if you want to purchase a lifetime plan for this plugin you need to buy the whole Crocoblock Toolkit.
Starting Price range for JetEngine – $43 per year.
ACF Pro
With the new ACF plugin, it is now possible to create custom Post Types and Taxonomies as well. This saves you a lot of time navigating to other plugins as you can now manage everything under one interface. If you used the CPT UI plugin for the creation of post types or taxonomies, you can easily import the CPT UI data and safely deactivate that plugin. The new UI of ACF is really impressive and makes it easy to work with various functionalities. Copying the fields and creating & managing the field is now super easy.
ACF has been one of the most powerful custom fields plugins so far and has now started the race to give you even more functionalities out of the box. The support and documentation of ACF are top-notch. The experts are very responsive. It can be an extremely bold step to go for the ACF Pro if you are planning for a robust site.
Key Features of ACF Pro –
Easy Export and Import
Better Front End Forms
Move Fields between groups
More fields use AJAX-powered search
Auto export to JSON
CPT UI
Custom post type UI (CPT UI) is one of the most trusted plugins with more than a million active installations that allows you to custom content types, taxonomies, and meta boxes in a convenient and user-friendly way without writing a single line of code. An amazing benefit of CPT UI plugin is that you can import a custom post that you already have on another site. I'll say for users looking to create custom post types, taxonomies, and meta boxes in a simple and user-friendly way, Custom Post Type UI is a great option.
Key Features of CPT UI –
Custom Post Type UI is a free and open-source plugin
Extensive documentation and support
Multiple post-type support
Customization options for custom post types
Cons – This is a very simple plugin So you can expect advanced functionality, and Custom Post Type UI may not be compatible with all plugins or themes. Also, This plugin does not add post-type taxonomies, and data displaying is complex.
CPT UI plugin is free to use and extended versions Starting price is $29.
Meta box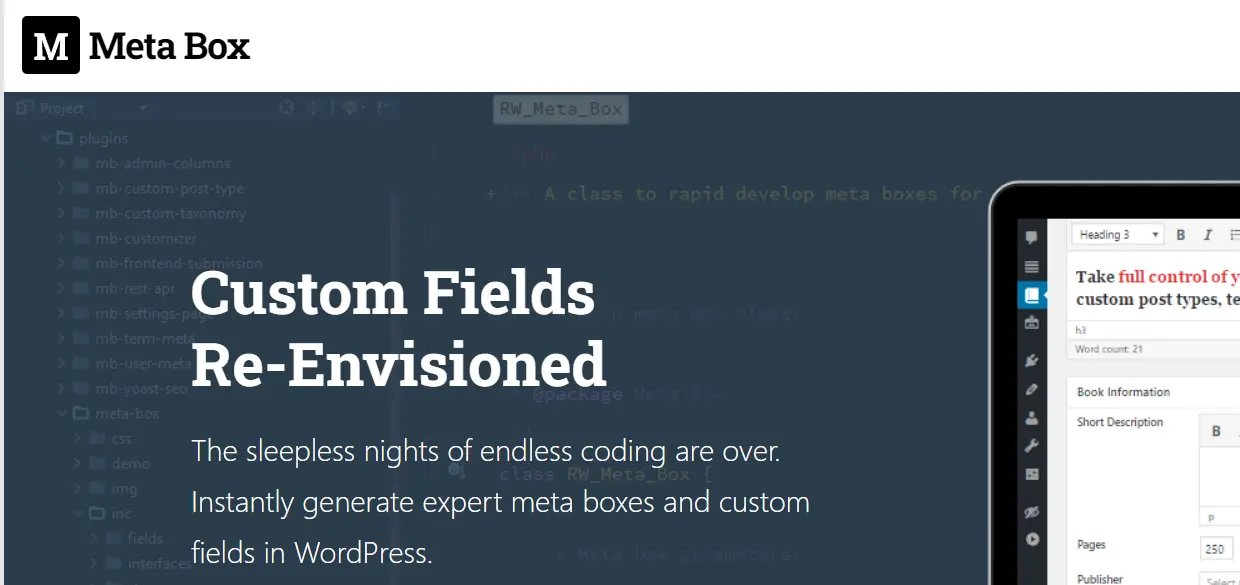 Meta Box plugin is a powerful toolkit having multiple extensions, one of its extensions is called MB Custom post types & custom taxonomies which can help you extend the functionality of your WordPress website by allowing you to add custom data and information to your posts and pages. Creating custom post types and taxonomies with Meta Box is straightforward and the plugin comes with a user-friendly interface that lets you create custom fields such as text fields, image upload fields, date fields, and many more. Overall, Meta Box provides a comprehensive solution for creating custom post types and taxonomies in WordPress, with a wide variety of features and capabilities for developers.
Key features of MetaBox –
Custom Taxonomies
Custom Fields
Conditional Logic
UI/UX Settings
Custom Post Types options
Cons – Meta Box has a relatively steep learning curve and their premium plans are relatively expensive compared to other plugins in the same segment.
Starting price for Metabox is $149 per year.
Toolset
Toolset is a famous WordPress plugin that allows you to create custom post types, fields, and taxonomies without any programming knowledge making it user-friendly as well. With Toolset, Users can easily create custom post types to organize their content and display it in a way that is user-friendly. It's basically an all-in-one plugin enriched with custom fields for managing custom content in WordPress. In addition, Toolset also provides a drag-and-drop interface for designing custom templates and allows you to create custom layouts according to your need.
Key Features of Toolset –
Custom posts, fields, and taxonomy
Input validation
Custom Grids, Tables and Lists
Front-end forms
Cons – Toolset can add additional overhead to your WordPress site, which may impact performance. toolset doesn't have multi-step forms functionality.
Starting price for Toolset premium is $69 per year.
Pods

Pods are top rated custom post plugin developed by the Pods Framework team with 4.9 ratings and 100,000 plus active installations. This plugin allows you to create and manage custom post types, custom fields, and custom taxonomies. Pods is a powerful tool that can help you extend WordPress in a number of ways. Even this allows its users to create relationship fields between different post types, so you can link content together and create more complex content structures. Pods have a variety of features to explore and make your site better.
Key features of Pods –
Custom post types
Import/export functionality
Customizable template system.
Advanced Relationships
Cons– You might see compatibility issues with several themes and plugins, and also pods require continuous maintenance and updates to ensure compatibility with the latest versions of WordPress.
Starting price for the Pods plugin is $49 per year for a pro version which comes with add-ons and integrations.
FAQs
What is a Custom Post Type?
A custom post type is a type of content that you can create, manage and display on your WordPress site without needing to use any code. They are typically used for different kinds of content, such as events, portfolio items, staff profiles, and more.
How do I register a Custom Post Type?
Registering a custom post type can be done either by manually adding code or with the help of a plugin. If you're not comfortable writing code, we recommend using the ACF, JetEngine, or Custom Post Type UI plugin to quickly create new post types from within the WordPress dashboard.
How do I add fields to my custom post type?
You can add additional fields (such as text boxes, checkboxes, etc.) to your custom post type by using the Advanced Custom Fields plugin or another form-building plugin like Gravity Forms.
What is an archive page?
An archive page displays all posts belonging to a certain category or another taxonomy term. When creating your own custom post types, you can also create an archive page where visitors will be able to view all posts belonging to that particular post type at once.
What are the advantages of using Custom Post Types(CPTs)?
Using custom post types allows you to easily manage different kinds of content within the same WordPress site without needing to write any complex code, saving time and resources. In addition, they offer more control over how content is displayed and make it easier to search and filter through various content types on your website.
Over to you
If you are serious about creating highly functional websites on WordPress you may need custom field and post-type plugins.
However, it is pertinent to choose a plugin that gives you a scalable solution and is compatible with other features that you are going to use on your site. If you are creating a site using Crocoblock, you already have JetEngine to give you all the functionalities where this plugin can be downloaded separately as well.
On the other hand, you have other options as well such as ACF, Meta Box, and Pods. Pods is a free solution that gives you more functionalities without paying a price. While other plugins give you an experience, scalability, and assurance of compatibility and support for the price. As such, you should decide carefully which plugin can best suit your needs.