Tables allow us to present the data in a sophisticated and clean manner and make it easier to sort the data based on a particular preference.
If you have created a WordPress website for any service like web hosting, portfolio, photography, or an online store, you'll surely need the tables to display information such as pricing, products name, and number. If you are willing to add tables with coding, it is good but a tedious to-do task.
However, there are several WordPress plugins that allow you to add tables to your website easily without coding. These plugins come in paid, free and premium categories, you can choose any of these as of your need.
So, here is the list of the best table builder plugins that you should check out. Now just sit relaxed with the Blue light filter turned ON and read this post where you'll know about the features of these plugins.
List of Best WordPress Table Plugins in 2023
Visualizer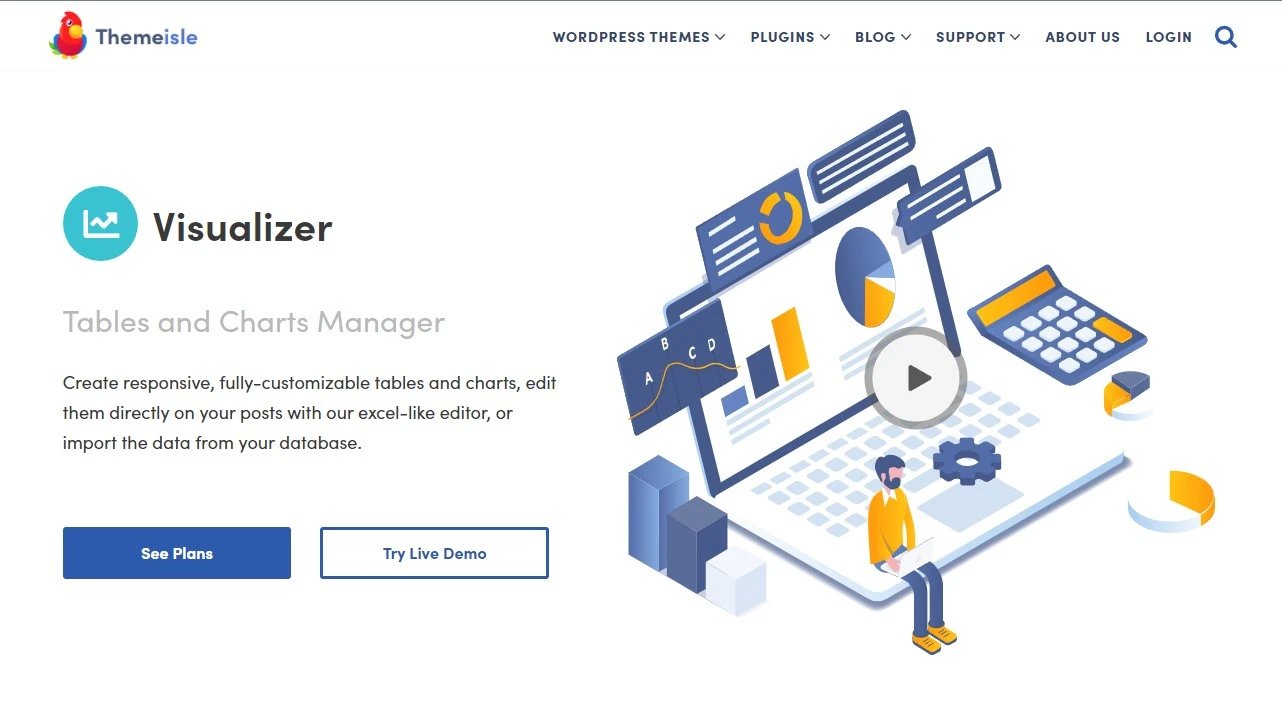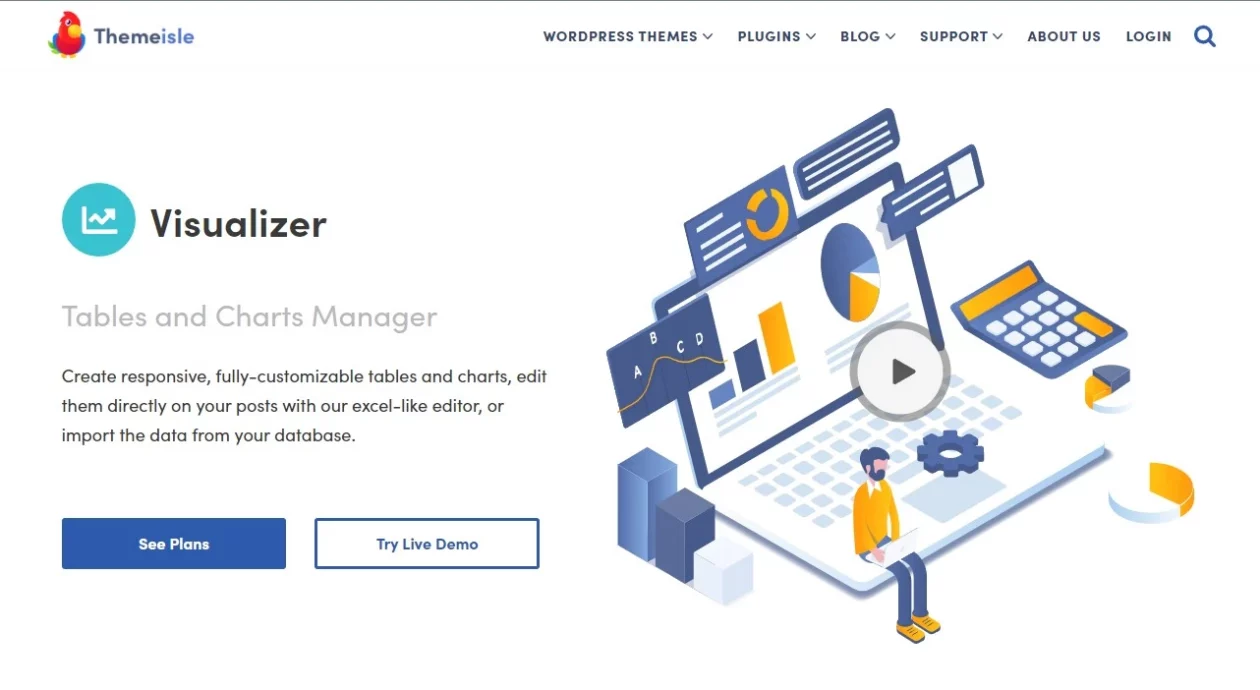 Visualizer is a WordPress that allows you to add tables and charts so that you can display your data more visually and provide a great experience to your visitors. Developed by Themeisle, it enables you to make your website more interactive and professional by adding interactive tables, chart diagrams, and animated graphs.
What makes Visualizer different is that it offers many options to display the data visually. You get different types of table designs in the free version and for more designs, you can go for the paid version.
Its other features include the ability to customize the cell contents by choosing from a variety of content types including text, images, links, etc. Not only this, you can rearrange the order of columns in your tables using the drag-and-drop editor.
Thanks to Visualizer allows you to make multi-level headers for grouping related data and sticky headers so that whenever users scroll your page the header will be visible.
To display real-time data you can connect your tables to external sources, such as Google Analytics or Facebook ads.
Ninja Tables Pro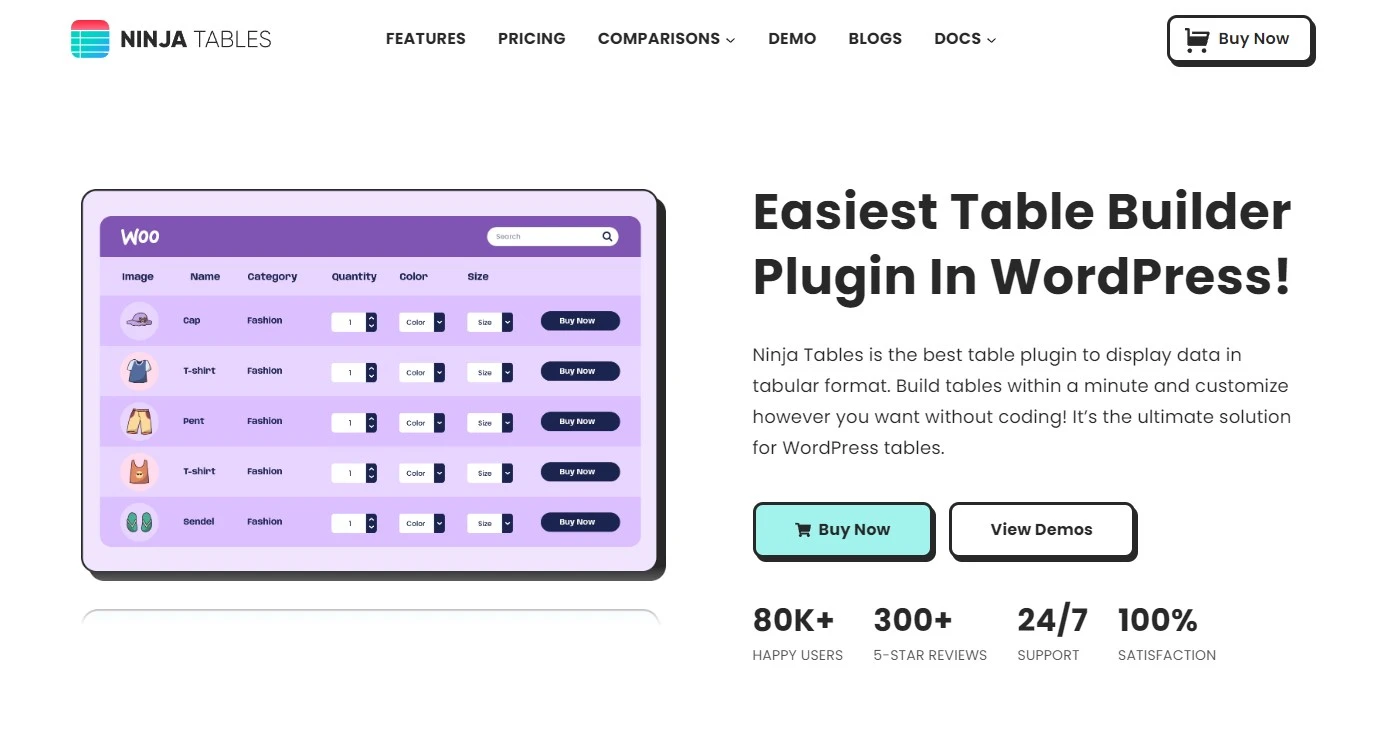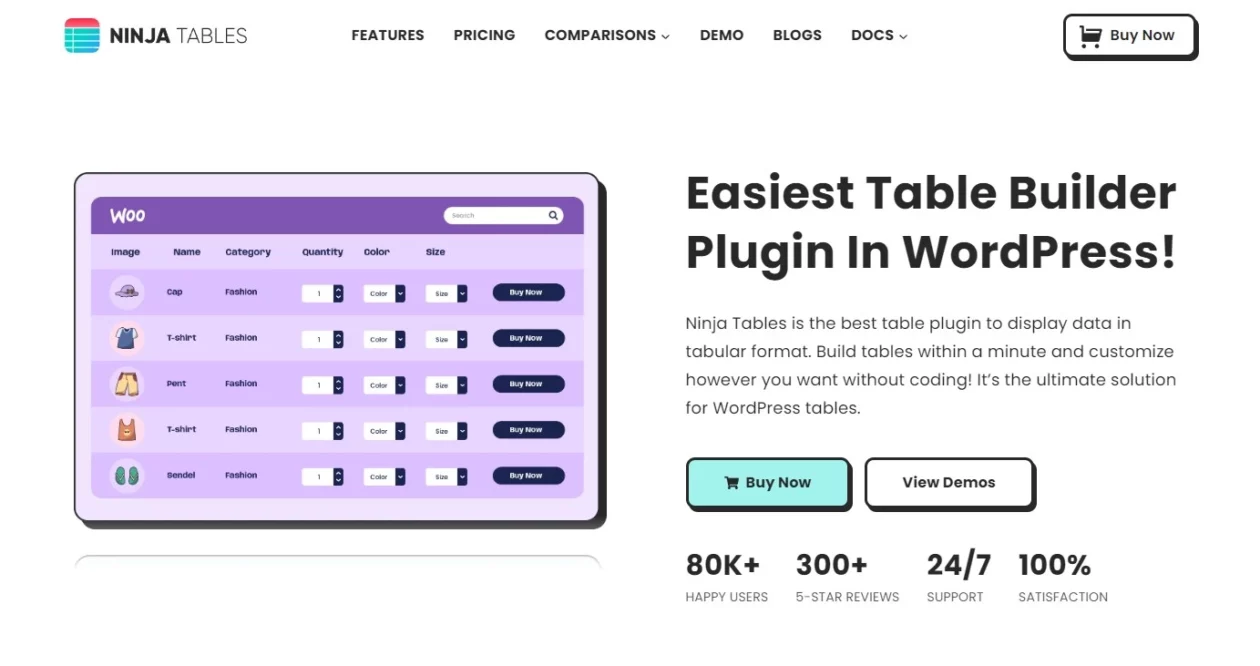 Ninja Tables is a good-to-go customizable WordPress tables plugin that offers you easy customization with its drag-and-drop editor. Ninja Tables is the best table plugin to display data in a tabular format. If you don't know coding, no worries you can do it all coding free.
Ninja Tables is a widely used plugin that offers a beginner-friendly interface and allow you to create amazing tables that look better on your website. Drag and drop builder is there for you to add text, ratings, and buttons to an individual cell.
It has available integrations with famous third-party services like MailChimp, WooCommerce, and Google Analytics which adds to its value. Moreover, you get other features like lazy loading and server-side processing.
Table Maker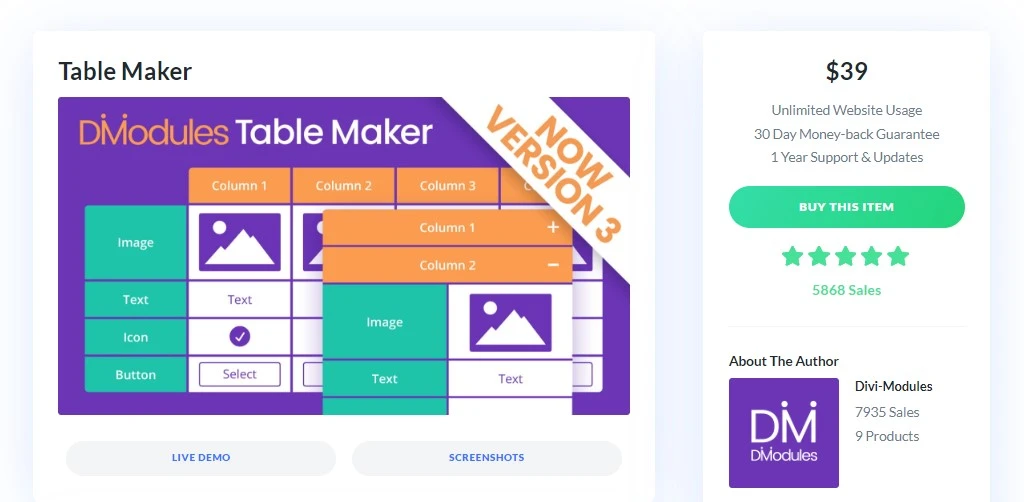 What makes TableMaker unique is that it is created by Divi and those are love Divi editing interface will surely gonna like it. It is a Divi marketplace item that enables you to create advanced and stylish tables to represent your data more cleanly and interactive.
You should not go for TableMaker unless you want to display your tables such that your users like them. The most advanced feature of TableMaker is its responsiveness. You can choose to enable table responsiveness and set table breakpoints.
You can also apply a hover effect to rows and columns within the table making your website look more beautiful and appealing.
WP Table Builder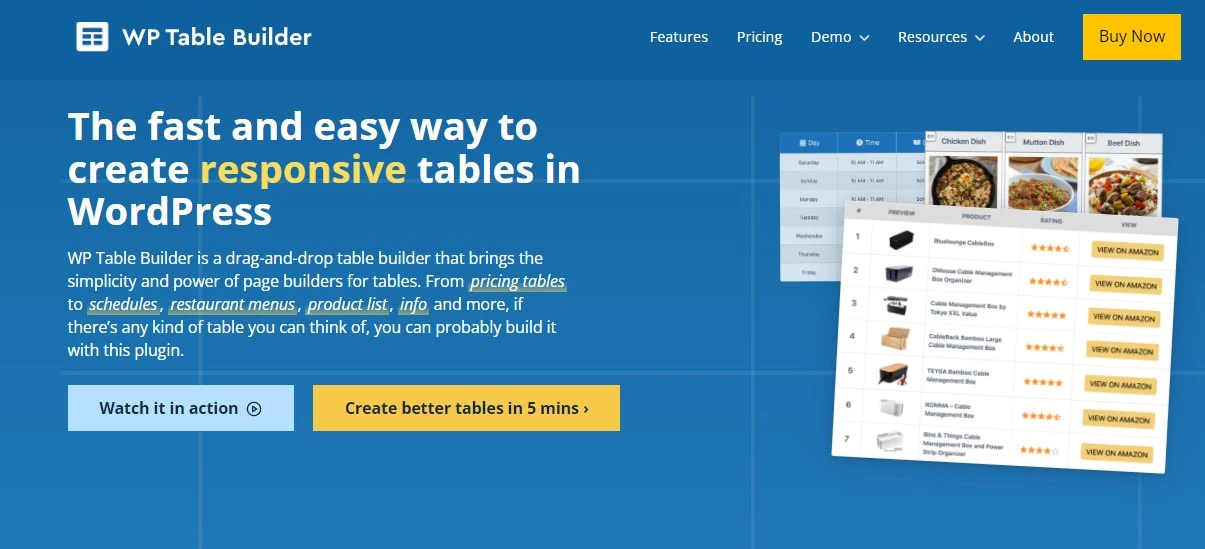 WP Table Builder is just like Microsoft Excel as you can use formulas to perform calculations and also copy and paste data from Google spreadsheets, and MS Excel directly to your tables.
With WP Table Builder's drag-and-drop builder, you can easily build tables and its awesome visual editing feature shows you what you are editing in real-time.
You can add media such as text, images, buttons, etc. into your tables.
Thanks to its lazy loading feature that loads your tables only when a user scrolls down the page. With all these features and functionalities, WP Table Builder is good for you and you may try it out.
TablePress
TablePress is the most widely used table plugin for WordPress that is loaded with tons of features. With TablePress it is super easy and fast to create and add tables to your wordpress website. It provides you with functionality such as filtration, search, and pagination.
It is similar to Excel because with just similar formulas you can create unlimited tables. you can also apply conditional formatting to highlight certain cells and rows based on specific criteria.
TablePress includes a built-in Javascript library that allows you to add custom Javascript to your tables.
The best of TablePress is that it seamlessly integrated with Divi page builder using TablePress styler which will give you more control over visualizing the tables.
Data Tables Generator by Supsystic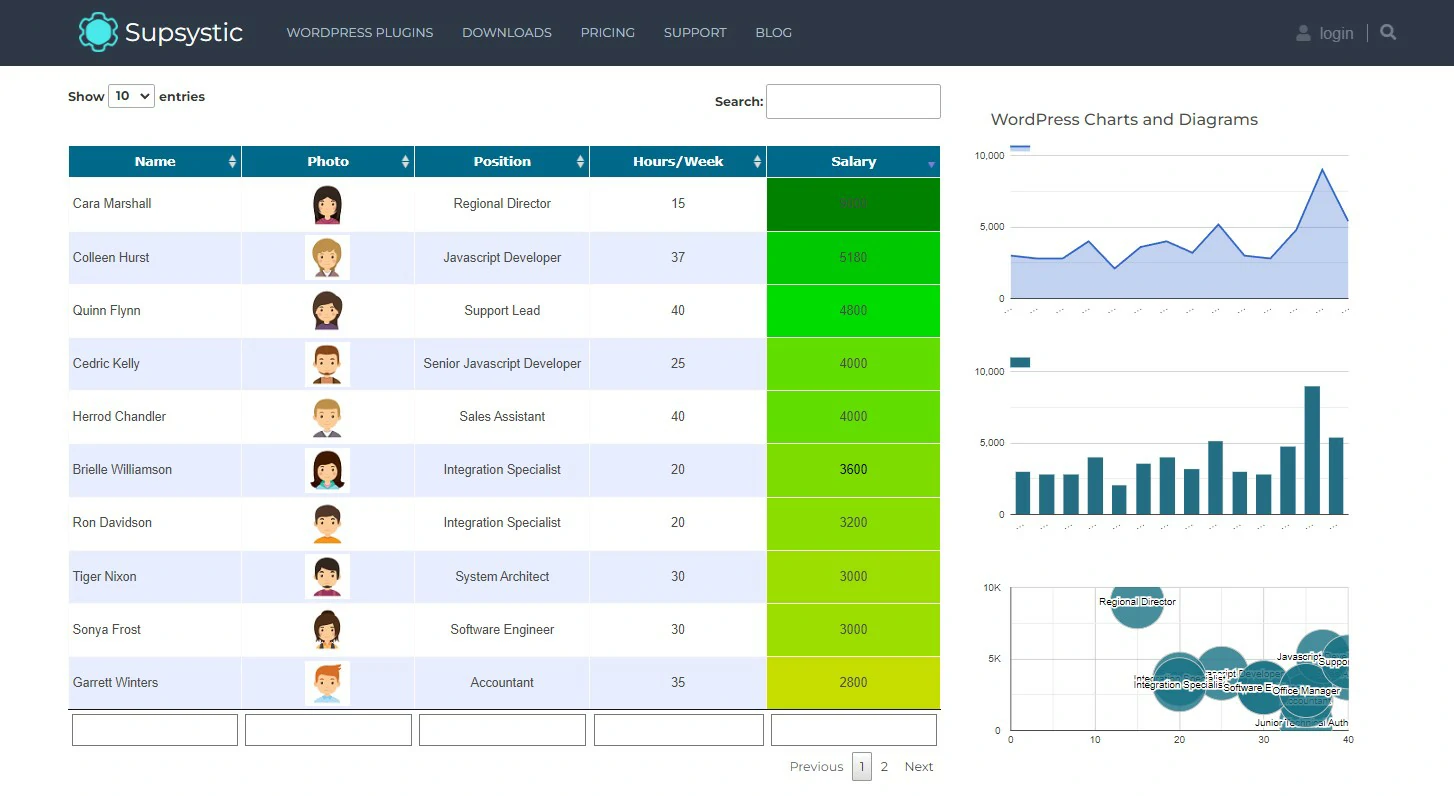 Data Tables Generator is an easy and fast solution for adding tables to your website. You can customize and make your data online in just a few clicks. Plus Data Table Generator is lightweight and fast so there is no unnecessary buffering.
It offers you drag and drop interface for creating and managing charts. Moreover, you can customize the table designs by choosing from a variety of styles.
Compare two or more tables side by side making it easier to identify differences and similarities. This feature is helpful if want to display pricing tables on your website. Using this you can allow your users to compare the plan and choose the right one for them.
Post Tables Pro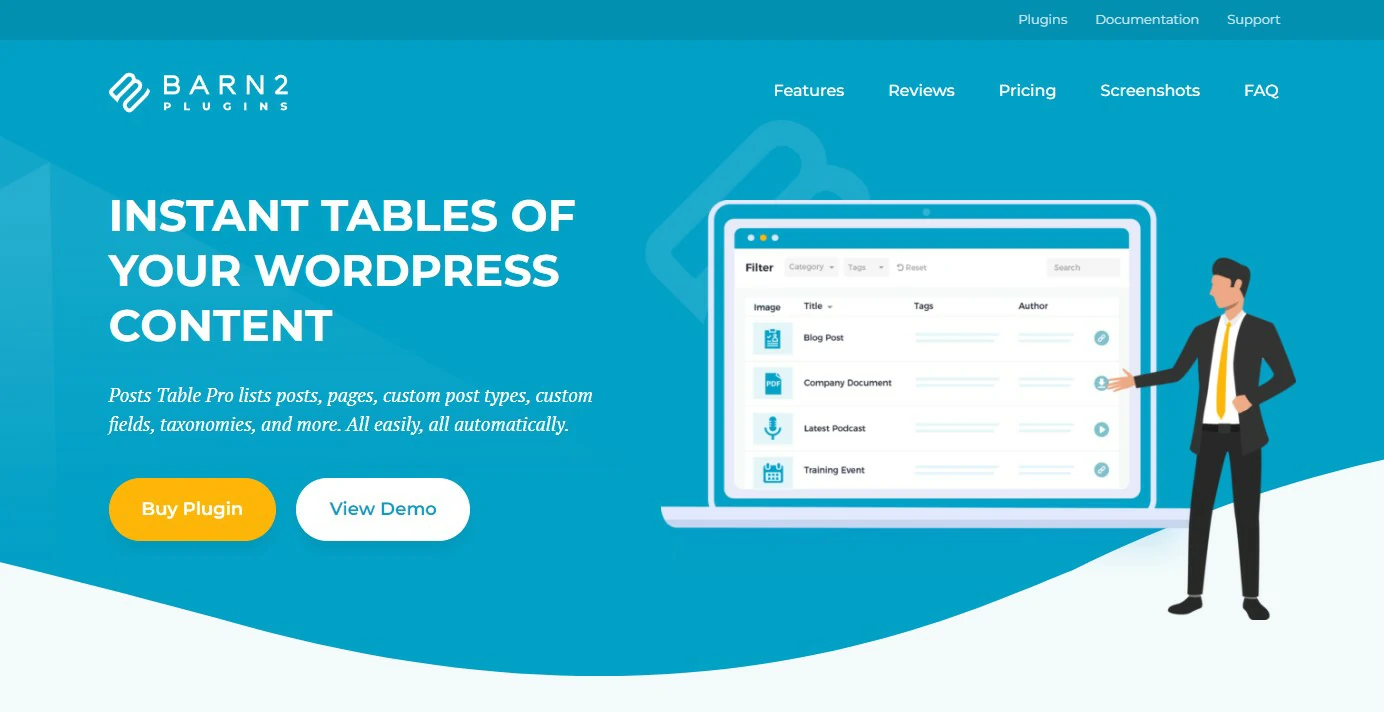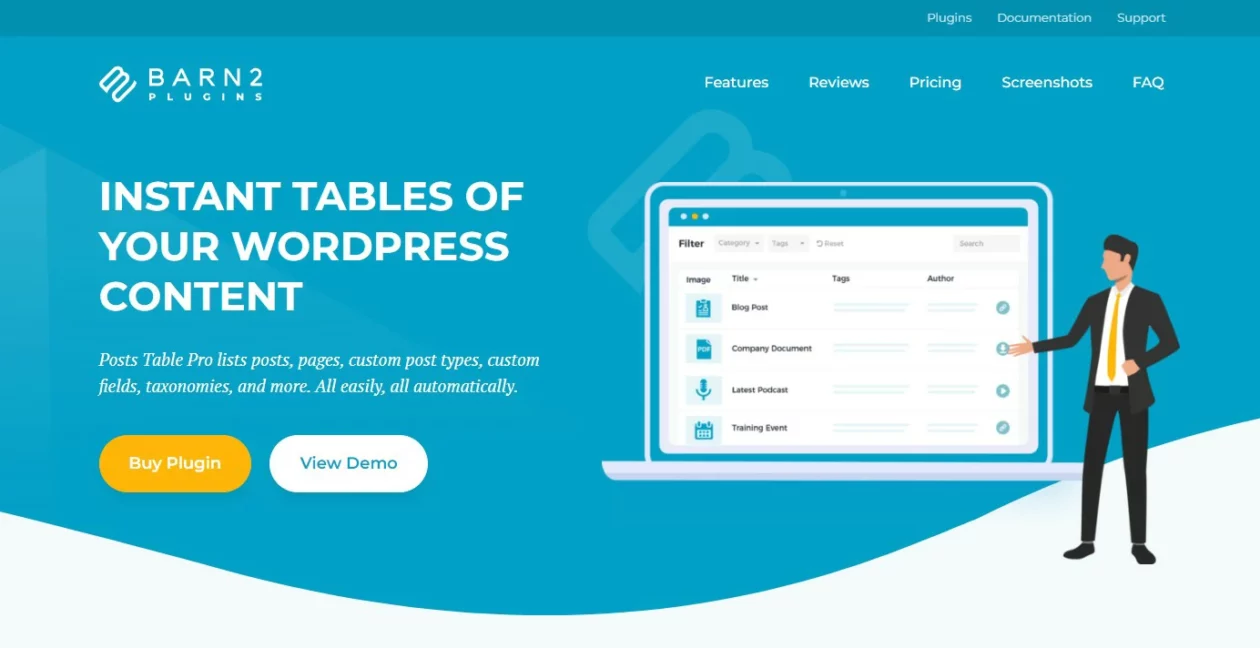 Like the other plugins, you can display posts, pages, taxonomies, etc. But what makes PostTables different from others is that it allows you to fetch data from existing posts into your WordPress tables. And not just blog post content, you can fetch data even from custom fields and more. PostTables Pro works best for you if you want to display your posts and custom post types in a tabular format.
With PostTables you can attach a search bar to search and browse the desired entry. This makes it easier for the user to fetch the data based on a particular preference. Moreover, you can create anchor links that jump to a specific cell.
It is integrated with WooCommerce and Lightbox. With WooCOmmerce you can use the pricing and product tables whereas using Lightbox you can display media content such as images directly from your table.
WooCommerce Product Tables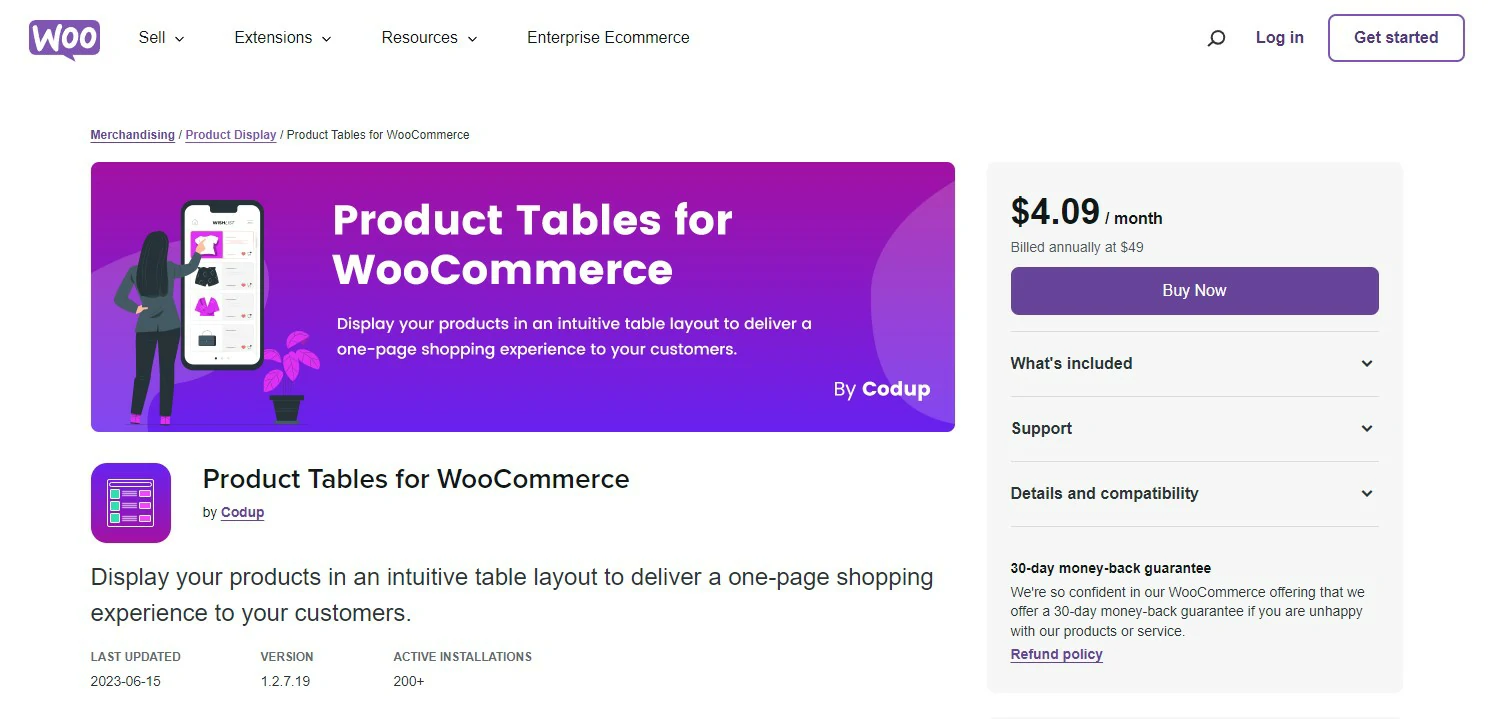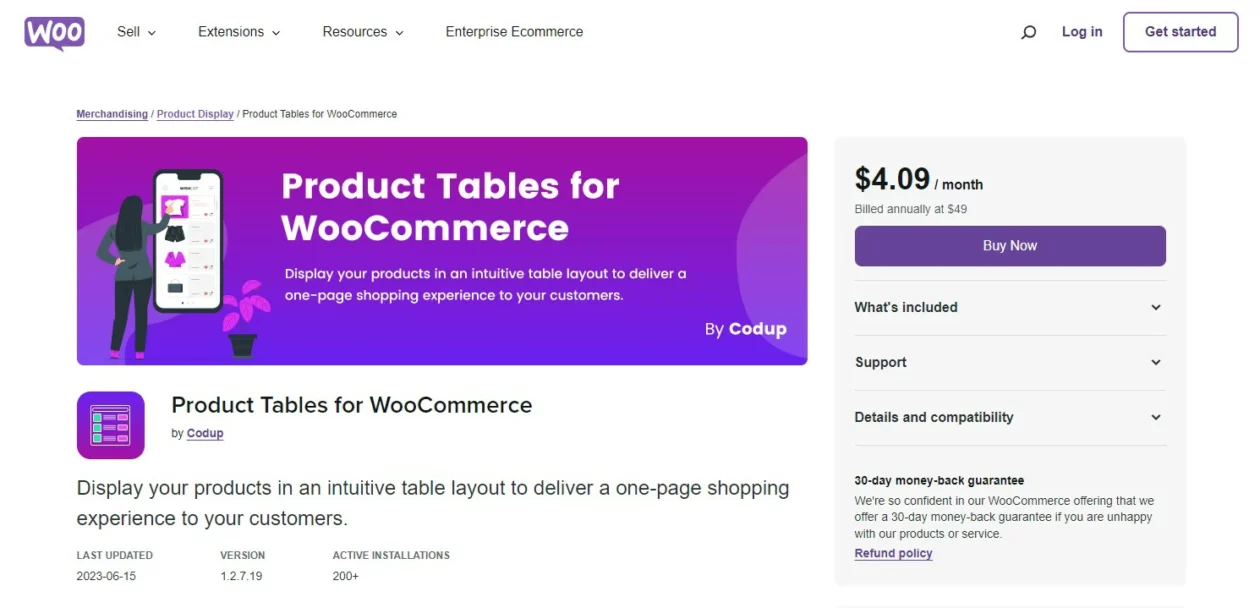 If you want a WordPress table specifically for displaying your product data then check out WooCommerce Product Tables. It is 100% focused on WooCommerce products. WooCommerce Product Tables come with loads of options allowing you to customize the product data.
With WooCommerce you can choose to display products based on a specific category, date, custom field, etc. It is best for you if you have a WooCommerce store and want to display products on tables.
Its interesting options include Quick View, which allows customers to view detailed product information. You can even add an 'add to cart' option making it simpler for the customer to find the liked product while checking out.
And the best part is that it is compatible with multivendor marketplaces like WC vendors, WooCommerce products vendors, and YITH WooCommerce multi-vendor.
League Tables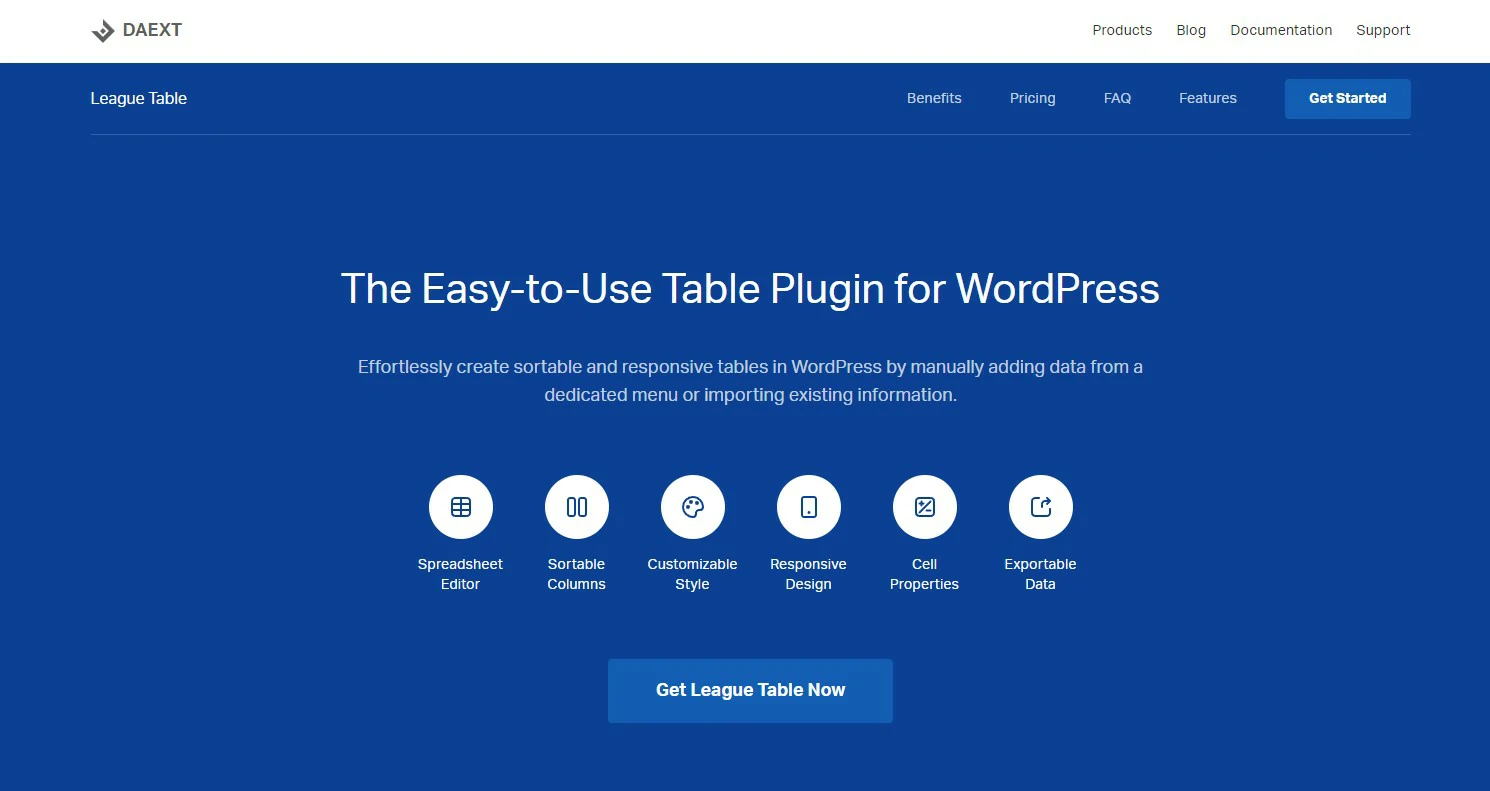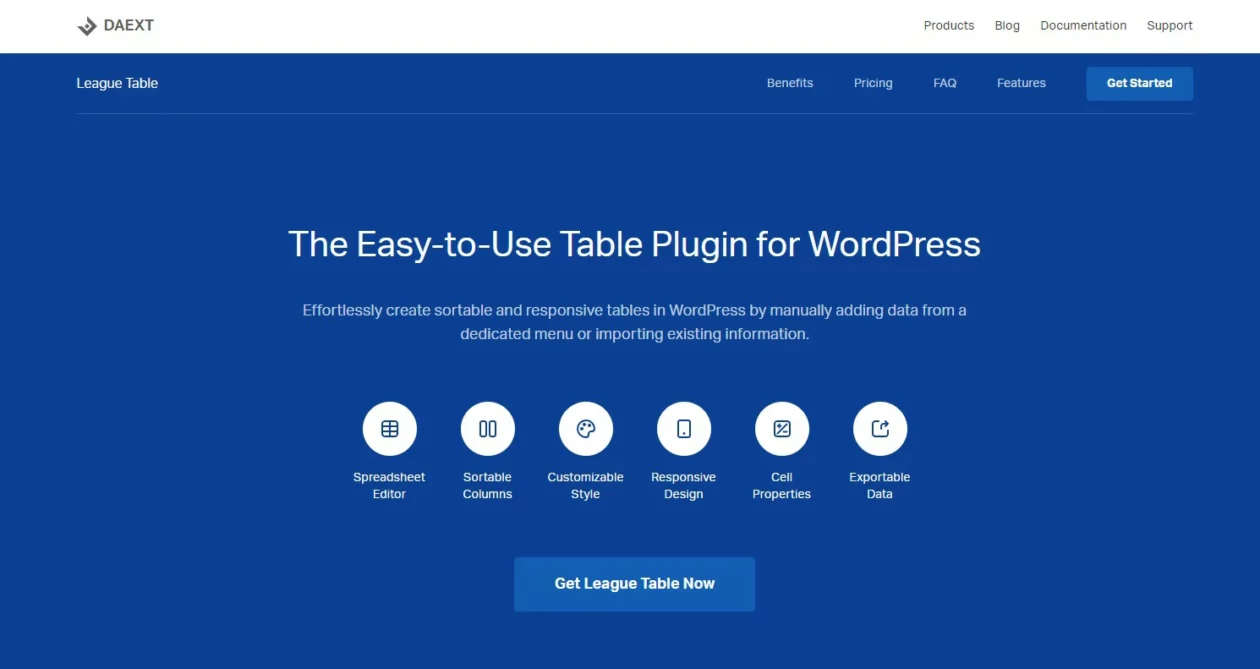 League Tables is an easy-to-use table plugin for WordPress. With League Tables, you can easily create sortable and responsive tables by adding data, either manually or importing.
It comes with an embedded spreadsheet editor. You can copy the data directly from your source like MS Excel, OpenOffice, Google Sheets, etc to the league table embedded spreadsheet editor.
You can customize every aspect of the table with the 105 customizable options per table, 17 options per cell. It provides you to create an unlimited variety of tables to showcase your data. With the table editor, you can choose to control the colors, typography, and elements size and also add media and links.
Thanks to its responsive design which makes it perfect for mobile devices.
WPDataTables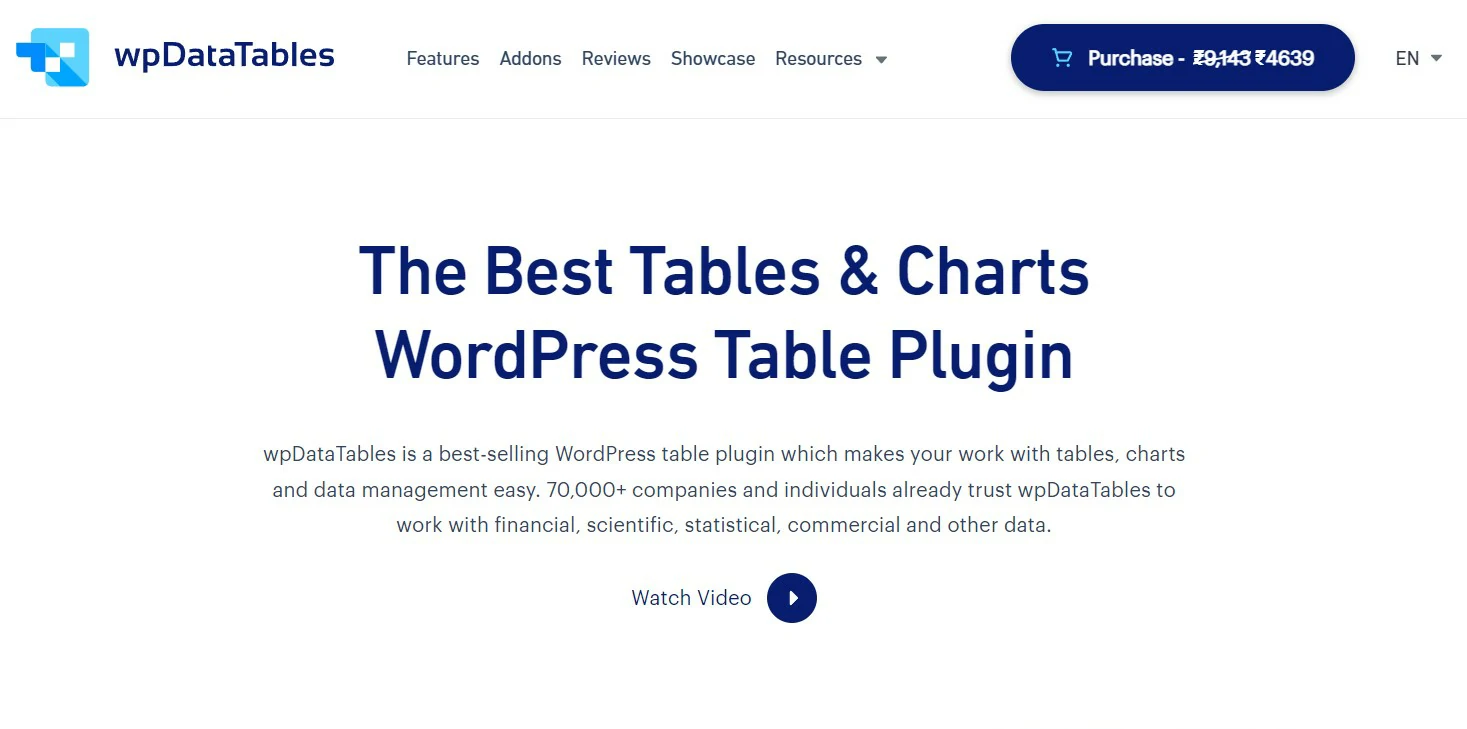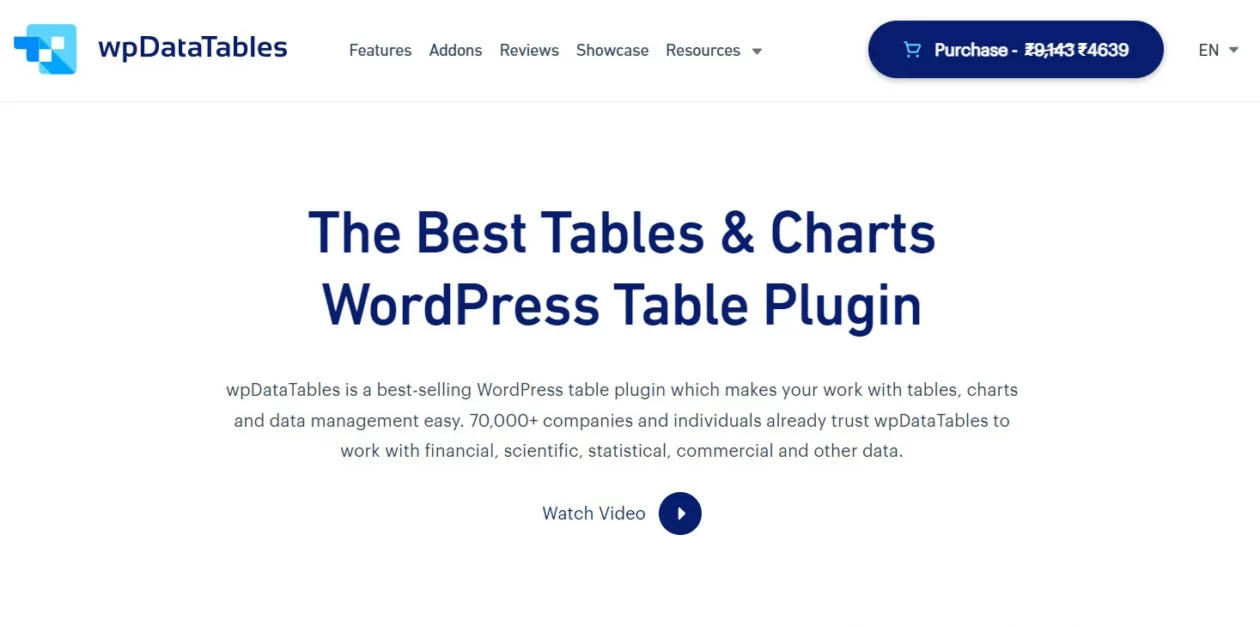 WPDataTables is a versatile tables plugin that like any other plugin allows you to add tables and charts to your posts and pages. The plugin comes is available in basic, pro, and developer plans.
The basic plan is sufficient for you if want to display tables occasionally and don't have much data which in the form of tables to be displayed. Since the basic version is free to use so it restricts some of its features. To use those features, you can buy the pro plan which will give you access to other great features.
Tables are fully customizable and could be edited without coding. You will definitely like it as it is similar to MS Excel.
FAQs
What is a WordPress table plugin?
WordPress Table Plugins are plugins that allow you to create tables, enter data, and display it on your website.
How do I add a WordPress table plugin?
Go to the plugin option on your WordPress dashboard.
Click on Add New and search for the desired table plugin
Click on install
After installation, click on activate
Which is the best WordPress plugin for creating pricing tables?
For creating pricing tables you can go for Ninja Tables Pro. With its simple drag-and-drop editor, you can easily create tables. With pre-made templates and integrations, it is the best plugin for creating pricing tables.
Are WordPress table plugins responsive?
The majority of WordPress table plugins are made to be responsive. They are made for working best on all screens whether mobile devices or desktops.
Which is the best free WordPress table plugin?
wpDataTables is the best free WordPress table plugin. It provides you with the best feature a free plugin can give, however, you can also go with the pro plan for other additional features.
Over to you
So here is the list of best table plugins for you. As mentioned earlier that with the help of tables, you can display data in a more clean and presentable manner. The plugins listed are best in their fields, however, you can search for the others and hope that you'll the best for you.
Some plugins are freemium and some are paid. If you ask me, I will recommend you to first try the basic free version and if you feel the need for additional features you can surely go for the paid plan.