We all blog ultimately to make money out of it. Right?
There may be some hobby bloggers who love to create and distribute material over the internet. Still, most bloggers' primary motive is making a living blogging. They cover a broad range of issues, from politics to lifestyle to technology, and frequently add their observations and ideas. They usually write posts regularly and promote them on social media.
Are you looking for an SEO-friendly WordPress theme to improve your website rankings? With the right kind of setup, you can be sure that your content will land on top search engine results pages (SERPs). Through using an SEO-ready theme, combined with best practices like optimizing page load times and staying up-to-date on Google's algorithms, you'll be sure to make your site stand out in organic SERP listings. In this blog post, we'll take a look at some of the best SEO ready themes available for WordPress and discuss how they can help give your site a boost. Read on to find out more!
Why do you need SEO Ready (aka SEO Optimized) WordPress Theme in 2023?
Technology has been offering us various mediums for bridging global geographical distances. The ease with which one can strategically place their desired information on one single platform helps the end-user gauge all data and helps the advertisers earn some monies while showcasing the same. Well, we all channel our energies and resources toward making some revenue, after all.
What is fascinating to observe is how various hobby bloggers eventually turn to blogs as a source of livelihood. Where blogging is becoming the most trending fad in today's digital life, one needs to lay utmost importance on understanding how we can capitalize on the traffic. Once we identify the total visitor efforts need to be made to understand how to segregate the relevant traffic and ensure it makes the maximum possible profit for us. One need not fret! As complicated as it may sound, everything is organic. Thus, one needs to ensure that to achieve desired traffic hits, the website is SEO friendly.
WordPress is your one-stop destination with various options to make your website search engine friendly. Mentioned below are a few of their themes that are ideal for any blogger (fresher or experienced) both aesthetically and optimized for the webmaster.
What Characteristics Classify an SEO-Friendly WordPress Theme?
1. Mobile Responsiveness: A WordPress theme should be mobile-responsive, which means it should be optimized for multiple screen sizes and resolutions.
2. Valid Code: A WordPress theme should utilize clean, valid code that is error-free and adheres to web standards. This guarantees that the theme functions correctly and is easier to comprehend for search engine crawlers.
3. Quick Page Loading: A WordPress theme should be designed for quick page loading times, as page speed is one of the things Google considers when ranking websites.
4. SEO-Friendly Structure: An SEO-friendly structure in a WordPress theme helps search engine crawlers simply index the site's content. This involves having a logical URL structure and HTML elements that are appropriately constructed.
5. Schema Markup: A WordPress theme should incorporate Schema markup to assist search engines in better understanding the website's content. This allows them to show the information in search engine results in more.
6. Modification Options: A WordPress theme should have basic customization options, such as the ability to change the color scheme, fonts, and layout. This makes the website stand out and makes SEO optimization easy.
List of Best SEO-Optimized WordPress Themes 2023
Astra Pro
With the evolution of page builders, especially Elementor, ASTRA has created a reputed name for itself. Amazingly, it holds the record for being the most widely used non-default WordPress theme ever. It became the first-ever default theme to cross over a million active installations at WordPress.org.
The design of the theme is very professional i.e., crisp and minimalistic and it is loaded with predesigned templates that can be imported into the website. It gives the option to customize the typography i.e., the header, footer, content section, sidebar width, and style and can support any page builder plugin of your choice.
A lot of people love Astra and I am one of those people. Also, I recommend that someone who is entering the world of digital marketing for the first time should try and use this theme to experience all required nuances in detail and receive the required kick start.
GeneratePress
GeneratePress is one of the clean-coded and fast-loading WordPress themes available right now. The theme is available in both free and paid editions. Its premium edition may be used to create a blog, a company website, an e-commerce site using the Woocommerce plugin, a portfolio site, and other things.
It is feature-rich and highly configurable. The WordPress theme is also responsive and, more significantly, SEO friendly, making it an excellent choice for any website. Anybody searching for a lightweight, quick, and configurable solution should consider it.
The GP can be used on approximately 500 websites. When you purchase the yearly plan, GeneratePress gives excellent support and updates for one year, and it provides lifelong updates and support when you choose the lifetime subscription. The greatest thing is that it comes with a 30-day money-back guarantee, so you can test it out first.
OceanWP
The outstanding out-of-the-box capabilities of OceanWP's fast-loading WordPress theme may be further enhanced by a wide range of both free and paid plugins. What's fascinating is that OceanWP's theme demo system makes it simple and quick to change the appearance of your website with just a click.
The theme has placed the majority of its stylistic choices in the WordPress theme customizer, which allows you to see how changes look in real-time, and the extra settings that display under the WordPress visual editor may be used to beautifully design every page of your website.
Drag-and-drop page builders and third-party plugins are supported by the theme builder. You can receive even more beautiful theme designs if you upgrade to OceanWP Core Extensions. The free edition of OceanWP is active on over 300,000+ websites, making it a formidable competitor to the majority of other theme builders. It also has a near-five-star rating on WordPress.org, which attests to its awesomeness. Anybody seeking a free WordPress design would love what OceanWP has to offer.
Genesis
Genesis is a framework that serves as the foundation for the child theme, making it more than just a simple WordPress theme. That being stated, it is a framework for your website. It is designed to offer your site the professional appearance you desire, and it is also search engine optimized.
The theme provides much more than just lovely designs. It's designed to improve your browsing experience. Its 100% responsive themes let you use responsive designs on mobile, desktops, tablets, and laptops to provide your audience with an outstanding experience.
Genesis may not be as good at providing a lot of complex features as some of the other top-selling premium WordPress themes, but it instead emphasizes usability, simplicity, quick loading, attractive designs, and effective coding. It is unquestionably a theme that is worth purchasing because it is both flawless in appearance and flawless on the inside.
Socially Viral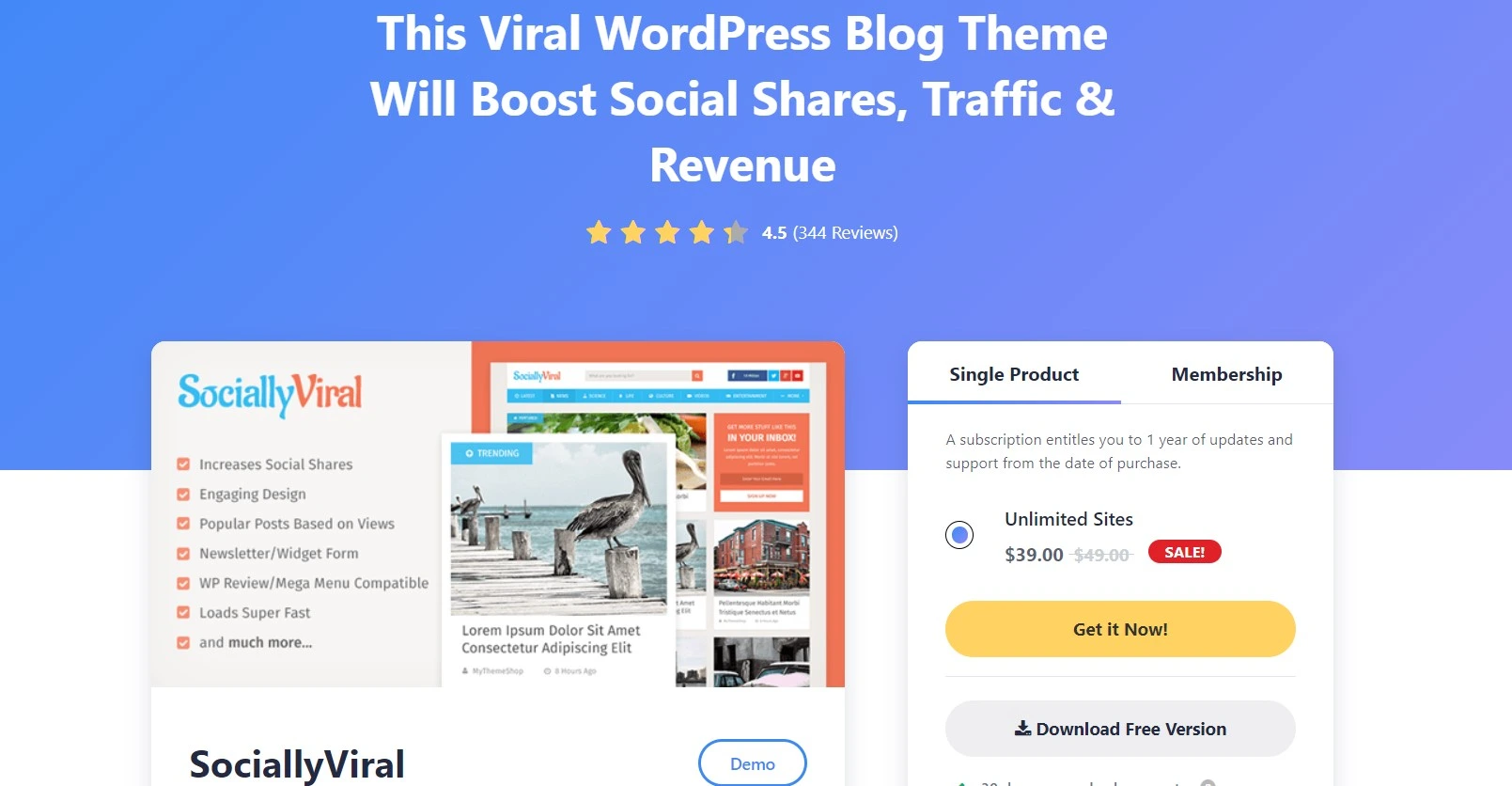 If you blog on WordPress, you may be familiar with MyThemeShop. It is a marketplace full of themes and plugins for WordPress bloggers. It is a theme that MTS created.
Socially Viral may be the theme you're looking for if you want your viral website to have an SEO-friendly design. The developers were eager to supply advertising space. Therefore, you receive not just an SEO-optimized theme, but also one that is AdSense-ready.
Overall, the SociallyViral theme is a performance-ready and highly responsive theme that is ideal for developing a viral website. It is a fantastic and fast-loading theme created for websites and blogs that want to go viral by getting more visitors from social media. I utilized the theme and was impressed by their well-designed, secure, and performance-optimized solutions. I loved using it, which is why I suggest it to my readers.
Betheme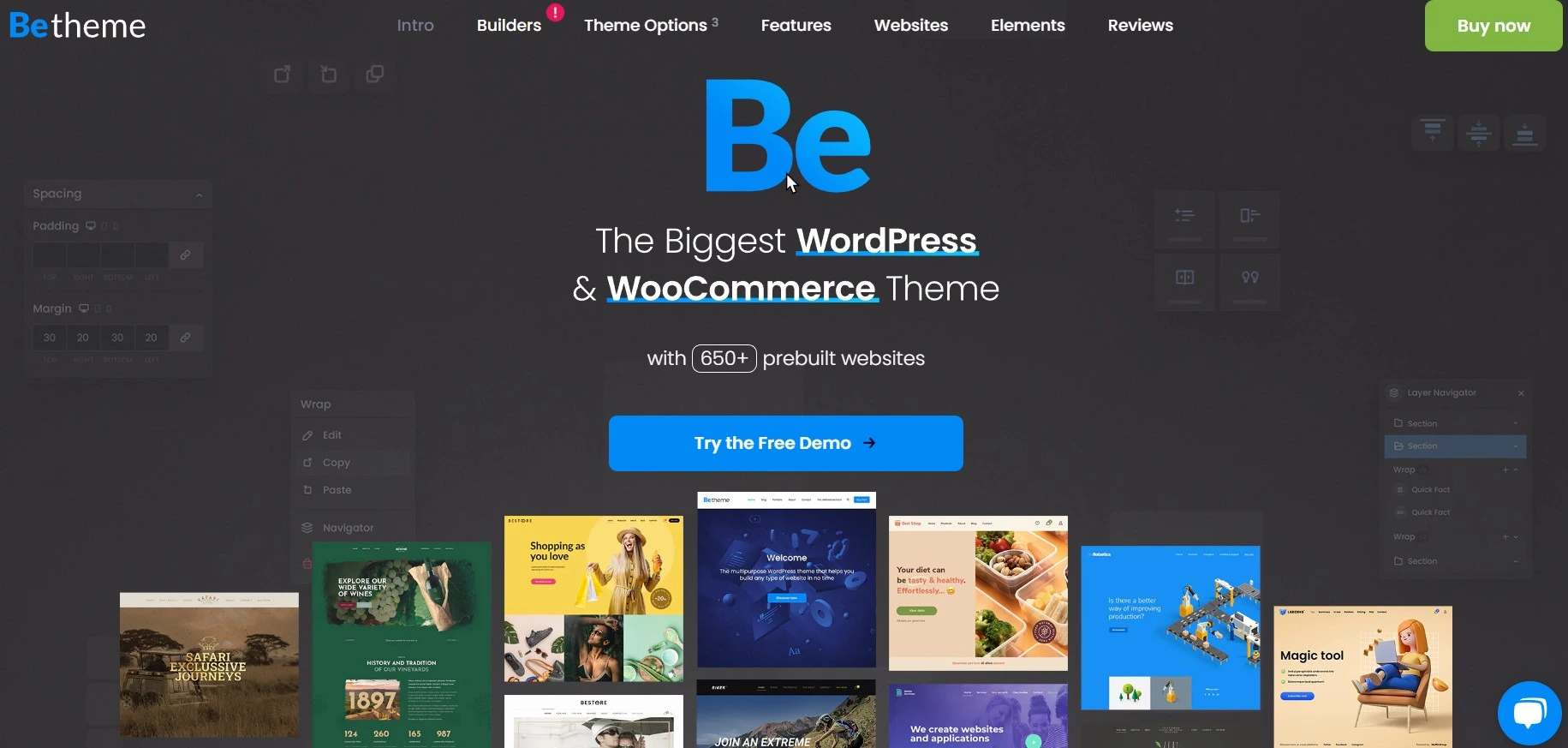 Betheme is one of the most responsive and fast-loading WordPress themes, with over 185,000 clients. And what makes BeTheme more than simply another website design theme is that- it also provides a large selection of pre-designed templates. It includes over 500 ready-made websites with a configurable mix of designs, fonts, and photos.
The theme builder is ideal for a wide range of businesses. It may be used to develop all kinds of dreamlike websites, such as online e-commerce businesses, event websites, blogs, magazines, sales pages, and so on. It also contains a plethora of wonderful features that ensure BeTheme is ideal for addressing all company requirements in practically any sector.
Schema
Schema theme makes it easier for you to rank on the top of SERP. Elegant & clean design is the attraction of the theme. I also love the way HTML tags are used for titles and content.
All you need is a good SEO plugin to outrank the rivals. You can use either Yoast SEO or Rankmath both are nice. If used well, you can outrank them in a month or two. The theme can also be used to run a small niche-based eCommerce store.
The theme has got clean and SEO-optimized code so that search engines never ignore your blog. Once you buy this from MyThemeShop, you will get timely updates.
The theme has got clean and SEO-optimized code so that search engines never ignore your blog. Once you buy this from MyThemeShop, you will get timely updates.
SEO WP
A Material Design-based theme is SEO WP. Every type of blog website may utilize this free responsive WordPress theme. Most significantly, the theme has been fully optimized for search engines. Also, it complies with the most recent Google SEO guidelines.
It is a WordPress theme created specifically for SEO and digital marketing businesses. A freelancer performing digital services for CRM, such as SEO, SMO, and/or guest posting, needs to give this theme a shot. The vast library of symbols, illustrations, and how-to instructions makes it easier to manage a digital marketing business successfully. No doubt, one of the most effective and adaptable themes for internet marketing is SEO WP.
Newspaper
The Newspaper theme is a lovely news theme created by tagDiv that is available in the ThemeForest marketplace known as the Envato market, with a primary focus on the publishing business.
It is a powerful, classy, and beautiful style imbued with the power of adaptability and is designed to manage a large quantity of material. Furthermore, dedicated to making the website seem professional and world-class, it is ideal for blogs, news, newspapers, magazines, publishing, and review websites.
Let's talk about the usage of the theme. It comes packed with templates for different kinds of demo sites. These demo sites contain layouts for niches such as technology, fashion, food, travel, and a lot more. It also supports YouTube videos and has mobile-friendly features like responsive, retina, and AMP-ready layers.
Overall, Newspaper is yet another SEO-friendly and purposefully designed WordPress theme for a news/magazine website. However, the theme deals well with the requirement of a clean, elegant, and minimal SEO-friendly blog/website. It is a must-have theme for both novice and expert WordPress users.
Ad-Sense
Finding the ideal mix between advertisements and content is the challenge. Advertisements must be there, but not intrusive. Nonetheless, the substance must reign supreme. AdSense optimization is a terrific approach to increasing your click-through rate by paying attention to the small elements that matter.
AdSense and SEO are inextricably linked. Because it doesn't require technical expertise to set up and use, it is the simplest way to monetize a straightforward website, magazines, blogs, specialized websites, news, and forums.
Rehub
One of the most-selling blogging themes, Rehub, comes packed with the core features of an elegant review/comparison website. It is a cutting-edge, multifunctional hybrid theme that is optimized for web traffic. Adding to the core features, the SEO optimization efforts are remarkable. That's the reason why it's here on this list.
More than 20 unique content modules are included with Visual Composer.
The theme incorporates various modern business ideas for effective websites. Each component may be set up and used separately, or they can all be combined at one location. You can create a user-friendly review, coupon, or comparison website. Besides this, you can also run a creatively exceptional blog. I never thought of the widespread use of the theme before I used it.

By employing the top SEO techniques and most recent trends, it has capabilities that you won't find in other themes. The Rehub Theme is something you should try; you'll like it
Sahifa theme
You are aware that talented people constantly produce fresh work. In such a situation, the Sahifa developer has extensive coding knowledge. They created a theme that is simple and can be used on any kind of website. As a result, it is a premium responsive WordPress theme with SEO optimization that helps you quickly index your posts in search engines.
It may be quite difficult to evaluate a product's average quality. Your capacity to analyze will considerably enhance if you are familiar with the platform, including your products.
There are tons of features included with Sahifa, like a mega menu, slider, multiple theme layouts, social counter widgets, free plugins, etc. These features never leave you with a lack of possibilities with design.
One of the most modern, cleanly coded, and highly load-bearing magazine themes is Sahifa. I appreciate the Tielabs motif. I have seen many websites using this theme. Whether you have a multiniche or a microniche site, Sahifa can come in handy with its search engine-optimized codes.
Novo
Novo is a fantastic Photography WordPress Theme. This theme would be excellent for a photography blog. You may use it to create your own unique and beautiful homepage for Photographers, Musicians, Photography Agencies, Bloggers, Picture Studios, videographers, and so on.
It may display several moods in a single scroll or just list the numerous videos one has worked on. The theme has HTML5 & CSS3, Valid Code, and a Gorgeous and Amazing Design.
Novo's password-protected gallery allows you to show unapproved work to your customer for approval. It features a variety of gallery styles, including masonry, slider, flow, grid, and horizontal, as well as a simple and quick store where you can sell your valuable images.
It is a photography portfolio WordPress theme with features for online photoshop. It also includes built-in photo optimization capabilities to decrease server load and help your media-rich sites load quickly in browsers.
If you are a photographer or videographer, you can use this theme to construct your portfolio as well as blogs.
FAQs
Which kind of traffic is the best to get us the maximum profit?
Before you get into anything else, let me tell you it is organic. Traffic from search engines brings you the highest conversions, which is why your site should be SEO optimized in 2023 to make money. Your WordPress theme is vital in making your site search-engine friendly. So here are the best WordPress themes optimized for search engines.
How an SEO-optimized theme is different from other themes?
An SEO Optimized theme is clean-coded. It contains less or very minimal bloat. It is extremely fast both in the backend and front end. It is compatible with SEO plugins and gives high chance to rank. It respects the search engine guidelines with respect to content structure, accessibility, and schema.
Can we optimize any theme to make it SEO friendly?
Yes, it is obviously possible to make enhancements to any WordPress theme to make it SEO-ready. You can use cache plugins such as WP Rocket, and SEO plugins such as Rankmath to do the required optimizations in the existing theme for making it SEO optimized.
What is blogging and how can a blogger earn more using SEO-optimized WordPress themes?
Nowadays, blogging is a popular job. It is a sort of online journaling in which posts and articles on a range of topics are posted. It is done to exchange information, thoughts, and experiences, to create a community, and to obtain publicity for a brand or business. Blogging may also be used to express personal feelings, share tales, and interact with others.
SEO-optimized themes are intended to assist bloggers in increasing their exposure and search engine rankings. Bloggers may ensure that their material is correctly organized and marked up with important keywords and phrases by choosing an SEO-optimized theme, which can assist to enhance their ranks in search engine results. Furthermore, an optimized theme may aid to raise the exposure of the blog by assisting it in obtaining more backlinks, which can boost its ranks even further. Finally, by using an SEO-optimized theme, bloggers may boost their chances of generating more money from their site by increasing traffic and exposure.
Did you find the Best SEO Optimized WordPress Themes of 2023?
Your WordPress theme contains a big portion of your site's code and greatly influences how your pages seem to index bots that inform your ranking. All of this implies that a good SEO-ready theme might be the difference between your site appearing on page one or page ten of the SERPS. If you prefer the former, consider any of the solutions listed above.
You now have more than ten of the best SEO-optimized WordPress themes. All of these themes highlight your search engine optimization and marketing abilities while also assisting you in converting potential visitors into buyers.
Choose the Astra theme if you're seeking a solution that meets all your needs, offers you flexibility, and won't break the money. It takes care of the major issues, including responsive design and speed optimization. What else? WordPress.org offers Astra for free, although the majority of other SEO-friendly themes are only offered in paid editions.
If you ask me to recommend the best one, I can't stop myself from suggesting Schema. In my experience, it is the best search engine-friendly theme.
But you should also check out fast WooCommerce themes, especially when you intend to start an eCommerce marketplace.
WordPress themes are a terrific way to personalize your website, but they should not interfere with your SEO efforts. Don't allow the huge number of theme alternatives to scare you into rapidly selecting and deciding on one. Instead, keep your calm and select an SEO-optimized WordPress theme after conducting the study.