Are you in search of a means to showcase your web content in a well-structured and user-friendly format? The solution lies in the finest accordion widgets and plugins for WordPress.
In this extensive guide, we delve into the realm of WordPress accordion widgets and plugins, providing a comprehensive analysis. Our objective is to showcase the advantages of integrating accordions into your WordPress website and present you with several high-quality accordion widgets and plugins that can improve both the appearance and functionality of your site. Whether you are a novice or an expert in WordPress, our guide furnishes you with all the essential details to make an educated choice while selecting an accordion plugin for your website.
But if the term "accordion widgets or plugins" is unfamiliar to you, it refers to a tool that can improve your website's user experience and make it more readable. Accordion plugins utilize progressive disclosure, which allows you to organize your content in a concise and structured way, making it easier for readers to comprehend. Whether you are crafting a lengthy blog post or developing a multifaceted website, accordions offer an efficient means of presenting your information in a manageable format.
If you're unsure about the need for accordion widgets on your WordPress website, let us clarify that the advantages are plentiful. These widgets not only improve the visual appeal of your site but also allow you to generate both vertical and horizontal tabs with text that can expand or collapse when clicked or hovered over by users, thus revealing the content within.
One common application of accordions is creating a frequently asked questions (FAQ) section on a website. However, they can be utilized to display any type of content where excessive scrolling can be avoided for users. This is particularly beneficial when presenting long articles or complicated information in an orderly and clear manner.
Let us now delve into The List of different accordion widgets and plugins and their ability to enhance the user experience of your WordPress website.
List of Best Accordion Widgets and Plugins for WordPress in 2023
Easy Accordion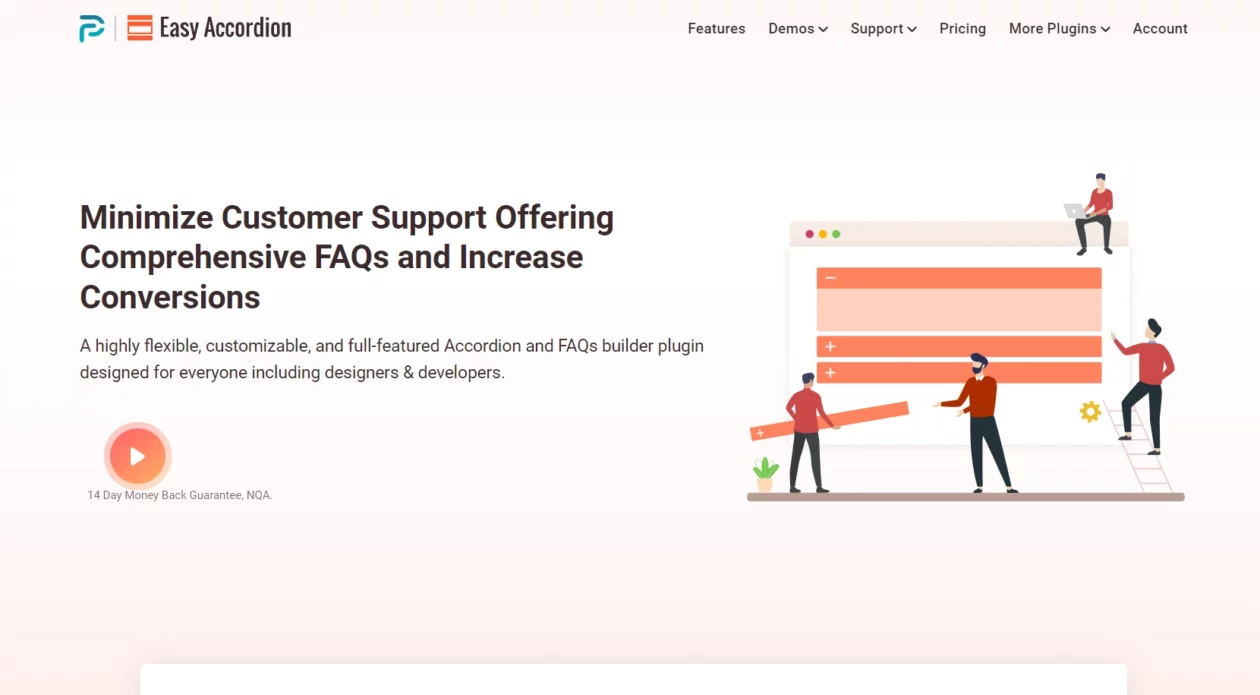 Easy Accordion is a user-friendly plugin that offers a drag-and-drop interface to customize your accordions. It is a lightweight and intuitive accordion plugin for WordPress. It offers an easy-to-use admin panel and a WYSIWYG editor for adding content to your accordions. You can customize your accordions with various colors, backgrounds, icons, and CSS from the advanced settings. The plugin also supports images, YouTube audio, shortcodes, and custom HTML code in the expandable section of your accordion.
With the free version, you get the default accordion theme, but the pro version provides more advanced features like creating accordion tabs from WordPress categories, an advanced shortcode system, and custom taxonomies. Additionally, the premium version offers themes, unlimited color support, and more customization options. Easy Accordion allows you to set up unlimited accordions on your pages, posts, widget areas, and template files.
Key Features and Pricing
Customizable colors, backgrounds, icons, CSS
Responsive to any device
Multi-site supported and translation-ready
Ability to create accordion tabs from WordPress categories
Advanced shortcode system
Custom taxonomies
Priority Email Support
Pricing: The free version is available on WordPress.org. The premium version starts at $23.02 for a single-site license.
Accordion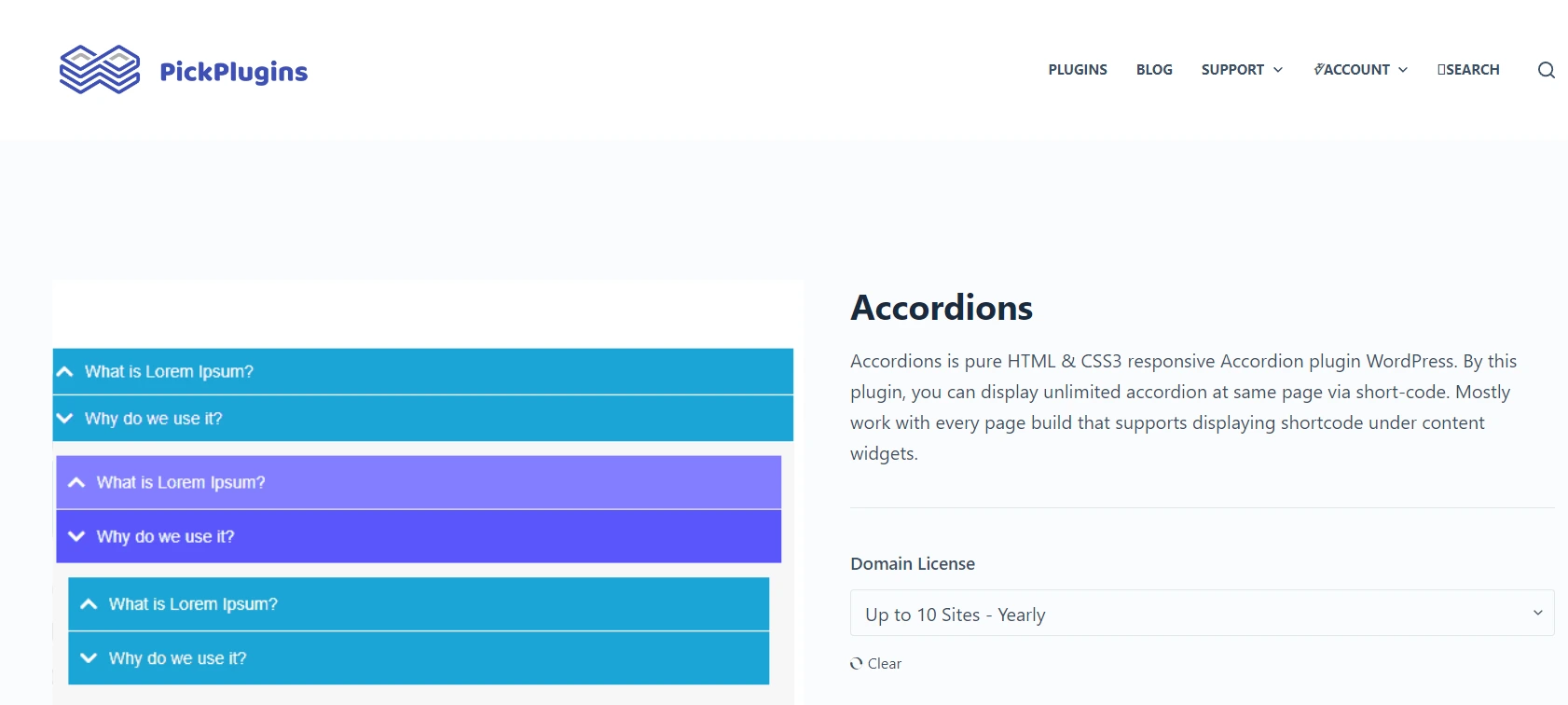 The Accordion plugin for WordPress is an easy-to-use and lightweight solution for creating beautiful and functional accordion menus on your website. With this plugin, you can create unlimited accordions with custom titles, content, and styles. You can also choose from a range of pre-designed templates or customize the look of your accordions using CSS.
The Accordion plugin supports shortcodes, which means that you can use it in posts, pages, and widgets. It is also fully responsive and works seamlessly on any device. The plugin is compatible with all major browsers and is SEO-friendly.
The Accordion plugin's Pro version comes equipped with supplementary functionalities such as vertical tabs, nested accordions, and a search input field. While the support may not be prompt, the plugin is highly responsive and adaptable to all screen sizes.
Key Features and Pricing
Compatible with the WooCommerce and WordPress block editor
Shortcode support for use in posts, pages, and widgets
Fully responsive and compatible with all major browsers
SEO-friendly
Pricing: The Accordion plugin is available for free on WordPress.org.
Accordion PRO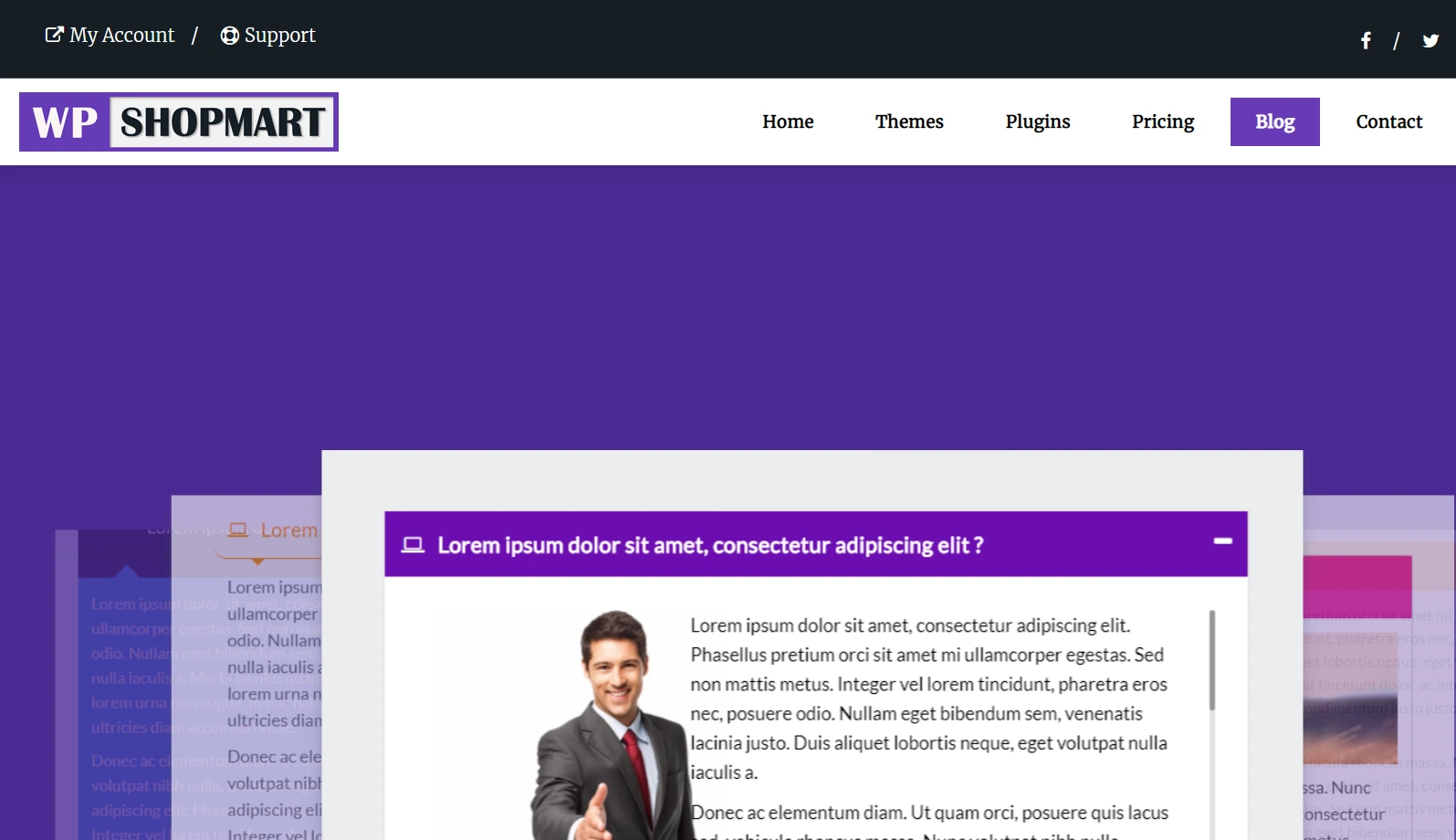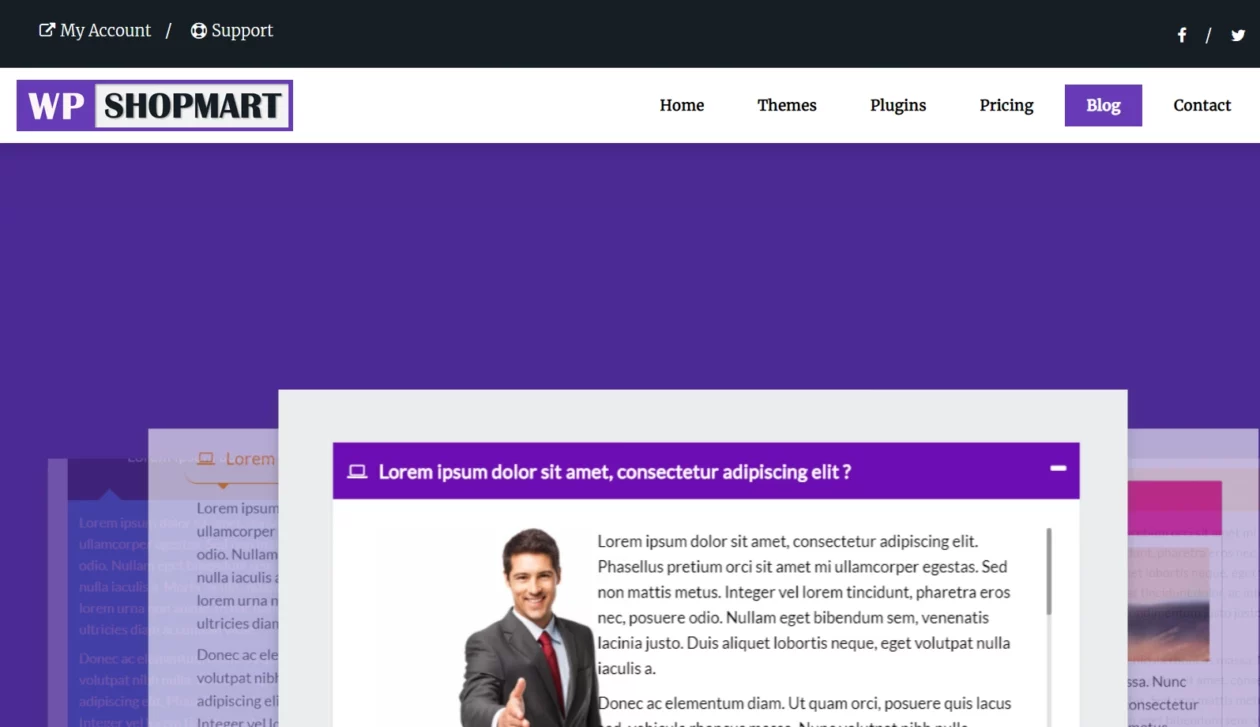 Easily structure your website content with the Accordion FAQ plugin for WordPress. With its drag-and-drop builder, add accordions anywhere on your site. The user-friendly backend interface allows effortless management of their placement and organization. Enjoy unlimited color options, Font Awesome icons support, a responsive design based on Bootstrap, and multiple templates to create great-looking and fast-loading accordions.
The plugin is perfect for building FAQ sections on your website and comes with a toggle collapse effect that lets you open multiple accordions at once. It also offers customization options like custom CSS, content animation, and eight design templates in its Pro version. It's a great plugin to consider for entry-level users.
Key Features and Pricing
Drag-and-drop builder with API integrated
The toggle collapse effect lets you open multiple accordions at once.
Responsive design based on Bootstrap
Over 30 animations for content.
8 design Templates
Pricing: The Accordion FAQ plugin is available for free on WordPress.org with an Accordion Pro version starting at $9.
Shortcodes Ultimate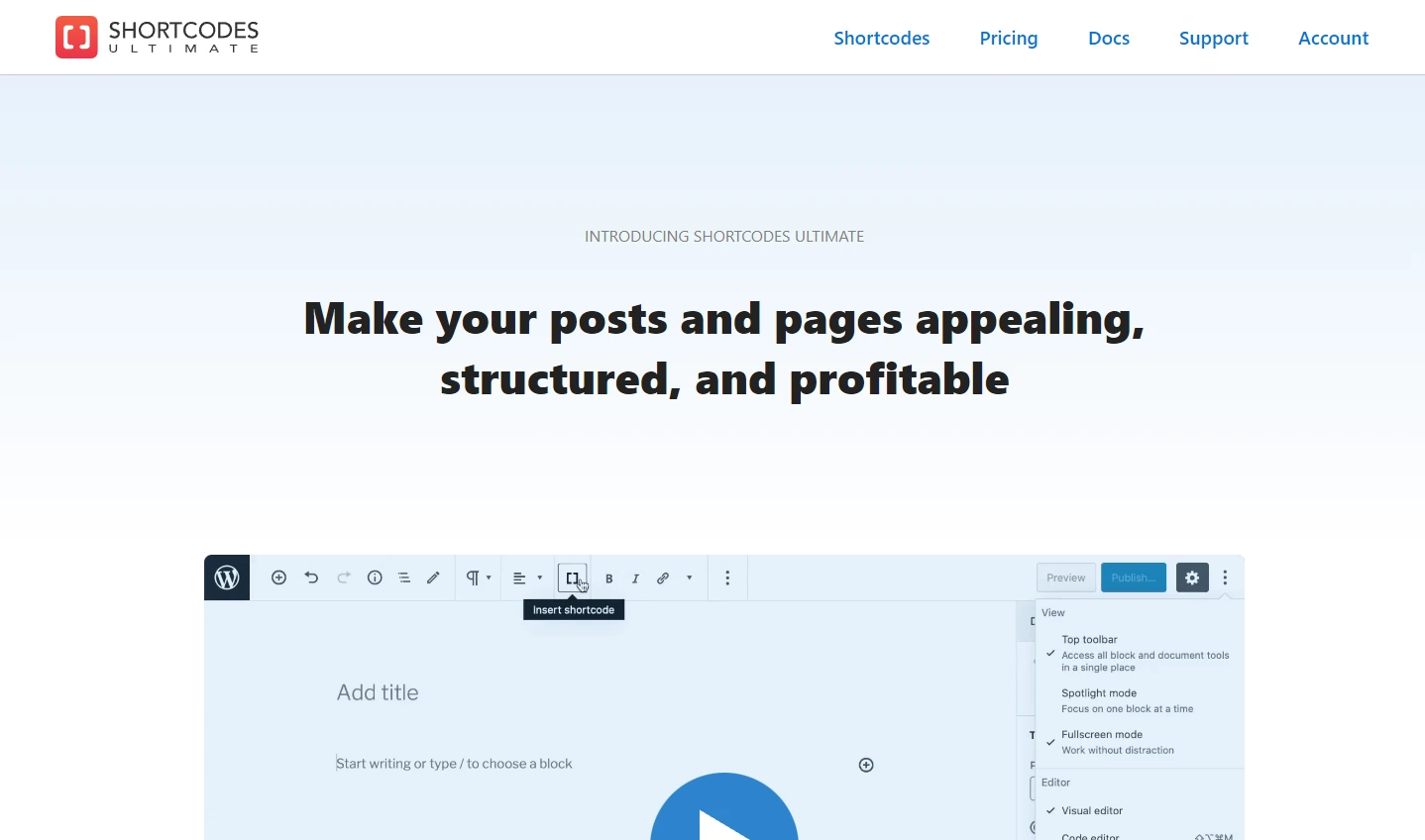 Shortcodes Ultimate is a versatile WordPress plugin that offers over 50 customizable shortcodes for creating beautiful and functional content on your website. With just a few clicks, you can easily add buttons, tabs, galleries, and much more to your pages or posts.
The plugin is fully responsive and compatible with all major browsers. It also comes with built-in support for Font Awesome icons and Google Fonts, allowing you to customize the look of your content further. In addition, Shortcodes Ultimate offers a personalized CSS editor, enabling you to modify your accordions' appearance. This plugin is user-friendly and works well with contemporary WordPress themes.
Key Features and Pricing
Shortcodes Ultimate provides a huge set of different shortcodes for any situation.
Includes buttons, tabs, galleries, and much more
Fully responsive design and compatible with all major browsers
Built-in support for Awesome icons and Google Fonts
No coding skills are required
Pricing: Shortcodes Ultimate is available for free on WordPress.org with a Pro version starting at $39 per year
Ultimate Blocks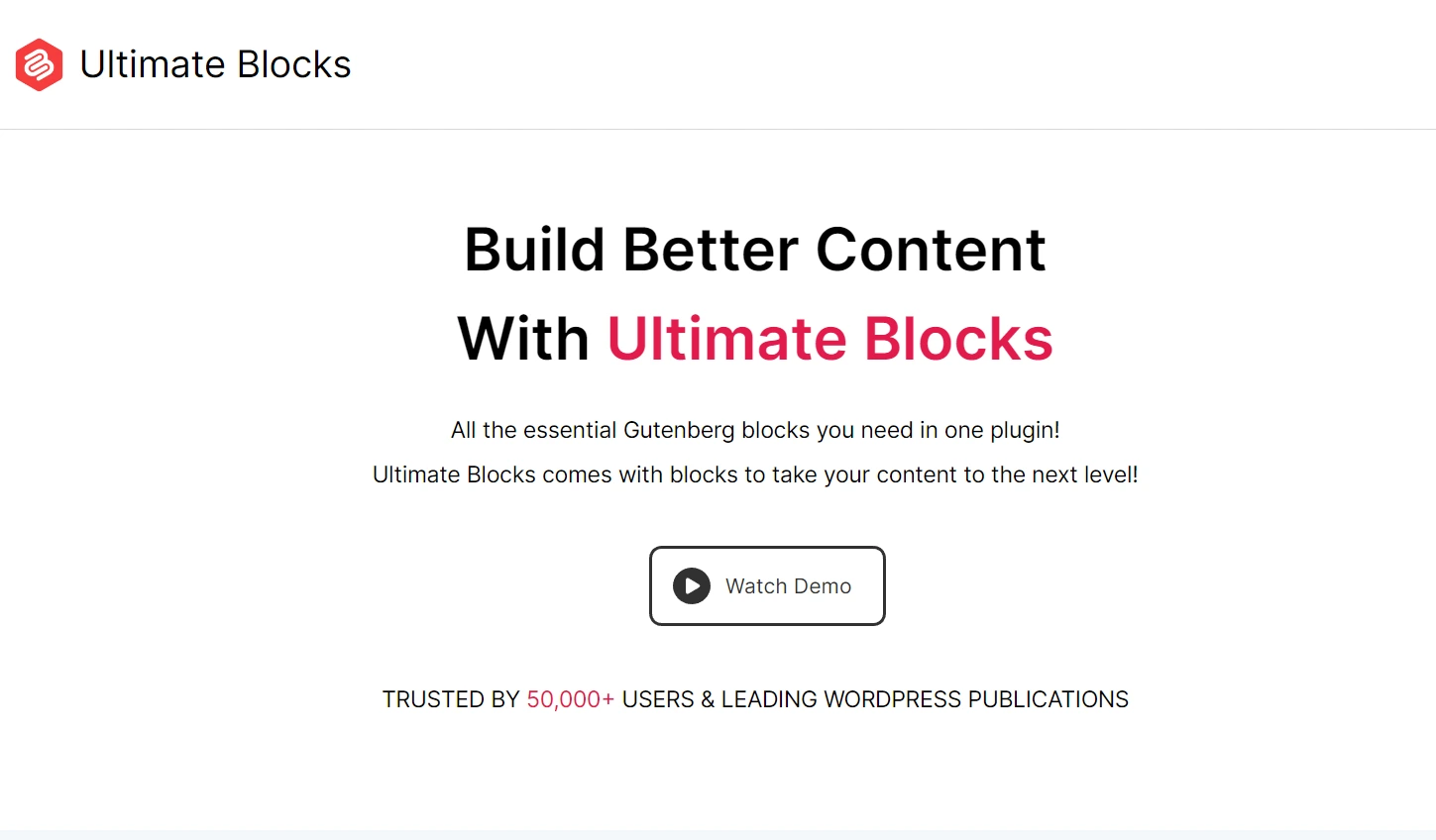 Ultimate Blocks is a powerful and intuitive WordPress plugin that extends the Block Editor's functionality with custom blocks. It provides various valuable blocks, including Content Toggle (Accordion), Tabbed Content, Table of Contents, and Testimonial, among others. Ultimate Blocks makes it easy to create engaging and beautiful content with customizable options.
Its Content Toggle block creates stylish and interactive accordions, allowing you to customize color, border, collapsed state, toggle icon, and more. Additionally, you can use the FAQ Schema option to show your FAQs in Google SERPs. Ultimate Block is an excellent plugin to extend the Gutenberg editor's functionality with its user-friendly blocks
Key Features and Pricing
Multi-bevel accordions
Supports rich snippets with the FAQ Schema option
User-friendly interface for easy customization
Over 20 Custom Blocks for creating engaging and interactive content
Fully responsive design and compatible with all major browsers
Pricing: Ultimate Blocks is available for free on WordPress.org.
FAQ Schema Ultimate
FAQ Schema Ultimate is a WordPress plugin designed to help you create and display FAQs on your website. It includes an easy-to-use interface for adding and managing frequently asked questions, as well as customizing the appearance of your FAQ section.
This plugin stands out for its ability to add FAQ schema markup to your content, making it eligible for Google SERPs' rich snippets. With over 40 layouts and compatibility with major SEO plugins like Yoast, the plugin is customizable with different colors, icons, and interactive components. It also features user-friendly shortcodes, accordion grouping, JSON integration, and microdata. Plus, Pluginic's customer support is available 24/7.
Key Features and Pricing
SEO-friendly accordions for WordPress
Proper FAQ schema markup
Compatible with top SEO plugins like Yoast
40+ ready-made layouts for quick setup
Customizable colors, icons, and interactive elements
Easy-to-use shortcodes for flexible placement
Pricing: FAQ Schema Ultimate is available for $19.99 with lifetime updates and support.
FAQs
What is an accordion plugin?
In a very simple way, an accordion plugin can be a WordPress plugin that allows you to display your content in an expandable and collapsible format. With this plugin, your visitors can easily navigate through your website content by clicking on the sections they're interested in.
What is the importance of having an FAQ feature in the plugin?
Assume you run a website that provides a service or sells products, chances are you receive a lot of inquiries and questions from your customers. To make sure you provide them with the information they need, it is crucial to have an FAQ (Frequently Asked Questions) section on your website. However, creating an effective and comprehensive FAQ can be time-consuming and requires a lot of effort.
This is where that WordPress FAQ plugin comes in handy. With its user-friendly interface, you can easily create and manage an FAQ section that will answer all of your customers' questions.
Can the Accordion Themes be customized?
Yes, the majority of WordPress accordion plugins provide various customization options for their themes. This enables you to select colors, fonts, and layouts that align with your website's branding and overall design. Moreover, certain plugins permit the creation of personalized themes from the ground up. Thus, you can personalize the accordion theme to your liking, whether it be a simplistic or a more attention-grabbing design. The essence and information of the original text remain unchanged in this rephrased version.
Is coding knowledge required to add accordions to my WordPress site?
No, Adding an accordion to your website doesn't require coding skills. Most WordPress accordion plugins offer drag-and-drop interfaces that make customizing easy. You can add sections with questions and answers without writing any code. These plugins are designed for all levels of users, from beginners to advanced users. Enhance your site's user experience and engagement, even if you're not tech-savvy.
Final Verdict
At last, accordion widgets and plugins can vastly improve the interactivity and engagement of your website content. Whether you prefer a free option that offers customization features like Ultimate Blocks or Easy Accordion, or a more comprehensive one like FAQ Schema Ultimate that focuses on SEO optimization and schema markup, there is an accordion plugin that can cater to your requirements.
Adding an accordion plugin to your website content can make it more visually appealing and easier to navigate for your visitors. By incorporating such plugins, you can create a better user experience and keep your visitors engaged for longer durations. So why not take advantage of these plugins to add some excitement and interactivity to your website content today?
Our belief is that this article has aided you in choosing the perfect accordion plugin for your WordPress website. Our thorough research has resulted in selecting the 6 best WordPress accordion plugins, giving you ample choices to suit your requirements. Remember these Accordions are SEO-friendly since Google doesn't penalize content hidden behind them. We recommend you take advantage of these plugins as soon as possible to enhance your site's overall user experience.