In this article, we are going to discuss some of the top WordPress Live Chat Plugins which can work at your convenience, offer you speed, personalize with your brand, and much more. All these categories are must-have components for a live chat WordPress plugin. But for those who don't know about it and why it's used, we will share some points in the simplest form.
WordPress live chat plugins are similar to instant messaging for your site. It allows your service agents, salespeople, and any other customer-facing teams to communicate in real time with visitors and eliminate buyer friction to your website.
Live chat plugins empower you to provide exceptional customer service by instantly responding to website owners and can increase customer retention as well because several reports say customer satisfaction enhances more if the website has a live chat option compared to email or SMS service. One can implement WordPress live chat plugins manually with code or with a pre-built plugin that's usually simple enough for non-developers and bigger to configure very easily.
Now the question arises "How can you use a live chat plugin"? ill give you step one to last succinctly to save you time.
Download a plugin from WordPress or the official website of the plugin.
Install and activate the plugin.
In case of purchase your plugin file is saved as a ZIP archive.
Once you have your ZIP file, go back to your WordPress "wp-admin" panel, click on "Plugins" in the sidebar menu, and then on the "Add New" button.
Click on the "Upload Plugin".
Activate the plugin and let WordPress do its job.
I'm assuming you understood this, now wear moving forward with our list.
List of Best WordPress Live Chat Plugins in 2023
LiveChat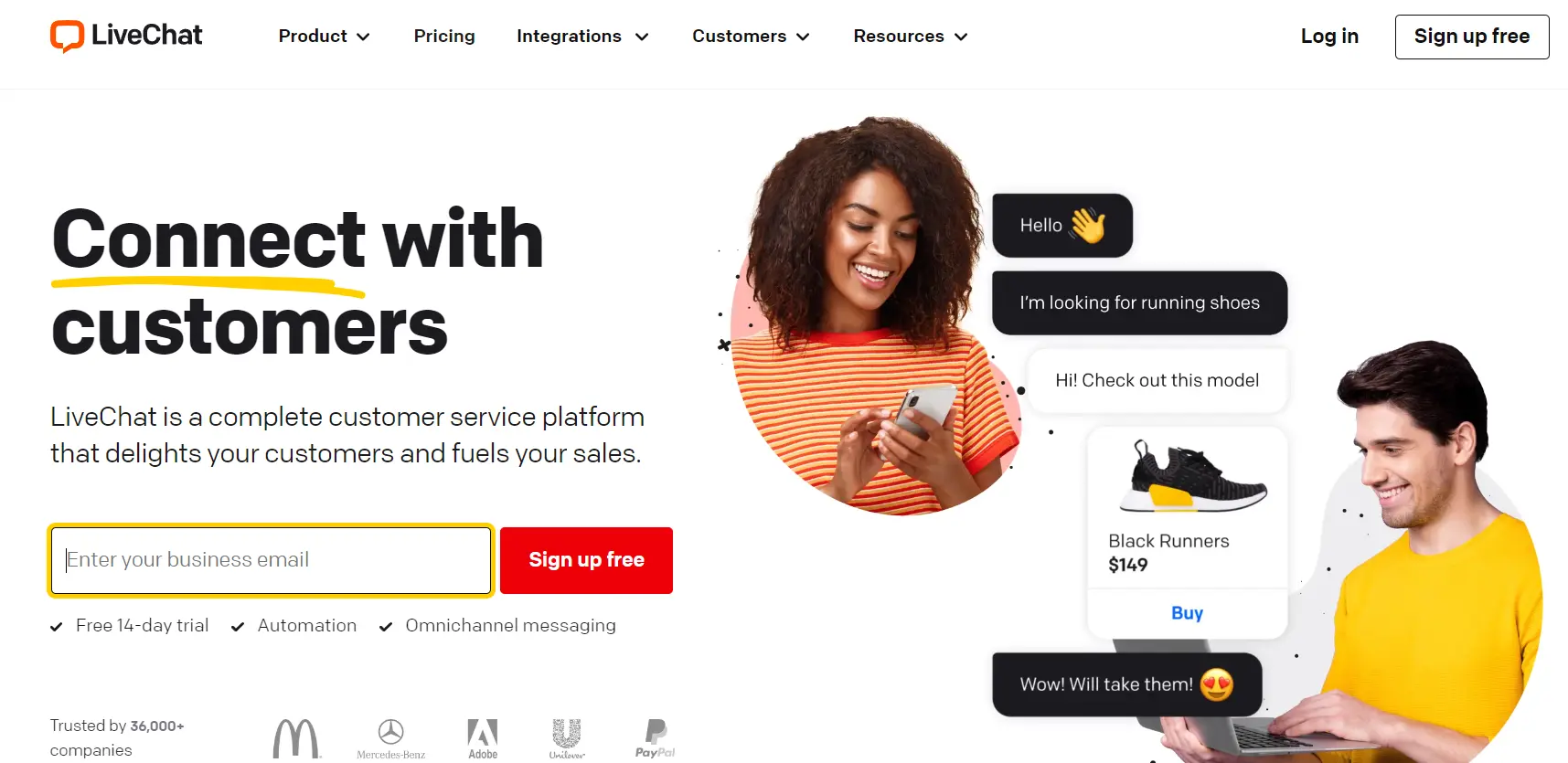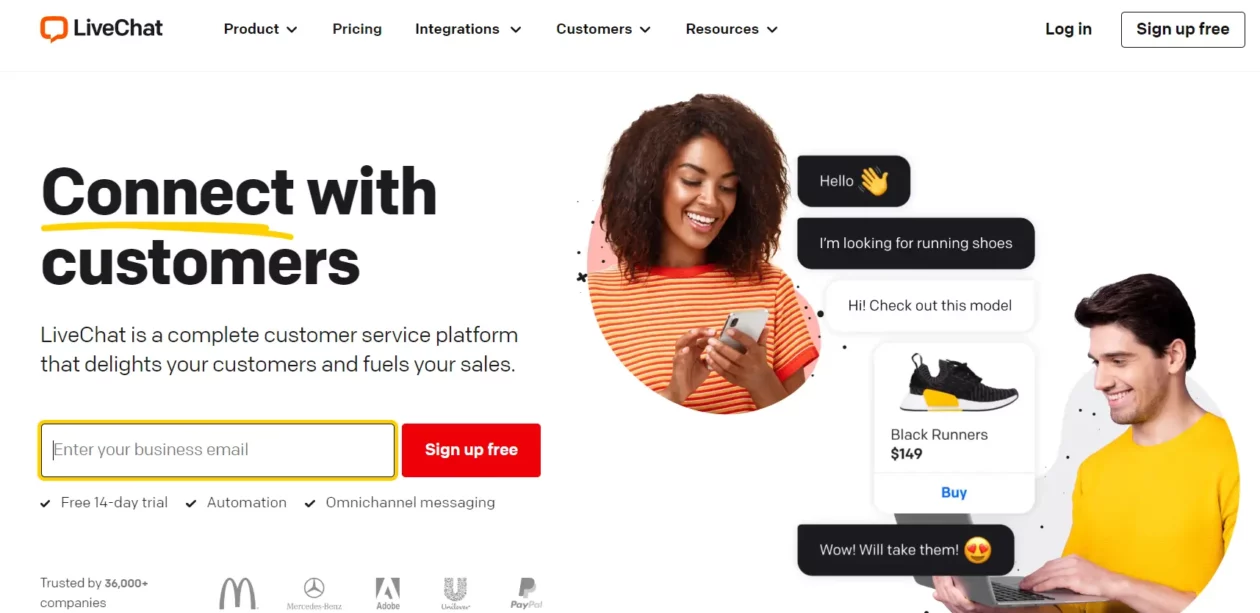 LiveChat is an excellent solution to take your customer service to an advanced level. It easily integrates into any website and appears beautifully on mobile and desktop. The best part of LiveChat is that it connects with several services, like email, Messenger, WhatsApp, SMS, etc Along with chatting, you can also send out personalized messages based on different benchmarks.
In addition, you can use the chat widget as a contact form for offline messages or even to enable customers to sign up for your mailing list and its personalization features are no match for the competition. You can customize colors and messages to match your website. This plugin uses AI for optimizations and also provides Easy integration with 200+ tools.
It has 20,000+ active installations plus 4.6 ratings, it is extremely user-friendly one can handle it easily without any confusion.
Key Features –
Custom forms and AI chatbot automation.
24/7 CUSTOMER SUPPORT.
Spot buyers in real time on your e-commerce site.
Live chat APIs
Chat transfer allows Your agents can work as a team and transfer chats when necessary.
Encryption.
Cons – became expensive for multiple Agents.
Pricing: Starting price for LiveChat is $16 per month usually recommended For smaller offices, They also have $33 per month plan for full team support.
HubSpot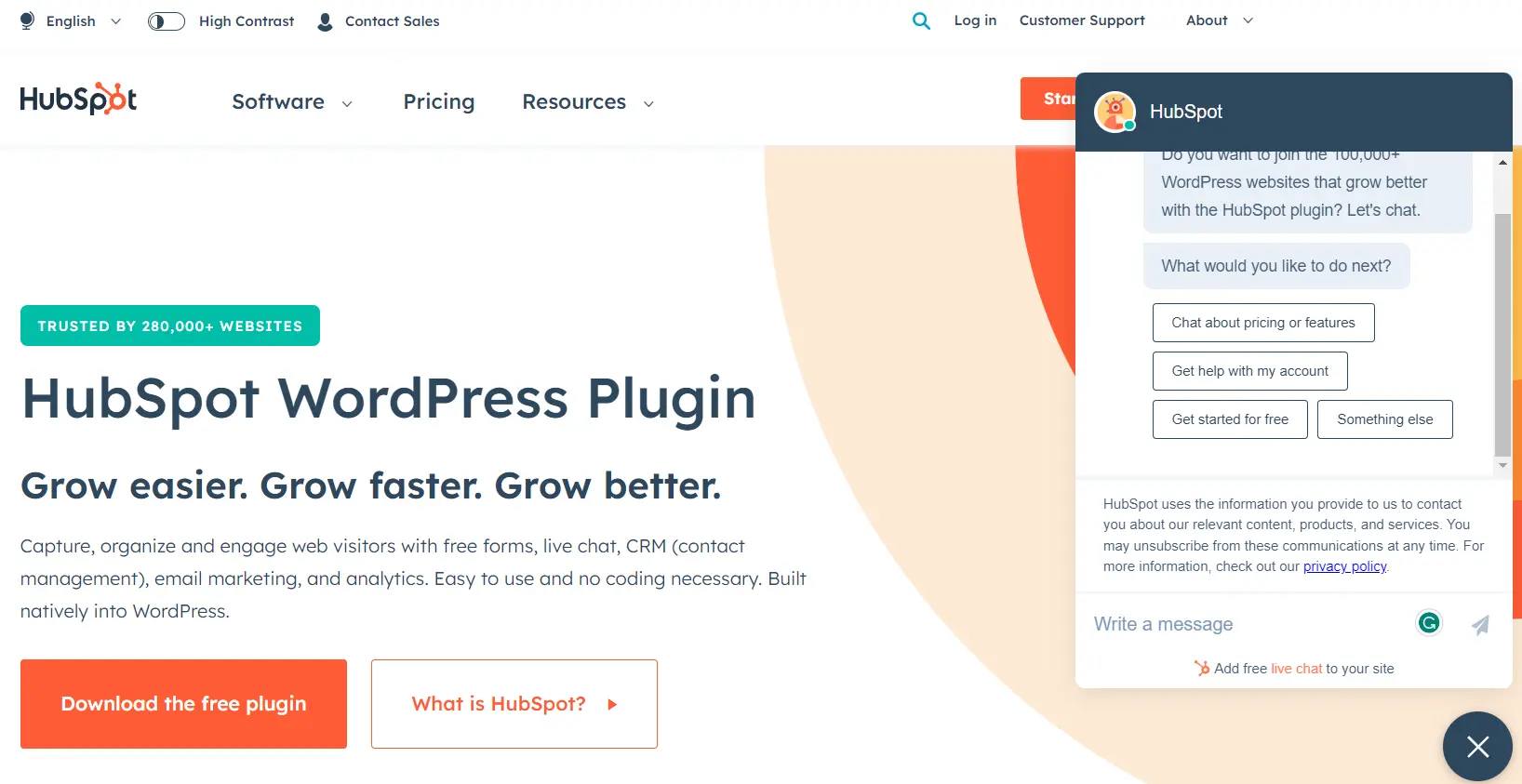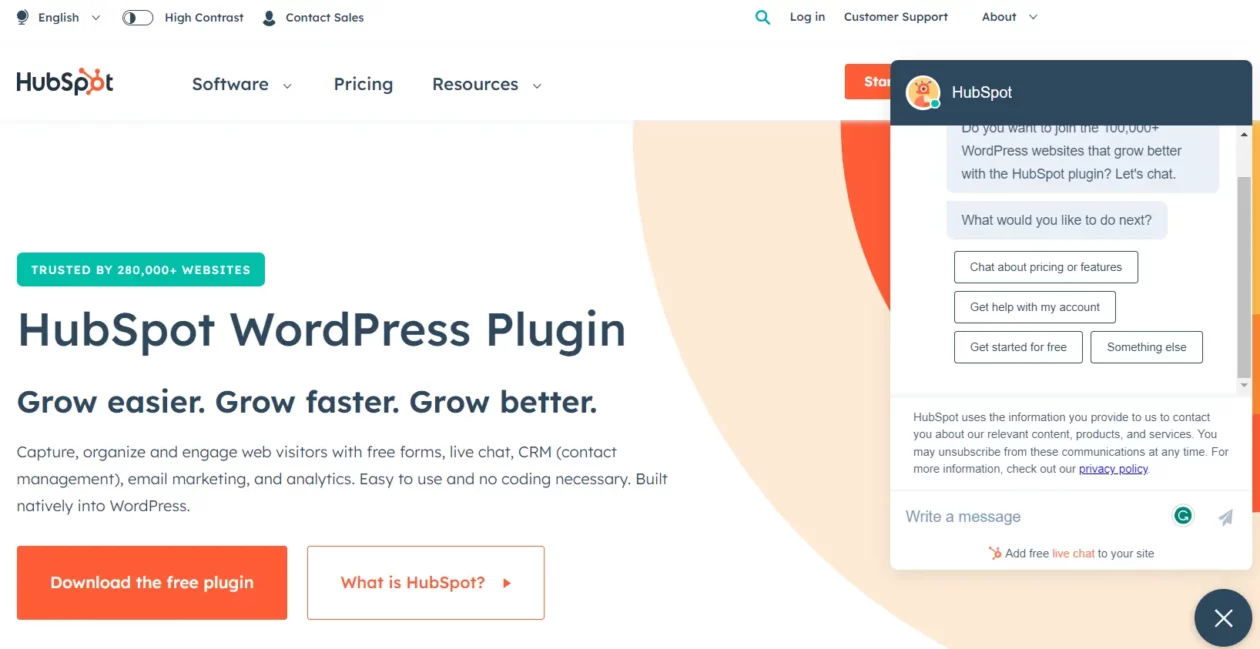 The HubSpot plugin is an all-in-one platform that includes several tools, including those for web designing, content creation, automated email marketing, web analytics, lead capture, and marketing automation. It no doubt gives you hassle-free performance and it allows you to manage contacts (CRM), engage visitors with live chat and chatbots, create beautiful forms to pages, create engaging email marketing campaigns, and many more. HubSpot Doesn't require 3rd-party apps as well. Although this plugin needs prior CRM knowledge so it wouldn't be recommended for beginners.
HubSpot has a whopping 300,000 + active installation plus 4.4 ratings which give them credibility.
Key Features –
Built-in analytics makes it easy to understand for sales and marketing.
Add 24/7 chatbots to your website to help automate lead capture and support.
intuitive drag-and-drop builder.
HubSpot is integrated with over 1300+ apps including Gravity Forms, WooCommerce, Stripe, and more.
Cons – They offer too Expensive plans.
Pricing: Starting price for HubSpot is $25 per month with All free tools, live chat, Hubspot branding, reporting dashboard, etc. their professional page cost you $400 per month.
Zendesk Chat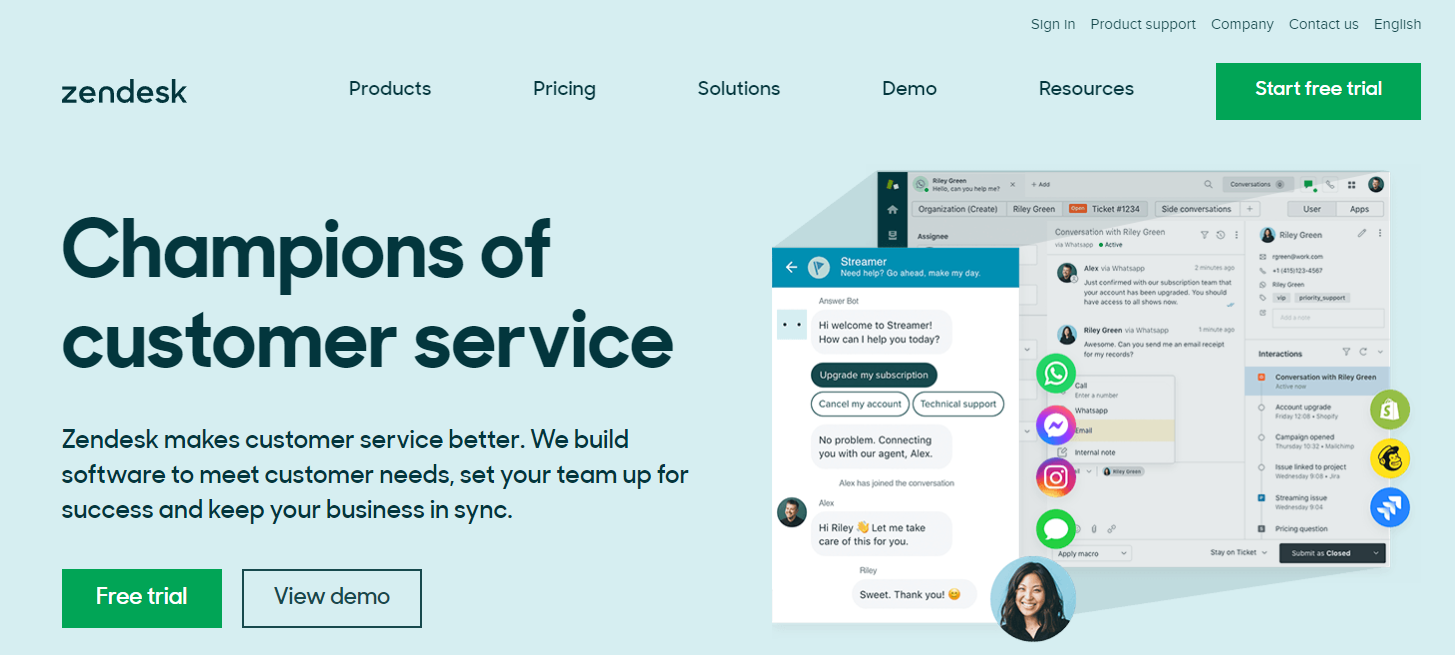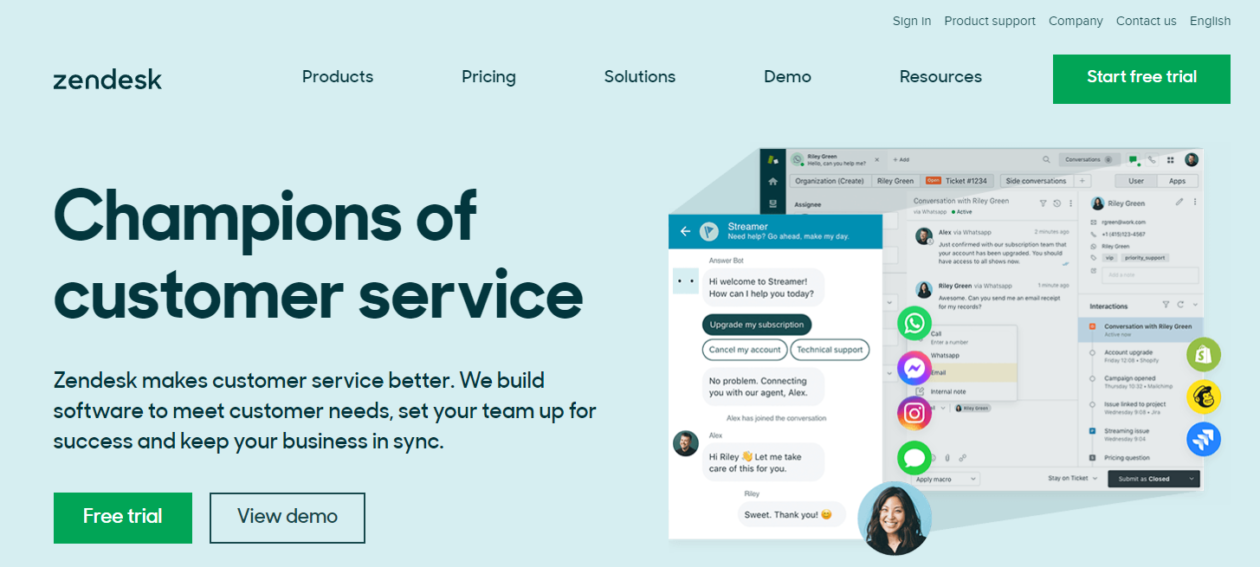 ZenDesk Chat is one of the sort-after plugins available for a live chat in WordPress sites in the market. It offers you a wide variety of tools essential for web design, Zendesk provides a complete customer service solution that is easy to use as well as Offers conversational support in ways that are convenient for your customers, Zendesk offers robust out-of-the-box tools which are quick and effortless to set up, Integrate all relevant customer data using its powerful integration options it has Zendesk's ROI calculator to see the benefits of an omnichannel approach to customer support. It also provides group messaging so users who have complicated issues can talk to several experts.
Zendesk was awarded as the #1 Customer service product in 2023.
Key Features –
Offers SMS & WhatsApp integration.
Accumulate Complete user profile & history. which help in behavioral analysis.
You can Personalize chat with each customer.
Group messaging.
Cons – Its Admin load time and Working on multiple chats can be a comparatively bit slow.
Pricing: Starting price for ZenDesk Chat is $19 Monthly subscription term (per agent per month).
Tidio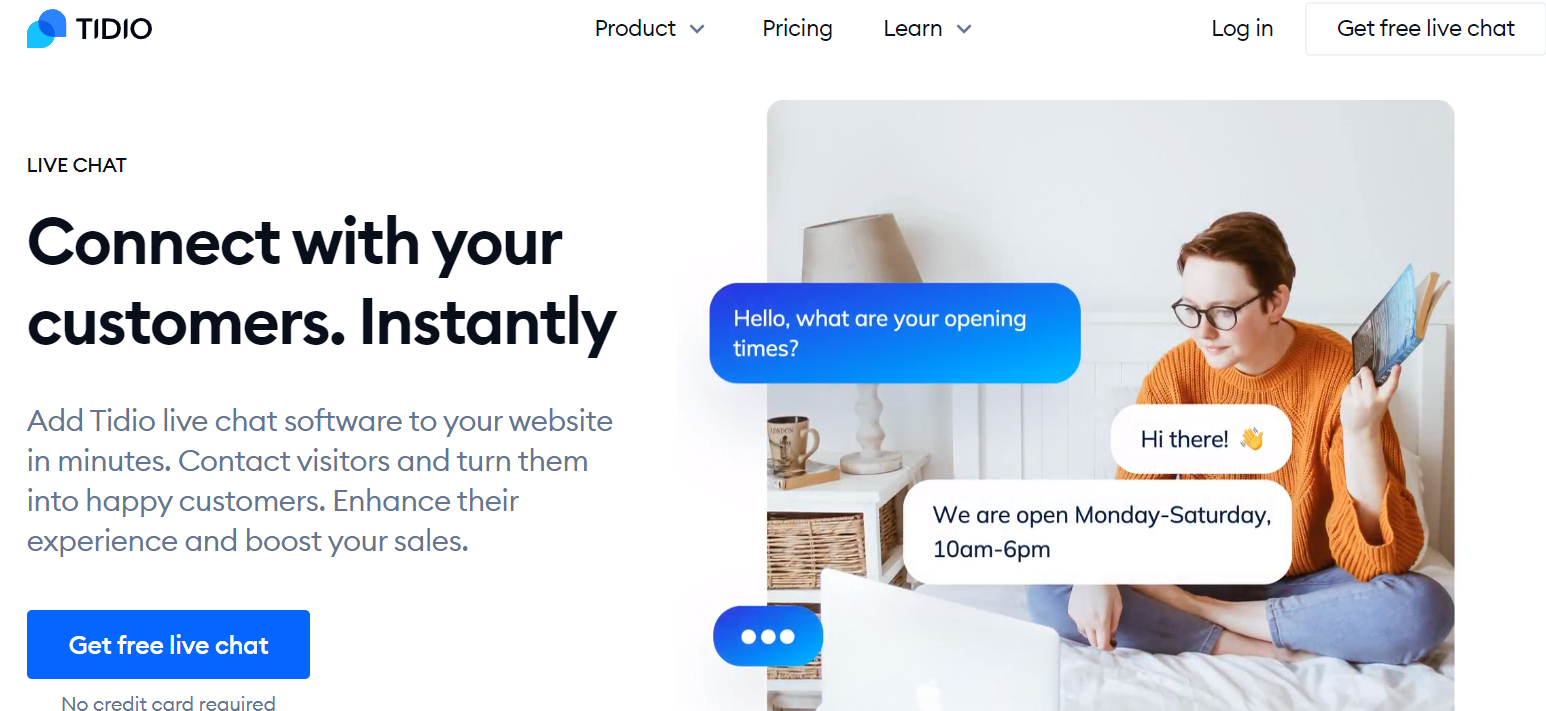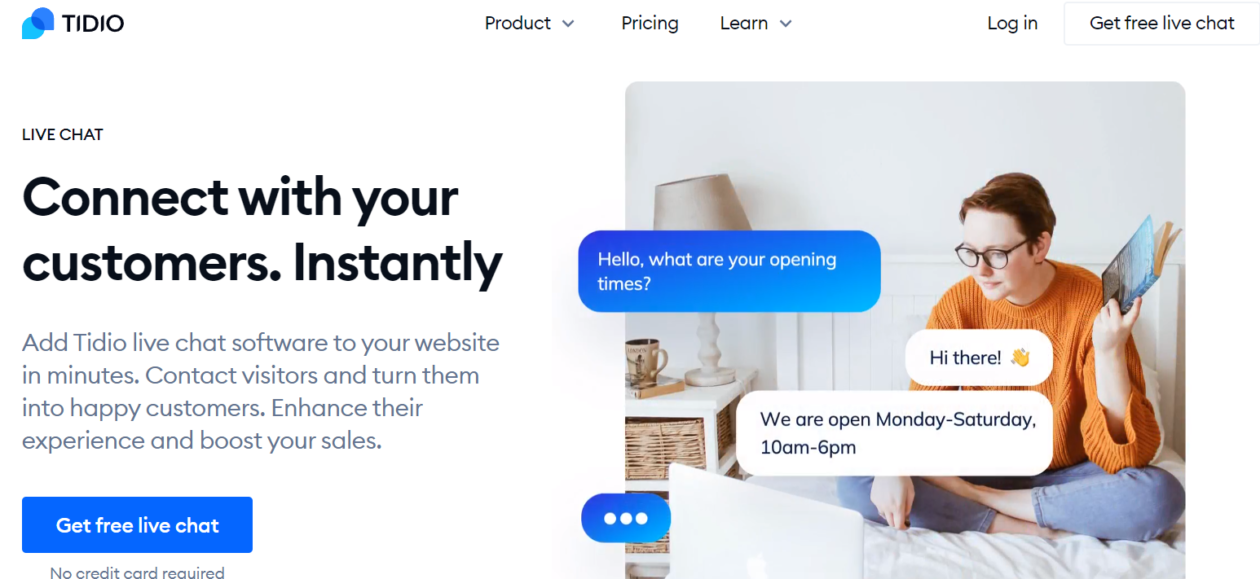 Tidio is a multifunctional customer service platform that enables you to offer world-class customer support, Tidio's live chat works great with a number of CRM, eCommerce, and email marketing platforms. You can easily integrate our tools and widget with Shopify, Messenger, WordPress, and many more. its widget is 100% mobile-friendly, so your customers can write to you on a mobile, tablet, or desktop. its drag-and-drop visual editor to create chatbots from scratch. No additional coding is required which makes it user-friendly and accessible for all.
It has a 4.8 rating with more than 100,000 active installations.
Key Features –
live chat integrations.
Stellar customer service.
Real-time overview of all the visitors on your website or store.
Canned responses.
Exclusive Live typing feature.
Cons – Several reviews claim Tidio lacks optimization.
Pricing: Starting price for Tidio is $19 per month per operator.
Crisp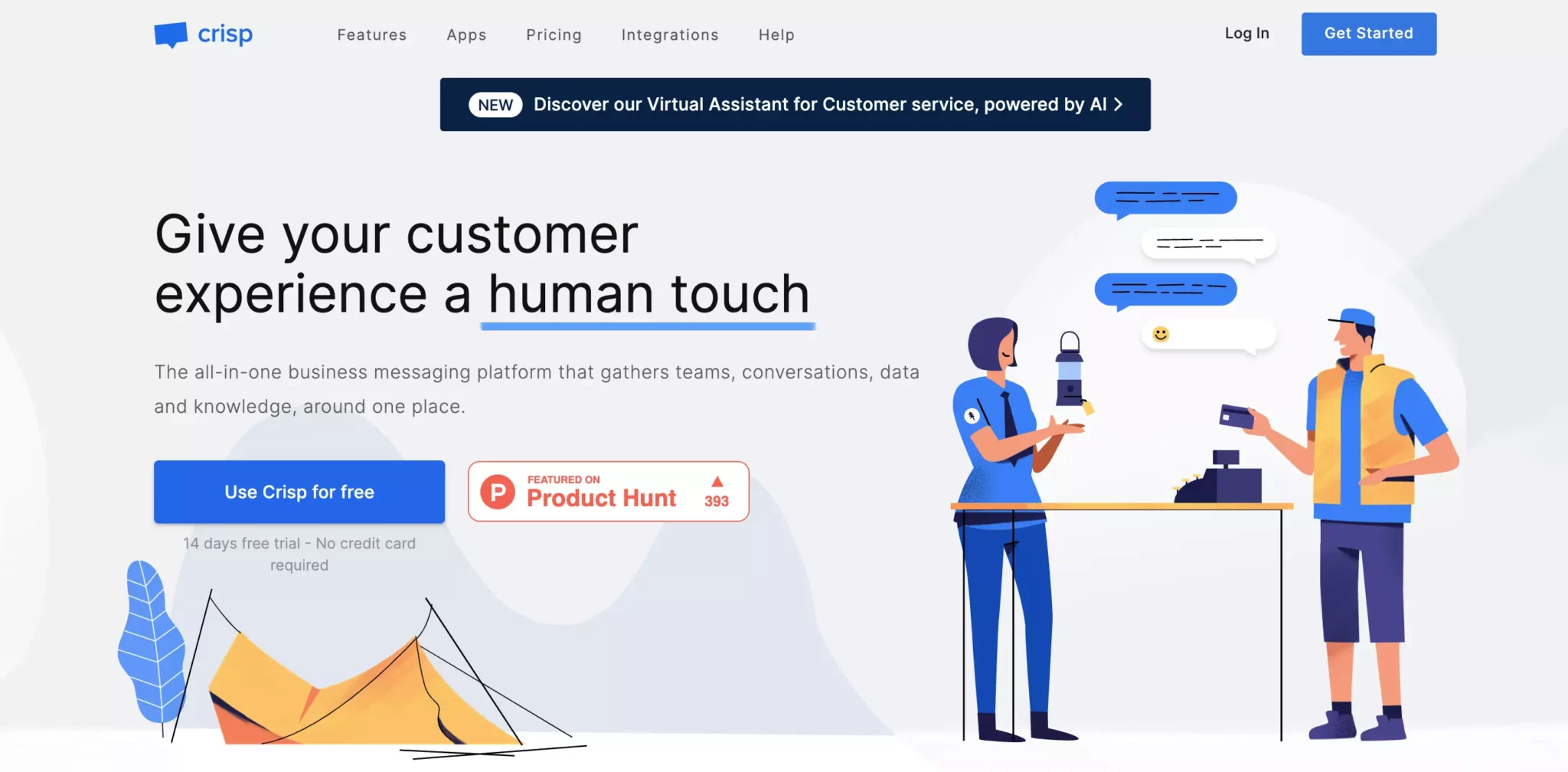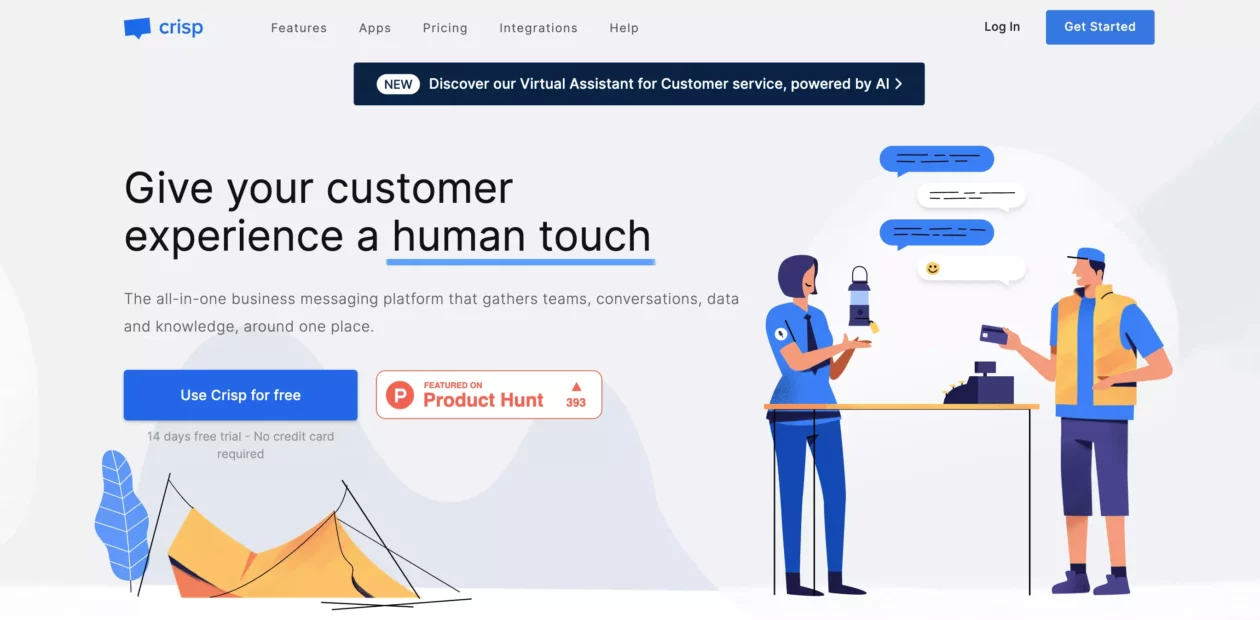 Crisp Live Chat is a versatile and user-friendly plugin for WordPress that offers both live chat and chatbot functionalities. It stands out as an excellent tool for businesses looking to enhance their customer engagement and grow their email list. The plugin is free for up to two agents and includes a suite of features such as real-time notifications, availability scheduling, and dedicated mobile and desktop apps for your team.
Crisp Live Chat also supports integration with multiple channels, including websites, Facebook Messenger, Twitter, WhatsApp, and Telegram, offering a comprehensive messaging solution. Despite its numerous benefits, it's worth noting that there have been some vulnerabilities reported in the past, like cross-site request forgery, emphasizing the need for regular updates and security checks.
One of the key advantages of Crisp is its suitability for startups and early-stage services due to its free plan, making it a cost-effective option for businesses operating on a tight budget. Furthermore, the plugin also offers compatibility with other platforms like Gatsby, extending its usability beyond WordPress.
In conclusion, Crisp Live Chat is a robust and feature-rich plugin for WordPress users seeking to improve their online communication and customer service efforts.
It has a 4.5 rating with 30,000+ active installations.
Key Features –
Live Chat: Engage with your customers in real-time to provide immediate assistance.
Email Integration: Manage all your emails in a shared inbox.
CRM: Keep track of customer interactions and data to improve engagement.
Knowledge Base: Set up a help center for your customers to find answers independently.
Chatbots: Automate responses and help guide your customers even when you're not available.
Co-Browsing: Guide your customers through your website by browsing together in real-time.
Campaigns: Send targeted messages, newsletters, or announcements to your customers.
Multi-channel Customer Support: Manage queries from various platforms like Facebook, Twitter, email, and more from one place.
Integrations: Connect Crisp with your favorite tools and platforms for seamless operations.
Analytics: Get insights on chat performance, customer satisfaction, and more.
Cons – Little pricey for some SMEs.
Pricing: Free to use for 2 seats with limited features. The Pro plan starts at $25 per month. Chatbots are included only in the unlimited plan that costs $95 per month per workspace.
Over To You
If you have customers that often need support for various queries, answers to different questions, or conversations regarding products and services you offer, then live chat functionality is not a leisure but a necessity. Companies have recorded tremendous growth in their business by utilizing live chat plugins on their WordPress websites.
Most of the live chat plugins don't require you to have a WordPress site, but you can utilize them on any Website as you only have to use some code sitewide on your Website. It is pertinent to look at the pricing structure of these plugins as you may have issues in the future when your brand is scaling. If you need specific feature, for example, a chatbot, you must look carefully at whether the software gives you functionality and price satisfaction in that feature(chatbot).
As such, it is highly recommended to check out the free trial of the plugin if you are new. You can try the free trial on your sandbox or a testing website.
I hope you are now able to choose the best live chat plugin for your brand based on your requirements.