Do you stuck at some point with the default functions and want to extend the functionality of the Gutenberg editor? Gutenberg Blocks Plugins might be the answer to this situation in a straightforward way, this is because it enables developers to create custom blocks that can be utilized to add new functionality to the editor or customize the existing blocks.
Even Gutenberg Blocks Plugins allow users to create custom blocks using various different technologies, like HTML, CSS, and JavaScript, and integrate them into the editor seamlessly.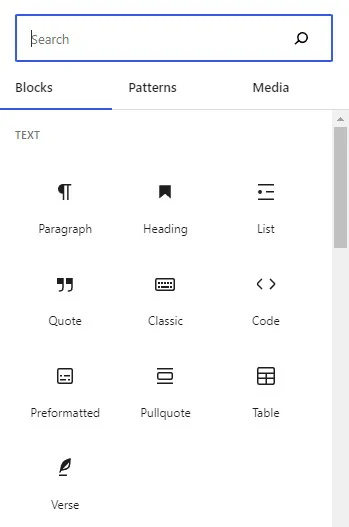 So the core use of Gutenberg Blocks Plugins is to extend the functionality, customize the appearance and behavior of the editor, create custom blocks integration with other WordPress features (such as custom post types, taxonomies, and metadata), and to adding new editor styles or modifying the behavior of the block toolbar.
We are assuming now you developed a decent understanding of the usage of these Gutenberg Blocks Plugins.
Now how will you select one best-suited plugin as per your requirement, you might surf the internet which is flooded with plenty of tools, and waste your precious time while searching, Thats why we wrote this article for you about Best Gutenberg Blocks Plugins based on several parameters we set to evaluate and giving you the essence of each plugin and make this process easier. Moving forward with our list.
List of Best Gutenberg Blocks Plugins in 2023
Greenshift WP


Greenshift WP is an amazing option available in the market. This plugin doesn't use predefined styles, frameworks, script libraries, and icon fonts. At the same time, the plugin has very unique blocks and animation possibilities to surprise your visitors with high-end animations and transitions.
Users who don't have any prior programming knowledge can easily build styles without writing code. GreenShift WP Gutenberg Blocks Plugin provides a user-friendly interface for adding and configuring blocks, and it is highly customizable, allowing users to modify the styles and behavior of each block to fit their requirements. It's recommended for users who want to enhance their content creation experience with the Gutenberg editor.
It has a really good 4.9 rating and more than 10,000+ active installations.
Key features –
Customizable Blocks – CTA Block, Icon Box Block, Image Box Block, etc.
Flexible CSS Grid and Flexible container
Advanced Sliders and carousels
Add simple or advanced shapes to block with a shape divider
3d Flipboxes
Custom sliding panels and popups
Overlay transitions
Cons – Beginners to Gutenberg editor may find it challenging to use this plugin, several reviews state that it has compatibility issues with some of the themes and plugins.
GreenShift is free to use although if you want access to all the advanced features mentioned above you need to purchase premium versions.
Starting price for the premium version is $39 per year.
Spectra


Spectra is simple & Intuitive and is counted among the top-rated block plugins available in the market. Spectra provides users with a set of pre-designed blocks to use with the Gutenberg editor. These blocks include designs for various content elements, such as testimonials, calls to action, team members, pricing tables, and many more functions.
This plugin is compatible with almost every theme as well. In addition, the Spectra Gutenberg Blocks plugin is lightweight and optimized for fast loading speeds, ensuring a smooth user experience. It is recommended for users who want to enhance their website's design with pre-designed content blocks.
It has a 4.7 rating and whopping 400,000+ active installations.
Key features –
28 Creative & Unique Blocks
Flexbox Containers
Clean and Less Code Output
Built-in SEO Features
Custom Tables
Cons – No such downsides but it's a free tool so you can expect extremely advanced features.
The Spectra Gutenberg Blocks plugin is free to use.
PostX


PostX is the Gutenberg Blocks plugin used for creating fully customized Magazines, Review Websites, Personal Blogs, Travel Blogs, Fashion Blogs, Viral News, and many more. Post X plugin adds several features to the default WordPress editor, making it more powerful and user-friendly. This plugin allows you to create custom post types and taxonomies, which can be utilized to organize your content, even Postx is SEO-friendly which can help improve your website's visibility in search engines. We recommend Postx if you're looking to add additional functionality to your WordPress site.
It has 4.7 ratings and 30,000 active installations.
Key features –
Gutenberg Dynamic Site Builder
Category and Tag Filter
100+ Readymade block Designs
QUICK QUERY
38+ Live editable Gutenberg Blocks
Custom CSS Option in Every Block
Dynamic Post Slider with Animation
Cons – the majority of block designs and editable blocks are in the premium version and It has several complex advanced features which might be difficult to understand for beginners.
It has free and premium versions with a starting price of $39 per year.
Kadence Blocks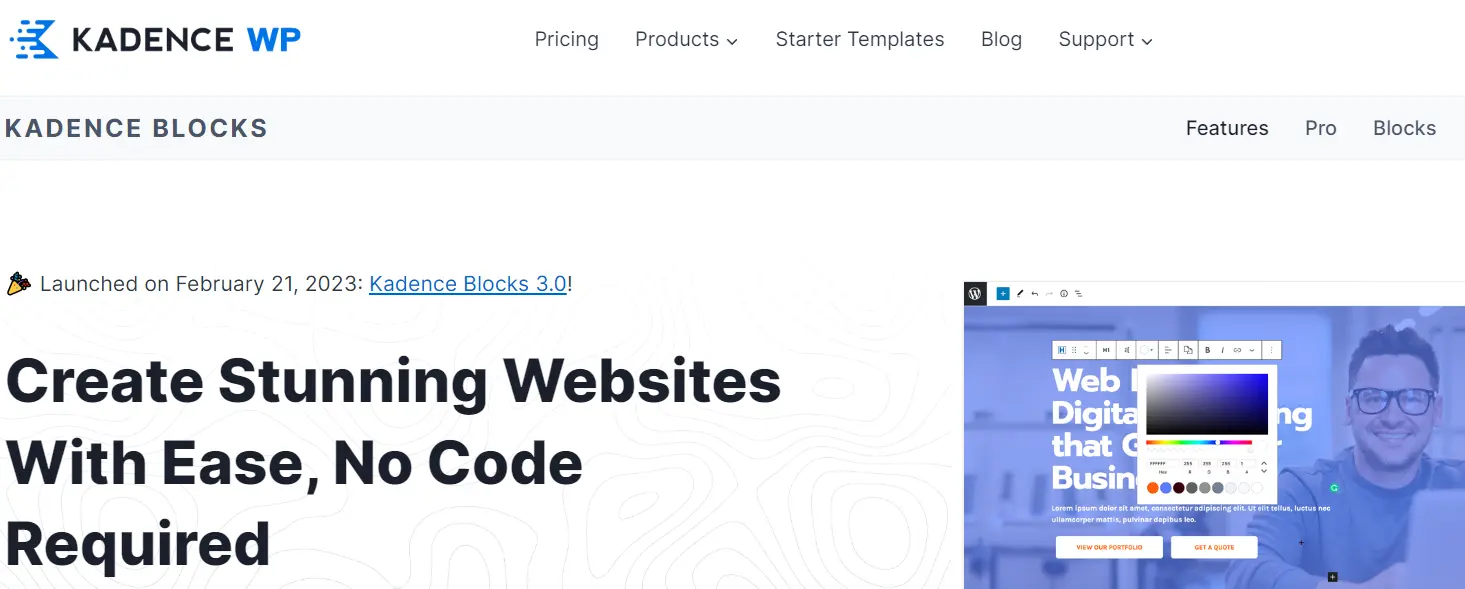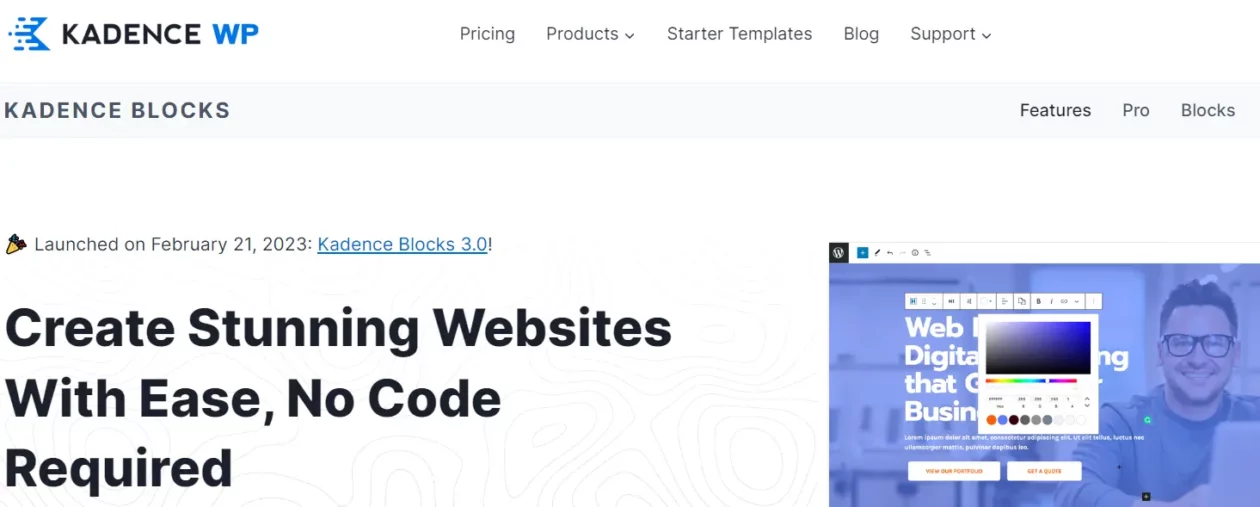 The Kadence Blocks plugin is primarily used to enhance the existing capabilities of the Gutenberg WordPress editor with " no code requirements ". The Kadence Blocks plugin offers a vast collection of pre-designed blocks that can be used to create pages and posts effortlessly.
These blocks include designs for pricing tables, testimonials, calls to action, team members, and many others. The perk of using this is its simplicity and ease of use such as Adding blocks to your website is as simple as dragging and dropping them onto your page or post. Kadence Blocks is designed to work seamlessly with the Gutenberg editor
It has a 4.8-star rating and massive 300,000 active installations.
Key features –
CUSTOM BLOCKS ( Row Layout, Advanced Gallery, Forms, Accordion, Spacer / Divider, Lottie Animation, etc )
Typography Controls
Premium Design Library
custom tracking script
Dynamic Content
Setting Visibility Controls
Cons – The learning curve for beginners and Bit expensive compared to its alternative.
Kadence Blocks is free to use but if you want to access all the features they have a premium essential bundle with starting price of $129 per year.
Qi Blocks For Gutenberg


Qi Blocks is one of the most customizable plugins that provides a collection of blocks for the Gutenberg editor in WordPress. These blocks are designed to help users easily create visually appealing content. The Qi Blocks plugin includes a variety of blocks that can be easily customized with different styling options to match the look and feel of your website. In addition, Qi Blocks is designed to perform seamlessly with other WordPress plugins without compatibility issues and allow you to extend the functionality of your site.
Currently don't have a big user base that why Reviews and ratings might not be accurate. It has 5-star ratings and 10,000 active installations.
Key features –
81 flexible option-rich custom blocks
550+ readymade website layouts
Open-ended customization
Typography, infographics, creative, form style, content, business, WooCommerce, SEO, and showcase blocks
Business custom block
DropCaps
Documentations and support
Cons – No such downsides but If you are using an older version of WordPress, you may need to update your site before using Qi Blocks.
You can use Qi Blocks For Gutenberg free of cost, although they offer a premium version as well with starting price of $49 per year for one site.
FAQs
What is Gutenberg Block?
Gutenberg Blocks are a new way to create content within WordPress. They allow users to easily add, customize and move blocks of content with just a few clicks.
How do I add new blocks in WordPress Editor?
You can add new blocks by clicking on the + symbol located at the top left of the editing screen. This will open up a list of available blocks which you can then select and add to your page or post. Or you can simply type a slash "/" and a few starting letters of your block.
How do I move around existing blocks in Gutenberg?
To move around existing blocks, simply click and drag them into the desired location on your page or post.
Are there any plugins available for further customizing Gutenberg Blocks?
Yes, there are a number of plugins available which offer additional features and customization options for Gutenberg Blocks. Commonly used plugins include Spectra, Greenshift, and Qi Blocks.
Over to you with some Trending block plugins
Coming to the conclusion of this article, Gutenberg block plugins provide an amazing way to uplevel the functionality of your WordPress website. They offer a wide range of customizable blocks that allow you to create stunning designs and layouts with ease, without the need for advanced coding knowledge. With the help of Gutenberg block plugins, Users can create visually appealing pages that are optimized for user experience and search engine visibility.
All the above-mentioned Gutenberg block plugins come with a wide range of features, including pre-designed blocks, a drag-and-drop interface, and seamless integration with Users existing WordPress theme. If you ask Us we will recommend the Greenshift WP premium plugin because this plugin is loaded with tons of necessary features to automate your workflow and enhance productivity. However, Spectra to those who are on a restricted budget and fairly new to WordPress so I advise you to go with Spectra because it's free to use, and once you became familiar then shift to Greenshift.
Overall, Gutenberg block plugins are a valuable addition to any WordPress website, providing an easy and flexible way to create and customize web pages.