Chrome extensions come as a utility in your browser and allow you to do various tasks. These browser extensions are nothing but browser apps from brands that are selling their products and services. Popular online tools have extensions, which make their use more accessible.
There are 1L+ extensions available on the Chrome Web Store. Interestingly, only less than 0.3% of these extensions have more than 1 million users. Categorized in various categories, these extensions ensure that you can utilize the services without leaving your current page or tab. As a result, you achieve a much better experience and outcome.
If you are the one using WordPress, there are many extensions that can help you do your job at a much faster rate. So, keep reading, and we're going to talk about these chrome extensions.
Best Chrome Extensions for WordPress Users in 2023
Grammarly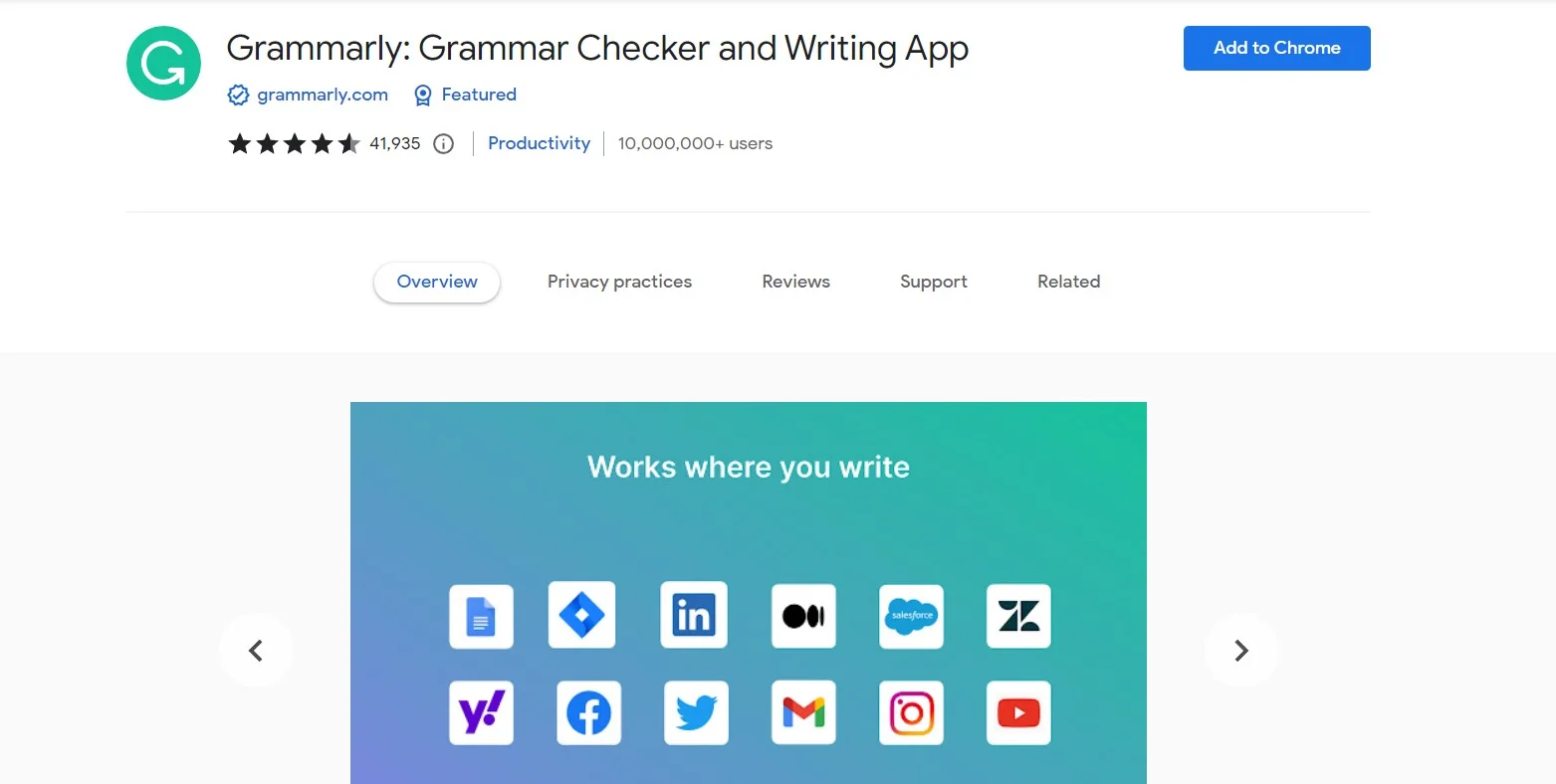 Grammarly is one of the best Chrome extensions for WordPress users who are looking to publish error-free content. This popular tool helps you eliminate grammar and spelling mistakes from your writing while improving the tone and clarity of your text.
With its premium version, you can enjoy additional features like plagiarism detection and advanced writing suggestions. By using Grammarly on your WordPress website, you can enhance the user experience and save valuable time in the process.
Scan WP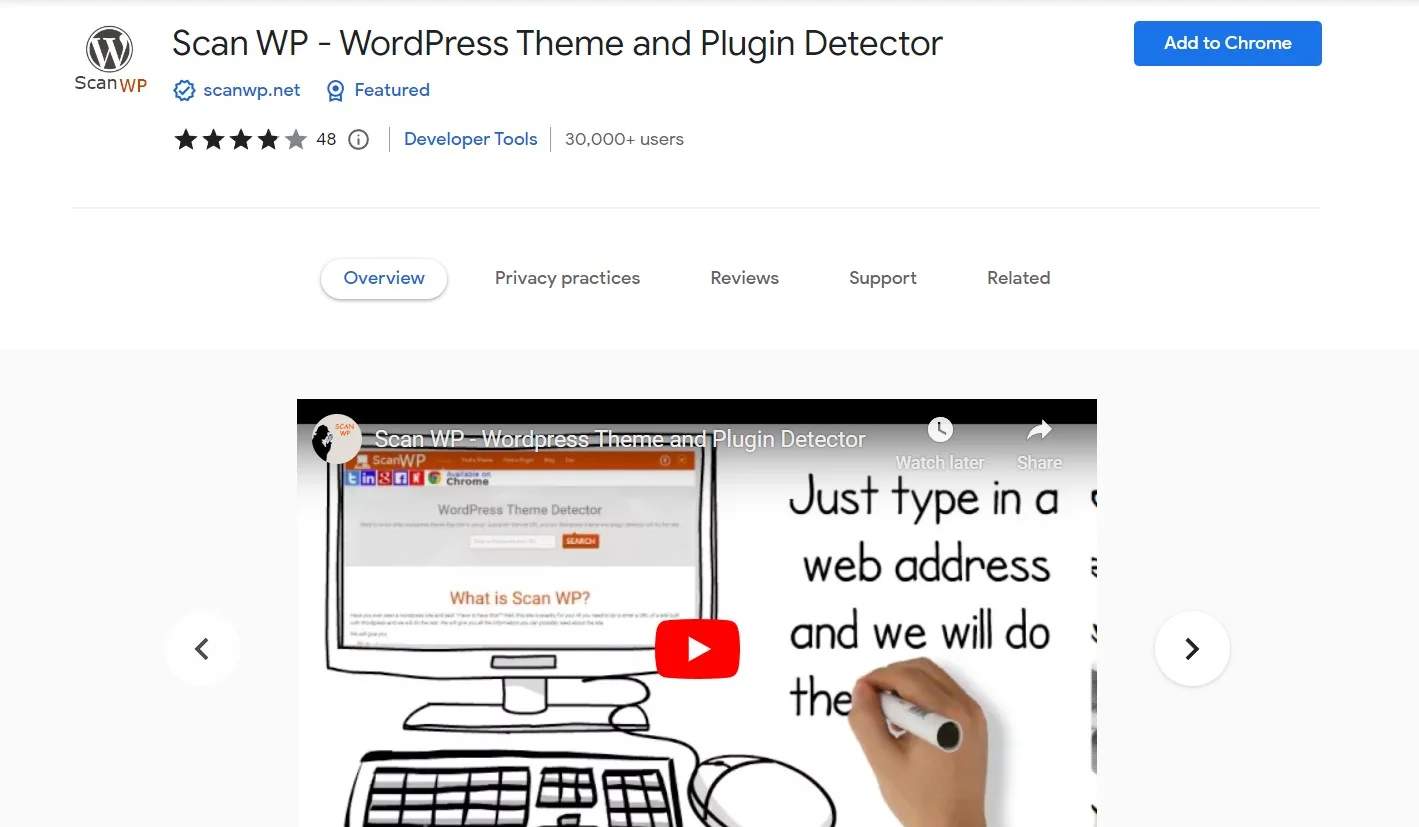 Scan WP is a powerful Chrome extension that lets you identify the themes and plugins used by WordPress websites. So, next time you are surprised by any WordPress site online, you can navigate to Scan WP and see what plugins and themes they are using. Scan WP tells you the theme name, hosting provider, price of theme, other sites that use that theme, and what not.
Scan WP has integration with SEMrush, and thus also tells you SEMrush Rank, Organic Keywords, Organic traffic, and much more.
WhatFont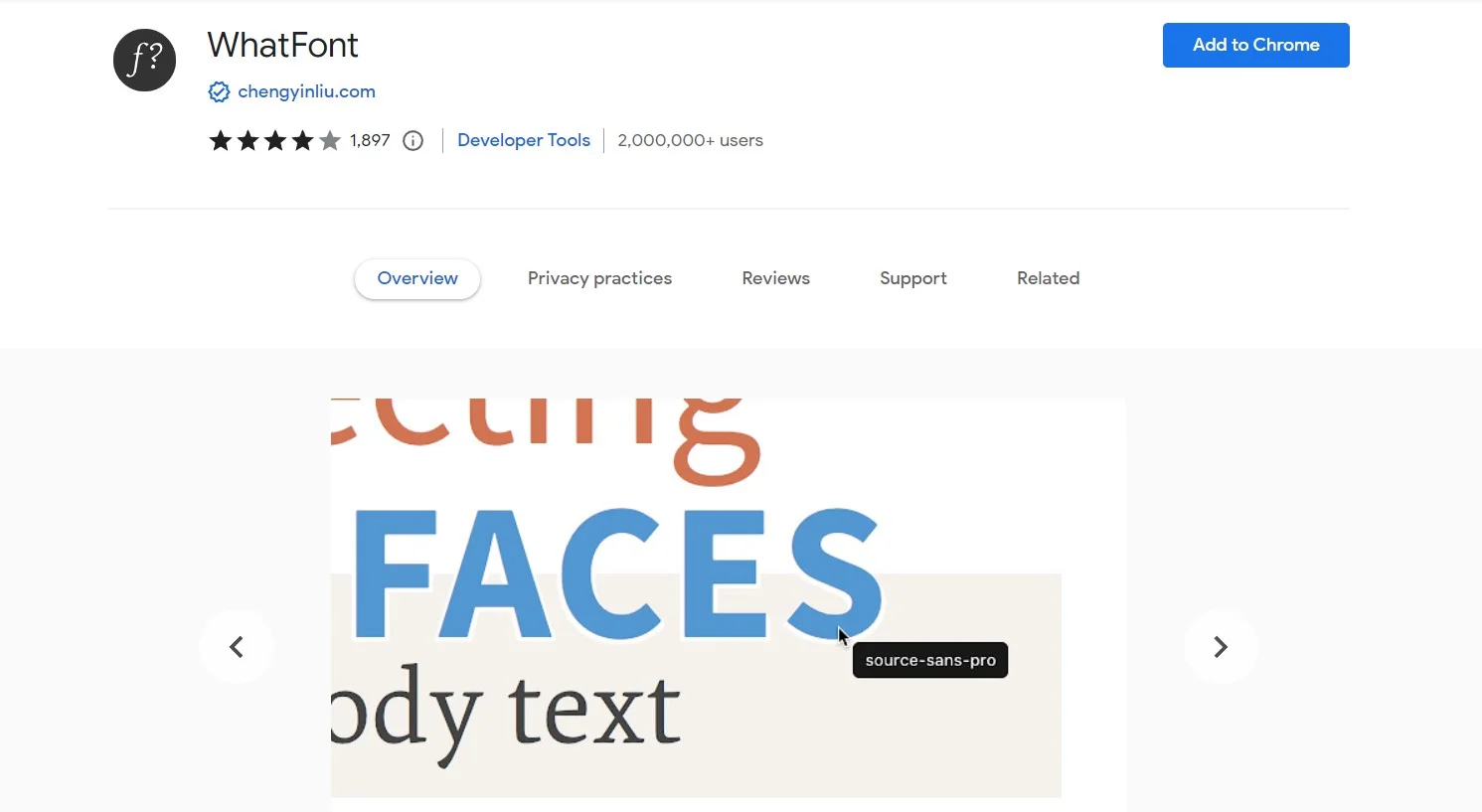 WhatFont is a useful extension for detecting the font on any website that you browse. This browser add-on offers an effortless way for users to identify font styles, sizes, and colors on any webpage. Designed with WordPress users in mind, it can be a potential tool for optimizing the user experience by selecting the right font for your site's theme. Just one click of a button on this Chrome extension or Firefox add-on, and you are ready to incorporate new fonts into your web pages or blog posts with ease.
WordPress Admin Bar Control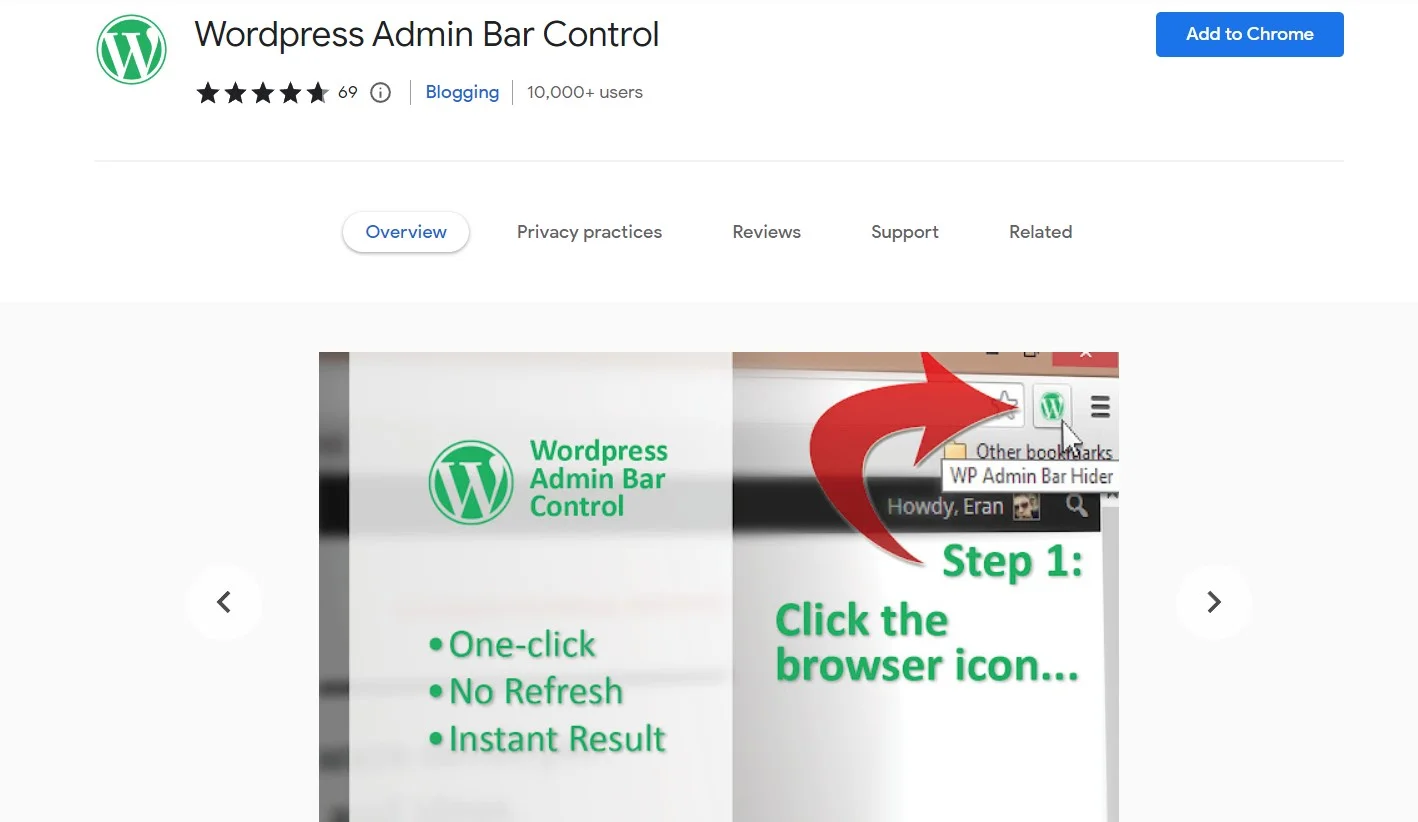 WordPress Admin Bar Control is a must-have chrome extension for any WordPress site manager. This extension offers an easy way to show or hide the admin bar. It does not take any time to set up this extension. You can simply install and start using this extension. It also works on all your WordPress based websites. With over 10,000 installs, this extension gives you an easy way to show or hide the admin bar when you are focusing on an important part of your website.
ColorZilla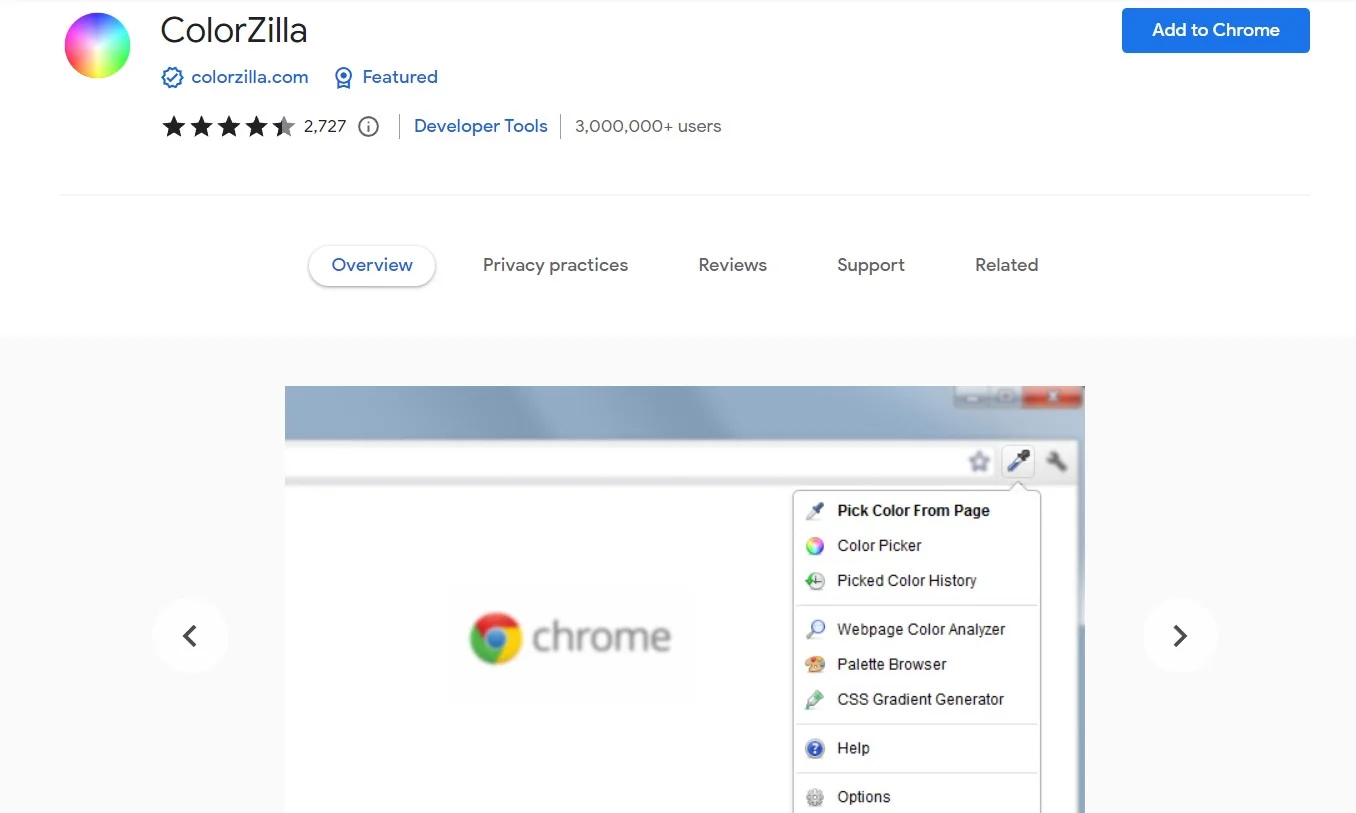 ColorZilla is a must-have Google Chrome extension for graphic designers that allows you to quickly copy the color of any webpage. It is a utility for graphic and web designers who want to play with color combinations.
As a designer, you may often need to identify the color, get its hex code, and whatnot. Colorzilla gives you color picker functionality to identify the colors. Apart from the color picker, Colorzilla also allows you to generate CSS gradients, Analyze webpage colors, view color palettes, and more.
WordPress designers often need tools like this to design the UI and UX.
InstaWP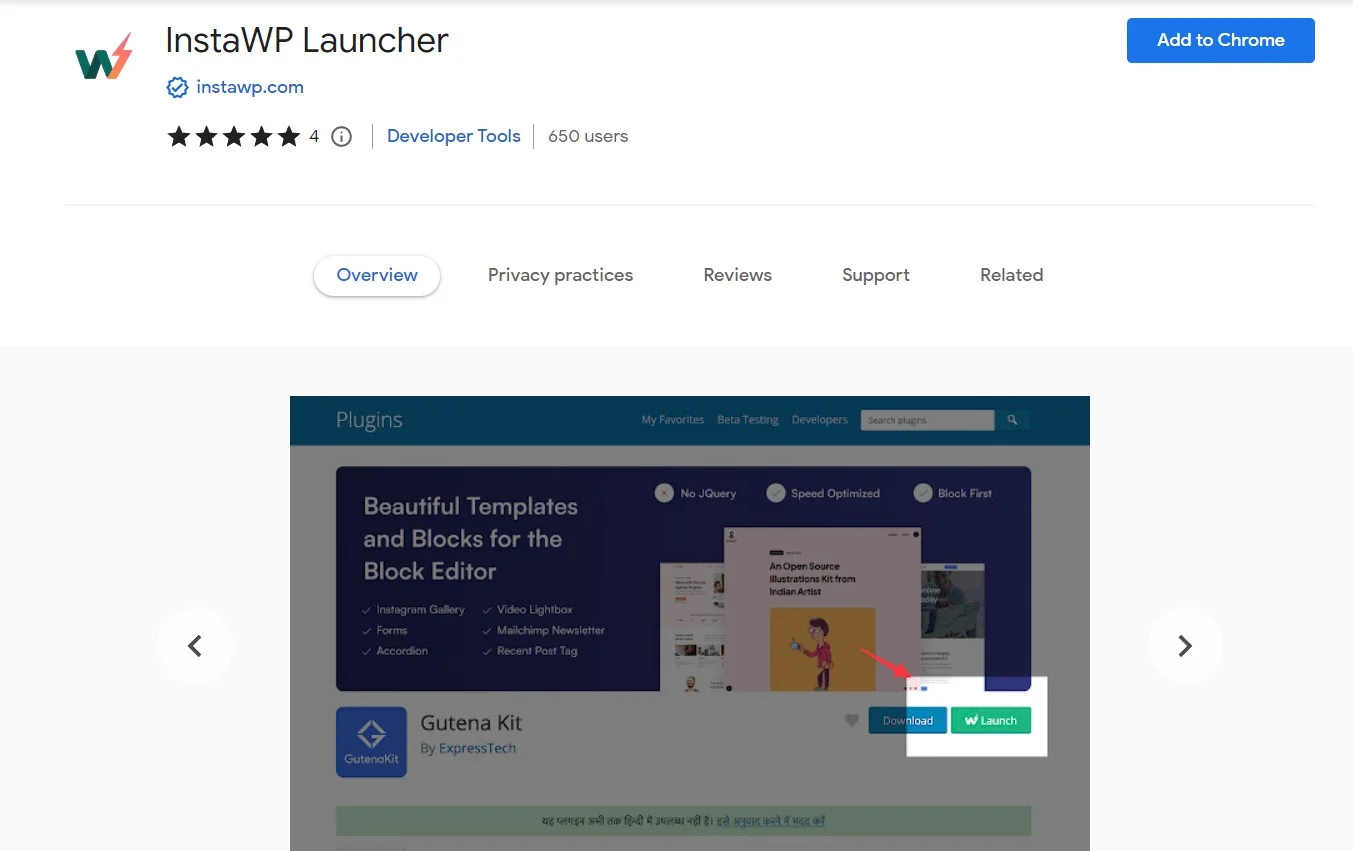 InstaWP is a sandbox tool used by professionals to quickly create WordPress instances. InstaWP enables you to easily build new sites that you can use to construct a site, test updates, and more without the requirement for web hosting.
InstaWP can quickly set up a brand-new testing environment. You may design unique beginning configurations to pre-install PHP code, themes, and plugins. Additionally, Git integration with InstaWP makes deployments simple. With so many features being introduced in InstaWP, it is a complete toolkit for WordPress. However, its extension is just for launching WordPress website with any plugin or theme that is available on WordPress repository.
Surfer SEO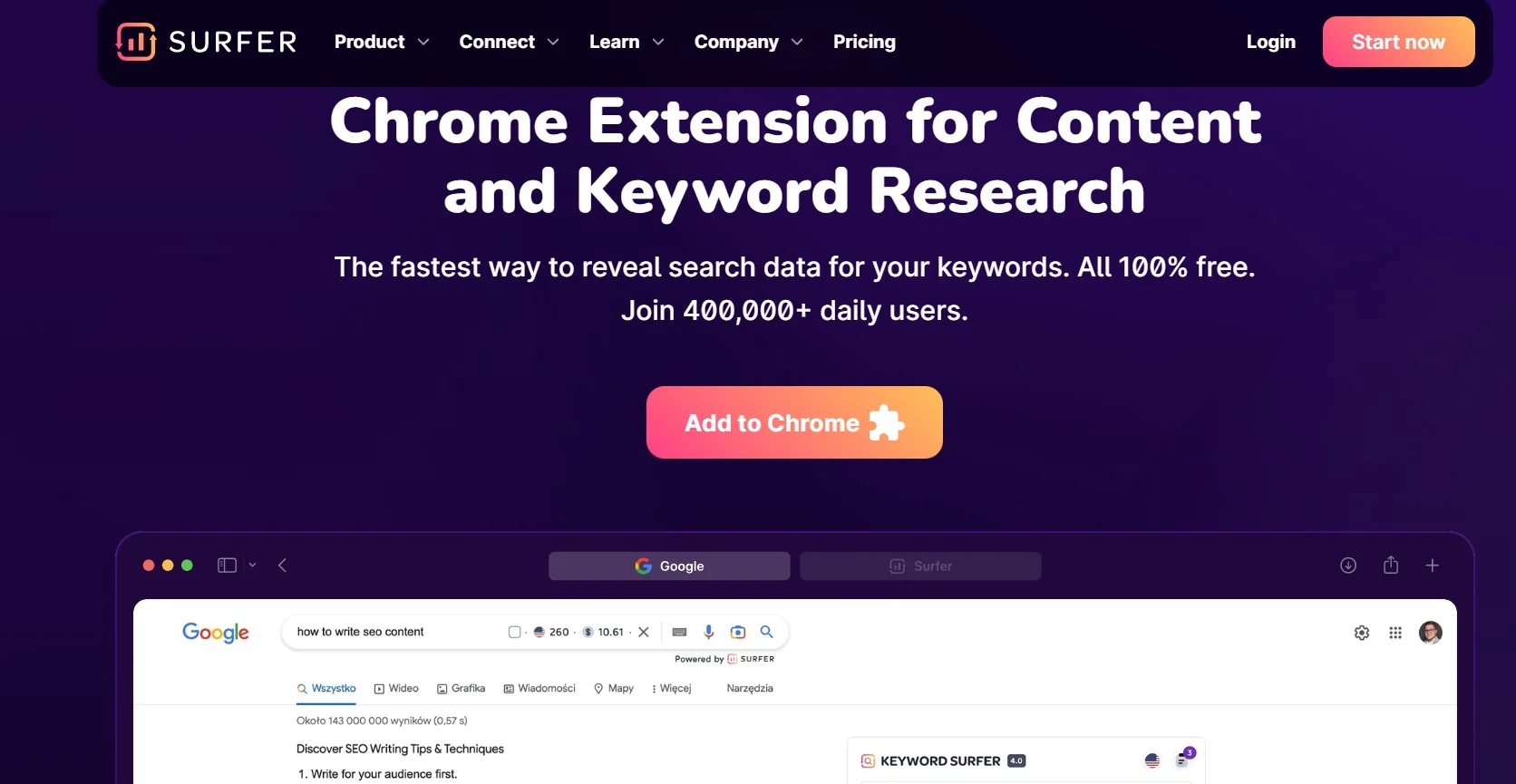 Surfer SEO is a powerful content optimization tool designed to help website owners and digital marketers improve their content quality and organic search rankings. It provides comprehensive analysis and optimization features to enhance the quality of content and increase visibility on Search Engine Result Pages (SERPs). It works by analyzing top-ranking pages for specific keywords and providing insights on how to optimize your content to match or surpass their performance.
Jasper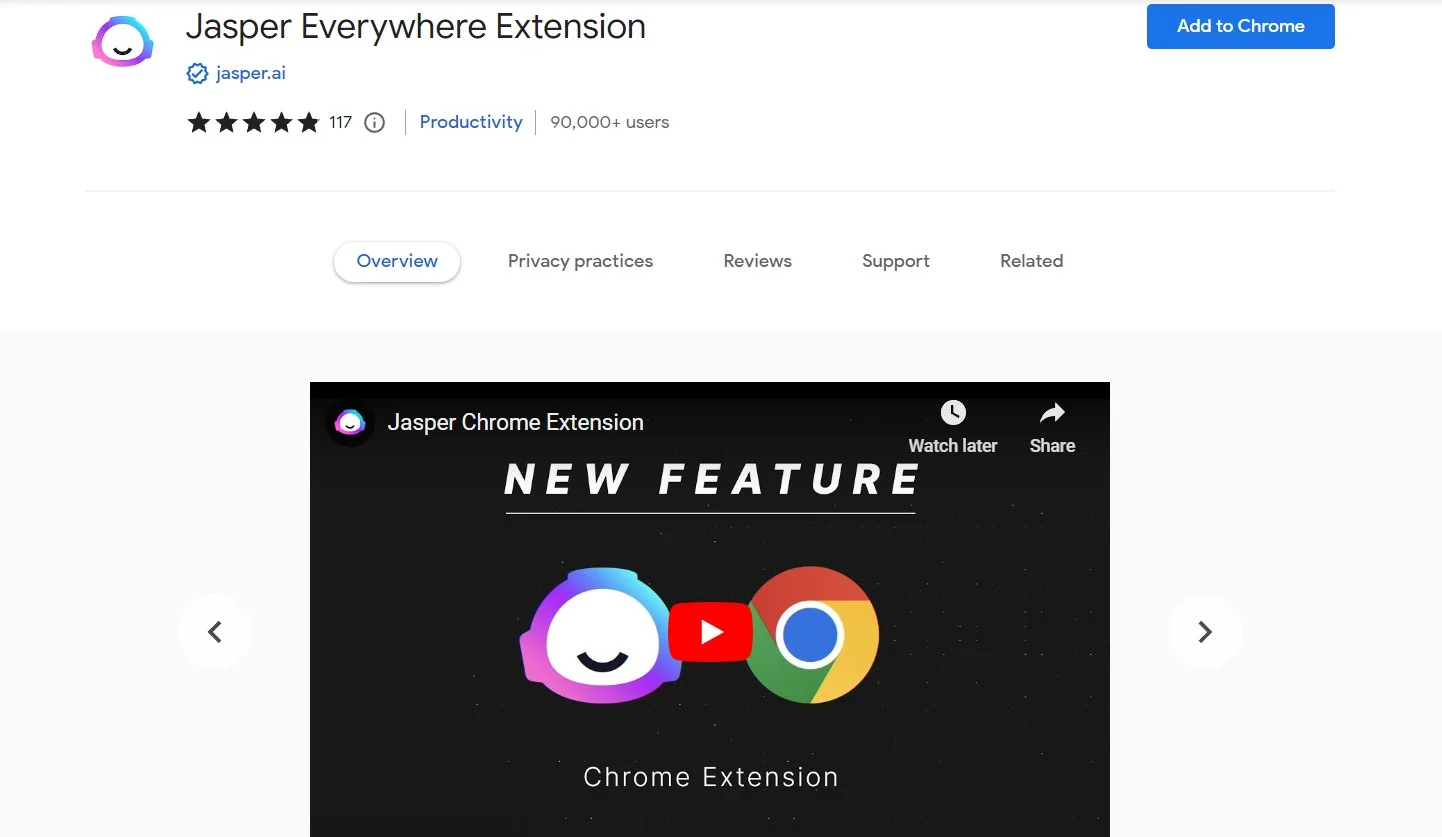 Jasper is an advanced content writing assistant that uses ChatGPT to help bloggers, students, digital marketers, and entrepreneurs quickly write social media copies, product descriptions, blog content, and much more.
Jasper also has Jasper Chat, which works similarly to ChatGPT and gives satisfactory output. The Jasper Chrome extension allows you to rephrase your content, simplify the text, expand the text, change the tone of the text, and much more.
NordPass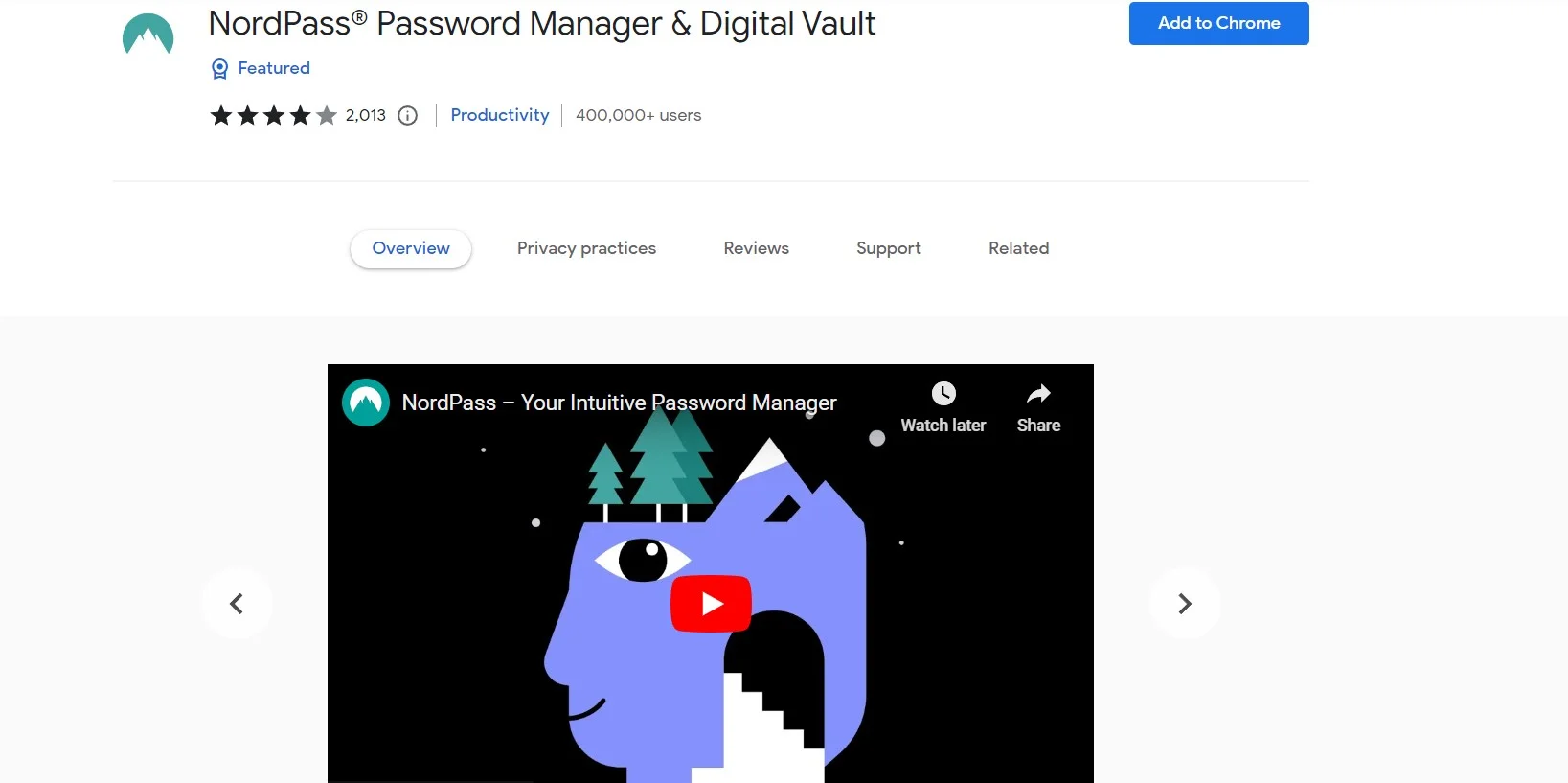 NordPass is a password management service designed to help users securely store and organize their passwords. Popular VPN provider NordVPN is the one who created it.
It aims to simplify password management by providing users with a secure vault where they can store their passwords, secure notes, personal information, passkeys, and other sensitive information. The service utilizes strong encryption algorithms to protect user data, ensuring that passwords are stored in a highly secure manner.
MozBar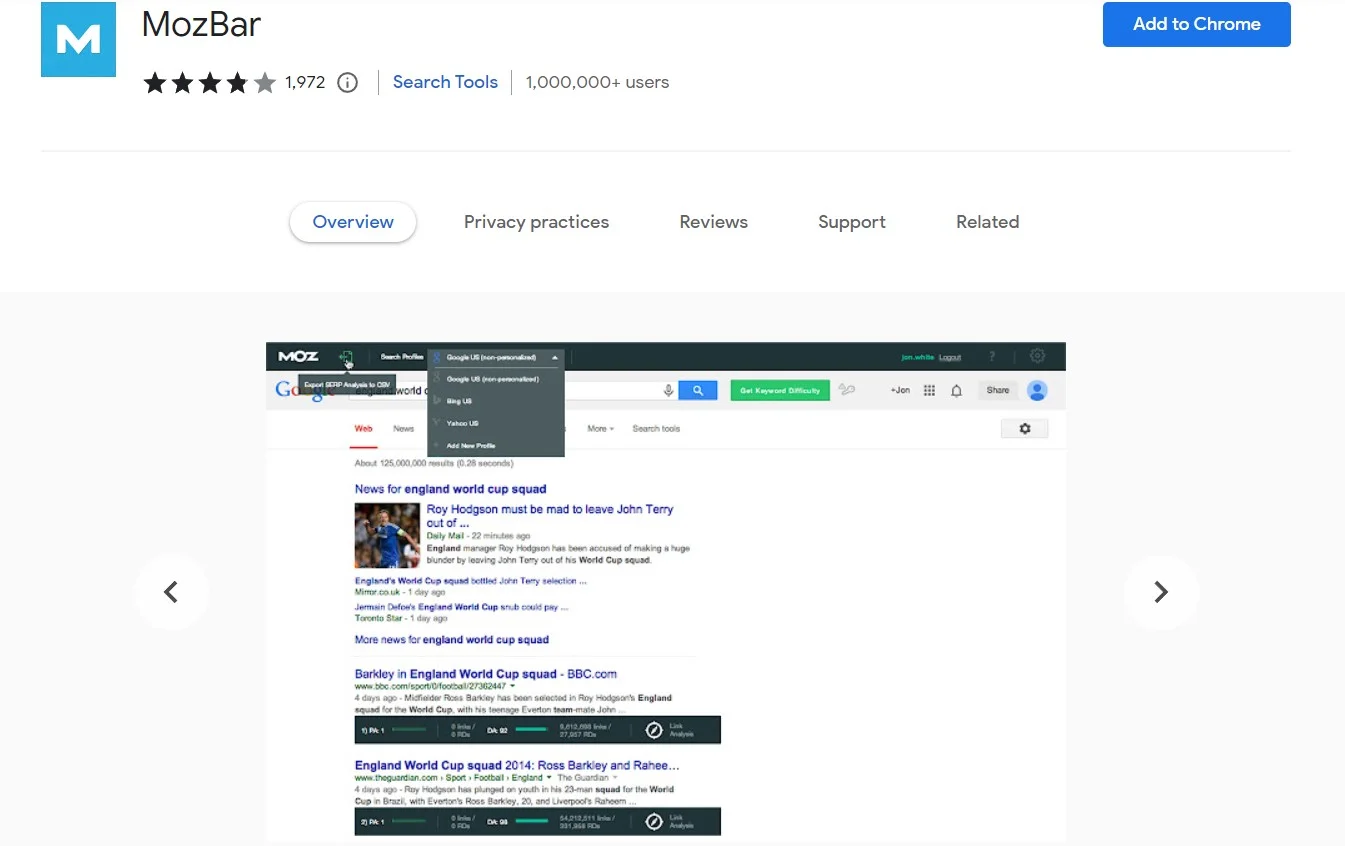 MozBar is an essential tool for WordPress users who want to improve their site's search engine optimization (SEO). It provides valuable insights into key SEO metrics such as domain authority, page authority, and keyword difficulty. With the MozBar Chrome extension, you can easily analyze your competitors' websites, perform keyword research, and optimize your content for better search engine rankings.
FAQs:
What are Chrome extensions🧑‍💼?
Chrome extensions are small software programs that enhance the functionality of the Google Chrome web browser. They can add new features, modify existing ones, or provide additional tools and services.
Why should WordPress users use Chrome extensions🤷‍♂️?
Chrome extensions can be extremely useful for WordPress users as they offer convenient tools and functionalities that can enhance the WordPress experience😎. These extensions can help with tasks like content creation, SEO optimization, website management, and more.
How can I install Chrome extensions👀?
Installing Chrome extensions is easy-
👉Open the Google Chrome web browser.
👉Go to the Chrome Web Store (chrome.google.com/webstore).
👉Search for the desired extension using the search bar.
👉Click on the extension you want to install.
👉On the extension's page, click the "Add to Chrome" button.
👉A confirmation dialog will appear. Click "Add extension" to proceed.
👉The extension will be added to Chrome, and its icon may appear in the toolbar or extension area.
Can I use Chrome extensions on other browsers 🤔?
Chrome extensions are designed specifically for Google Chrome. However, some browsers, such as Opera and Microsoft Edge, have compatibility with Chrome extensions👍.
Are Chrome extensions safe to use🤷‍♂️?
While the vast majority of Chrome extensions are safe, it's important to exercise caution when installing them. Stick to reputable sources like the Chrome Web Store and read reviews before installing any extension. Be wary of extensions that request excessive permissions or seem suspicious. Regularly update your extensions and remove any you no longer use to minimize potential security risks.
Can I suggest more Chrome extensions for WordPress users🙋‍♂️?
Absolutely! The list of Chrome extensions for WordPress users is extensive, and new extensions are constantly being developed. Feel free to explore the Chrome Web Store and discover other helpful extensions based on your specific needs.
Which Chrome extension is best for SEO🙋‍♂️?
One of the best Chrome extensions for SEO is MozBar. This extension provides a comprehensive view of important SEO metrics such as domain authority, page authority, and backlinks. It also provides keyword research tools and analysis of on-page elements like title tags, meta descriptions, and headings. Other great options include Ahrefs SEO Toolbar and SEMrush. These tools can help optimize your website for search engines and increase its visibility in search results.
What are the best most useful must-have Google Chrome extensions🤷‍♂️?
There is a plethora of Chrome extensions available that can enhance your browsing experience. Some of the most useful and must-have Google Chrome extensions include Grammarly for error-free writing and NordPass password manager for safe storage of passwords. These extensions can make your online activities more secure, efficient, and enjoyable.
What are the Chrome Extensions for loading websites based on a tag or keyword?
One of the best Chrome extensions for loading sites based on keywords or tags is Tag Assistant by Google. It allows you to easily track the tags and code snippets that are installed on your website, ensuring they're working correctly.
Another option is SimilarWeb, which provides insights into how other websites are using keywords and tags to improve their search rankings.
By using these extensions, you can optimize your own website's use of keywords and tags for better visibility in search results.
What are the benefits of using these Chrome extensions for WordPress users👁‍🗨?
Using these Chrome extensions can provide numerous benefits for WordPress users😌.
👉Firstly, keyword research and on-page analysis tools like Ahrefs SEO Toolbar and SEMrush can help optimize your website for search engines, enhancing its visibility in search results.
👉Secondly, the Grammarly extension can ensure that your writing is error-free, enhancing the quality of your content.
👉Thirdly, NordPass can help you store passwords safely, keeping your sensitive information secure while browsing online.
How do you choose a good Chrome extension for WordPress Productivity?
When choosing a Chrome extension for WordPress users, it's important to consider its features and how they can benefit your website. Look for extensions that can help with search engine optimization, content creation, website security, and productivity. Read reviews from other users to gauge their experience with the extension and ensure its reliability.
Also, check for compatibility with your WordPress site and any other existing extensions you may have installed. It's always recommended to test the extension before fully implementing it on your website.
What are some of the drawbacks of using Chrome extensions🙆‍♀️?
While Chrome extensions can provide many benefits, there are certain drawbacks to be aware of as well. Some extensions may slow down your browser and affect its performance, while others may collect and share your data without your knowledge. In addition, some extensions may not be fully compatible with your browser or could even contain malware or other security risks. To avoid these issues, it's important to only download and install extensions from trusted sources and to regularly review and manage the ones you have installed.
Over to you
Chrome extensions can make your life easier as a WordPress user. Whether it's for content creation, website security, or website optimization, there are many free and premium Chrome extensions available that can make your job easier.
Mentioned above are just a few of the best Chrome extensions available for WordPress users. These extensions can help you save time and improve productivity while ensuring that your website is secure, fast, and easy to use👏.
Whether you're a content creator, web designer, or SEO enthusiast, these extensions can significantly improve your WordPress experience by enhancing productivity, providing valuable insights, and simplifying routine tasks.
By leveraging the power of these extensions, you can streamline your workflow, optimize your site, and create a more engaging and efficient WordPress website✨.