Whenever you have a business idea, you may be confident in your business concept, but when it comes to giving your starting company a name, you get perplexed. Unfortunately, as of today, there is very little availability of unique names. And to find a suitable name you seek other people's advice, conduct research, or think long and hard about a wonderful name. As such, it becomes very time-consuming to find a unique name that is easy to remember, type and use.
When you finally decide on a name after all of this, and you go to register those names your fantasy is dashed when you discover that most of these names are not available as domains or they are premium domains.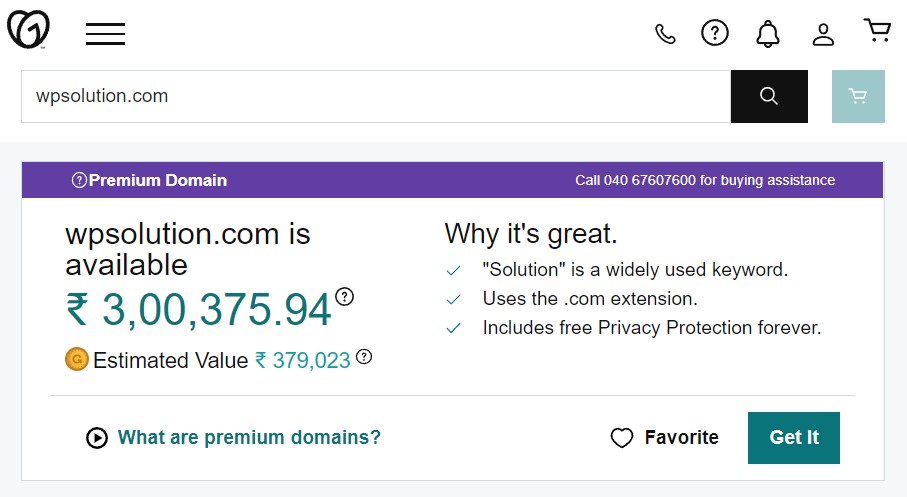 As a result, we must employ various strategies to change the characters in the domain name, such as employing "-" double letters or other peculiar things.
But what if I told you that coming up with original domain names or company names might really be a lot simpler? Yep, you heard correctly. There are tools that can aid with startup name generation or discovery. You would not have found those wacky programs if you hadn't typed "Brand Name Generator" or "Domain Name Generator" or "Business Name Generator" into the search engine.
Hence, in order to assist you find original, unique, unused, and catchy names more quickly, we've included some of the top brand name-generator tools in this post.
Best Brand Name Generator Tools in 2023
Shopify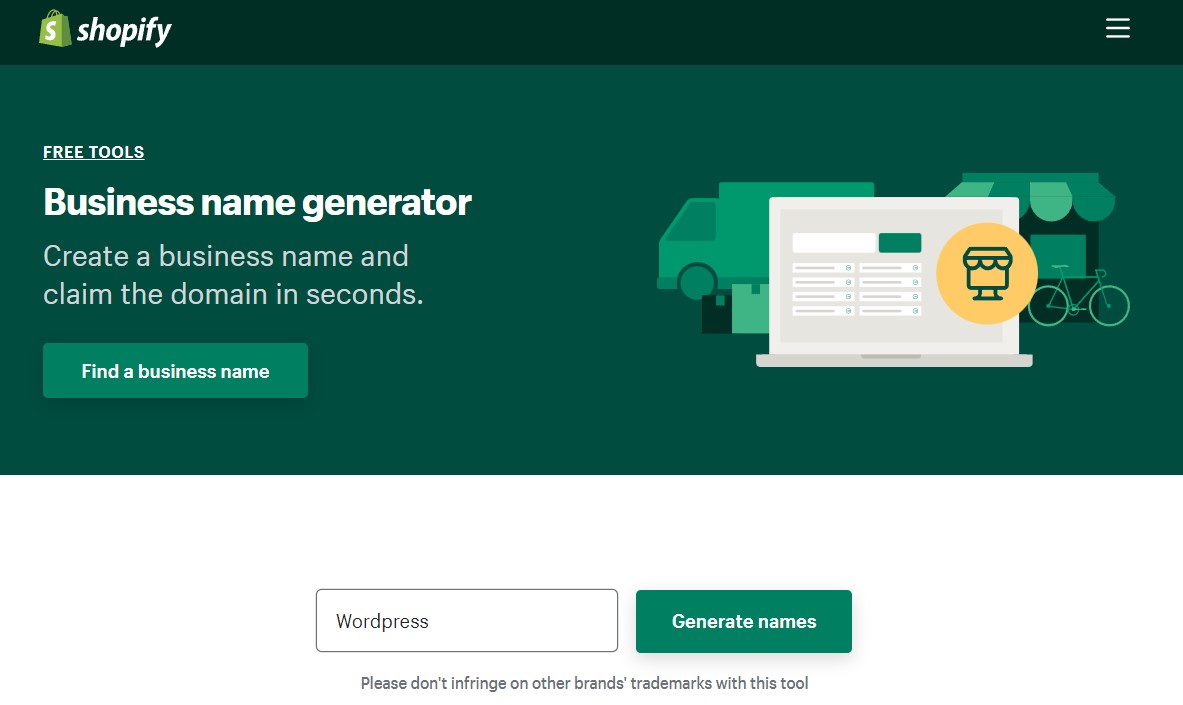 Shopify is an e-Commerce platform that allows you to sell things online. It also allows you to come up with names for your future dream business. You can simply discover a business or domain name using its sleek and powerful layout. This Shopify functionality has no restrictions. Most of these platforms create this type of feature to help their new clients, thus they keep it as a customer acquisition tool that is completely free to use for any user.
Overall, it has the potential to be the finest company name generator. Shopify free naming brand generator allows you to not only name your brand but also secure a domain name, allowing you to launch your business seamlessly in only a few clicks.
Zyro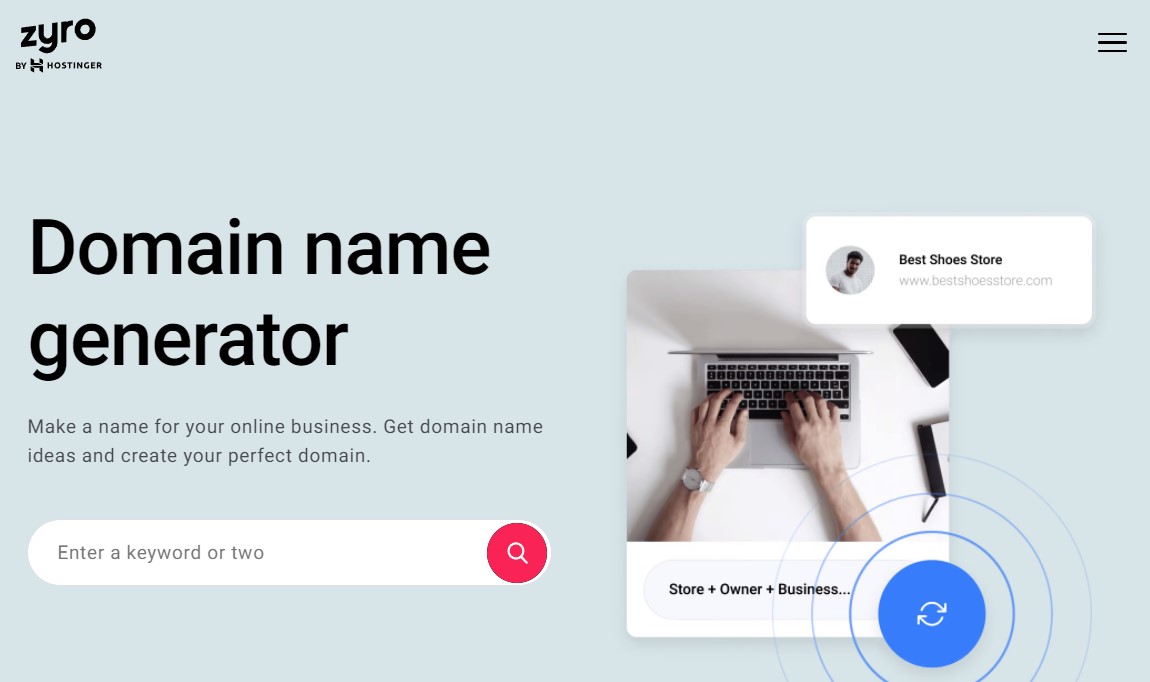 Zyro is a Website Builder application that allows you to build personal, beginner, and e-Commerce websites. Zyro also provides domain name generation. You do not need to log in to utilize Zyro's free service.
It uses artificial intelligence to give you quick name suggestions for your company. Zyro is also incredibly easy to use; all you have to do is enter the name of your company, and it will start coming up with fantastic domain names for you while also checking the availability of the domain.
You only need to select the name you want from all of Zyro's suggested choices, register your domain, and immediately link it to your website.
Namelix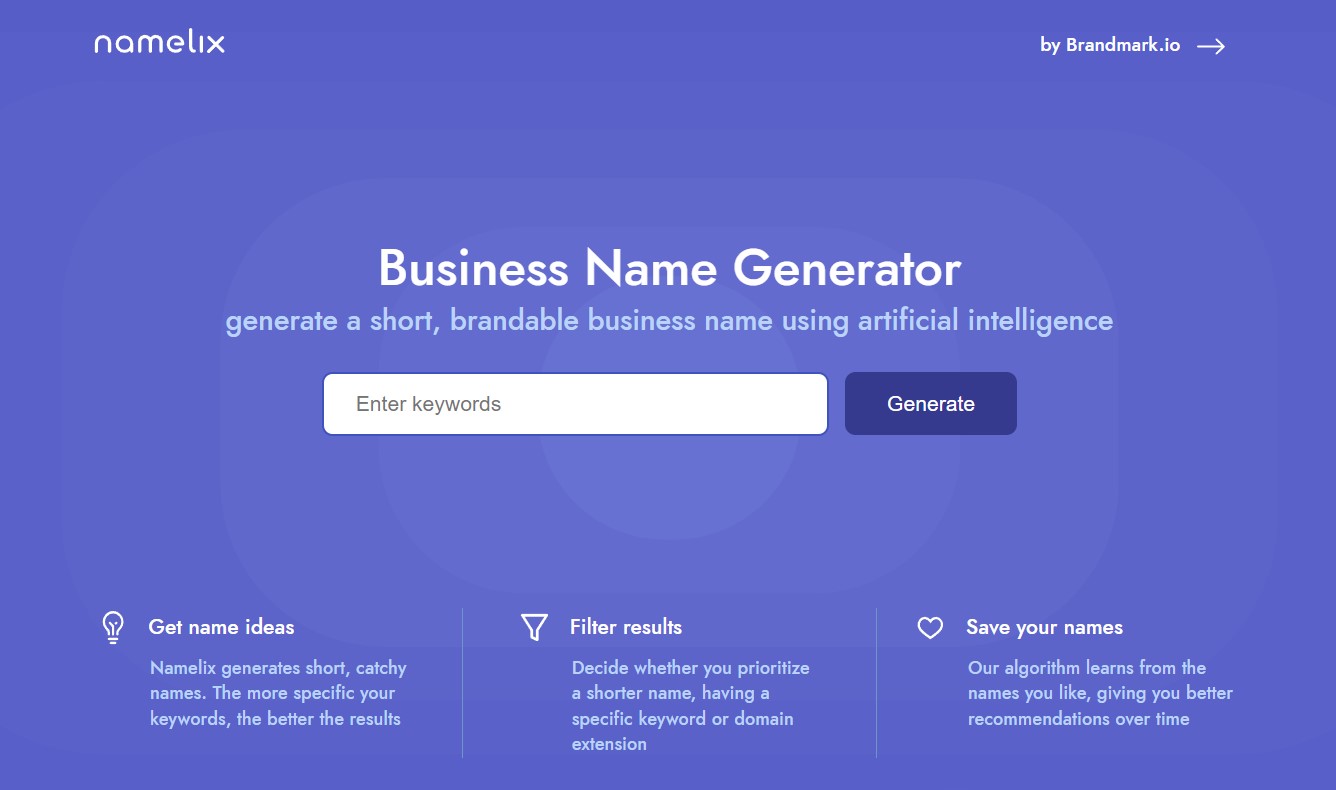 With the use of Namelix, an AI-based brand name-generating tool, you can quickly and easily come up with memorable company names. Simply insert the phrase that best describes your company concept, or the keyword, choose the name type, and you'll start receiving intriguing business name choices and brandable logos. This tool is free to use and really easy to operate. Nemelix's use of artificial intelligence provides a large number of names for you to consider. And once you've chosen the name that best describes your company, the program will start offering.
Looka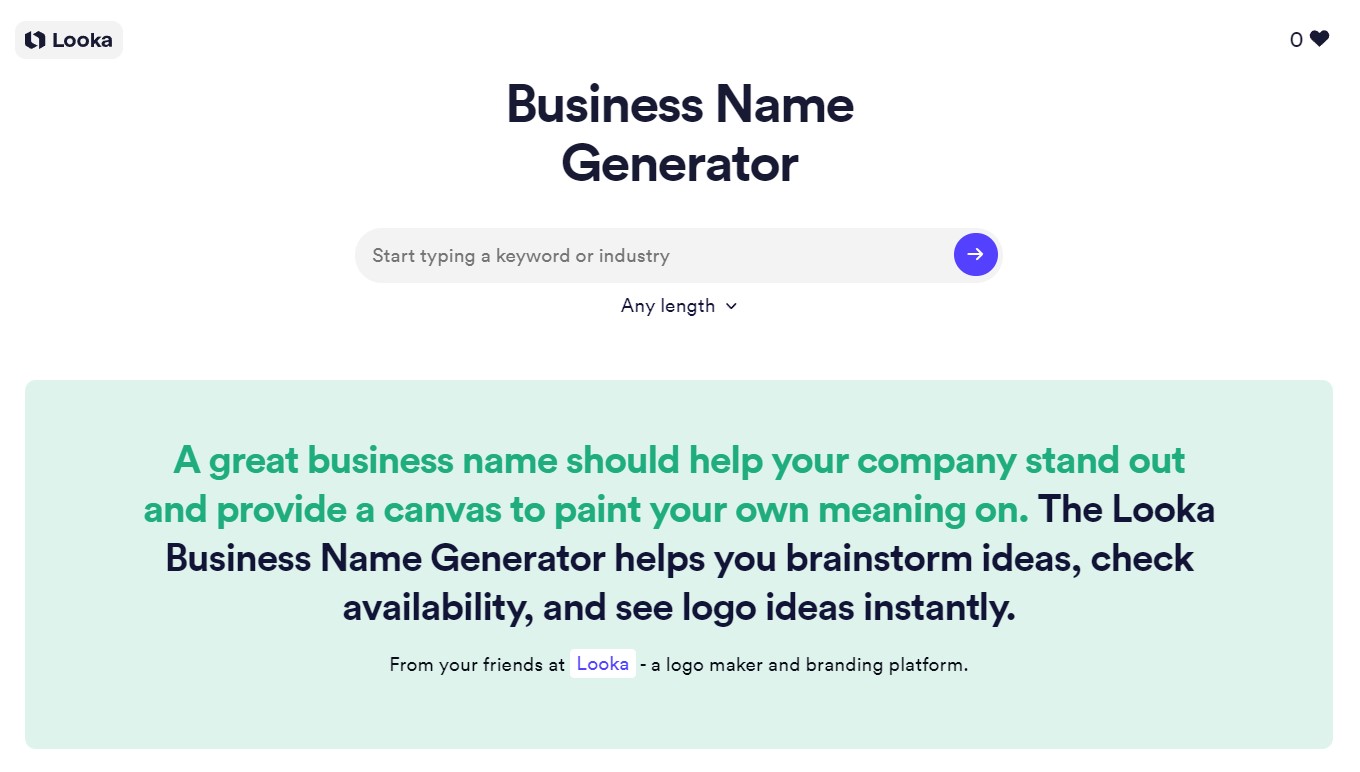 You may create the brand you want with Looka. It gives you suggestions for catchy and distinctive business names. The name it produces has the potential to capture the attention of everyone who learns about it. It is one of the most feature-rich and comprehensive company name generators available, capable of making your fantasies a reality.
Begin working with Looka by putting the words that best describe your brand into the search area and specifying the character limit. The program will then offer three category results- Compound name, invented name, and multiword names. When you click on one of these results, a pop-up will emerge displaying its social media availability, pronunciation, and domain availability with various extensions.
Wix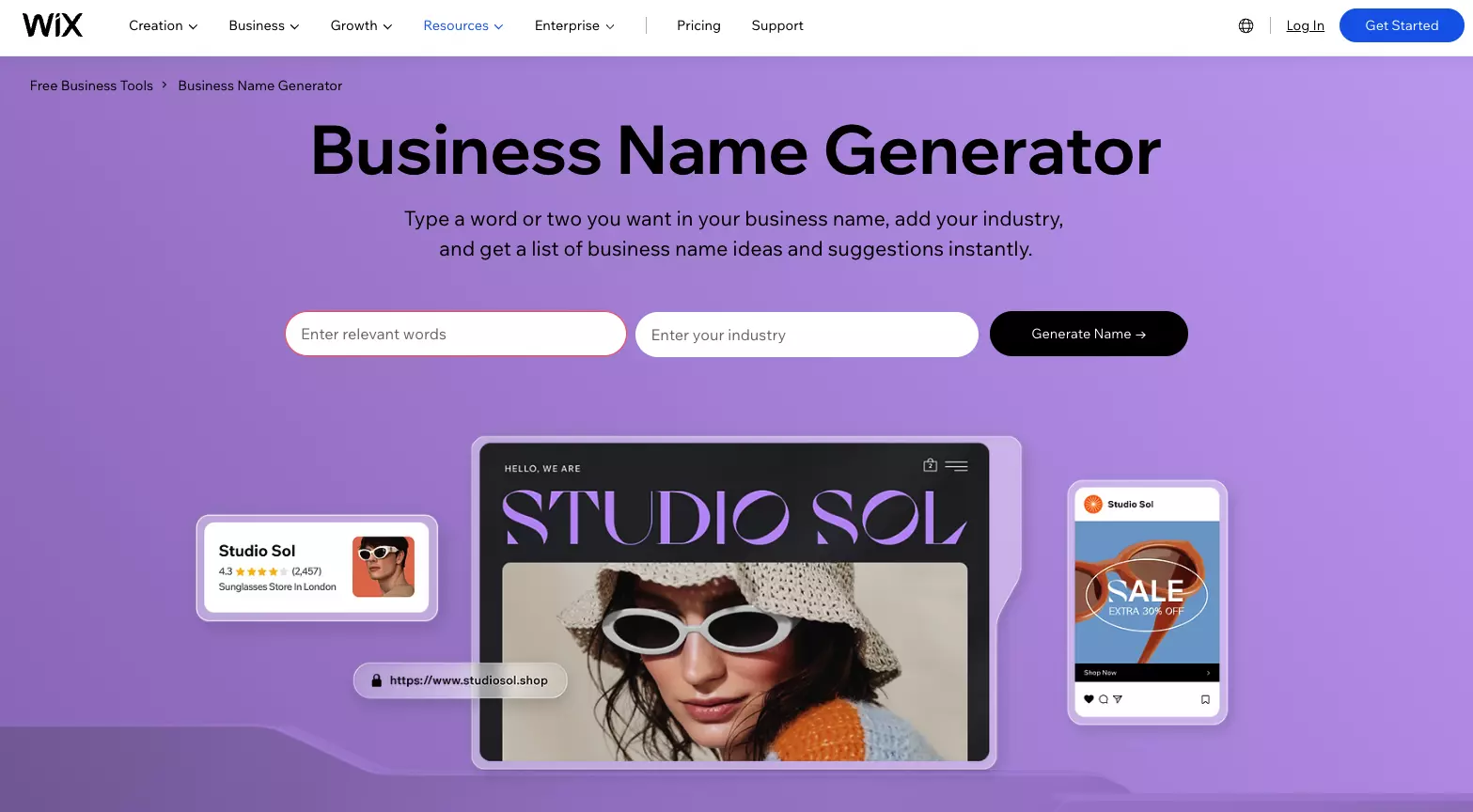 Wix is a famous website builder as well as a free business name generator. The program includes a world-class company name generator that develops great names for your business ideas. It is also incredibly easy to use. All you have to do is input a few phrases that you want to be a part of your business name, and it will use these words to generate some very outstanding ideas for you.
Aside from generating name recommendations based on keywords, you can also get industry-specific name choices by putting the name of the industry into the tool. Aside from that, you may categorize the names you like using its 100+ options and narrow down to the top three best names.
NameSnack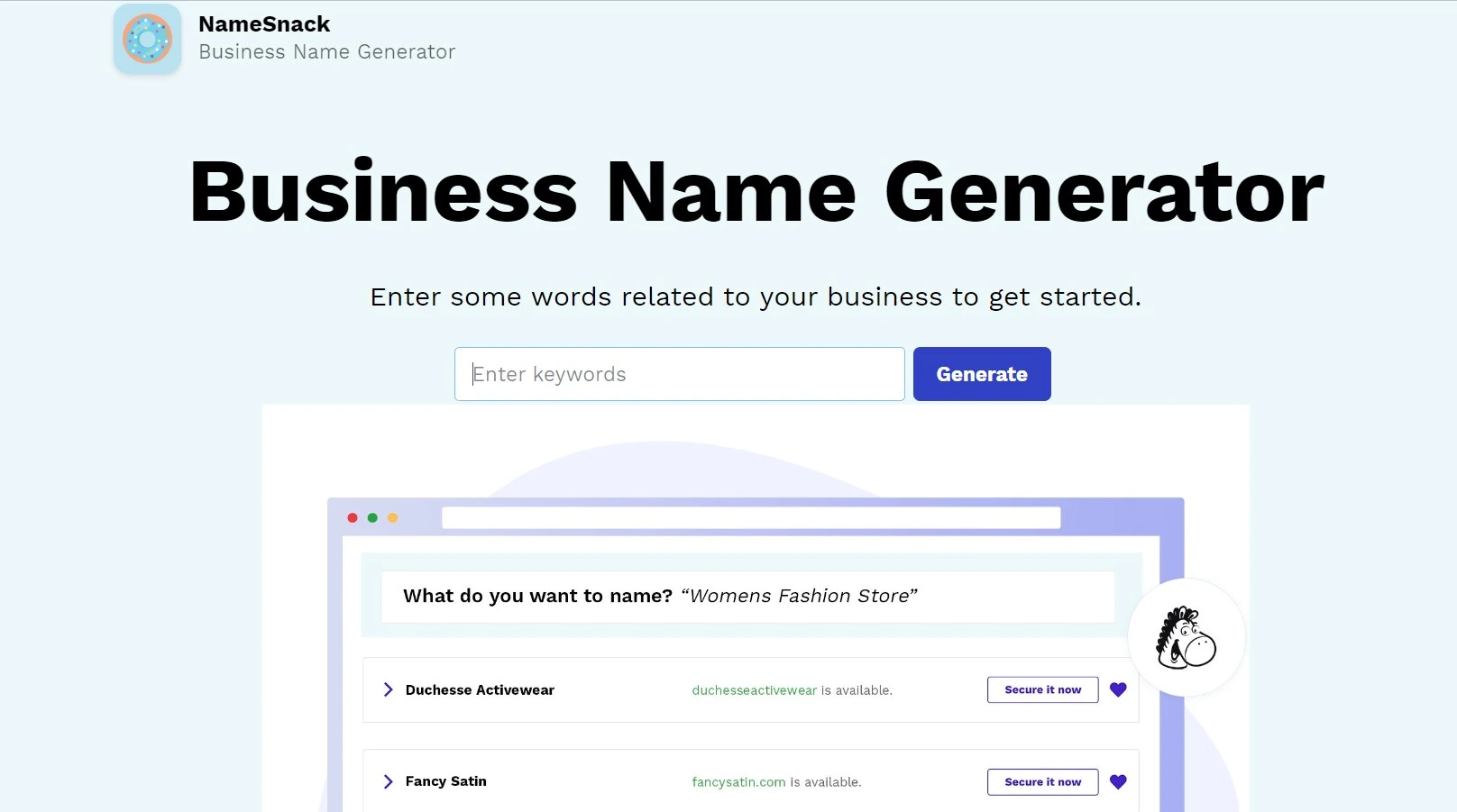 NameSnack is a fantastic company name generator that is completely free to use. It allows you to choose a memorable domain name for your company. The application is powered by artificial intelligence, which strives to generate unique names for the chosen sector. To begin, input the term that best describes your company specialty. Following that, a list of names will appear, together with information on which particular names .com domain names are available.
In general, NameSnack is a great tool for creating short, recognizable company names. It can also rapidly verify whether a name is available for a domain.
Namify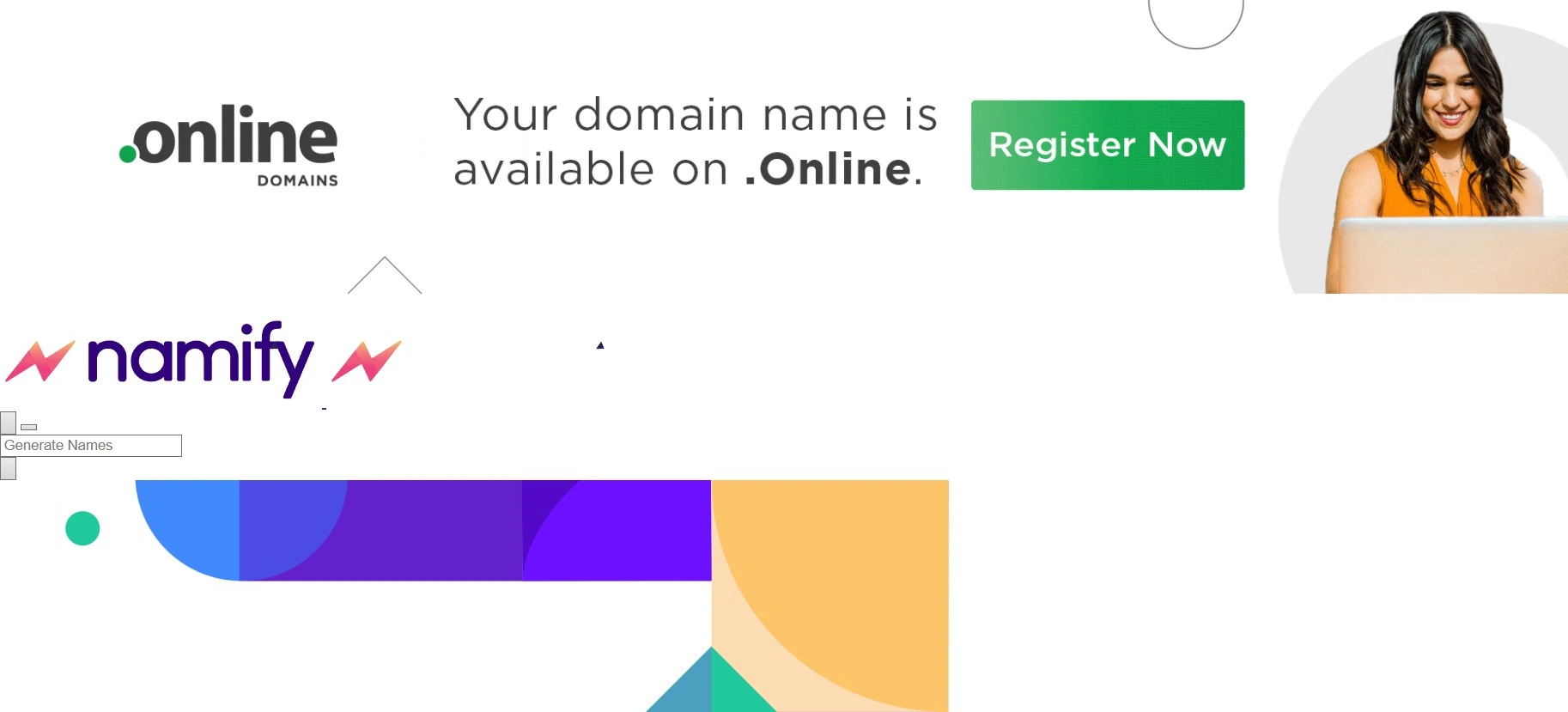 The company name generating tool Namify is simple to use. Its users may utilize it to uncover original ideas for company names, but it can also aid with blog name suggestions that are truly fantastic. Be sure to include the crucial keywords that correspond to your industry while using Namify to get a trustworthy name for your company. You should also select the category that best describes your firm.
Once you've finished, wait for Namify to show you all the available name suggestions. Check the availability of the domain name by pressing the one you choose. The application will provide you some alternate extensions if the .com domain is not accessible.
BrandRoot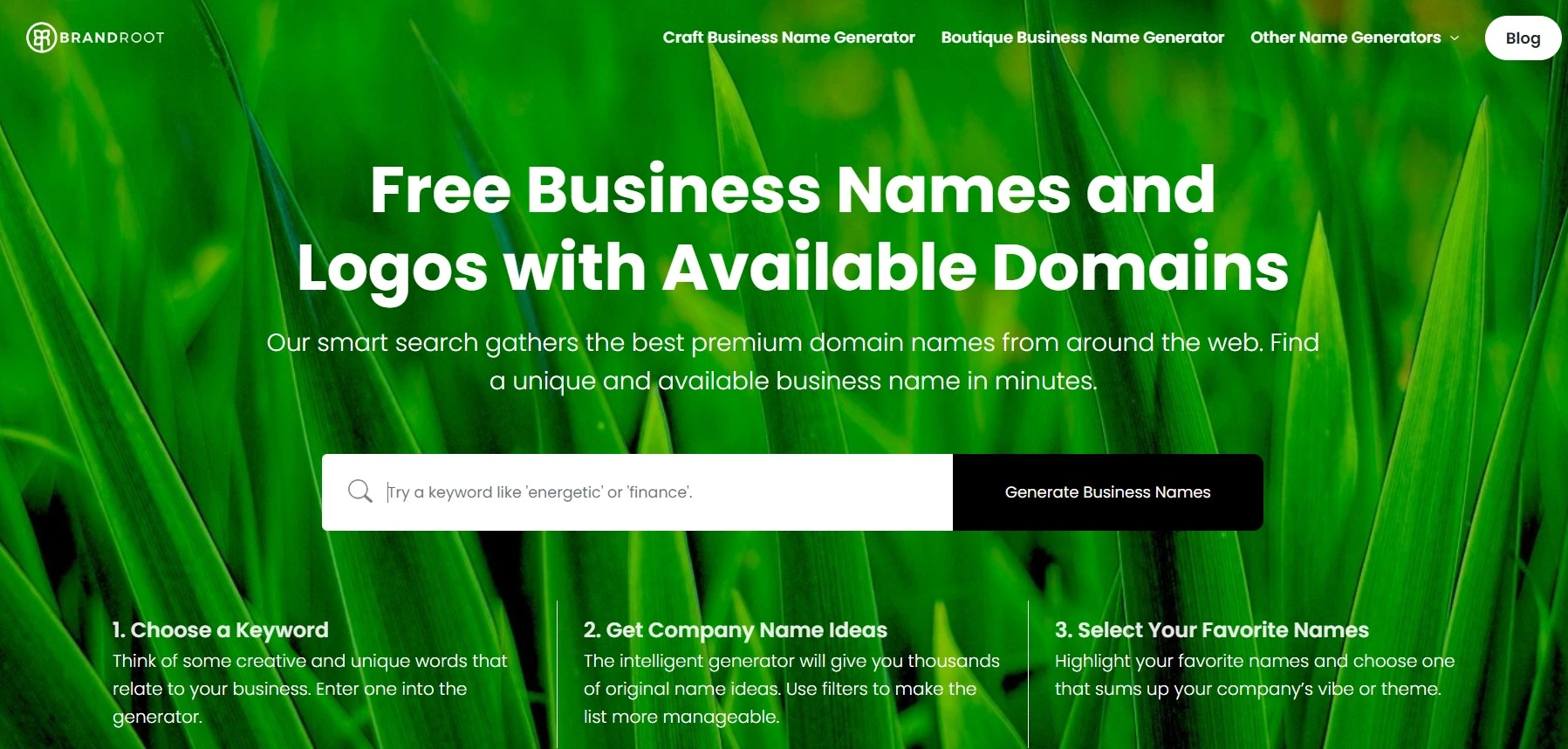 BrandRoot certainly lives up to its name; it aids in brand development. BrandRoot might prove to be the greatest instrument for you if you want to get a premium-class domain name of excellent quality. When you input the keyword for your industry, BrandRoot gives you a list of brand names you may buy; it is easy to use and reacts quickly.
Although these brand names will cost more than conventional names, the likelihood of your success is much higher since these names are more alluring and memorable. The names are also subject to your approval or disapproval. To receive ideal names for your project, click the "Generate New Names" option at the conclusion.
Nameboy

Nameboy can provide original names for your company in a matter of seconds. It also produces names for blogs and eCommerce in addition to businesses. Nevertheless, Nameboy lacks category recommendations and filtering. It does offer precise advice about what to do after choosing your domain name.
It is one of the oldest and most well-known name generators in the world. The program functions much in the same manner as the majority of our best domain name generators. When you enter keywords relating to your industry, the tool immediately starts to provide results.
Panabee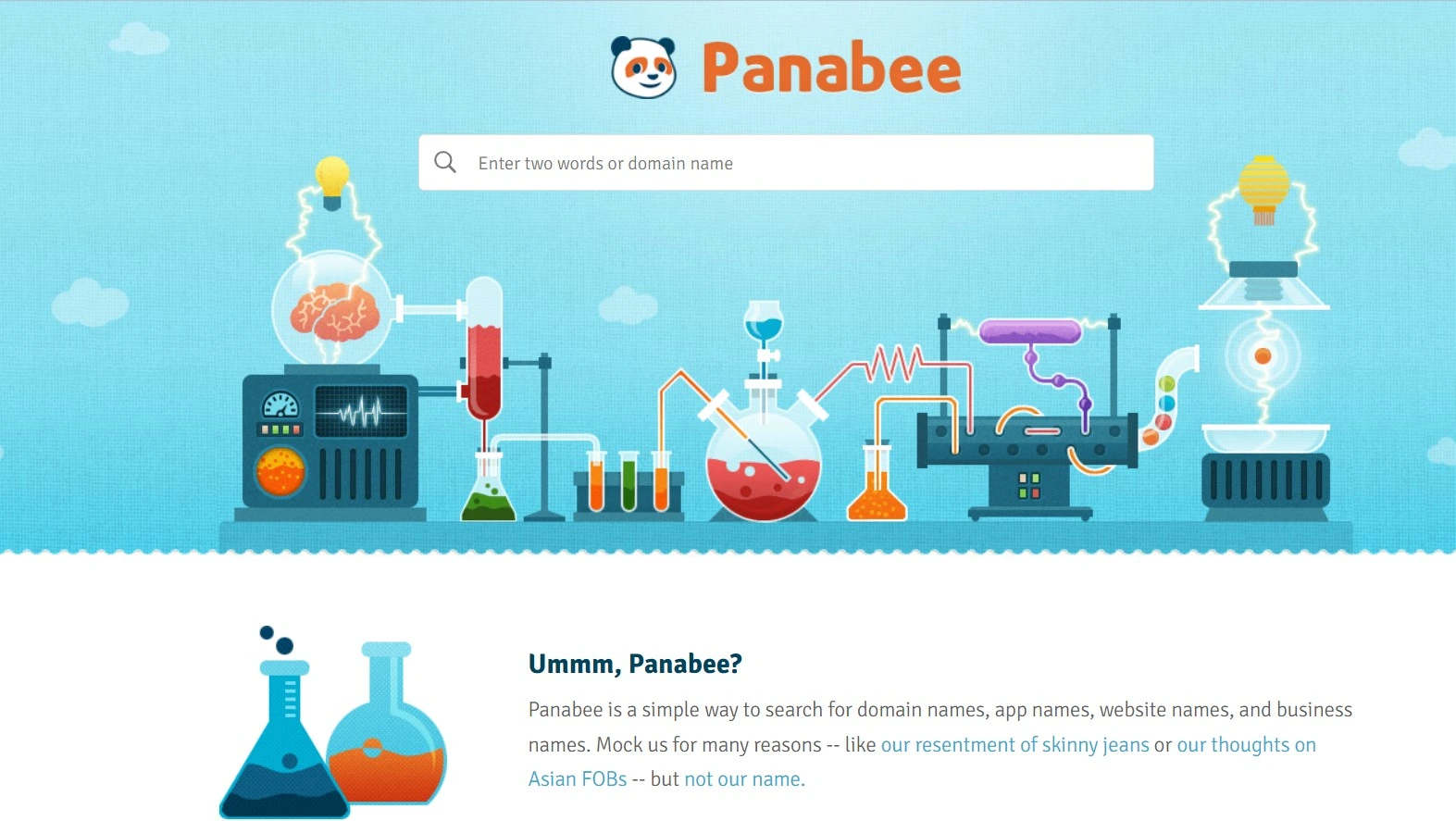 Panabee is a fantastic tool for building name recognition for your company, blog, and apps. It has an easy-to-use interface and a fantastic design. Just choose the term that best describes your specialty and then click Search to get started. To generate names that are intriguing and distinctive, think about using at least two keywords.
You will be given a variety of names to select from for your company. Moreover, search for recommendations with a blue-colored heart next to them to see whether the name you like is open for registration.
SmartWP

SmartWP assists you in selecting the ideal name for your company. The resource is practical and offers free suggestions for domain names. It is also quite simple to use; all you have to do is input your domain search, and it will generate a list of names from which you can choose the one you prefer.
Not only that, but SmartWP goes beyond just offering clever name suggestions; it also provides direct links to a trusted domain registrar or a reliable hosting provider so you can quickly register your domain name before someone else can
FAQs
What is the importance of naming a business or a startup?
One of the most crucial decisions an entrepreneur or business owner can make is naming their company or startup. It can have a significant influence on the business's performance. A distinctive name may assist to build brand awareness and differentiate a business from its competition. It may also impact consumer perception and aid in the development of an emotional connection. A great name may help a firm gain trust and motivate people to conduct business with it.
What should the name of your Business/startup be?
Your company's or startup's name should be distinctive, pronounceable, and reflect the ideals of your organization. It should also be original and innovative, as well as reflect the message of your organization. You should also check to see whether the name is accessible as a domain and trademark.
How to come up with a Business/Startup Name?
1. Jot down terms that you believe capture the soul of your company, such as adjectives, nouns, locations, and items, as you begin to brainstorm possible names.
2. Make use of a company name generator: There are a ton of internet resources that may be used to come up with business names. By fusing several words, these tools may give you a list of prospective names.
3. Verify that the domain name is accessible: If you're launching a website, you'll want to confirm that the domain name is accessible. 
4. Take your name's meaning into account: Once you've identified a few names you like, consider how prospective clients would perceive them. Can the name be viewed negatively or does it have a good connotation?
5. Run the name by your family and friends for feedback. Like with any major choice, it's wise to seek a second opinion. Get input from your friends and family by asking them what they think of the name.
What exactly are business/startup name generators? Do you need to be a tech whiz to use these business name-generating tools?
Business name generators are internet services that assist entrepreneurs in coming up with distinctive and memorable names for their firms. They often provide several name ideas based on a set of keywords and parameters, allowing entrepreneurs to rapidly select a business name that fits their concept. Zyro, Brandroot, and Shopify's Company Name Generator are some popular tools for creating business names.
No, it is not required. All of these business name-generating tools are basic and easy to use.
Over to you with the best Brand Name Generator Tools
We conducted extensive research to find and test these business name generators. After that, we have presented you with these top tools for creating distinctive and unique names for your business and startups. All of these brand name-generator tools can help you obtain very acceptable and high-quality business names that will allow you to thrive as a successful brand.
It is up to you to determine whether you want a brand-based or keyword-based domain or startup name, since both have advantages.
After you've decided on a business name, you're ready to build a website and advertise your company. I hope this article will help you achieve it even more swiftly and with ease.