Qi Addons for Elementor is the market's largest free library of completely customizable custom widgets. It offers even greater convenience, usefulness, and ease of use, as well as some unique features in terms of widgets and choices. With the Elementor Page Builder and Qi Addons for Elementor, you can simply, quickly, and powerfully design your new, beautiful website exactly the way you want it.
Qi Addons is user-friendly even for novices.
You will receive regular updates to keep your website current.
It is a fantastic Elementor add-on that makes it simple for users to build stunning, contemporary websites using a drag-and-drop user interface.
Extensive Customization possibilities
Design websites with a Distinctive Appearance and feel
Fantastic Support & Documentation
Performance Ready Widgets that don't slow down your site
Using All Widgets may affect Elementor Panel Performance
Qi Addons is a new plugin therefore, it might not receive as much maintenance as some of the more seasoned competitors.
If you're working on a WordPress website and want to make it more visually appealing, you've come to the right place.
Several WordPress plugins let you add more components to your pages, but the Qi Addons for the Elementor plugin take things to the next level. This plugin provides you with unrestricted access to a variety of various add-ons, allowing you to construct whatever form of website or page you choose. There is no limit to what you can accomplish with this plugin.
For WordPress users who wish to extend the functionality of their Elementor page builder with unique add-ons and features, Qi Addons for Elementor is the best plugin for them. It offers a selection of well-created add-ons that are simple to include in any Elementor page layout. Other than that, a variety of features, such as unique icons, typefaces, motion effects, hover effects, and others, are also included with the add-ons.
On every device, the widgets are snappy and look beautiful. You may also alter the addons' appearance and feel by using the plugin to match the design of your website. In general, Qi Addons for Elementor is a fantastic option for customers who wish to advance the style of their websites.🥳
Qi Addons for Elementor Overview
Qi Addons for Elementor was created by award-winning Qode Interactive, one of the most popular premium WordPress theme developers. The free edition of Qi Addons includes 60+ strong custom widgets for Elementor, while the premium version of Elementor includes over 100+ meticulously crafted, complete widgets.
The plugin also gives users a collection of unique Addons, enabling them to rapidly and simply construct websites with a professional appearance. These widgets have attributes like complex slider controls, parallax effects, configurable fonts, colors, and more.
Overall, it provides you with all the greatest features you could need to set your website out from the competition. You can build top-notch, contemporary websites with Qi Addons for Elementor without having to learn how to code.👌
Qi Addons for Elementor Features
Drag-and-drop element creation Provides an easy drag-and-drop interface for users to effortlessly add addons to their website.
Responsive design: Ensures that all Qi Addons are completely responsive and look excellent on all devices.
Customized Addons: The plugin enables users to change the appearance and feel of their add-ons to match the design of their websites.
Animation tools: To make addons more interesting, the plugin provides animation tools such as transitions and hover effects.
SEO Optimization: To make your work SEO-friendly the plugin lets you use meta tags, keywords, and other SEO-friendly characteristics to optimize widgets.
Widget library: Provides a library of widgets for users to simply add to their pages, such as galleries, maps, forms, and more.
Social media integration: This makes it simple for consumers to link their widgets to their social network profiles.
Content integration: Qi Addons for Elementor allows users to add material from other sources to their widgets, such as YouTube videos or Instagram posts.
Qi Addons for Elementor Widgets
To foster creativity and versatility, there are several free Elementor additional widgets. With Qi Addons for Elementor, one can boost any project's greatness. These include- add-ons for business, presentations, infographics, showcases, typography, SEO, creative add-ons, Woo add-ons, and form style. Each of them may be precisely modified, and you can make all of your adjustments in real-time while watching them take effect on your pages right away.
Typography Widgets
The Typography addons for Elementor includes many useful widgets including- Section title, drop caps type out text, highlighted text, blockquote, animated text, divider, button, message boxes, info button, vertical tabs, horizontal tabs, icon with text, call-to-action, text gradient, premium button, accordions, and toggles. Some use cases are👇
Drop Caps- Using beautiful text, creatively begin your paragraphs.
Animated Tex- Animated Text is a custom widget that enables you to design animated text-based content for visually attractive sections.
Call-To-Action- Write sections with an effect that promotes user participation and reaction.
Business Addons
The Business add-ons provided by Qi Addons for Elementor include 10+ widgets for thoroughly presenting various aspects of your business, all of which have been meticulously developed and are completely customizable. The following widgets are- pricing table, pricing list, working hours, clients list, clients carousel, testimonials carousel, testimonials, info box, team, interactive banners, banners, blog carousel, blog, pricing calculator, pricing slider, rating, google map, etc. Some of them are👇
Interactive Banners – This widget ensures that your advertisements and messages stand out by presenting them in changeable interactive banners.
Working Hours- Display your company hours in creative methods.
Pricing Table- A design element that presents specific single pricing or comparison pricing plans.
Showcase Addons
Showcase Add-ons enable you to showcase your material uniquely and interestingly. The following widgets are- item showcase, timeline showcase, before/after comparison slider, image gallery, countdown, image slider, masonry image gallery, Pinterest image gallery, dual image with content, advanced timeline, context menu, etc. Some use cases are👇
Item Showcase – Build aesthetically beautiful displays for any type of item with associated information.
Countdown – Display visually appealing countdowns to your critical dates in whatever manner you choose.

Image Gallery – A simple custom widget for displaying your photographs in stunning, completely customizable galleries.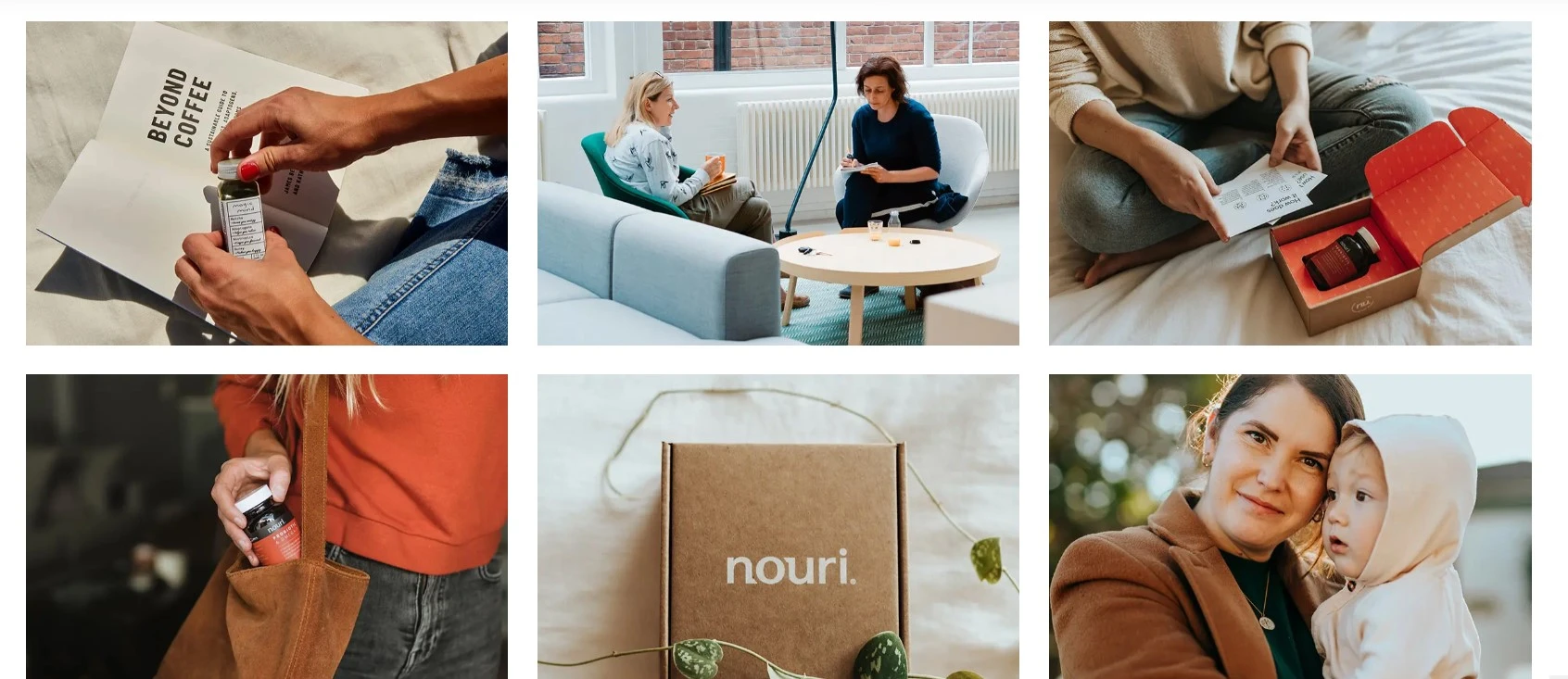 Creative Addons
Qi extensions are useful for website owners who want to make a strong message. These Addons enable you to display your photos, products, and projects in several eye-catching ways. The following widgets are- device frame slider, preview slider, deice frame carousel, cards gallery, parallax image showcase, text marquee, cards slider, slider switch, vertical project reel, fixed project slider, numbered slider, etc. Some use cases are👇
Preview slider- A dual-layer slider element that can display multiple images.
Interactive links- A unique interactive element for displaying photos with accompanying text and links.
Text Marquee – Excellent for highlighting certain textual material.
Infographics Addons
The Qi Addons plugin is a fantastic resource for simply and effectively displaying statistics. Present all of the figures, stats, and data relevant to your organization using one of Qi Addons' sight infographic elements. The following widgets are counters, radial progress bar, vertical progress bar, horizontal progress bar, process, graphs, donut and pie charts, etc. Some use cases are👇
Vertical Progress Bar – Display how your projects or tasks are progressing in fully customizable vertical bars.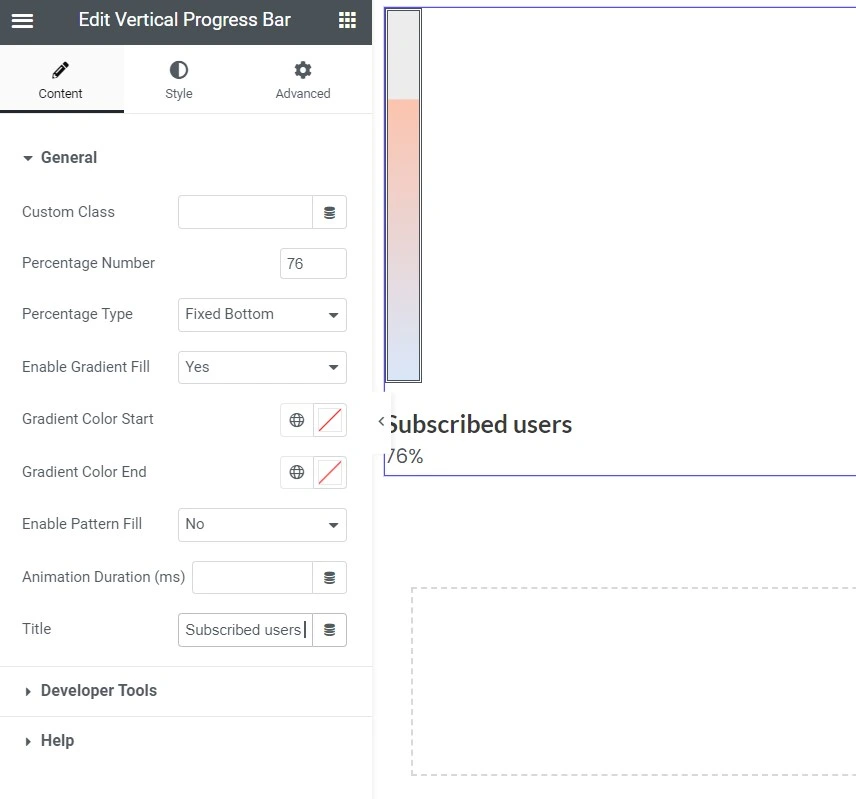 Process – Excellent for illustrating any form of process that is broken into vertical or horizontal steps that may be customized.
Graphs – Display your data or statistics in visually appealing line and bar graphs.
SEO Addons
The SEO add-ons include- FAQs, How to schema, table of content, and more.
FAQs – A wonderful approach to construct well-structured, hierarchical sections for all of your commonly asked questions and vital information.
Table of Contents – The simplest method to construct all sorts of tables of contents.
WooCommerce Widgets
Woocommerce add-ons are extra features that can be used to enhance the functionality of your WooCommerce store. Some of them are-
Product List – Display all of your products in beautiful, fully customizable lists.
Product Slider – Get the attention of all your website visitors.
Product Category List – A simple approach to present items to your audience; construct visually appealing lists with filters.
Add to Cart Button – Design a variety of useful and customizable buttons that may be displayed next to any of your items.
Form Style Addons
Contact Form 7- It is a free widget that allows you to construct various forms for messages, subscriptions, and other purposes.
WPForms – Designed to allow you to simply construct all sorts of contact forms using the free WPForms plugin.
Qi Addons for Elementor Alternatives
Move Addon for Elementor
Move Addons for WordPress is a powerful tool that has a collection of over 80 Elementor add-ons, templates, and other goodies. With its elegant layout style, it has been developed to increase the functionality of WordPress' default interface.
The Move Addons WordPress plugin for the Elementor allows users to personalize their web pages and guarantees that a WordPress website runs smoothly and grows. Anyone can utilize it even if they don't know how to code.
Unlimited Addons for Elementor
You may quickly and easily design complex dynamic layouts using this Elementor plugin. It allows you to easily put together sliders, accordions, tabs, grids, and carousels using loops. In addition, this flexible plugin provides you with access to an ever-expanding library of widgets and templates, allowing you to create any sort of website you can imagine.
With Unlimited Addons for Elementor, build personalized templates that are exactly what you need them to be, and add custom fields for any kind of data. Furthermore, because of its simple drag-and-drop interface, you don't need to be a coder to easily construct beautiful websites.
HT Mega for Elementor
HT Mega is a must-have Elementor addon that features 80+ elements, 90+ page templates, and 360+ widgets with infinite permutations. It is recognized not only as the enormous box of Elementor add-ons, but also for its limitless features, options, and opportunities for its consumers.
Overall, HT Mega is a WordPress Elementor plugin that provides a good degree of variety, and adaptable functionality, and adaptation, and their services exceed the level of technical diversity and versatility.
Master Addons for Elementor
Master Addons is an outstanding Elementor addon. It has a vast template and Elementor widget library, header and footer builders, and a giant menu. It comes with 31 free widgets and an extra 18 Elementor widgets in the premium edition.
The add-on comes in the free version and the premium version. The free version is available from the WordPress source and has over 100k active installs and a 4.5 rating on WordPress Repository. Overall, Master Addons is one of the most dependable Elementor additions that offer a wide range of components ensuring to make your site more user-friendly, visually beautiful, and interactive.
Qi Addons for Elementor Pricing
Free- Free version available
Single Website
Qi Addons for Elementor- $ 49/ annually
Qi Themes and addons for Elementor- $ 79 annually
Unlimited Websites
Qi Addons for Elementor- $ 99/ annually
Qi Themes and addons for Elementor- $ 139 annually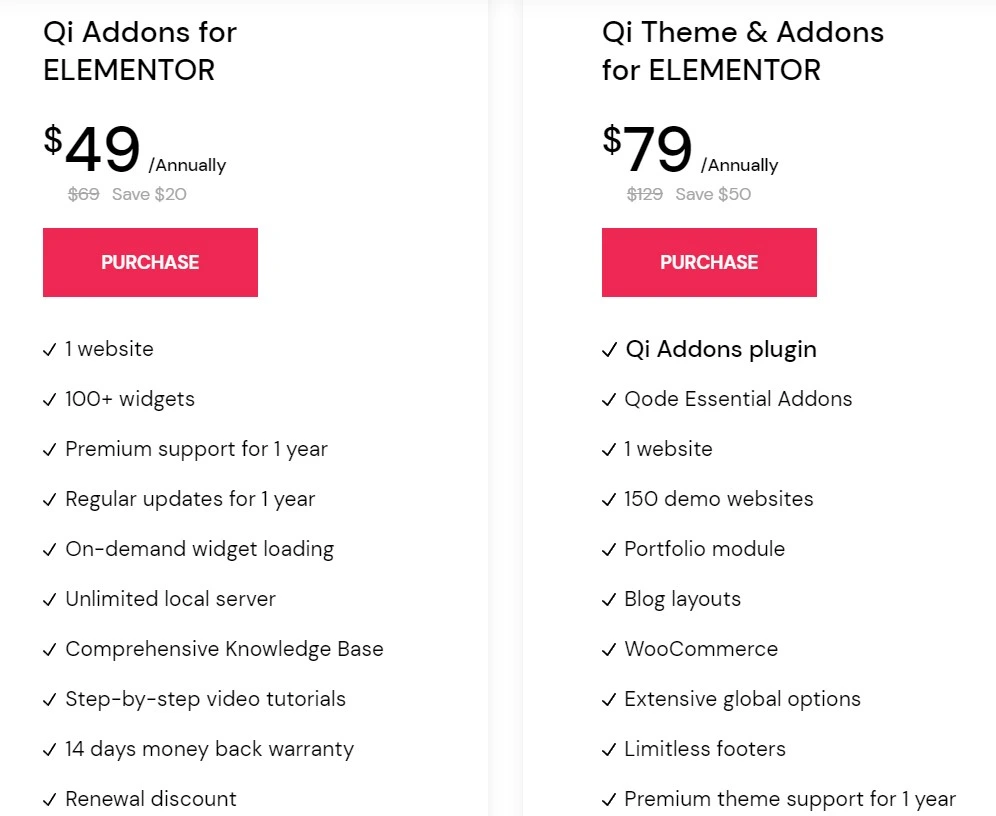 FAQs
What exactly are Qi Addons for Elementor🙋‍♂️?
Qi Addons for Elementor is a collection of bespoke Elementor widgets that make it simple to construct visually appealing and one-of-a-kind web pages. The widgets are entirely customizable and created in a modern, clean, and minimalistic manner. You can rapidly design gorgeous websites using Qi Addons with only a few clicks.
How to install and activate Qi Addons for Elementor🤷‍♀️?
From WordPress-
Navigate to the WordPress dashboard, click Plugins, then click Add New Plugin. Type in "Qi Addons For Elementor."
To activate your Qi addon, click the activate button after clicking the installation button. Your website's Qi add-on will now be available for usage.
From the website of Qi Add-ons-
Download the Qi Elementor addon first. Go to your /wp-content/plugins directory, and upload the plugin to the directory.
You may activate Qi Addons For Elementor from your Plugins page.
Is coding required to utilize Qi Addons for Elementor🙋‍♂️?
No, no coding knowledge is necessary to utilize Qi Addons for Elementor on your WordPress website. Qi Addons is a plugin that offers a collection of advanced widgets that may be quickly added to an Elementor Builder Panel. It is intended to be a simple option for constructing complicated sites without the need for advanced code.
Who are the typical users of Qi Addons for Elementor?
For WordPress users who wish to use the Elementor page builder, Qi Addons for Elementor is an excellent plugin. It is used widely among web developers and designers who use Elementor to build bespoke websites, as well as bloggers, entrepreneurs, and small business owners who want to simply add more features to their websites without having to code.
What unique features can Qi Addons for Elementor provide to your website?
Qi Addons offer you some advanced widgets that help your website stand out. With features like custom post grids, galleries, sliders, tabs, accordions, and more, these widgets are made to assist you in building distinctive and attractive websites. Moreover, Qi Addons provides a selection of unique widgets and page templates that let you easily design beautiful websites with only a few clicks.
Does Elementor Qi Addons plugin come for free🤷‍♂️?
Yes, Qi Addons is the finest free Elementor plugin with outstanding functionality. With its free Addons, you can easily personalize your WordPress website and can get to discover a wide variety of gorgeous styles and flexible widgets. The pro version however unlocks some advanced widgets.
Can I use the Qi Addons for Page builder other than Elementor🤔?
No, the well-known Elementor page builder is only compatible with Qi Addons for Elementor. With other page builders, it is not compatible.
Which WordPress themes are compatible with the Qi Addons for Elementor plugin?
For all WordPress themes that make use of the Elementor Page Builder, Qi Addons for Elementor is intended to function.
What makes Qi Addons for Elementor stand out?
Simple Setup👍
Everything may be easily customized, and it is simple to use. Simply drag and drop elements, and change their sizes or colors as desired in a matter of minutes.
No Coding Necessary 💻
You don't need to know any coding to quickly personalize your website and launch an online company.
Performance without hiccups👌
The new design makes editing quick, easy, and seamless. With the most recent Qi Addon, you may modify anything in real-time, enhancing your performance even more.
Modern Design😎
Every component of its design has been given this recognizable modern touch, giving your website a distinctive appearance.
Light code👍
Your website will load quickly thanks to light code and a beautiful design provided by the plugin.
Frequent Updates✌
Users always have access to the newest features and bug fixes thanks to -Qi Addons' frequent updates.
Design a unique layout🎉
Qi Addons for Elementor is a potent drag-and-drop page builder with an easy user interface that lets you design unique layouts.
Access to a wealth of content customization options🙌
Qi Addons for Elementor offers a wide variety of content widgets that you may utilize to build logical and eye-catching designs.
Save time and effort⏳
When building customized pages, Qi Addons for Elementor is a fantastic tool for doing so. To rapidly design beautiful layouts, simply drag and drop content widgets and extensions into position.
Over to you with My Qi Addons for Elementor Review
Elementor is one of the most popular and liked page builders on the market. It is not only incredibly easy to use, especially for new users, but it also allows extensions and add-ons, which further expand its feature set.
One of those ideal pairings designed especially for Elementor is Qi Addons for Elementor. All of the pieces included with this plugin were created with usability and customization in mind. The plugin not only simplifies the process of designing a website but also provides you with a powerful, straightforward, and simplified method to build your stunning new website exactly how you want it.
With it, by your side, you don't need to go through a plethora of Addon options to get all the versatility and functionality of Elementor thanks to the free add-ons offered by Qi Addons. The plugin easily completes the task for you whether you need to add banners, customer reviews, or blog pages.
Today, have a look at this plugin and give it a shot🎊.