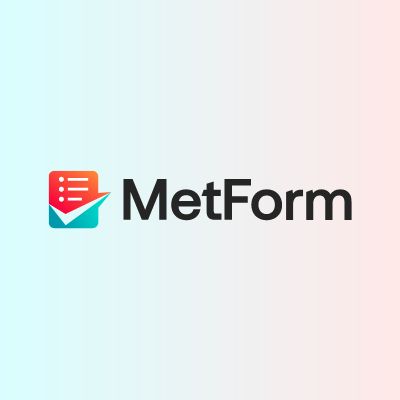 MetForm by WPmet is a powerful plugin for the Elementor page builder that allows you to quickly and simply construct contact forms. It has an easy-to-use drag-and-drop builder as well as several configurable form fields, options, and themes. MetForm allows you to gather and manage form data from your WordPress dashboard, as well as link with third-party programs like Mailchimp, Zapier, and Aweber to automate your process. It also integrates with Google Analytics, allowing you to measure visitor behavior and conversions.
Simple to use and modify.
It is mobile-responsive and has various options that allow you to modify your contact form to match your specific requirements.
It has GDPR compliance features.
It includes a simple drag-and-drop interface for quickly and easily creating forms.
The MetForm Elementor Contact Form Plugin is designed to work with the Elementor page builder plugin.
Customizing the appearance and feel of the forms might be tricky.
One of the most significant features of any website is the ability for consumers or clients to contact you quickly and effortlessly. The most frequent method is to use a contact form on a dedicated contact page or in a sidebar or footer that is visible from all pages.
Contact forms can serve to emphasize the professionalism you've presumably demonstrated across your website. They're also virtually as simple to start up as providing your email address!
Nevertheless, because no two contact forms are the same, a simple approach to generate and alter them is required. Thankfully, WordPress plugins make it simple to create contact forms, post them on your website, and gather data from consumers who fill them out.
MetForm Elementor contact form builder is a WordPress plugin for developing bespoke contact forms. It enables users to quickly and simply design beautiful and complicated contact forms. It also has an easy-to-use drag-and-drop interface that allows users to create forms without having to write any code. MetForm components also provide anti-spam protection, captcha integration, and support for numerous form fields. Finally, the forms are responsive, which means they will look beautiful on any device😍.
This post will examine the Metform contact form plugin in detail to tell you what you can accomplish using it and what makes it unique. Enjoy!
Metform Overview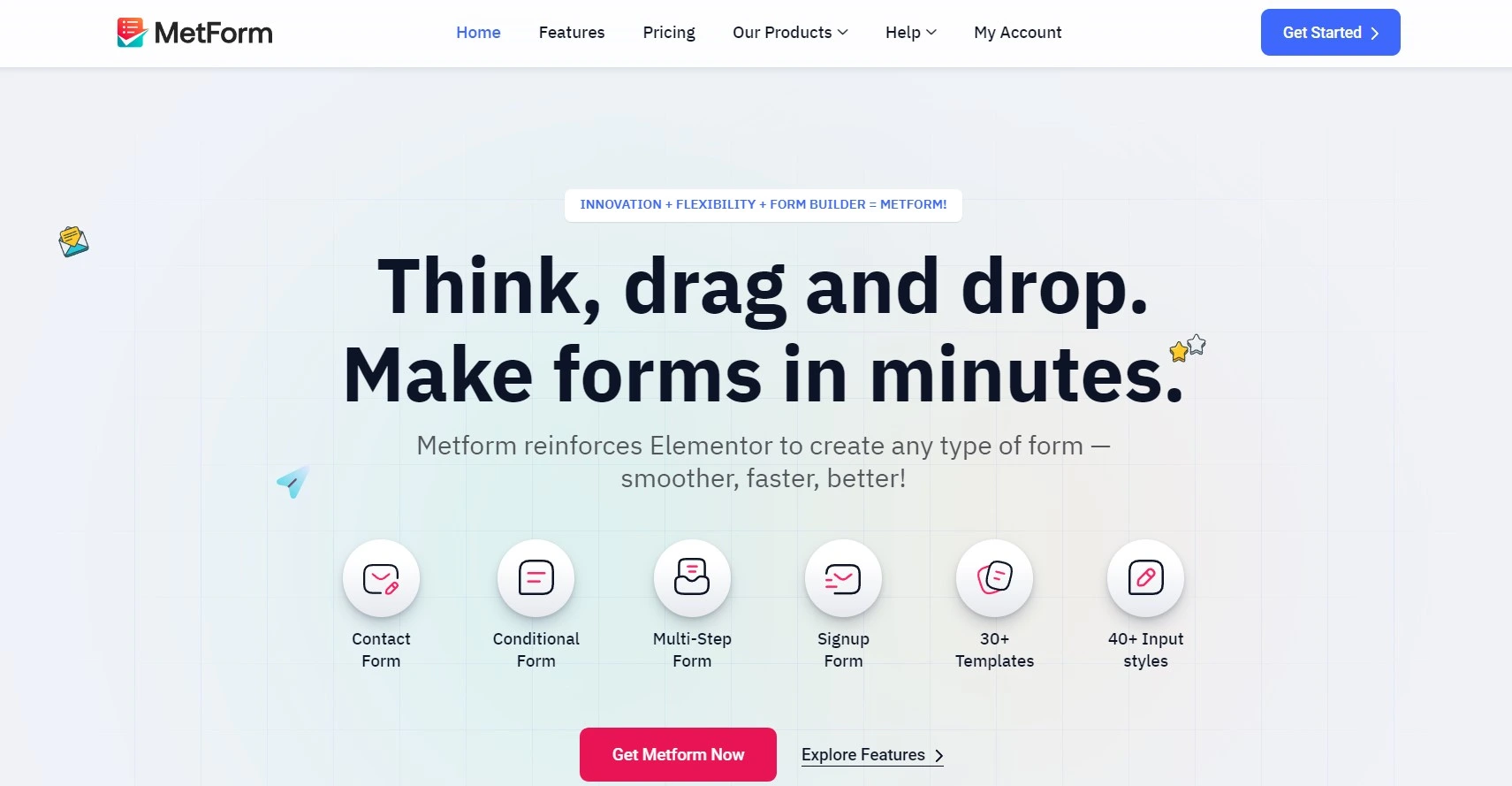 Metform for Elementor is one of the most liked form builder plugins that lets you create better forms. With a drag-and-drop form builder functionality, 30+ pre-made form templates and layouts, 40+ unique Elementor widgets, support for shortcodes, 40+ input styles, and a ton of styling choices, this freemium plugin has a lot to offer.
With Metform, you can also choose to integrate well-known third-party services like MailChimp, Slack, Aweber, HubSpot, Helpscout, FluentCRM, and ConvertKit, as well as demand user authentication, conceal after submission, redirect on success, limit submissions, and limit the number of submissions. Also, it's simple to export form submissions to Google Sheets or a CSV file.
That's not all, though; if you upgrade to a MetForm premium edition, you'll also have access to additional features that let you create multi-step forms, allow form computations, implement conditional logic, connect WooCommerce checkout or your payment fields, and do much more. There is no form type that you cannot make with MetForm for Elementor!😯
Metform Features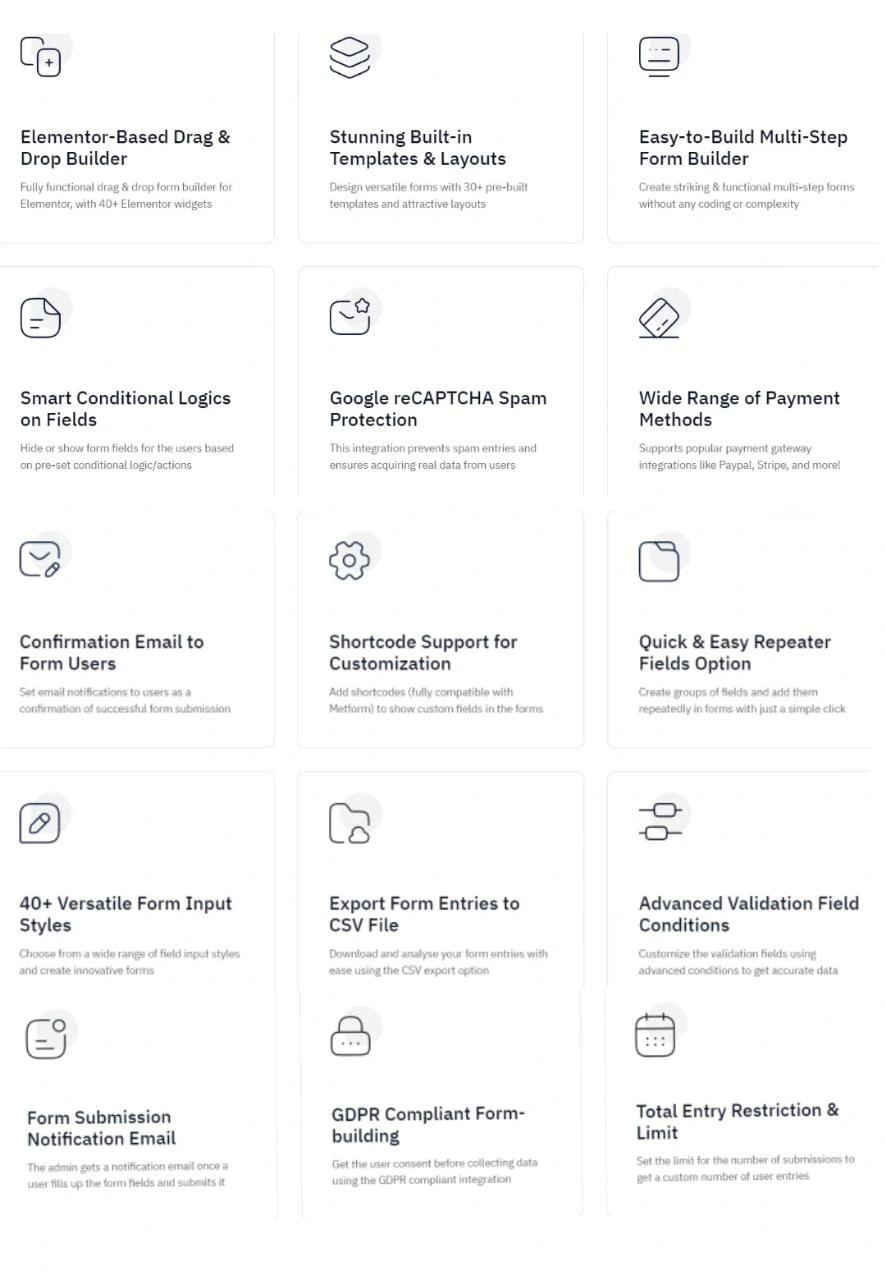 Metform Form Creation
Install the Metform plugin from WordPress.org, activate it, and then go to Pages> Add New. Press on Edit with Elementor and search for Metform to start using the plugin.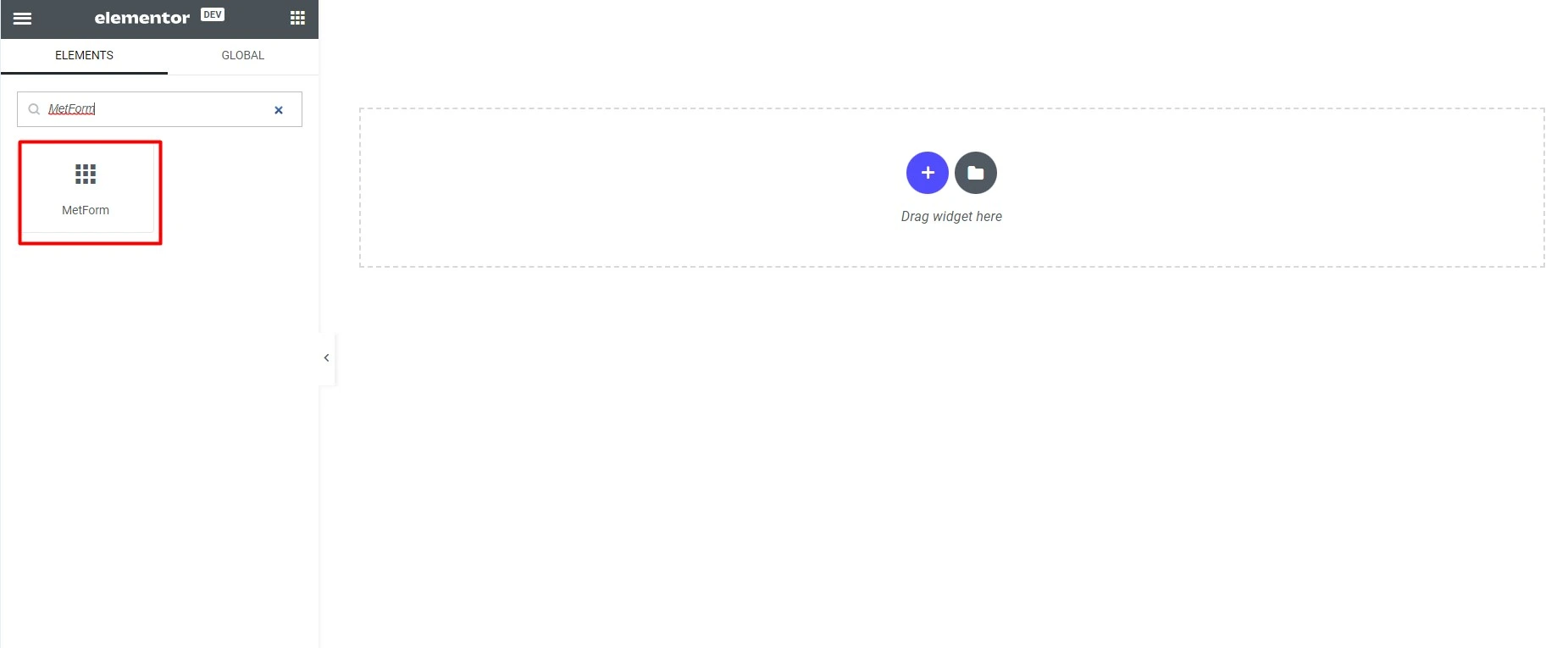 Use an empty form to start creating from scratch.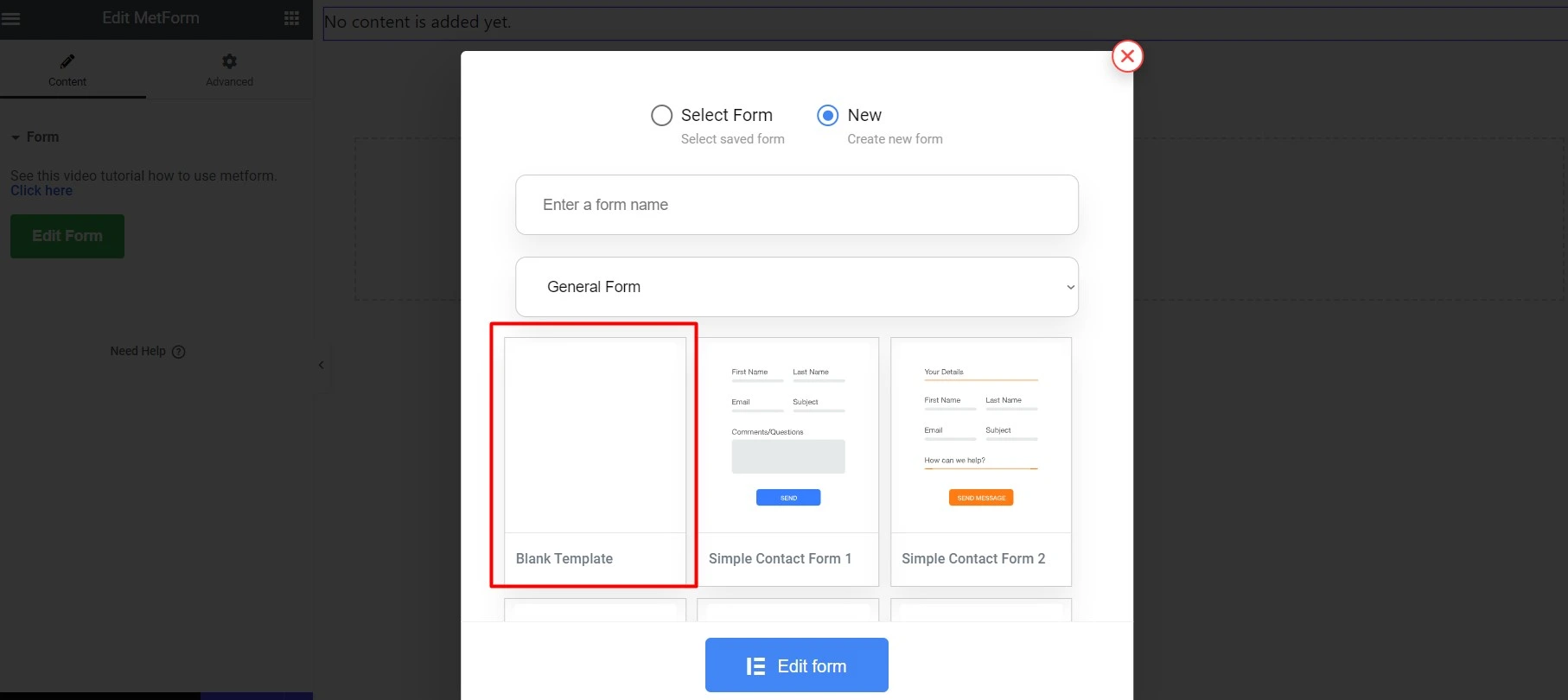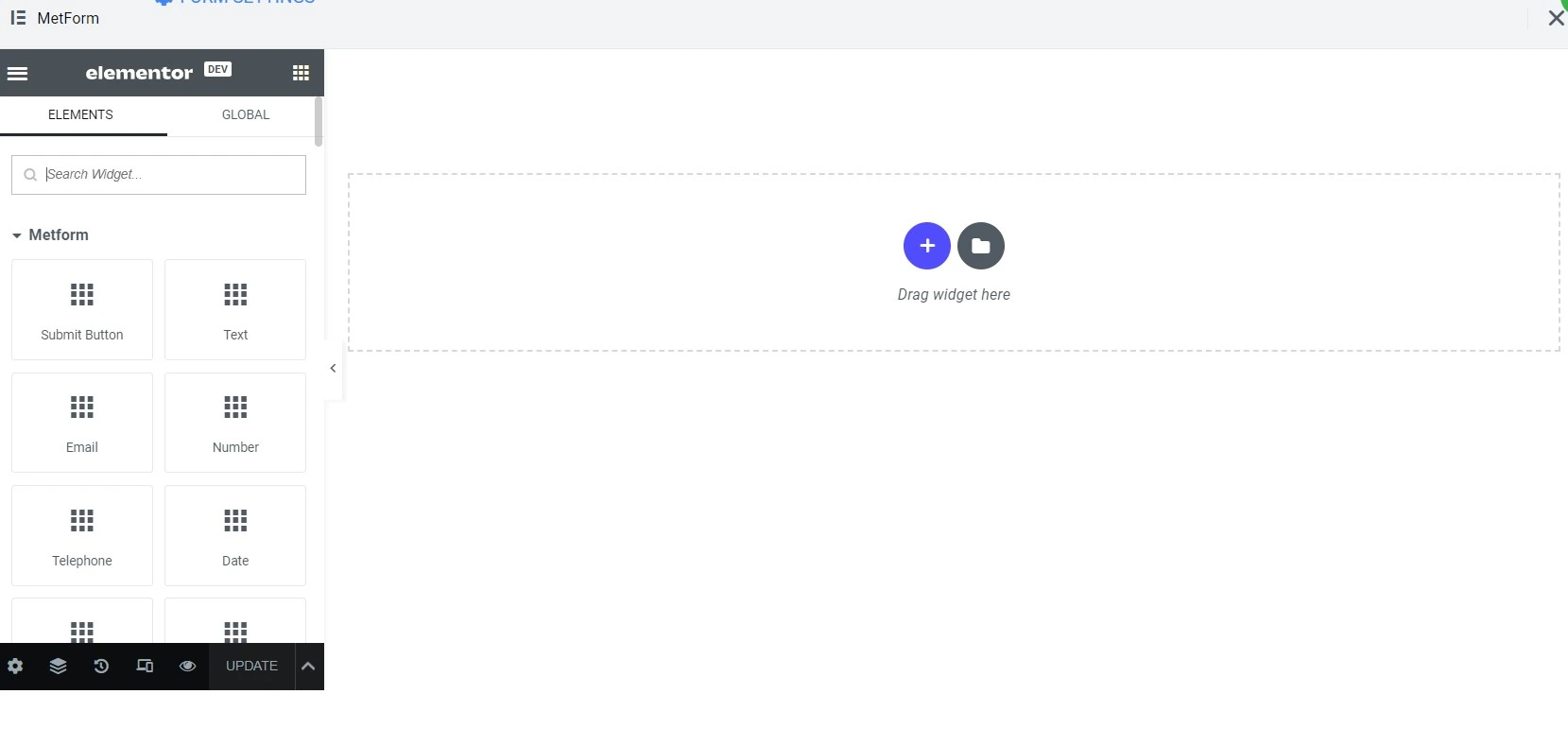 From the sidebar, drag and drop the Metform widgets that you wish to use for designing your form. Once you are satisfied with the look and feel, save it for use.
Metform Widgets
Metform lets you develop and customize forms with the use of widgets. You may drag and drop form elements into a page, change the parameters for each element, and alter the form's appearance. Text boxes, radio buttons, checkboxes, and other form components can all be added using widgets.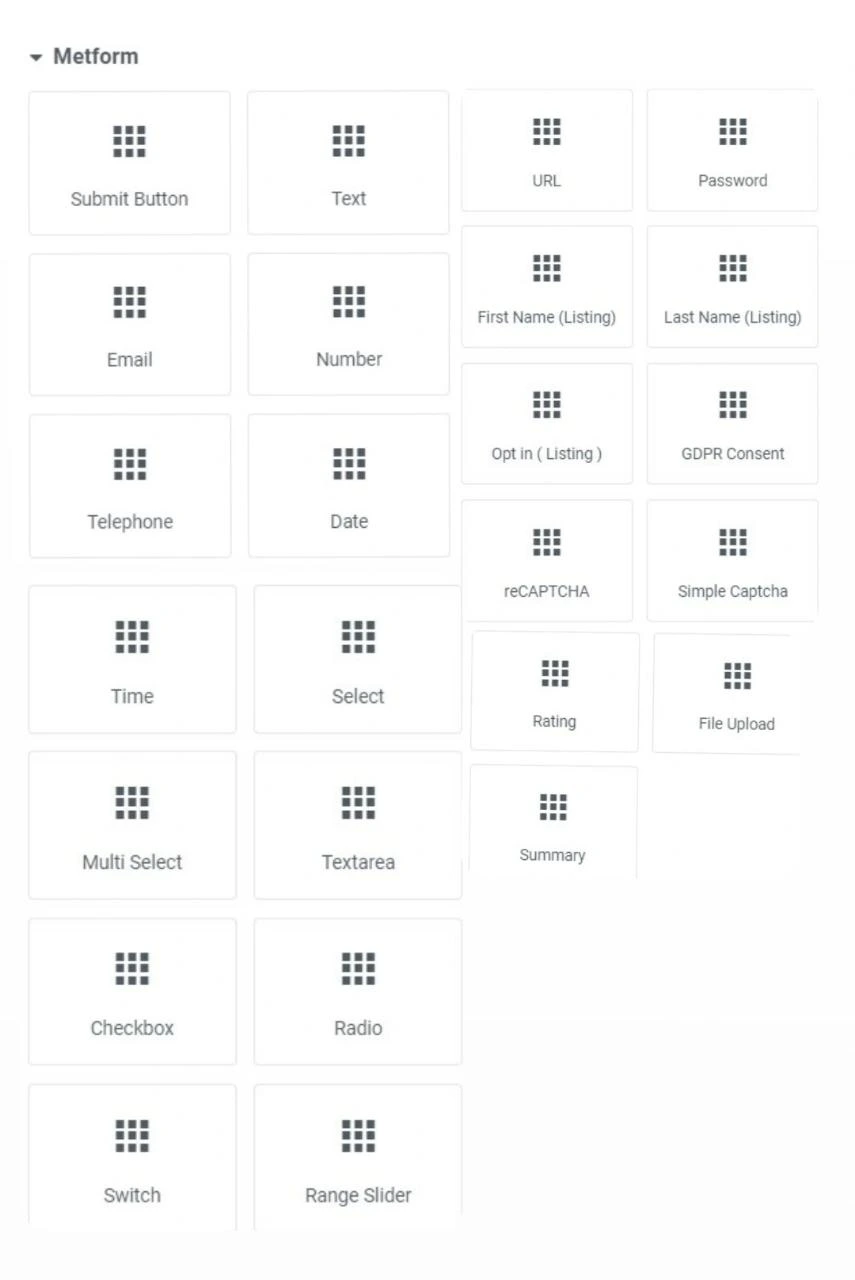 Range Slider: Use a Range slider to set your form's maximum and minimum range values. All you have to do is drag both ends till your desired value appears.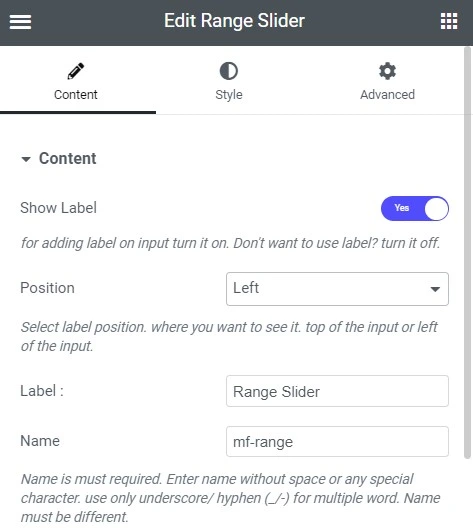 Textarea: Allows you to enter a big amount of text, reviews, and comments into your form.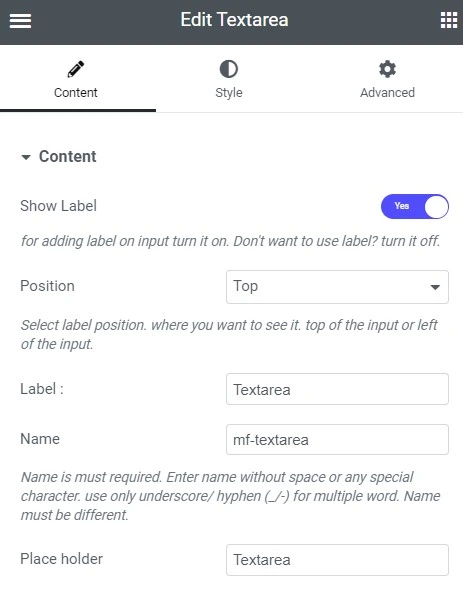 Password Input Field: Use our Password Input Field if you want your user to provide a strong password. It ensures that users receive a secure password and can change it as needed.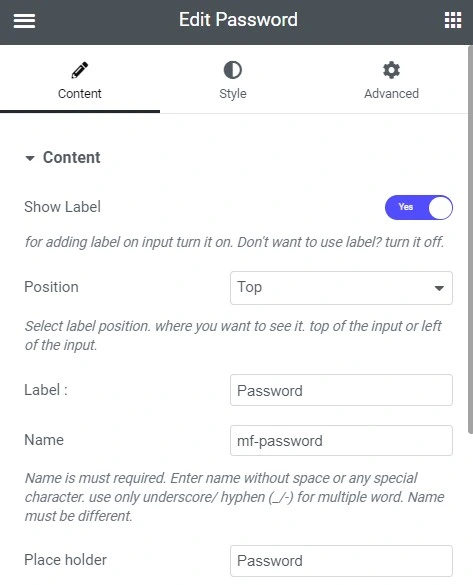 Metform Admin Notification Email
Add a new section to your page and drag and drop Metform in that section, then press edit form to choose the layout. Once you have selected to form the template of your choice go to Form settings>Notifications and enable the notification mail to admin. You can then fill up the field as per your needs, add an admin note if you wish to and finally press" Save changes"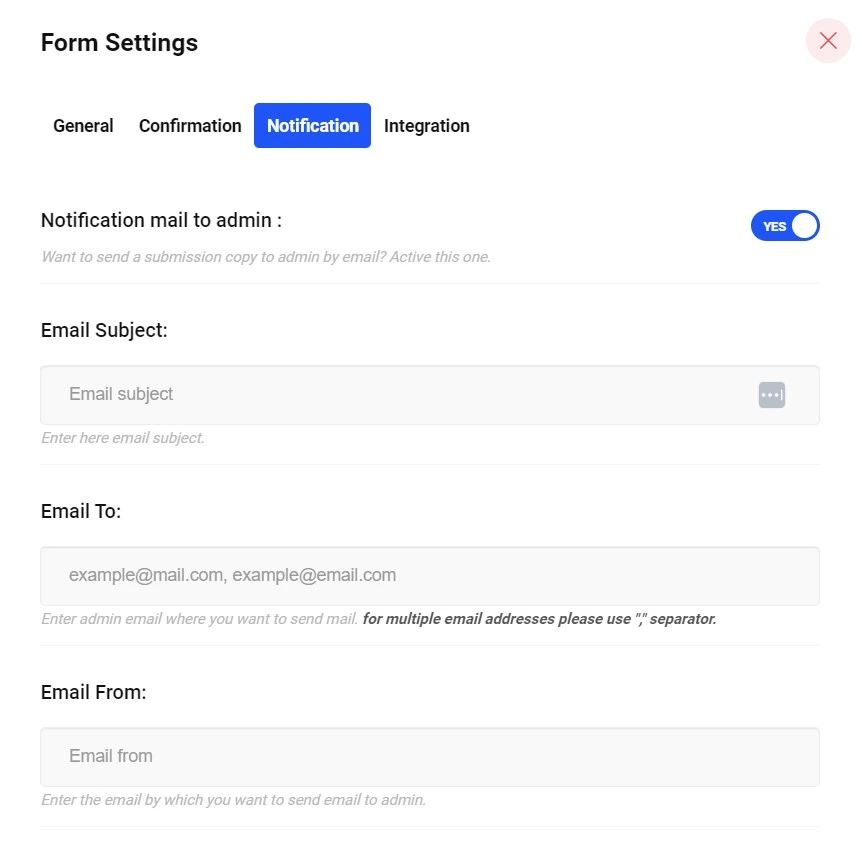 Metform Webhook & Integrations
You can get real-time notifications from Metform webhooks when certain events take place in your Metform account. You can be alerted, for instance, when a form is submitted, a payment is received, or a certain field is modified in a form. With the help of webhooks, you may automate some processes and keep your other apps' data current.
You can use Webhook by going to Form settings> Integrations, where you can enable the application you wish to add webhook to.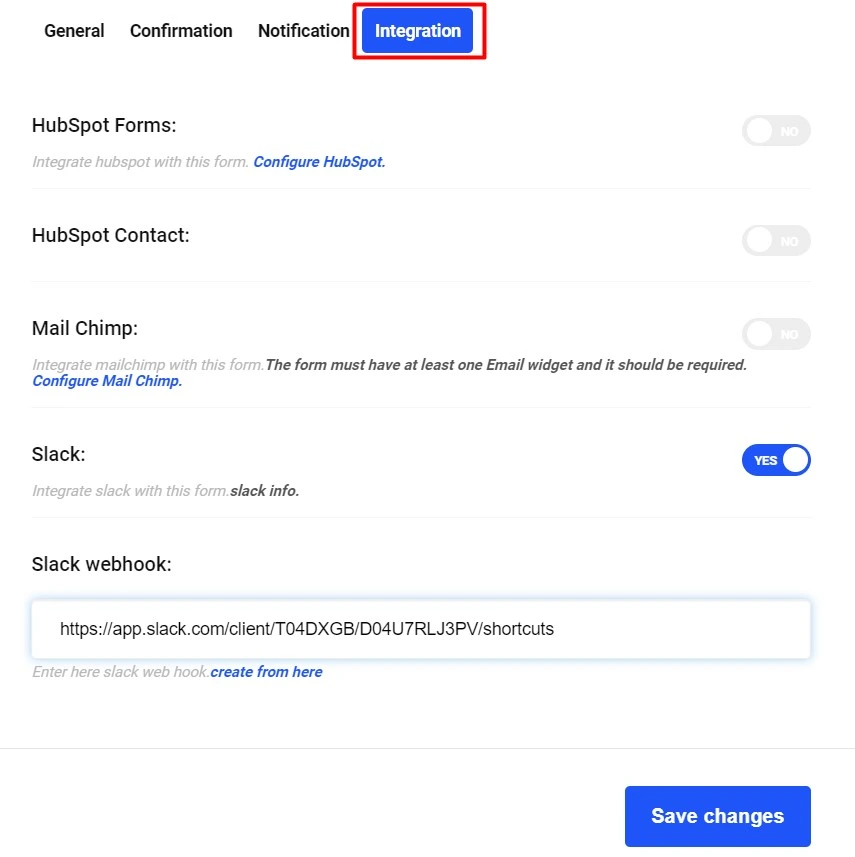 Using Metform's Slack webhook, users may get alerts in their Slack channels anytime a form is submitted. This enables users to monitor the status of their form submissions and take appropriate action. For teams who need to work together on form submission handling, this might be especially helpful.
Metform reCAPTCHA Integration
Metform offers a reCAPTCHA feature to assist prevent spam and abuse on forms. Go to the Metform > Settings > General tab to activate and customize this feature.
You may activate the reCAPTCHA option by choosing the type of reCAPTCHA that you want to use. You can select between a reCAPTCHA v2 checkbox or a reCAPTCHA v3 checkbox. Once you've decided on the sort of reCAPTCHA you want to employ, you'll need to input the Site Key and Secret Key that Google provides for your reCAPTCHA.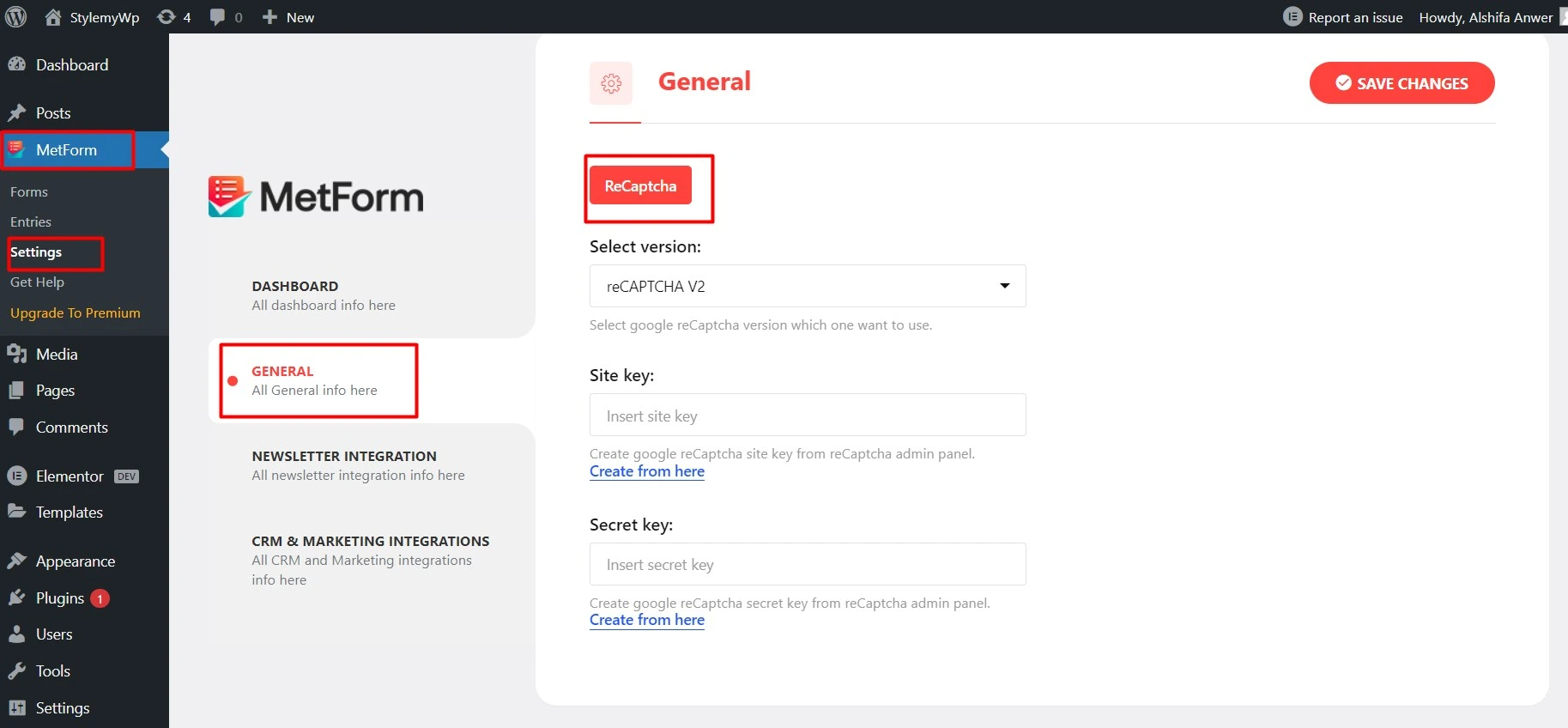 When you save your modifications, the reCAPTCHA setting will be activated on all of your forms, assisting in the prevention of spam and abuse.
Then simply drag and drop the reCAPCHA widget anywhere in your form.

Metform Premade templates
Metform has over 40 readymade templates from which to pick. These templates are intended to provide you with a variety of alternatives from which to develop the ideal form for your purposes. They are easily customizable and simple to use, allowing you to design a beautiful and useful shape in minutes.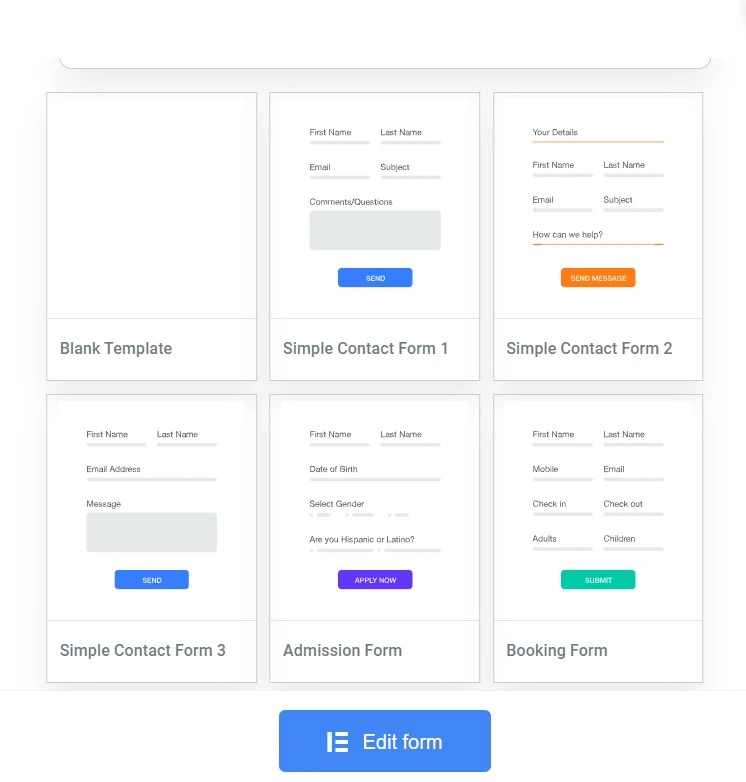 Contact forms, registration forms, surveys, quizzes, event registration forms, order forms, payment forms, feedback forms, and many more are among the templates available. The templates are also mobile-friendly, allowing users to view and fill out forms on any device.
Metform Mailchimp integration
You can simply collect client data through forms and use it to deliver tailored emails or newsletters to your customers by linking Metform and MailChimp. Metform and MailChimp connection helps you to save time and improve the efficiency of your workflow.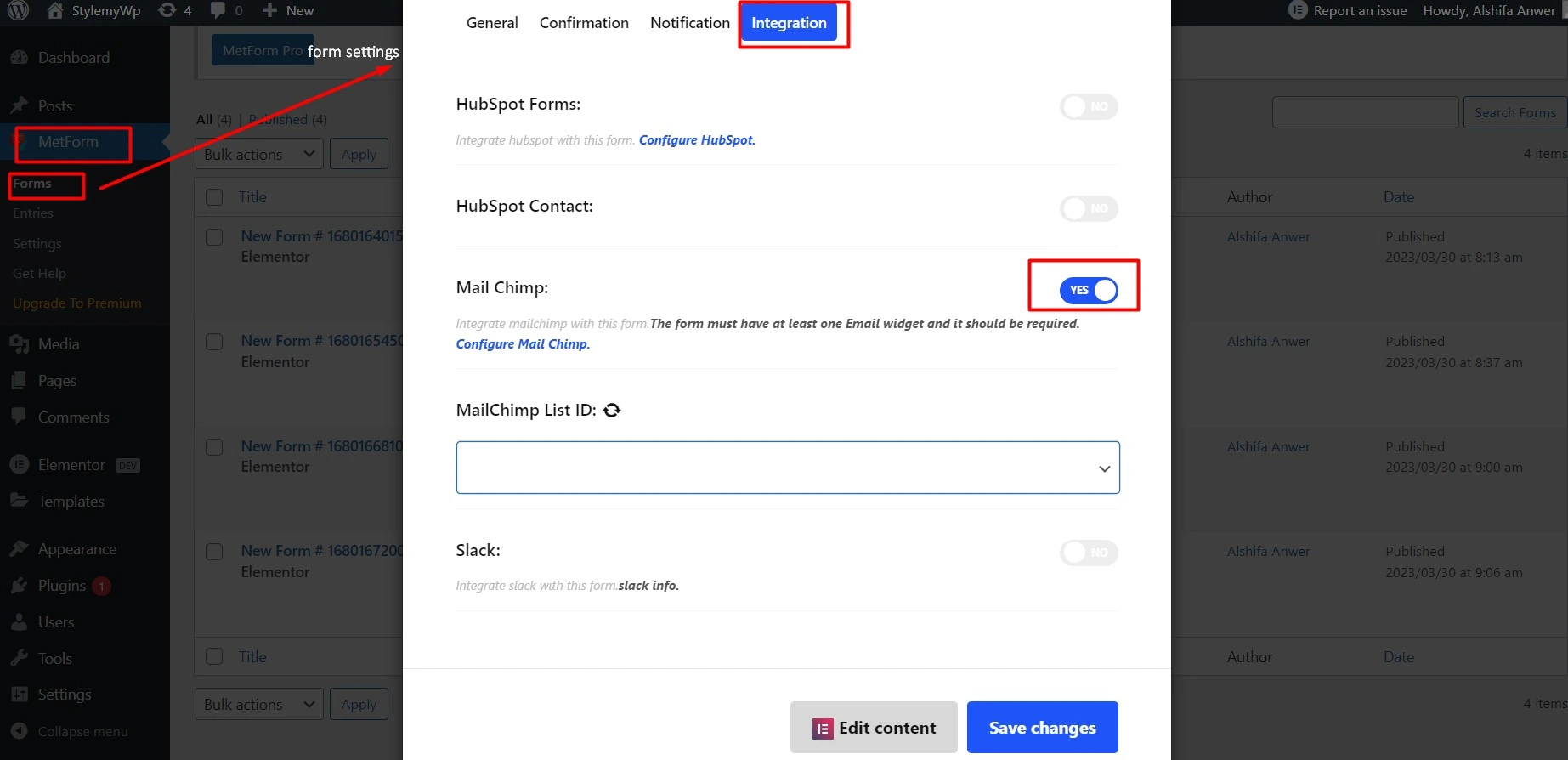 You must have both a MailChimp and a Metform account to combine them. When you've created both accounts, link them by copying the List ID from MailChimp. Go to the Metform forms area > Edit > Integration. Activate MailChimp and enter the List ID. Then click "Save Changes."
Metform Do Calculations
The calculation feature in Metform is a useful tool for quickly calculating and comparing data. This capability lets people do a variety of mathematical operations and allows them to quickly and easily examine data and make decisions based on the results.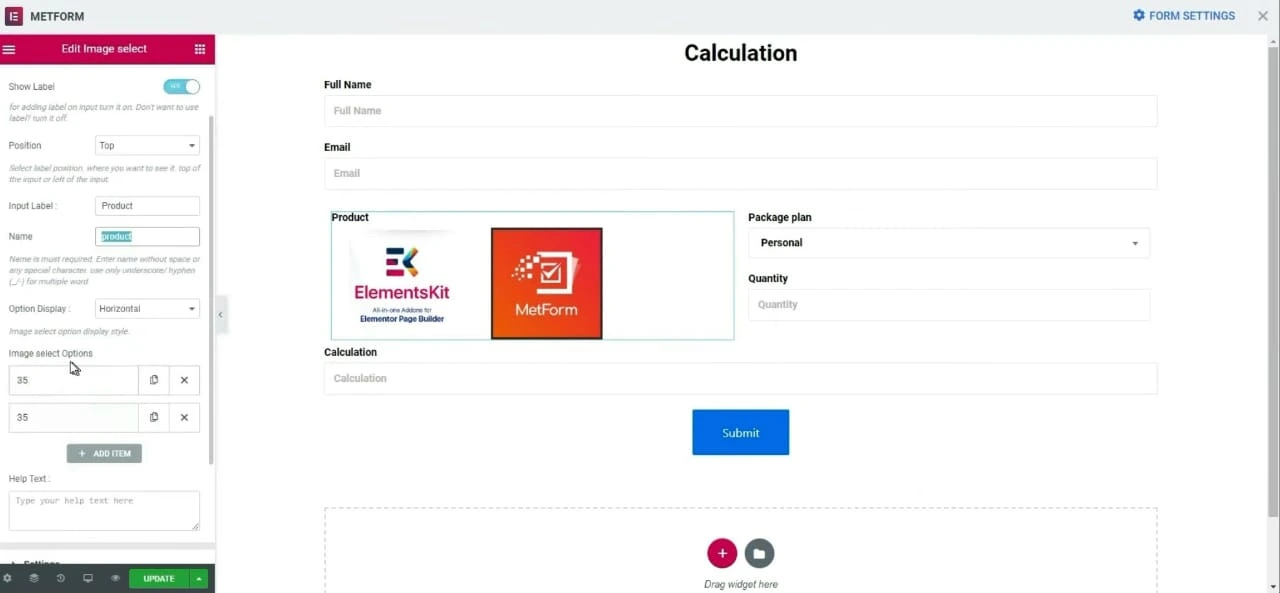 Metform Alternatives
FluentForms
If you've been looking for a drag-and-drop form builder that is simple to use and GDPR-compliant, FluentForm is ideal for you. The robust conditional logic, Ajax form submissions, Google Recaptcha, reusable templates, the confirmation message (or redirect), and even time limits are characteristics of this contact form plugin. Moreover, FluentForm provides connectors for a variety of services, such as Slack alerts and MailChimp newsletter lists.
Live Forms
Live Forms provides a simple drag-and-drop form builder interface that makes creating and customizing forms simple. The plugins include a ton of essential fields that you need to create useful forms. User input fields for name, subject, email, and message should be added. Alternatively add more information to your form by using the text, radio, numeric, choose, checkbox, and textarea fields available in Live Form.
Contact Form 7
Due to its simplicity, Contact Form 7 is one of the most widely used contact form plugins. The standard form is more than sufficient for the majority of users, but you may also design and manage other forms. Simple markup allows for easy customization of each form and its associated email alerts.
This plugin's strength is aided by features like CAPTCHA, Ajax submission, and spam screening. To add even more functionality, a variety of extensions are also readily accessible.
WPForms
A robust drag-and-drop form builder called WPForms makes the process of building forms simple. Just pick the form pieces you wish to use, then drag & drop them where you want them. Also, you may get started with the pre-built templates that are available. Although forms already come with a ton of options (radio buttons, file uploads, text fields, etc.), you can always add extra features with HTML or customized CSS.
Metform Pricing
Yearly
Personal- $ 39
Professional- $ 87
Agency- $ 179
Lifetime
Personal- $ 119
Professional- $ 259
Agency- $ 489
Bundle
5-in-1Yearly Pack- $ 499
5-in-1LTD Pack- $ 899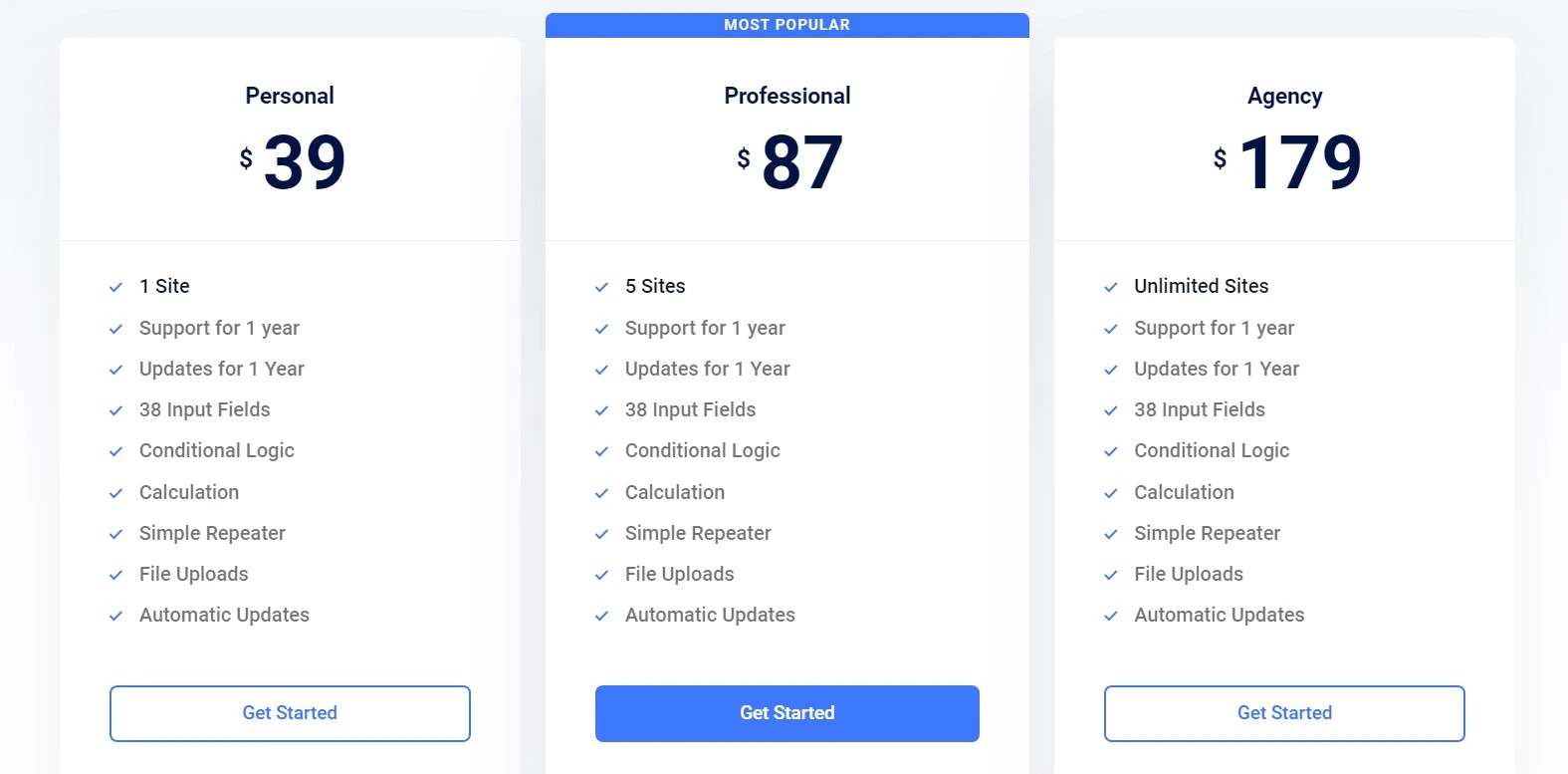 FAQs
Does the MetForm plugin requires coding know-how💻?
Without a doubt. The MetForm plugin may be used on your website without the requirement for any technical knowledge. Instead, you may construct your form using a short code or just choose one of its 30+ premade form designs under the style tab.
What kind of forms can Metform allow you to create🤷‍♂️?
With Metform, you can quickly and easily create any kind of beautiful custom WordPress contact form, subscription form, feedback form, query form, survey form, quote form, booking form, order form, social signup form or lead generation form, testimonial form, donation form, inquiry form, and campaign monitor form for your website.
Who are the most common MetForm users?
Web developers, web designers, online marketers, bloggers, small businesses, and anybody wishing to construct an appealing and useful contact form on their website are regular users of the MetForm.
Can I capture my users' location information using the MetForm plugin🙋‍♂️?
Without a doubt. You can simply determine your subscribers' location from the dropdown list by integrating Google Maps Location with the Elementor contact form. It allows you to locate the precise place where your subscribers are filling out the forms.
Can MetForm be used in conjunction with other themes🤔?
MetForm is a plugin that may be used with any theme that is compatible with Elementor.
Is Elementor Pro required for MetForm?
No! It is compatible with the free version of Elementor. If you want additional functionalities, you may utilize Elementor Pro in conjunction with Metform.
Is payment integration supported by Metform🤷‍♀️?
Yes, Metform can integrate with payment providers like Stripe or PayPal.
What makes Metform stand out?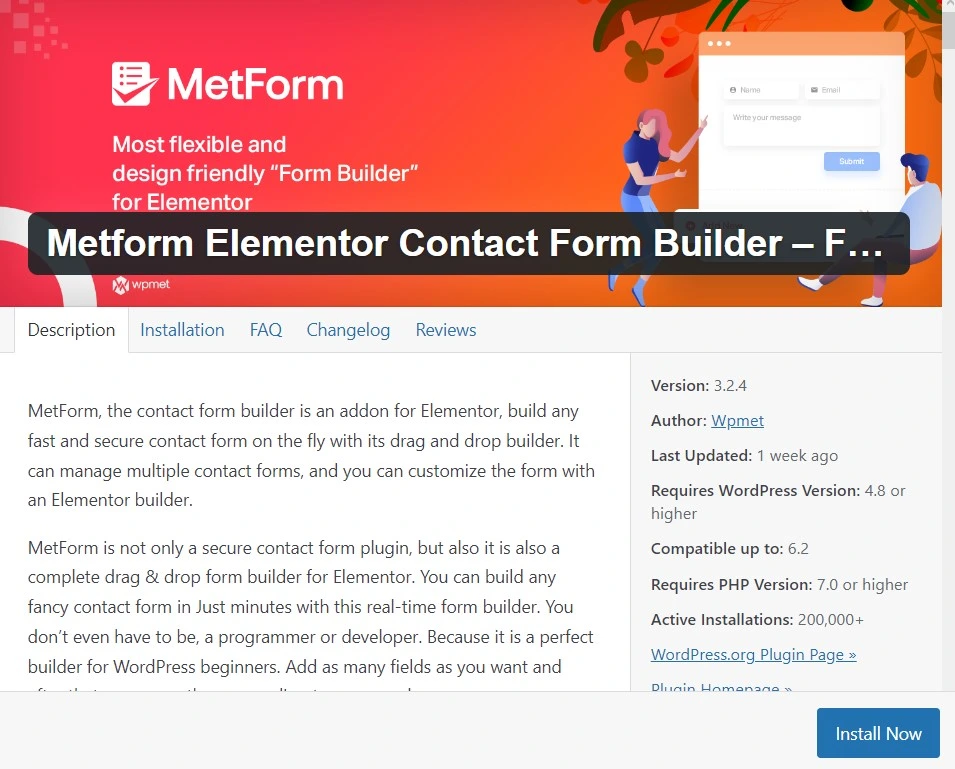 Build with Elementor😎
Created with the Elementor Page Builder, a drag-and-drop form builder for Elementor that has more than 40 Elementor widgets.
Simple to use👌
Metform is made to be simple to use for users of various levels of expertise. Without any prior coding knowledge, users can easily create forms, gather data, and assess outcomes because of its user-friendly interface.
Versatile🥳
Metform offers several customization possibilities to meet the demands of each user. Users may add custom fields, construct forms with various page layouts, and alter the appearance and feel of each form.
Secure🔐
To guarantee that all information gathered is kept secure, Metform employs secure encryption and authentication. Users may also choose the degrees of data access and authorization for certain teams and people.
Integration😄
Several different services, including MailChimp, Slack, HubSpot, and Zapier, may be integrated with Metform. Users may now quickly and simply incorporate Metform into their current workflows thanks to this.
Analytics📉
Metform offers thorough analytics and reporting features, enabling customers to monitor and examine their form data in real-time. This enhances form performance overall and enables users to make better choices regarding their forms.
Trustworthy payment system💸🤝
The first objective is a reliable and secure payment method that will guarantee consumer satisfaction. Metform makes it possible for all the well-known payment processors, such as Paypal, Stripe, and others, to make life simpler for users.
Predefined templates😍
With the existing template layouts of Metform, it is now possible to create your chosen form on the Elementor building page more quickly than before!
Supports Shortcode😵
You can now add robust features to your contact form with the simplest shortcodes, wherever you are.
Spam protection🙌
To protect your Elementor page builder from unwanted spam and abusive traffic, you can use Google reCAPTCHA.
Excellent user support🤝
MetForm includes manuals, FAQs, and blogs. These FAQs and documents can help you discover solutions to your difficulties. If you don't obtain your answers and need assistance, its devoted support team is only a phone call away. MetForm staff will provide you with the finest user assistance possible.
Over to you with my Metform Review
Metform Elementor Form Builder is an excellent tool for developing custom forms for WordPress sites. This plugin makes it simple to construct forms by using a drag-and-drop interface that is both intuitive and simple to use. It also has a variety of tools for making forms more dynamic, such as conditional logic and custom field kinds.
Overall, Metform Elementor Form Builder is a fantastic plugin that has several options to assist you in creating the right forms for your website. My advice to you is to use this versatile WordPress form builder and start creating forms more quickly, smoothly, and effectively🥳.