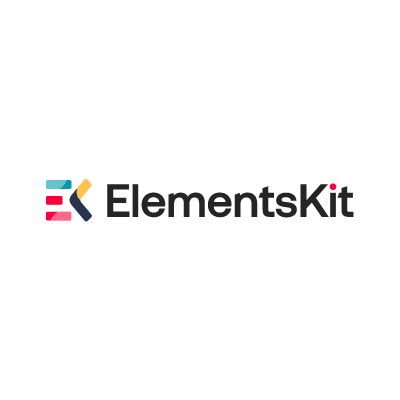 ElementsKit is a toolkit for Elementor that comes with premium widgets, templates, modules, and sections. Using Elementskit, you can create an eye-catching, responsive Mega Menu. It has a vast range of widgets that save you tons of hours designing a WordPress website. So what are you waiting for?
Simple to understand and easy to use
When compared to Elementor Pro- it is better
Many ready-to-use templates are available
Every widget can easily disable or enable
Over 100 or more ready-made blocks
Simple to create landing pages
Constructor for Header & Footer
Mega Menu Creator
Allows you to personalize your website layout with components like icons, buttons, photos, videos, and more.
100% responsive and compatible with all devices
Compared to other Elementor extensions, it is pricey.
Widgets with limited functions for Free
Elementskit is an Elementor Addon that can simplify your life and aid in the creation of WordPress websites by adding some highly customizable widgets to your Elementor Panel. It is a very useful plugin that provides the distinct benefit of containing all of the essential Elementor page builder add-on functionality under one hood.
It features complex modules such as constructing an attractive layout of your vision. This fantastic Elementor Addon also adds extra blocks and widgets to your WordPress website. It allows you to design beautiful headers, footers, landing pages, mega menus, and much more. We used this addon plugin and it allowed us to quickly create a site by dragging and dropping these elements. In just a few hours, we were able to build an e-commerce site from the ground up!
We enjoyed using this plugin's general design. Even a novice can easily understand and utilize the Interface because it is very straightforward. With the help of this page builder, anyone with a basic understanding of WordPress can create a website. The bundle plans are extremely doable as well.
Let's talk more about Elementskit to better understand what it offers and how it might benefit you in your Website creation process.
Elementskit Overview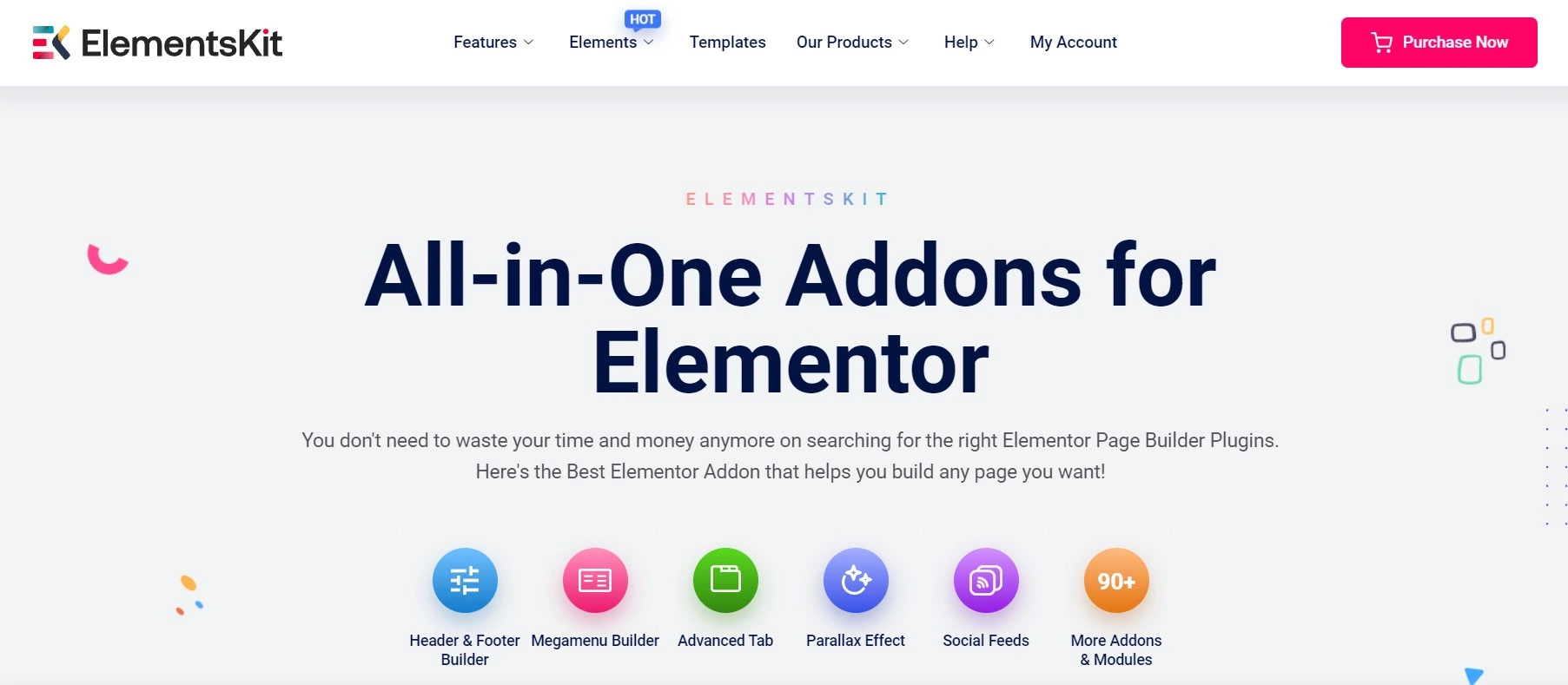 Elementskit is a sophisticated addon plugin for Elementor Page Builder. It gives you access to some amazing components required to create stunning websites.
In addition to some of the most helpful and potent custom controls, such as Ajax Select2, Advanced Widgets, Picture Picker, etc., ElementsKit has a ton of features and components, like header and footer builders, layout kits, giant menu, custom widgets, mega menu builders, and more. All of these features assist you in realizing your vision by giving the Elementor page builder more flexibility.
ElementsKit has a user-friendly interface and it is designed to be very adaptable. It features more than 20 pre-built components, such as buttons, sliders, tabs, accordions, and others. You may also make your custom widgets using the sophisticated custom widget builder.
A collection of pre-made layouts and templates is also available so you can quickly and easily build your website. Everything from landing sites to blog articles, portfolio pages, and more are included in this bundle.
Elementskit Features

ElementsKit is a robust add-on bundle with 70+ ultimate features that are especially beneficial for the Elementor page builder. Some of the ElementsKit's features are listed below-
Header and Footer Builder
Widget Builder
Mega Menu Builder
Vertical Mega Menu
35+ Ready pages
45+ pre-designed header and footer templates
70+ free and premium widgets
WooCommerce widgets
500+ Ready sections
Design is 100% responsive
One page scroll
Cross-browser compatible
Off-Canvas style in table view
Fully responsive
Build with Elementor
Expert support team
Multi widgets area
Custom controls
Ajax-based modern UI
Entirely compatible with Elementor page builder
Conditional activation (entire site, only for archive/ home/ single pages and specific pages)
Parallax effects (PRO)
Sticky content (PRO)
Gallery widget, masonry, filterable grid (PRO)
Cross-domain copy-paste (PRO)
Many more
Elementskit Ready Blocks & Templates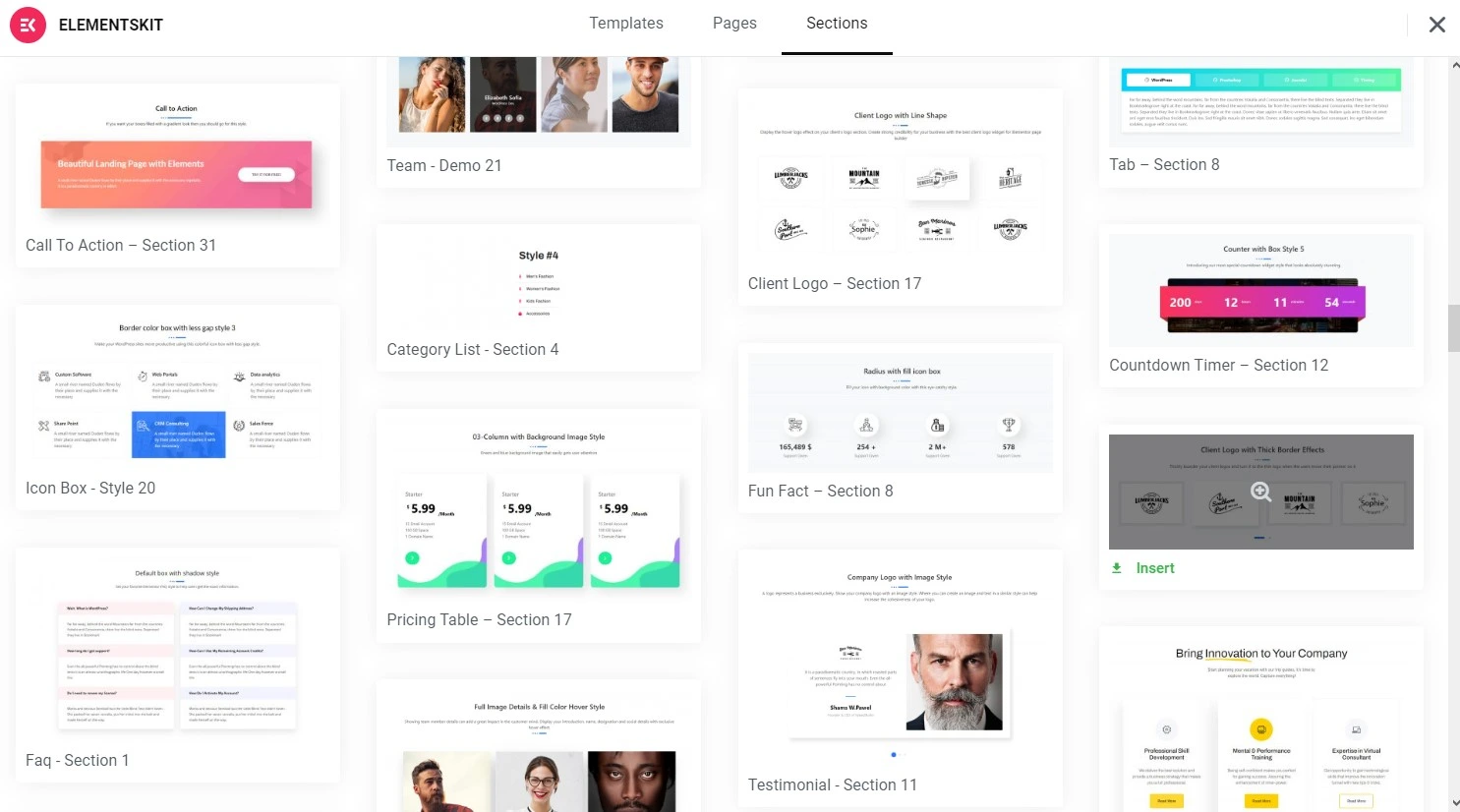 ElementsKit includes over 250 ready-made blocks. This means you can simply choose from the unique layout kit library's ready-made blocks and tweak them to your specifications to create your design. And quickly create a website on the fly without having to deal with difficult issues.
The amazing thing is you don't have to start from scratch when you use the Elementskit addon. Simply choose the items, and your website will be ready to go in a matter of minutes.
Elementskit Layout Library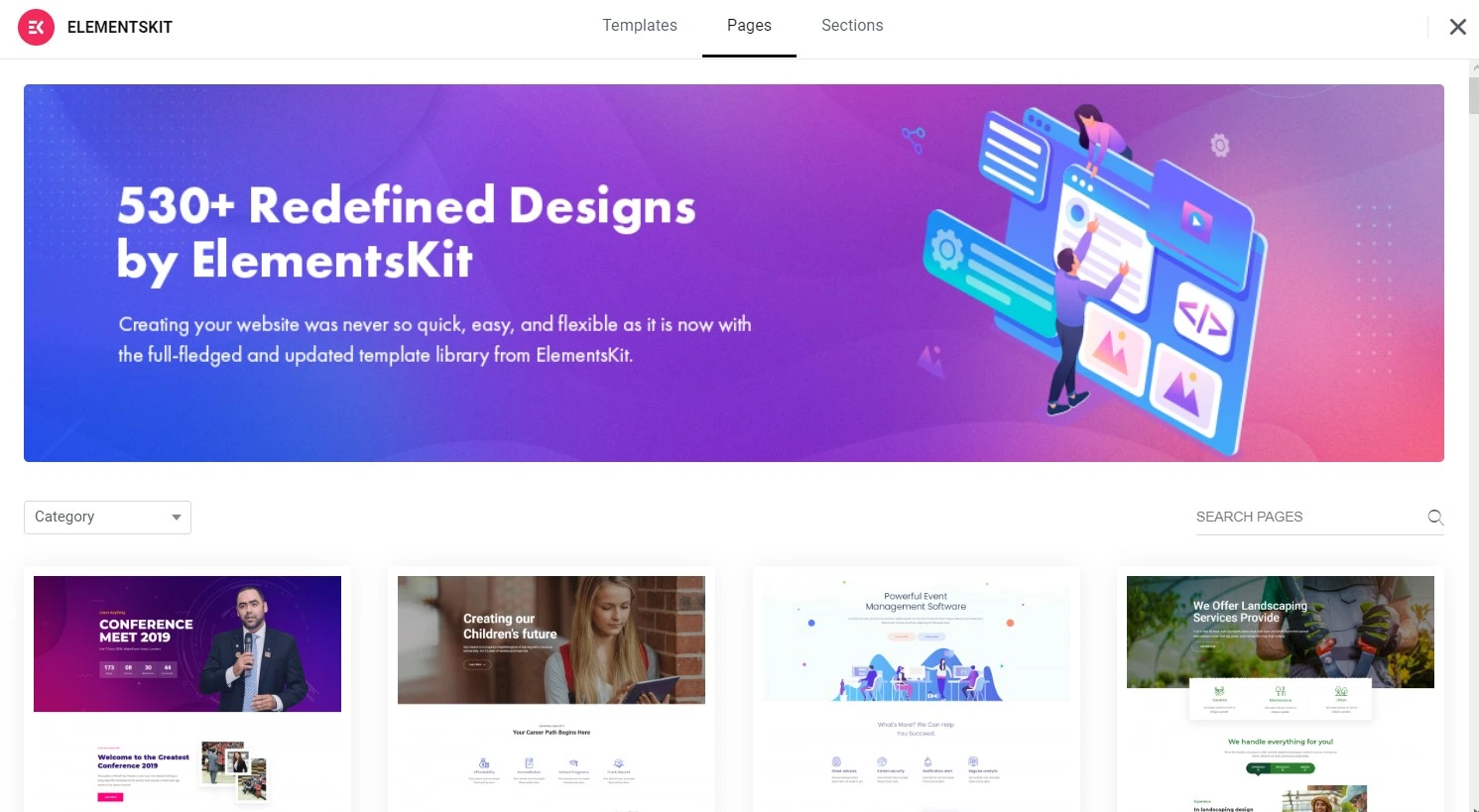 ElementsKit provides access to an outstanding layout library. Their library has over 70 ready-made home page themes and over 300 ready-made sections.
Even if you are unfamiliar with the subject, you don't have to put in any extra effort. It is really simple and does not have any functionalities that are difficult to grasp. All you have to do is put all of these elements you like into your site by clicking on the layout icon.
You will not need to import any JSON files or do anything other than pick settings while using the library. You will feel at ease with the simplicity of access and the extremely local design.
Elementskit Mega Menu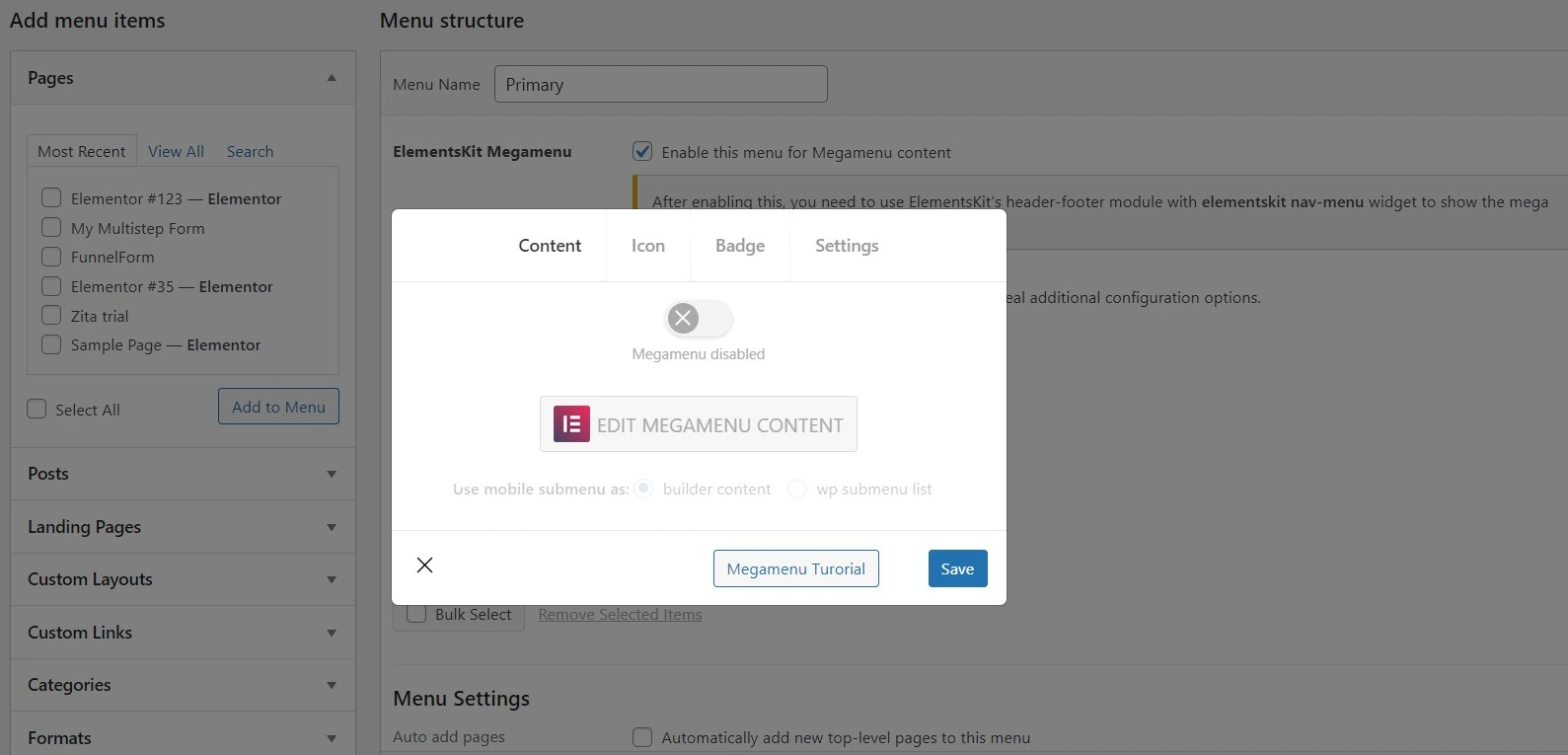 Create the required mega menu of categories or choices for your website with Elementskit now. Exploring the depths of the data on your website is one of how you can truly aid your visitors. They may drop down the menu box and look through the desired categories with only a single click.
My advice to you is- to create a big menu with a ton of personalization options and then go above and beyond to delight your clients. You can create a rapid menu using drag and drop, and the giant menu builder comes with features like auto-adding pages, content categories, social links, and many more.
Elementskit: Header and Footer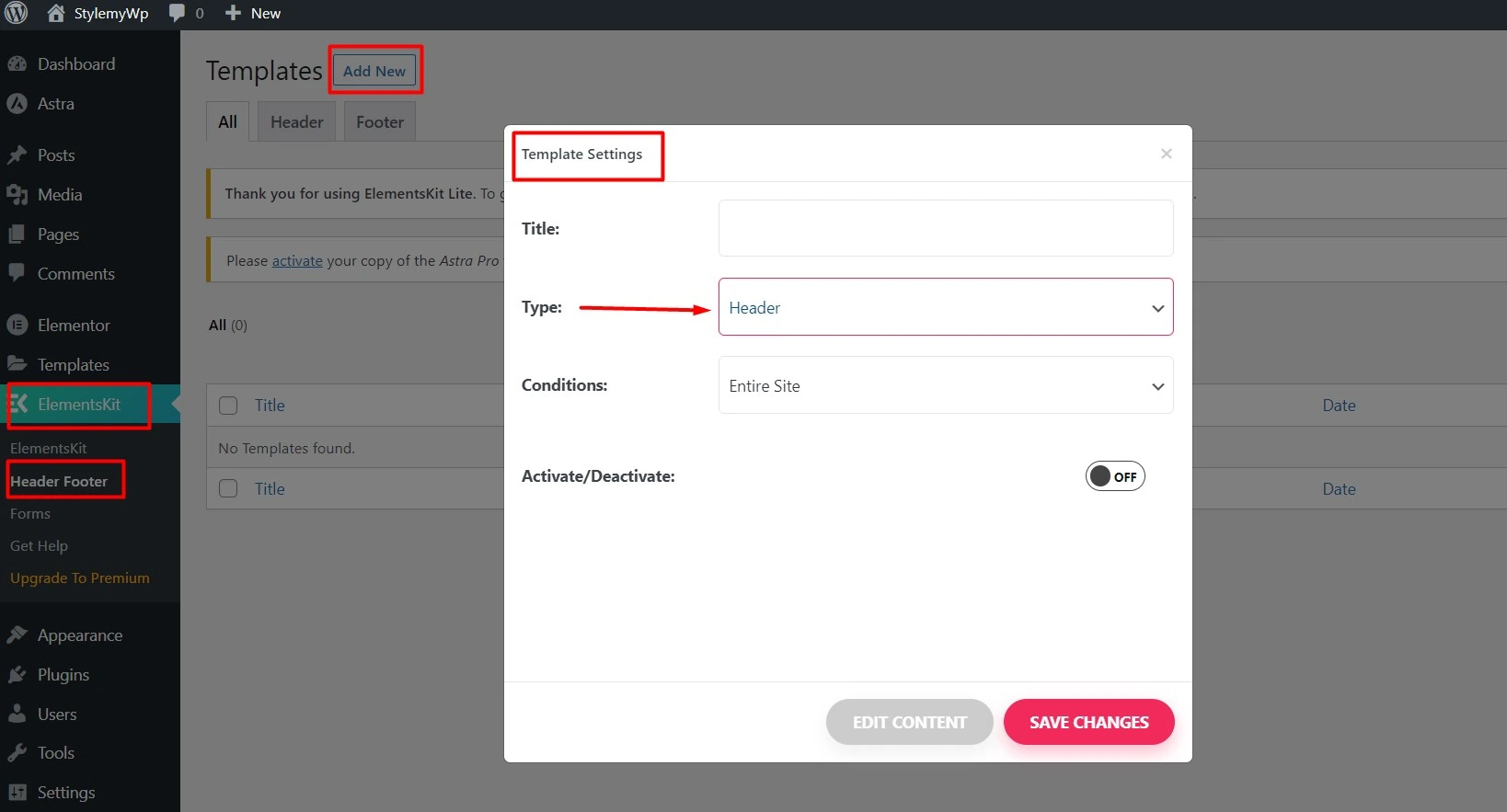 There are many nice choices available in Elementskit that are intended to increase user interaction with the content in your header and footer. The header is the section on your website that will have all the essential information, along with any necessary crucial links, and the footer is at the bottom which may contain some of the content.
There are amazing header and footer designs available for you to pick from. Directly activate or deactivate by customizing how your brain functions. You control everything, after all.
Elementskit Lightweight and Optimized Addon Plugin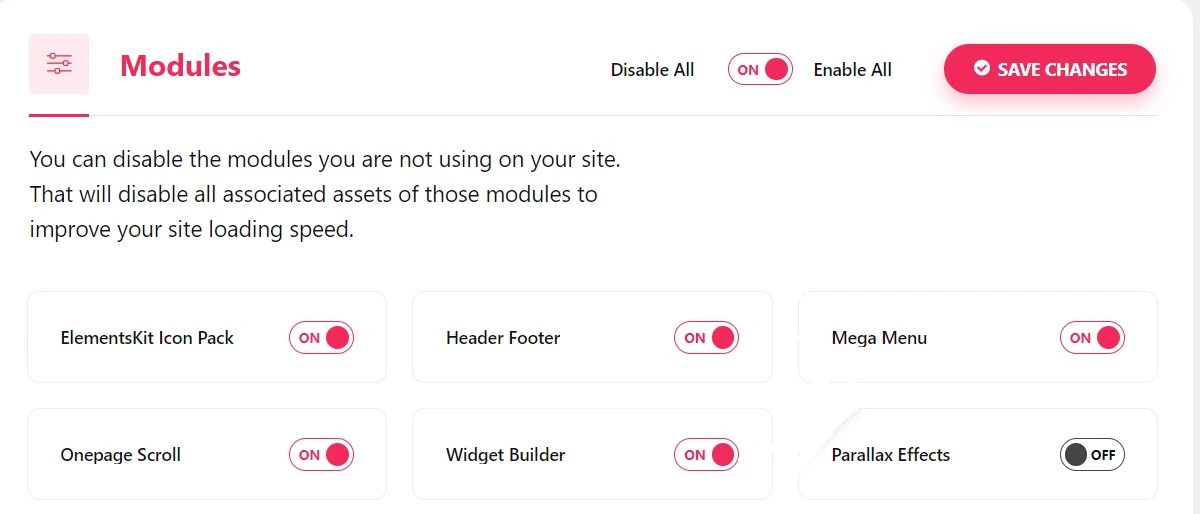 For your website, ElementsKit has an astounding build optimization. You may easily enable the one you need or disable any particular feature that is not required from the elements kit with this. As a result, your website won't end up being overburdened with unnecessary CSS or JavaScript code, unnecessarily increasing its size and making it a little more suited for quick performance.
Elementskit is Entirely Customizable, Every widget included in Elementor has customizable options so that you can control any widget as per your needs or plans. This power enables you to build and design as you want.
Elementskit Widgets
Free Widgets
The Free version gives you a premium feeling as it includes over 40+ useful widgets. And each of these widgets is built with care. Elementskit widget pack is best in terms of controls as well as designs and features. Let's look at some of its amazing widgets-
Button Widget – Create useful amazing Elementor buttons using the button widget. It lets you create buttons with color, text, hover effects, and many other effects. You can even create a call to action button using this widget. Compared to default button, It has advanced layout and design capabilities.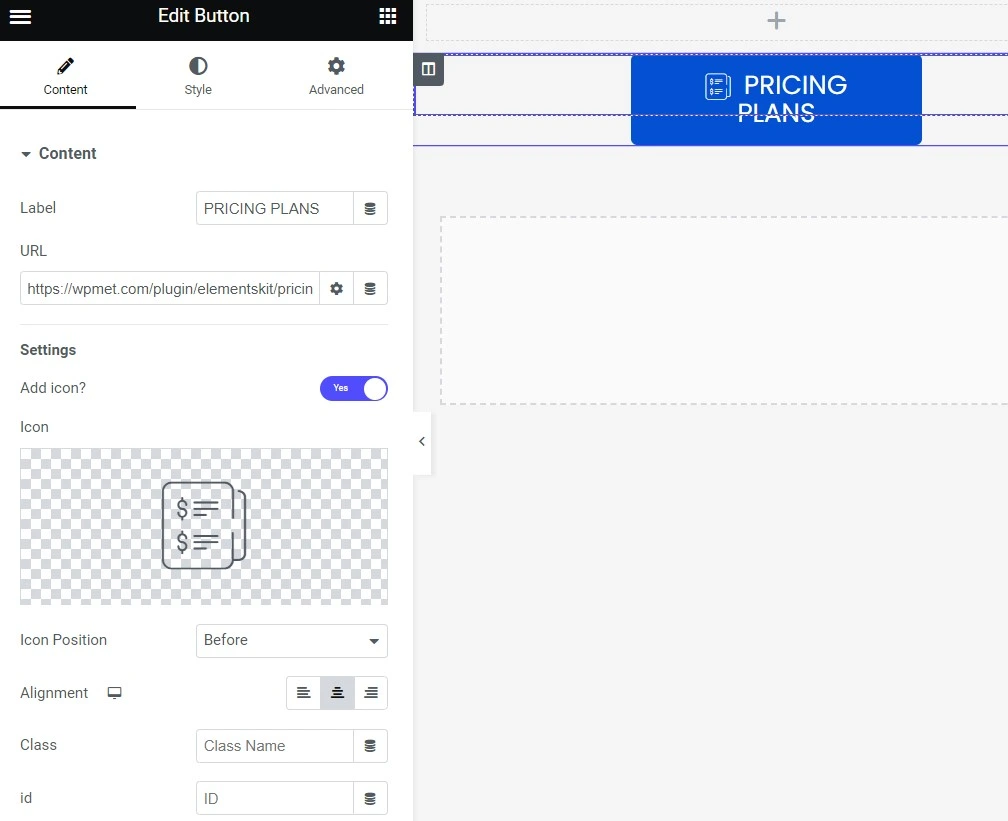 Heading Title- The heading title elementor widget lets you adorn your headlines. The addon comes with many custom and fancy styles with Heading subtitles, heading titles, and heading descriptions with separators.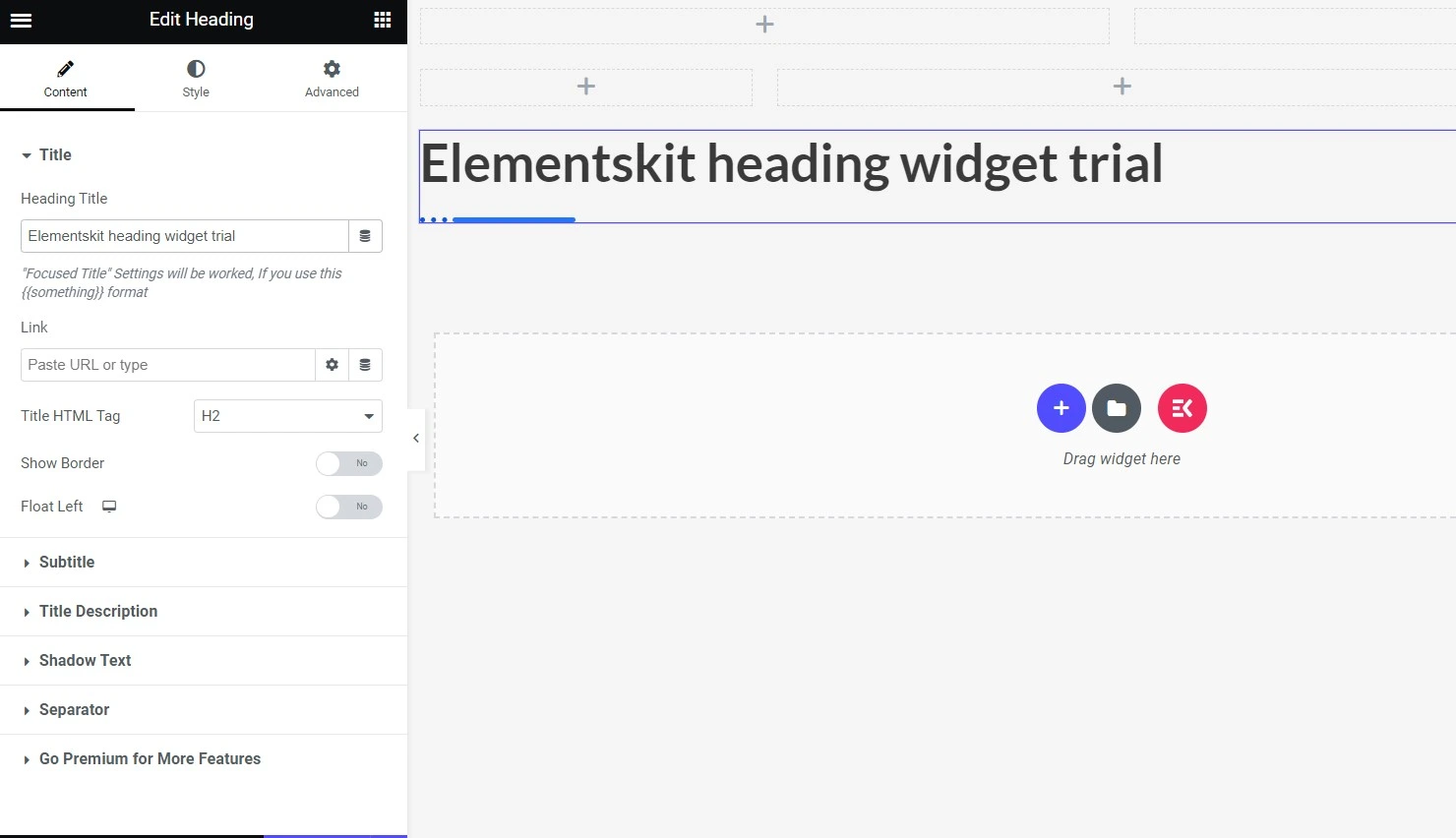 Accordion Widget- Using the Accordion you can display your texts in a concise and foldable way. Also, this amazing widget can help you to shorthand the length of the page with custom options in style, color, icon, and motion effects.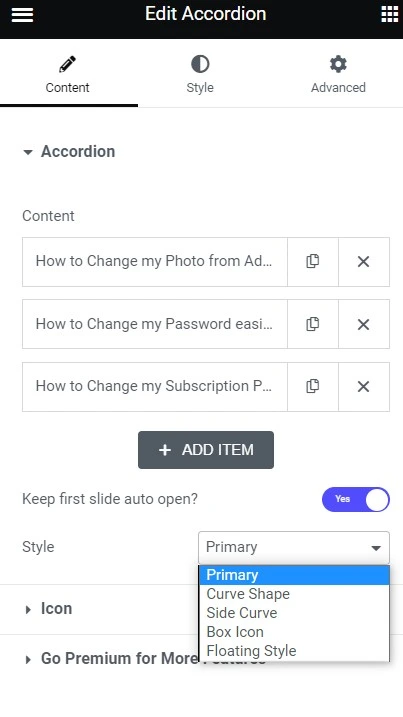 Tap- With the tap widget you can show your texts divided into vertical and horizontal tabs along with the title.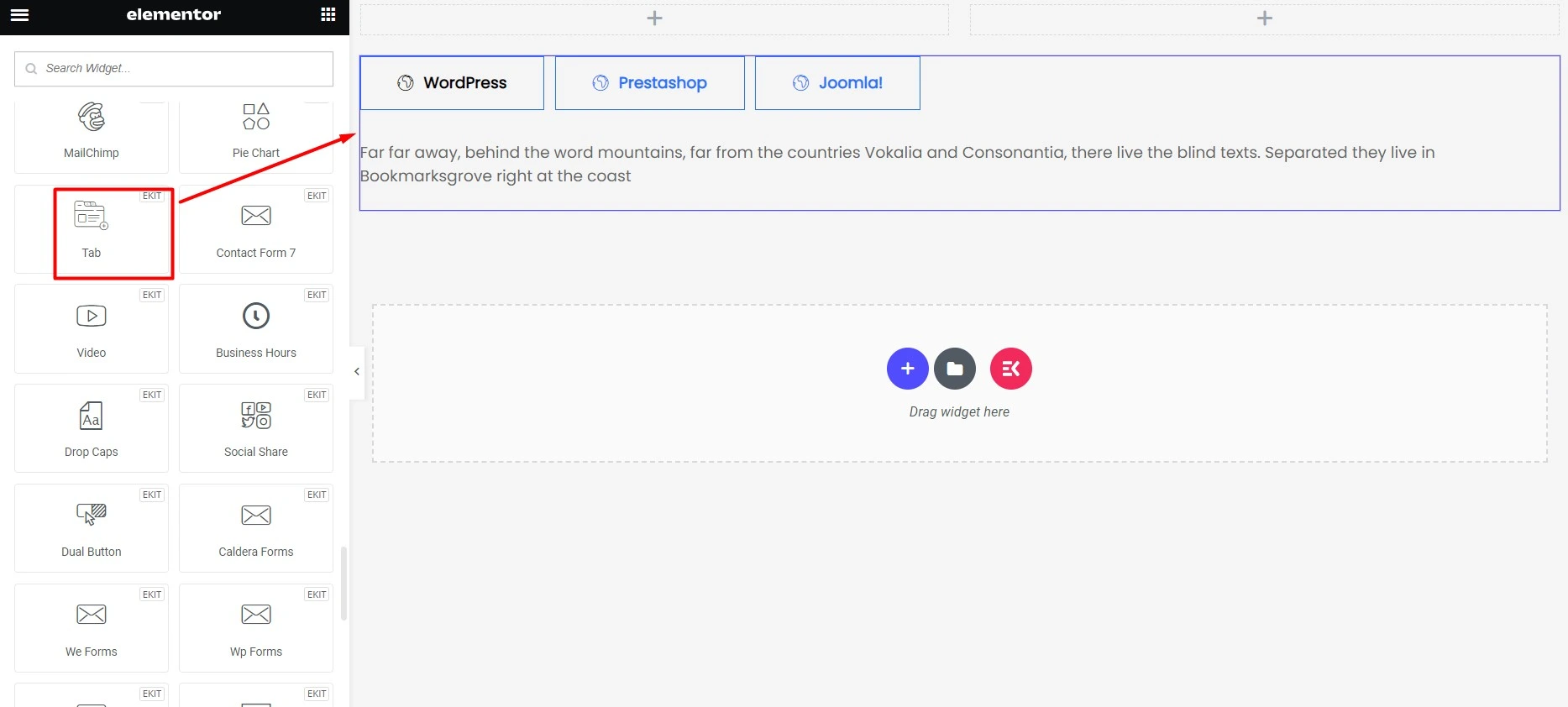 FAQs Widget – The FAQ widget lets you showcase your questions and answers on your Elementor webpage.

Nav Menu Widget – Nav Menu widget lets you navigate to various pages and create a drop-down elementor nav menu, mega menu with different settings like control spacing between all positions, elements, colors, width, separators, background, etc.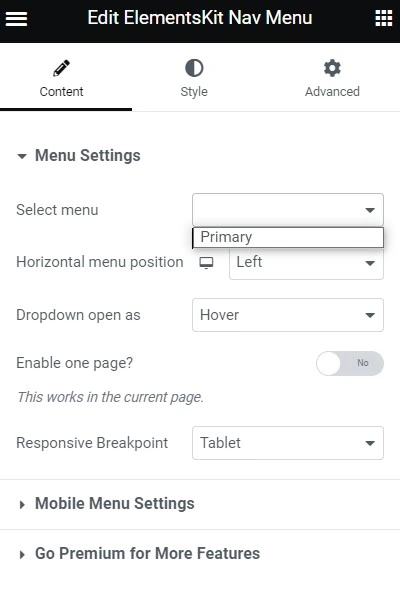 Premium Widgets
Gallery and portfolio- You can showcase your recent company environment, photo, events, etc to the people on your website with Elementor's gallery widget.
Timeline- Utilize the timeline widget and create your timeline chart and showcase your roadmap vertically or horizontally. The timeline widget provides advanced styles in content, timeline, border, etc.
Motion text- The motion text widget allows you to showcase your text with amazing text motion animations.
Facebook Feed- Using the Facebook feed widget you can display profiles, images, and tweets automatically on your website.
Hotspot- The hotspot Elementor Widget helps you to point out a specified portion of your image with a tooltip and then show an associated text after pressing.
Advanced Accordion- It becomes easy to showcase your features like content, image, blog, content, faq, social feed, progress bar, countdown timer, or MailChimp subscription form in nested format within the accordion.
Elementskit Pricing
Personal- $ 39 per year
Professional- $ 87 per year
Agency- $ 179 per year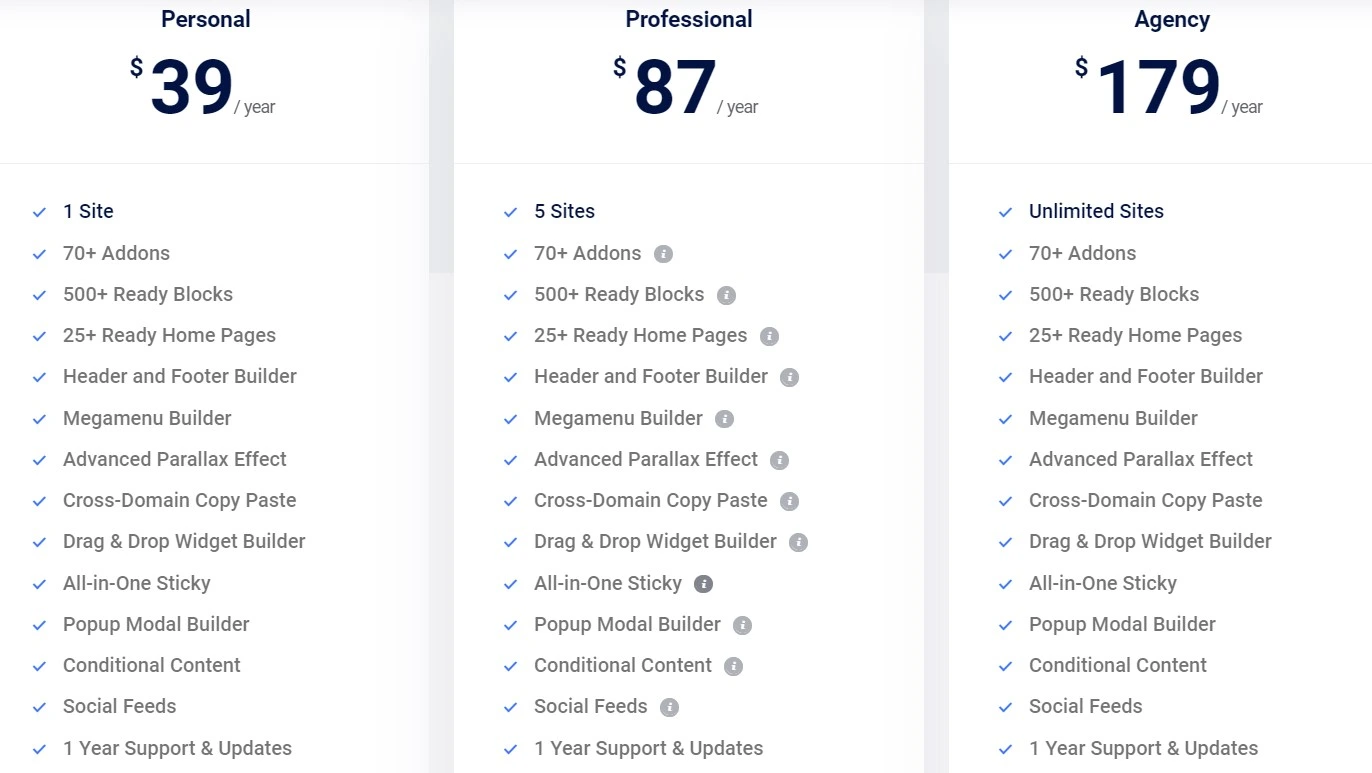 What makes Elementskit stand out?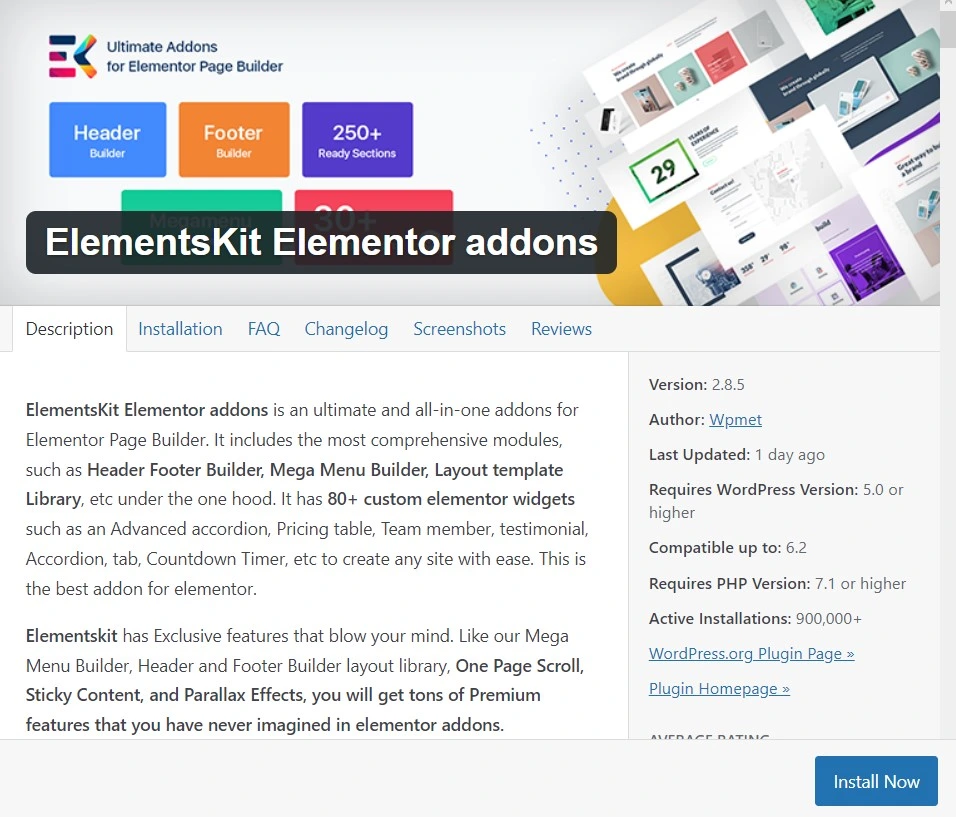 It is an all-in-one add-on plugin that, when used with the Elementor page builder, simplifies your job and performs superbly.
You may easily develop a gorgeous website with the help of the plugin's fantastic, comprehensive modules and more than 55+ custom widgets. Also, the add-on plugin offers unique features that improve your job even more.
Elementskit's proprietary modules have saved web developers a lot of time because they no longer have to write anything from scratch. It has saved time and increased efficiency in creating outstanding designs for your websites.
It is really useful when you have a website with a lot of information. As the tool makes it much easier to handle everything in one location without any difficulty.
Elementskit enables you to offer what the user wants throughout the whole page. The freedom of features will allow you to put your ideas into action and obtain greater results from your website. Giving you complete control over creating an appropriate atmosphere for them, specific to their search queries.
Over to you with our Elementskit Review
One of elementor's fantastic add-ons, elementskit, is unquestionably one of the greatest menu builders I've seen thus far. It's perfect for creating attractive headers and footers, conventional menus (like the mega menu), sophisticated tabs, and more.
There are over 85+ stunning widgets and add-ons that Elementskit offers to aid in the design and development process. Using these pre-made blocks from the Exclusive layout kit, you can quickly create any type of website. The call to action, pricing, and welcome blocks are all included in the addon.
I adore this tool for its general performance, simplicity, and texture. I use it more frequently when creating menus, sign-up pages, or headers and footers. I like playing around with the "parallax effect tool" since it improves my workflow and is entertaining.
It is an essential add-on that every user of Elementor should utilize. I can't stress that enough, but I believe you can install the add-on to get started using it; it's simple to use and can give your tremendous design widgets.