LiveCanvas allows you to quickly and simply build attractive and interactive web pages. It contains a drag-and-drop editor that makes it simple to create and design web pages. It also contains a plethora of tools that allow you to modify and personalize your page. You may use LiveCanvas to add photos, movies, music, and even text. You may also easily add animations and effects to your website and change the layout. You can also use the plugin to build responsive designs so that your page appears fantastic on any device. Overall, LiveCanvas is a wonderful plugin for anybody wishing to quickly and simply create attractive and dynamic sites.
Straightforward drag-and-drop interface.
Offers flexible pricing plans that are highly affordable
Provides 30-day money-back guarantee
Enables you to design gorgeous and one-of-a-kind layouts.
Accepts a broad variety of components, including photos, text, videos, forms, and more.
LiveCanvas is mobile-friendly, your website will look amazing on any device.
The ability to build and save custom templates for future usage.
Comes with a template library for quick and easy modification.
Advanced features such as animation effects and parallax scrolling are included.
Works with the majority of WordPress themes.
Beginners may find it difficult to learn.
Lacks a free version, demo, or a free trial
Less customizing possibilities than other page builders.
The absence of third-party integrations.
If you use WordPress, you have almost certainly utilized Elementor or Elementor Pro on your website. But you are not smart if you are simply concerned with the design and are satisfied with a clean and personalized design. Because regardless of the market or sector you operate in or represent, creating a responsive, fast-loading, and visually attractive website is a requirement in today's environment. You miss out on possible possibilities and chances to drive extra cash home if you don't have a solid internet presence.
That is where Livecanvas comes into play. It has a simple drag-and-drop interface that allows users to easily design and personalize the appearance and feel of their website. The pages are created with HTML and CSS, and the Bootstrap 5 Framework is used in Livecanvas. The best part about this combo is that the plugin does not add its parts to the code but instead allows you to use the already existing Bootstrap framework aesthetically on your WordPress website.
If you are a WordPress user and wish to create your website, LiveCanvas is the perfect solution for you. Even individuals who are inexperienced with the WordPress backend or the process of installing and designing a WordPress theme can use LiveCanvas as it is simple, uncomplicated, and intuitive.👍
We've written this review article to assist you in better grasping Livecanvas features in detail. Allow me to analyze Livecanvas Bootstrap Page Builder for you, analyzing its features, pricing plans, and whether it is genuinely worth it for you.
LiveCanvas Overview
LiveCanvas is a developer-friendly Bootstrap 5 WordPress Page builder that can help you design better web pages. It makes use of Bootstrap HTML and CSS to keep your code highly organized and simple for developers to change. Using the drag-and-drop visual interface of Livecanvas, Bootstrap Pages may be rapidly created. You can also change pages graphically with all the key features provided in the front end, so you don't need to understand Bootstrap. Nevertheless, knowing how to code is merely a bonus.
It distinguishes itself from other website-building tools by emphasizing performance, speed, and simplicity. Moreover, LiveCanvas is SEO-optimized, provides thorough page statistics, and has an integrated interface with Google AdSense, allowing users to monetize their websites. LiveCanvas also provides a large library of pre-made and configurable templates, allowing users to create websites fast and effortlessly.
Almost anybody can use LiveCanvas to create beautiful, contemporary, optimized, and responsive websites for any purpose or product.👌
LiveCanvas Features
LiveCanvas Editor
Enable the LiveCanvas editor on your page and start using it to create a custom design of your wish.
Add a section to your page then you can start adding content to it. Because LiveCanvas has numerous pre-built parts, you may rapidly begin developing your page.
ReadyMade Page Sections
The many parts that you may add to your sites are all properly arranged, making it simple to find what you need. When you've added one to your page, you can begin personalizing it using the live editor.
Inline text editing
Because LiveCanvas supports in-line text editing, you may add content by clicking on a text field and starting typing.
If you wish to change the appearance of another element on your website, such as a picture. To do so, simply click on the element, and the controls for that item will appear in the sidebar. The element may then be customized using the controls in the sidebar panel.👇
Viewports for smartphones and tablets
The size of the viewport may be altered at any moment while you're working on your page. You'll have a fair notion of how your content will appear on various devices after doing this. Small-screen smartphones, tablets, and other pre-configured viewports are included in this.
Speed Optimization
LiveCanvas is optimized for speed which is one of the most attractive aspects of this plugin. It lets you build beautiful WordPress pages without compromising the loading speed of your website.
Many times, when you use a drag-and-drop builder that doesn't require any coding skills, you face problems related to page loading speeds, optimization, and overall performance. But with LiveCanvas this problem is also solved. The plugin utilizes Bootstrap 4 and HTML, which ensures it provides the fastest loading experience.
It holds up with a speed test even against some of the best page builders' plugins like Elementor, Oxygen, Divi, and Beaver builder.
Zero Configuration Needed
No coding is needed to utilize the amazing capabilities of LiveCanvas. You just have to install the LiveCanvas plugin from your WordPress repository and get started with zero configuration. You also don't have to use and added JavaScript or add plugins to utilize LiveCanvas features.
For people who are new to HTML and prefer a hands-off construction experience, LiveCanvas is the best option. It is also best for those who are inexperienced with backend programming with WordPress.
Simple Theme Integration
You can use any WordPress theme for your website, LiveCanvas works well with any BootStrap 5 theme or standards-compliant WordPress theme. Using them ensures that LiveCanva is compatible with your website.
You can use Picostrap which is one of the fastest BootStrap 5 WordPress starter themes.
CSS and HTML Editing
The HTML and CSS editor is one of LiveCanvas' most important features, as was already noted. At any moment, you may use the HTML editor by first clicking on a page component, such as a row, and then selecting the corresponding menu item.
To minimize misunderstanding, the HTML editor only shows the HTML for the element you are modifying. Also, any changes you make to the HTML are immediately updated on your website so you can see the outcome of your change.
Frontend Editing
LiveCanvas requires no backend management or editing. As soon as you are finished installing the plugin, you can begin with the editing process of your website, by browsing, accessing, and clicking different sections of your site.
Simply click the section, area, or body of your website that you wish to edit and LiveCanvas will enable you to do editing and save changes to your WordPress in real time.
Shortcodes included
Take advantage of standard WordPress shortcodes with LiveCanvas. You can also place any shortcode of your choice into any standard-compliant or BootStrap 5 theme that you are using for your website. It is also possible with LiveCanvas to implement shortcodes on any of your created custom pages.
Editing History
One of the worst things that could happen while working is losing whatever work you have done. LiveCanvas saves you from this loss, it values your time and efforts by ensuring that you will always have a backup copy of your work. LiveCanvas offers an undo tool to provide you with greater creative freedom and the flexibility to create without worrying about making errors.
This allows you to restore to a prior version of your custom website design if anything does not seem as you expected. You may now explore with confidence, knowing that any mistakes you make can be easily reversed.
Block Creation
LiveCanvas provides you with many CSS and HTML templates, premade templates, and blocks to help you start working on your website. You also get the freedom to create your local library of custom blocks by using HTML snippets. These custom blocks provide you more flexibility in designing your website, are ideal for branding purpose, and helps you in growing your online and offline presence.
Custom Headers and Footers
The feel and look that the WordPress header and footer offer is not very interesting. However, a plugin like LiveCanvas can make it look appealing. It lets you create your very own eye-catching header and footer within the editor itself.
Animations
Animations and animated graphics are indeed one of the most captivating parts of a page. LiveCanvas lets you copy and paste HTML codes and other codes that can trigger a wide range of animations. That means, with LiveCanvas you can add animations and graphics to your page without any problems.
Access to Unsplash
LiveCanvas provides you access to unlimited Unsplash, which is a great-quality online image repository. It is helpful for you whether you are looking for pictures to beautify your WordPress site or searching for a photo for a blog you have created recently. Using Unsplash with LiveCanvas you can save time as well as money.
Readymade Templates
LiveCanvas provides a vast number of stunning ready-made materials to you, which you can easily combine and mix to build bespoke web pages. These pre-made parts are modifiable, so you may use them as is or alter them to make them uniquely yours. There are several versions of each style, so no matter what your design tastes and requirements are, you should be able to find something that fits your site.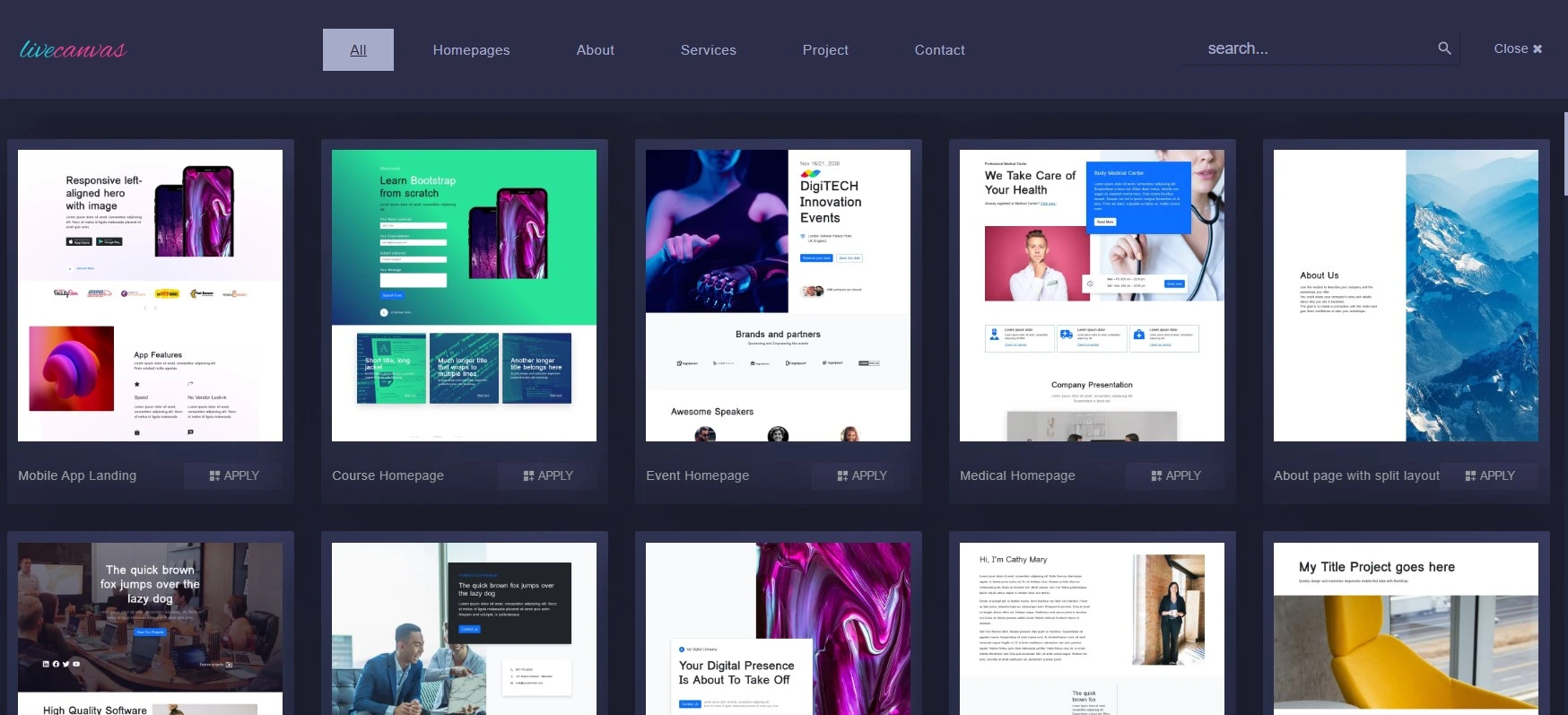 Editor preference
The built-in blocks and sections of the plugin can be shown or hidden using the LiveCanva editor settings.

LiveCanvas Alternatives
Elementor
A popular WordPress page builder with a visual drag-and-drop page builder that allows users to construct professional-looking websites without the need for coding is called Elementor. It is a robust, user-friendly, and extremely configurable framework that serves as an excellent alternative for individuals who wish to construct visually appealing websites with minimum effort. Elementor also has a plethora of pre-built themes and elements, allowing users to develop their sites rapidly.
Beaver Builder
Beaver Builder is a page builder plugin that allows you to easily generate customized WordPress content. Its modules all function directly in the front end, so the page in your editor appears nearly identical to what the public sees. This allows you to create visually appealing websites in minutes, with no coding necessary.
It's an excellent page builder with a few extra quirks and capabilities for experienced web developers. Beaver Builder also has a smooth UI and a good template selection; however, it falls short when it comes to cost.
WP Page Builder
WP Page Builder, a free WordPress page builder, first appeared on the market on August 1st, 2018, and it has quickly gained popularity. It is an all-in-one page creation tool that includes every necessary feature and capability. You may use its strong features to swiftly develop an excellent website whether you're an expert or a beginner. With it, site creation is as simple as dragging and dropping.
Divi Builder
Divi has built a reputation for itself since it was created by the talented developers at Elegant Themes. It is a sophisticated WordPress page-building solution that is always being updated and refined. Its templating technology is excellent, and its visual builder and legacy builder editing modes make developing professional layouts a breeze.
This WordPress plugin is one of the best drag-and-drop page creation options on the market, and that comes with an excellent blend of functionality, usability, and sophisticated settings.
LiveCanvas Pricing
Using LiveCanvas is not free, since it provides premium services and capabilities that are difficult to get elsewhere. The two pricing plans it offers are-
Pro- $ 79 per year
Lifetime- $ 139 per lifetime
LiveCanvas: Real Users Review
Livecanas FAQs
What exactly is LiveCanvas and why is it so popular🤷‍♂️?
LiveCanvas is a plugin for developing webpages and blogs. It is used to create dynamic and interactive websites that are search engine optimized. It is simple to use and has a variety of features such as responsive design, unique templates, a robust media library, and real-time statistics. It is popular among web designers and developers that wish to construct websites quickly and effortlessly.
Who are LiveCanvas' typical customers?
LiveCanvas is frequently used by web developers, web designers, bloggers, marketers, and owners of small businesses. Other organizations that are searching for a user-friendly website creation platform also utilize it.
Can I remove LiveCanvas once I've finished creating my page🙋‍♂️?
Yes. If you created a page using the LiveCanvas builder and uninstall the plugin for whatever reason, the page will continue to work normally and the design will not be changed.
Which themes are compatible with LiveCanvas?
LiveCanvas can be used with any theme that is built on Bootstrap 4/5. Fundamentally, we suggest picostrap5- an open-source foundation that adds some spice while keeping bloat at zero.  
Can LiveCanvas be used in conjunction with Gutenberg🤔?
The LiveCanvas editor may be activated or disabled selectively on posts, pages, and custom post types, leaving the job to Gutenberg or the Classic editor, where it is not enabled.
Does Live Canvas provide a free trial?
No. It rather provides a complete 30-day money-back guarantee, so you can experience LiveCanvas risk-free.
Can I use LiveCanvas with other plugins🤷‍♂️?
Without a doubt. Any shortcode can be used within LiveCanvas pages.
Why use LiveCanvas?
LiveCanvas makes use of standard HTML5 and Bootstrap 5 as well as highly clean code. Your website will load much more quickly if you use clean code as then typical WordPress and WordPress theme difficulties won't slow it down.
What makes LiveCanvas stand out?
Beginner-friendly🙌
LiveCanvas is a user-friendly platform that enables users to easily construct stunning, modern websites without any coding expertise or experience.
Enhanced site performance💻
LiveCanvas is developed with the latest web technologies, which results in faster loading times and better performance.
Seamless content editing🤞
LiveCanvas allows you to edit your content in real-time without having to transfer between your site's backend and front.
Improved mobile experience📱
LiveCanvas is entirely responsive and mobile-optimized, making it an excellent alternative for businesses wishing to reach a larger audience.
Simple customization👌
With a drag-and-drop interface and a large range of features and options, LiveCanvas enables rapid and easy customization of your site.
Superior SEO tools🙌
LiveCanvas provides powerful SEO tools to assist you in optimizing your website for search engine rankings.
Safe hosting😎
LiveCanvas employs secure hosting to protect your website from harmful assaults.
Many designs option😍
It provides a vast selection of customizable templates, providing customers with a variety of design alternatives.
Flexible and affordable plans💰
The pro-LiveCanvas package is $79 per year.  It is ideal for designers. Apart from the basic pro version of LiveCanvas, a Lifetime subscription is also available. The subscription plan is suitable for any organization or agency that wishes to use LiveCanvas on several websites. The Lifetime package for LiveCanvas is only $139 and you can avoid recurring payments.
Over to you
The design, theme, and general aesthetic you choose for your new WordPress website may make or break your online presence. Use a WordPress page builder, to change your pages in real-time, experiment with design components, and create a website that accurately represents your company, brand, or even you, all without the trouble.
LiveCanvas is unquestionably one of the greatest WordPress plugins for bootstrap design. If you wish to use the Bootstrap framework on your WordPress website, Livecanvas is advised. And if you want to create web pages that load quickly and have more aesthetically pleasing designs, Livecanvas is without a doubt the greatest plugin available for you. Its simplicity and versatility enable you to create anything with lightning-fast performance on WordPress🥳.